This article has been updated.
All featured products are independently chosen by This Dog's Life. However, we may make a small affiliate commission if you click through and make a purchase.
The summer has been hot, hot, hot — and not in a good way. With temperatures rising into the triple digits, everyone is suffering, including our dogs.
For humans, sweating may be uncomfortable, but it's the body's custom cooling system. Unfortunately for dogs, they have very few sweat glands, which are located only in the pads of their paws. That's why dogs pant when they're hot; panting evaporates the moisture on their tongues, in their nose and in their lungs, which cool down as the air passes over them. It' not all that efficient.
This makes dogs more vulnerable to heat exhaustion, which can result in the potentially fatal heat stroke. When the weather is hot, it's important to help our pups stay cool and comfortable. Follow the basics of limiting exercise or any outdoor activity on very hot days, provide plenty of shade and cool water, and, of course, never ever leave your dog in a parked car under any circumstances, even on days when the weather is cooler.
Related: Check Out the Boots That'll Prevent Your Dog's Paws From Being Burnt During The Summer
Here are some innovative products to keep your dog happy and cool during the dog days of summer.
Swimming Pools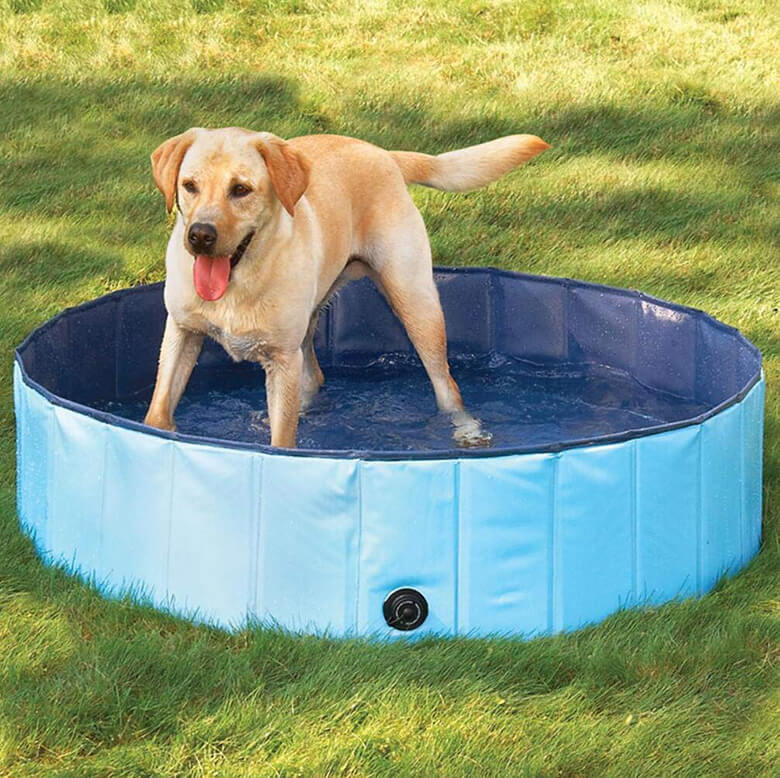 If you have a backyard, considering investing in a doggie swimming pool. These pools come in all shapes, sizes, and materials. (Of course, always supervise your dog while she's taking a dip.)
We like the Jasonwell Foldable Dog Pool because it's durable, it comes in five sizes (S to XXL) and can be folded up for travel or storage. Made of sturdy PVC and thick, high density fiber board, it has a slip resistant material on the bottom. It's priced between $27.99 to $65.99.
Another highly rated choice is the Delifur Foldable PVC Dog, which is available in M to XL. This pool also folds up for transport or storage, and it comes with a cool, clear storage pouch with handles. It's also constructed of PVC and fiberboard. It's priced between $25.99 to $59.99.
If you don't have space for a doggie pool, there are often pools and fountains in urban dog parks. Or check out a local dog-friendly beach. Just be aware to limit time in the water to avoid the potential for water intoxication.
Related: 7 Dog-Friendly Beaches to Take Your Pup to Cool Off This Summer
Cooling Vests and Bandanas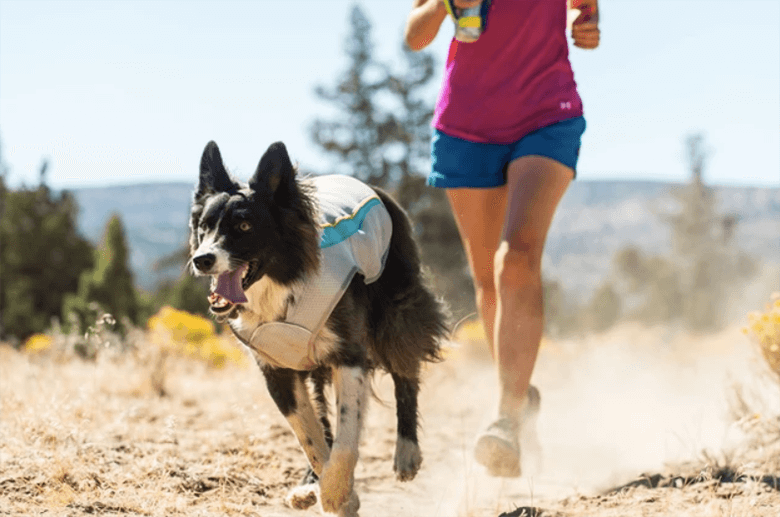 A cooling vest, life Ruffwear's Swamp Cooler, works in the same way as sweat does for humans: evaporation. The vest contains a layer of fabric that absorbs and holds water, which evaporates over time, taking the dog's body heat with it. The vest will actually pull heat from the bloodstream and distribute the cooling effect evenly to the dog's body, keeping the dog's temperature in a comfortable range for hours.
The vests work by first soaking them in water. Wring out, place on the dog, and your dog will keep cool and comfortable all day long. The Swamp Cooler goes a step further: it's made of fabric that has 50+ UPF (Ultraviolet Protection Factor). From XXS to XLarge. $59.95
The area of the body that works best for cooling is the chest and neck, and that's why a cooling best is so effective. These vests are made of breathable fabric which can hold hundreds of times its weight in water, while the outer layer dries quickly to keep the dog dry. Check out these other cooling vests we've recommended.
For cooling bandanas, try the ALL FOR PAWS Chill Out Ice Bandana. It works on the same principles as the vest, but it's lighter and more compact. From small to large. $7.98 to $9.32
Related: The Best Dog Travel Bags to Carry All Their Supplies
Cooling Mats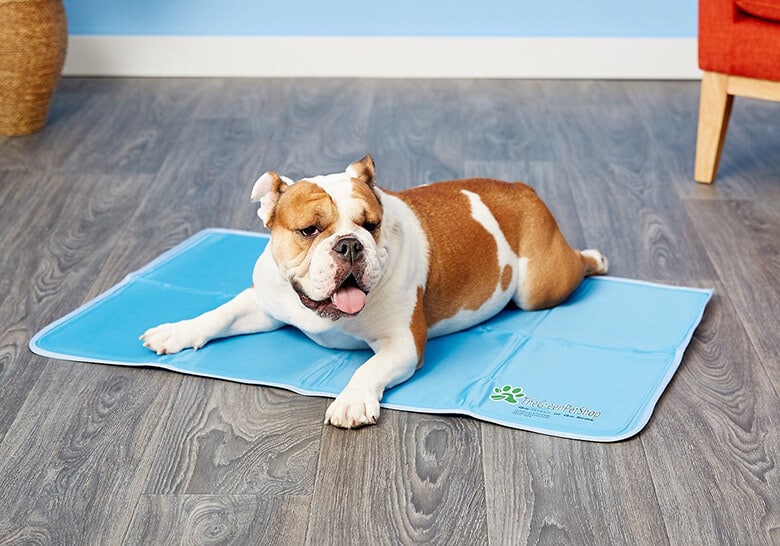 A cooling mat is a great idea for a patio or for inside when you don't want to run the AC all day. There are two kinds of mats: water-filled and gel-filled. The water filled mat is first filled with water and then refrigerated or frozen. It's effective, but it will make your floor damp, so it's best for outdoors or on a tile, stone or concrete surface. The gel-filled is the most effective, yet is more expensive. It works by becoming cooler under pressure, i.e. when the dog lies down on it.
Consistently rated the highest in quality and effectiveness are the Arf Pets Pet Dog Self Cooling Mat and The Green Pet Shop Self-Cooling Pad. Both keeps dogs cool for up to three hours. They will recharge in 15 to 20 minutes without any pressure on them. They are also lightweight, easy to clean and comes in a variety of sizes. From $19.99 to $69.99.
For other quality cooling mats, go here.
Dog-Friendly Frozen Treats
What could be better than a frozen treat on a hot afternoon? Our Pup Pops are easy to make and safe for your fur baby. All you need are bananas, nonfat Greek yogurt, blueberries, a beet, and some carrots, as well as a blender or food processor, a popsicle mold, and some utensils.
Another super-easy frozen treat is a watermelon treat. The ingredients are:
2 cups of watermelon (seedless, or remove the seeds)
1 cup coconut milk or coconut water
1/4 cup honey
Put ingredients into a blender or food processor and puree. Pour the mixture into an ice cube tray and freeze.
If it's too hot to think about "cooking," you can buy dog-friendly ice cream at your local pet food store.
Frozen Dog Toys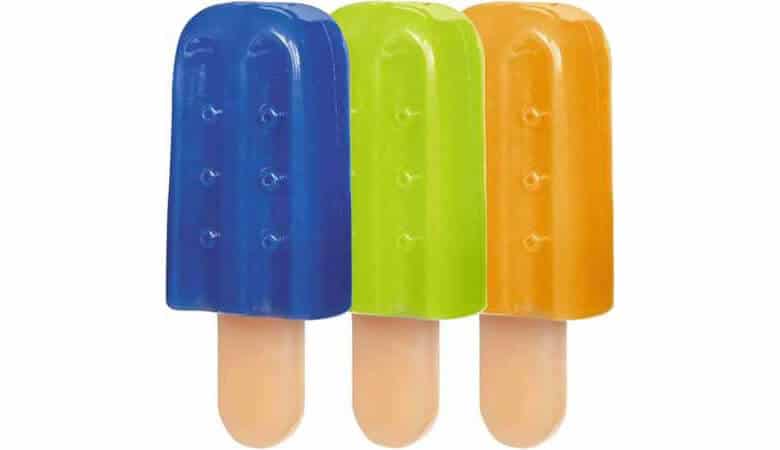 If you have a dog who lives to play, keep him cool with an ice-filled toy. Try the Cool Pup Cooling Toy, which looks and smells like a frozen ice cream cone. Fill with water and freeze. As your dog plays, the water will melt and seep through openings in the front of the cone, so you dog can play fetch and get a cool drink at the same time. Priced at $13.89 The Cool Pup Cooling Toy also comes shaped like a popsicle. Priced at $12.48
Portable Water Bowls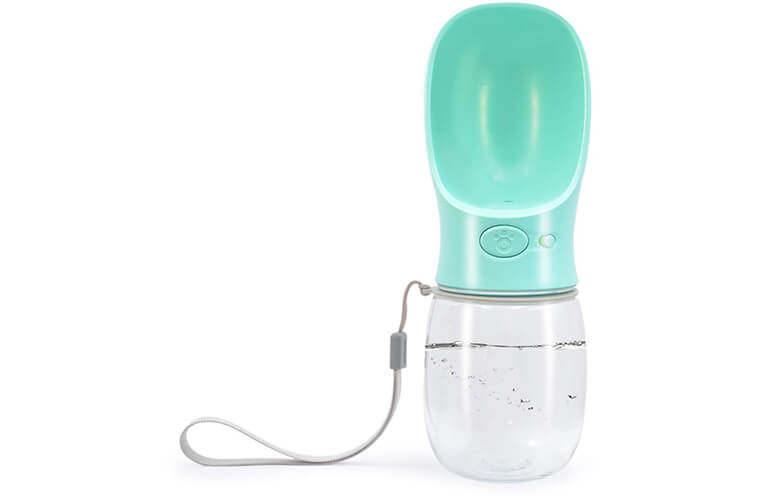 Whenever you take your dog out for a walk in hot weather, bring along a portable water bowl. A hot, panting dog can become dehydrated quickly, so look for shade and offer plenty of drinks on your daily walks.
Some portable water bowls have a built-in container for water, like the Anreoner Portable Water Bottle, which is antibacterial, made from non-BPA plastic and easy to use. It's priced at $10.99.
Other portable water bowls are collapsible, and work best if there are water fountains along your route or if you bring along your own water. BLEDS Collapsible Dog Bowl is made of food-grade silicone, and it's lightweight, dishwasher safe, and comes with a clip attachment. 2-pack, It is priced at $5.89.
Related: Does Ruffwear's Jet Stream Vest Really Cool Off Your Dog?