A sharp-witted Sheepadoodle has taken social media by storm since she started "speaking" to her human.
Bunny, aka the "talking dog," uses a word board to communicate with her dog mom Alexis Devine.
At just a year old, Bunny knows 84 words (and counting!); can form phrases, like "come play," "love you mom," and "go potty"; and is continually learning the name of objects in her environment.
"‌I ‌think‌ ‌every‌ ‌child‌ ‌sort‌ ‌of‌ ‌has‌ ‌a‌ ‌dream‌ ‌growing‌ ‌up, ‌like,‌ 'What‌ ‌if‌ ‌I‌ ‌could‌ ‌talk‌ ‌to‌ ‌animals?'" Devine tells This Dog's Life. "I‌ ‌thought if ‌I‌ ‌were‌ ‌able‌ ‌to‌ ‌do‌ ‌this,‌ ‌it‌ ‌would‌ ‌be‌ ‌an‌ ‌added‌ ‌component‌ ‌to‌ ‌building‌ ‌this‌ ‌connection‌ ‌and‌ ‌bond‌ ‌that‌ ‌I‌ ‌was‌ ‌really‌ ‌committed‌ ‌to‌ ‌having‌ ‌with‌ ‌Bunny‌."
Awestruck dog lovers have become huge fans of Bunny's genius, with the pup amassing more than 5 million followers on her TikTok account. (She's also on Instagram and YouTube.)
Because of her talent, she has already been featured in People and Insider and on The Morning Show and NBC Today. She even has her own existential crisis meme thanks to her tendency to ask "why" questions.
Related: 19 of the Best Interactive Dog Puzzles and Games for Your Bored Pooch
Her entertaining conversations with Devine have amazed not only viewers but also scientists. Bunny is a part of a study conducted by TheyCanTalk. The research is led by scientists at the University of California San Diego. They are eager to discover whether animals can communicate in language-like ways. Bunny and over 1,300 other pets are being examined for the project.
How It All Began
While on a waiting list to adopt Bunny, Devine heavily researched training, animal communication, and canine body language. In the midst of her research, she came across speech-language pathologist Christina Hunger on Instagram. Hunger had taught her dog, Stella, to seemingly communicate with her using buttons.
Devine says she was, "of course, wildly inspired like hundreds of thousands of other people."
When Bunny came home, Devine, using a FluentPet wood board, had a few buttons ready for her to use, specifically an "outside" button near the door. Set up with zero expectations, she noticed that within just a few weeks, Bunny was consistently using the "outside" button all on her own to let her know she wanted to go out.
"At that point in time, it was sort of game on. I'd move that button to a board, add a few more and we've just been expanding our board ever since," Devine says.
Learning to 'Talk'
So, how did this superstar Sheepadoodle manage to learn so many words?
Through basic operant conditioning, Devine says. Initially, Devine spent 1-2 hours a day to train new concepts and explore with Bunny. However, she found that to be less motivating for Bunny and began letting her dog initiate conversations instead.
Related: Want a Canine Einstein? Here are 8 Interactive Toys and Puzzles to Help Improve Your Dog's IQ
"When she has something to say, she'll approach the buttons and I then turn those into teachable moments," Devine says. "Learning that happens is dictated by her, which makes it a lot more fun and engaging for her."
If Bunny says something that doesn't make sense, Devine will go to her and ask what she meant to say and continue to use the button within the correct context. She also teaches a new word in a way where Bunny can make a physical association with it and encourages her using its button. Typically, within the same day of learning a new word, Bunny will use the button whether it's contextually appropriate or not.
"For some of the concepts, I really am surprised when she uses them in contextually appropriate ways just because it seems absurd that an animal could learn pronouns," Devine says. "Some of the word combinations that have come out of her mouth are just so extraordinary that on a lot of levels, I'm like, 'This is crazy and impossible.'"
An astonishing example of when Bunny has communicated with Devine is when she expressed she was in pain after a hike.
During their outing, Bunny got a foxtail in her paw. Foxtails are an invasive species of barbed grass that can pose a risk to dogs' circulatory systems and require surgery. However, thanks to Bunny saying when and where there was a foxtail in her paw, Devine was able to remove it before it required medical intervention. On another occasion, Bunny has also told Devine about an infection she had.
What's Next in the World of Animal Communication
Devine believes augmentative and alternative communication devices, like the FluentPet word board, pose an exciting potential for animals to be able to communicate when they're in pain.
"That's something that I think every animal owner would really love to have be a part of the relationship so that an animal doesn't have to suffer needlessly," Devine says. "If we were able to transfer this into the realm of veterinary science and help our animals tell us when and where they're in pain, I think it could revolutionize the way we think about veterinary science."
Devine thinks most animals are capable of learning how to communicate, even with just a little bit of training. She says, "The more time you're able to invest in a commitment to relationship and communication, the more quickly an animal is going to learn."
For Devine, the buttons have added another layer of deepening and strengthening her bond with Bunny, which she says have allowed her to spend all day with Bunny and meet her needs to play.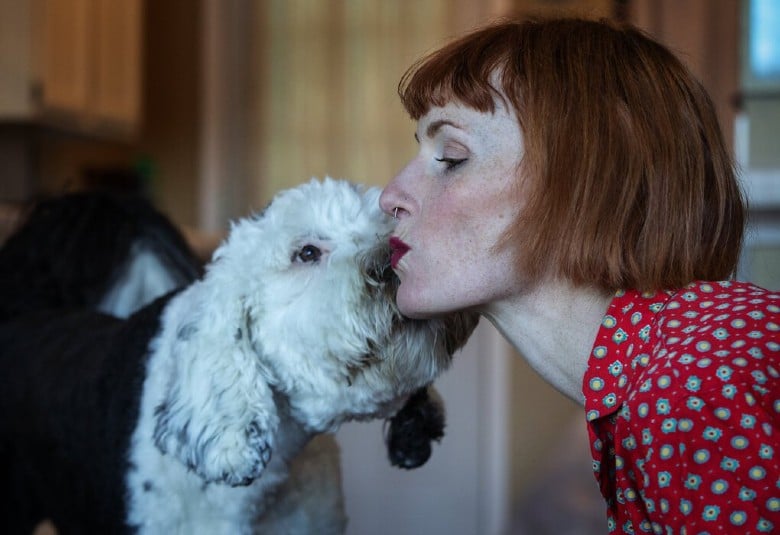 "It's harder to say, 'No, we are not going for a walk now' if your dog goes up two buttons and says, 'Please walk now.' I think she's getting a lot more of what she asks for, perhaps, than if we didn't have the buttons. She's able to communicate pretty clearly, and we laugh a lot," Devine says. "There are just so many fun and warm and hilarious moments throughout the day. It just sort of necessitates a higher level of engagement than I think we would have had without the buttons."
Related: Training Your Dog at Home? Here Are 16 Must-Have Products Experts Recommend.
How to Get Started
For dog parents at home wanting to strengthen their bond with their pup, Devine says buttons aren't necessary.
"The first step is really just listening to your animal. They're communicating all the time without buttons. They have feelings. They're complex creatures," Devine says.
Devine stresses the importance of taking the time to listen to your dog and explore their wants and needs. She recommends researching canine body language, operant conditioning and positive reinforcement to work on engagement to ensure you're meeting all of your dog's needs.
"I think first and foremost, that's the best way to strengthen your bond," Devine says. "The people that are having the most success with their animals and the buttons are the people who've already dedicated a good amount of time to developing that bond and that communication without them first."
As of now, Devine says "the sky is the limit" for her and Bunny's learning journey and that she doesn't have any specific goals for it.
"I'm open to whatever happens, and I'm really dedicated to just remaining curious and as unbiased as possible," Devine says. "I've always held this little bit of skepticism, which I think is important. But again, she's always blowing my mind and raising my expectations, which is pretty extraordinary. It's been a really fun process in that regard."
Related: 6 of the Smartest Dogs in the World Compete in 'Genius Dog Challenge' — And You Can Watch It All Go Down