If you're one of the many people who live by the motto, "If I Can't Bring My Dog I'm Not Going," you know how much of hassle it can be to efficiently pack all their gear. There's food, treats, bowls, toys, leashes, medication, balls and sometimes a warm coat and boots for those snowbirds, or should we say snowdogs.
Even for a walk to the dog park or a stroll around town, there's essentials that your dog needs, and a bag that can hold it all along with your cellphone and keys makes getting out of the house easier (and more fun).
Here are some of the best bags for packing everything your dog will need. Whether you're going out for the day, a weekend, a longer vacation, or an unexpected evacuation, these bags will make your life a little easier.
Daily Dog Walking Bags 
Related: The 5 Best Tech Gadgets to Keep an Eye on Your Dog While You're Gone
In the Company of Dogs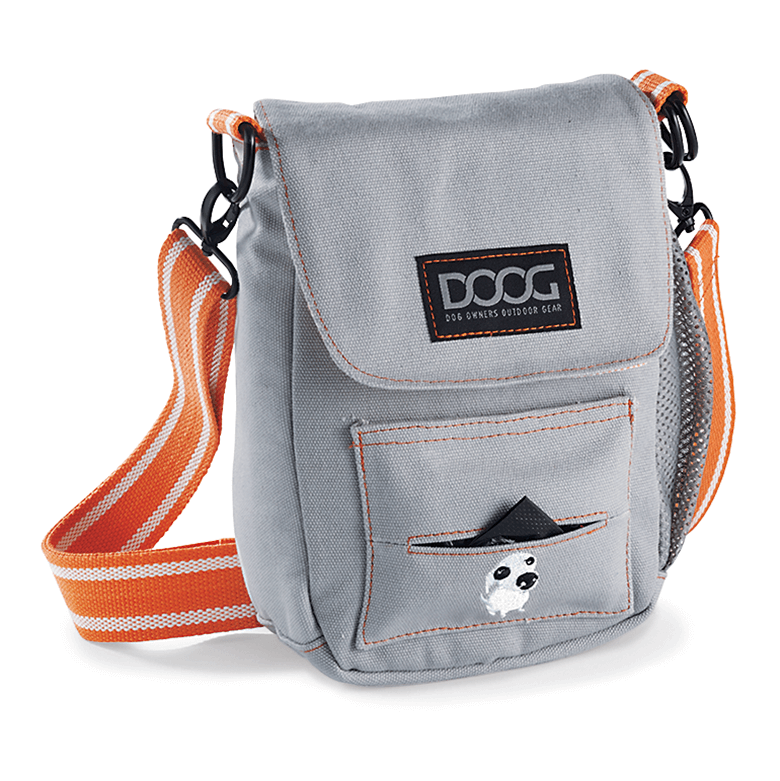 Its Walkie Carryall Dog Bag is compact and lightweight, yet it can carry everything your dog needs and your keys, wallet and sunglasses. It has a snap closure, a waterproof cell phone pocket, a bag dispenser and a mesh pocket for a water bottle or a slimy tennis ball. Carry it on your shoulder or crossbody.
Available in sage, denim blue, gray and black
Price: $39.95
On the Go Jasper Swag Bag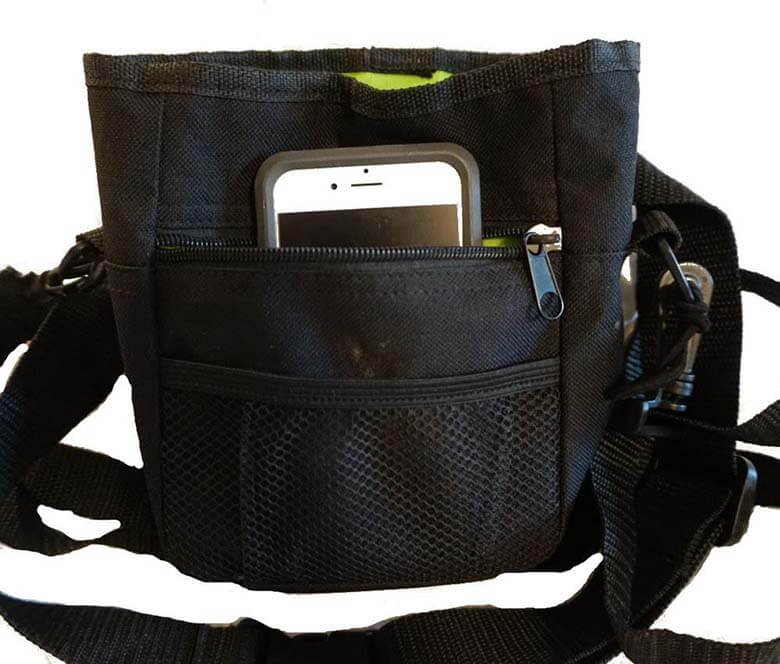 The Jasper Swag Bag comes in a few different styles, but all of them are designed with you and your dog's needs in mind.
For a quick "business" trip early in the morning or late in the evening, the Jasper Swag Bag Mini is perfect. It can hold your cell phone, keys, treats, poop bags, a ball and a water bottle, and it comes with a built-in bag dispenser.
Price: $19.99
The On the Go bag is a little larger, and it can hold more, even a ball launcher and an iPad.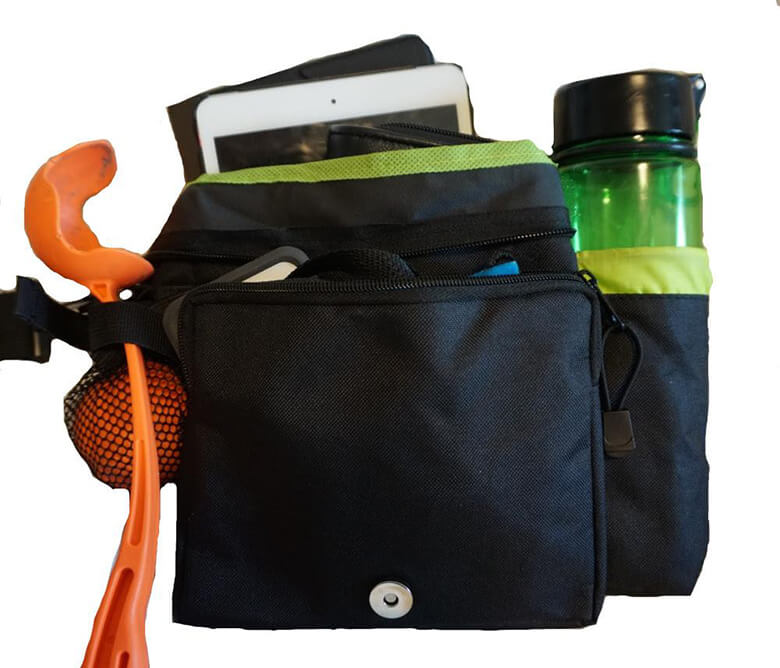 Price: $44.99
The On the Fly is the top of the line with weatherproof, lightweight material, tons of pockets to carry anything you think you may need while still remaining lightweight and comfortable. Straps can be worn around the waist, on the shoulder or crossbody.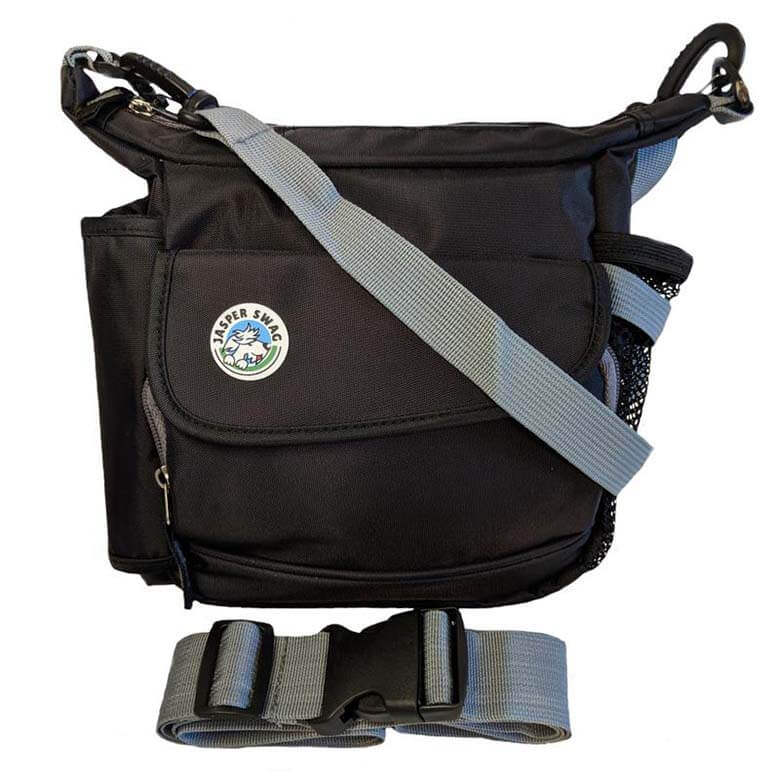 Price: $49.99
Bags for a Long Weekend
Related: Check Out Our Amazing Getaway Up to the Country Where Our Dogs Went Wild
Sleepypod Go Bag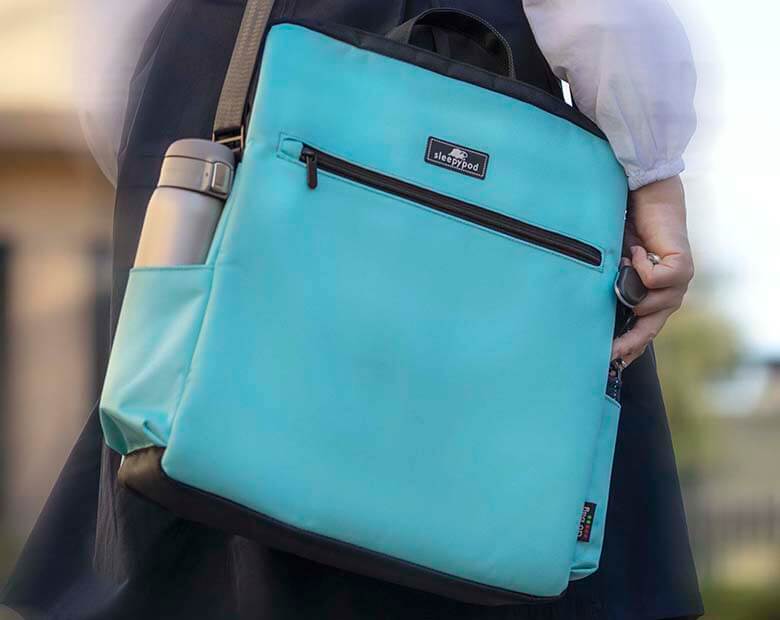 The Sleepypod Go Bag is a well-designed bag that features two mini packing cubes, an insulated food pouch that seals with a roll-up Velcro top and plenty of pockets for everything your dog needs. Gusseted side pockets fit a water bottle, cell phone or umbrella. An exterior utility ring lets you hang a leash or a flashlight while an interior lanyard holds keys so you don't have to dig for them. There's a large, padded interior pocket that will protect your laptop, tablet or your dog's medical records, and a large zippered exterior pocket that keeps items secure and easily accessible.
The bag is made from durable ballistic nylon that is easily cleaned. The padded shoulder strap can be adjusted for crossbody wear, and the tapered shape makes carrying it comfortable. It also has a strong top handle.
Available in silver, black, red and blue.
Price: $79.99
Orvis Dog Traveler's Kit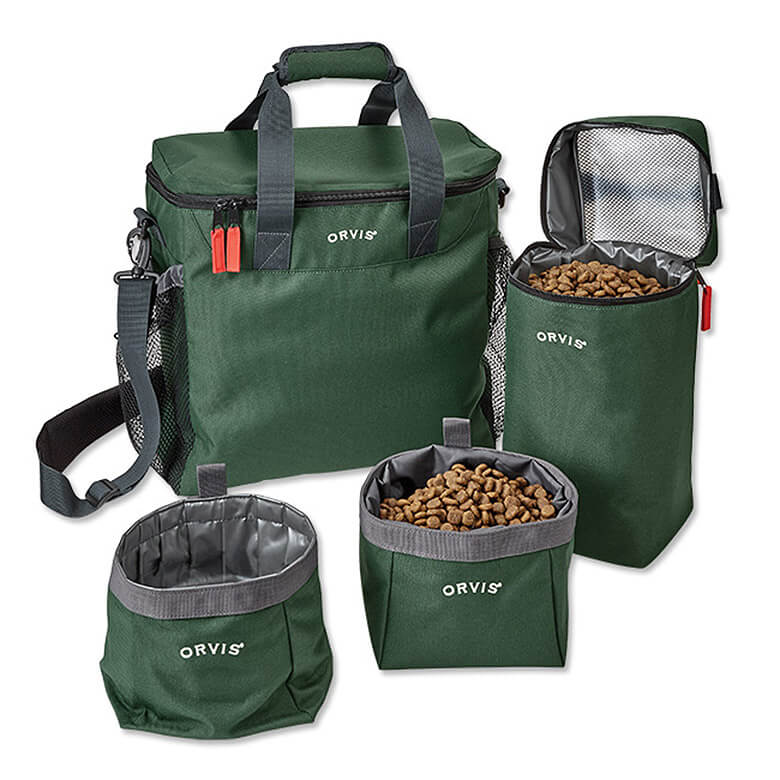 The Dog Traveler's Kit by Orvis is made of durable yet lightweight nylon canvas. It features a lined interior, an airtight bag that can store 4 to 5 pounds of kibble, and two collapsible bowls for food and water.
There's an expandable pocket for toys, harnesses and leashes; a mesh pocket for small or wet items; a zip pocket in the top inside lid and an open sleeve on the back. A padded shoulder strap makes carrying it comfortable. Depending on the dog, it can potentially hold enough food for up to a week. Plus, the bag can be personalized.
Price: $79
Vacation Bags
The longer your vacation, the more stuff you have to haul. It can be hard to anticipate everything your dog will need, but these bags make it easy. With special containers for food and integrated dog bowls, packing for your pooch will be much less stressful.
Overland Dog Gear Week Away Bag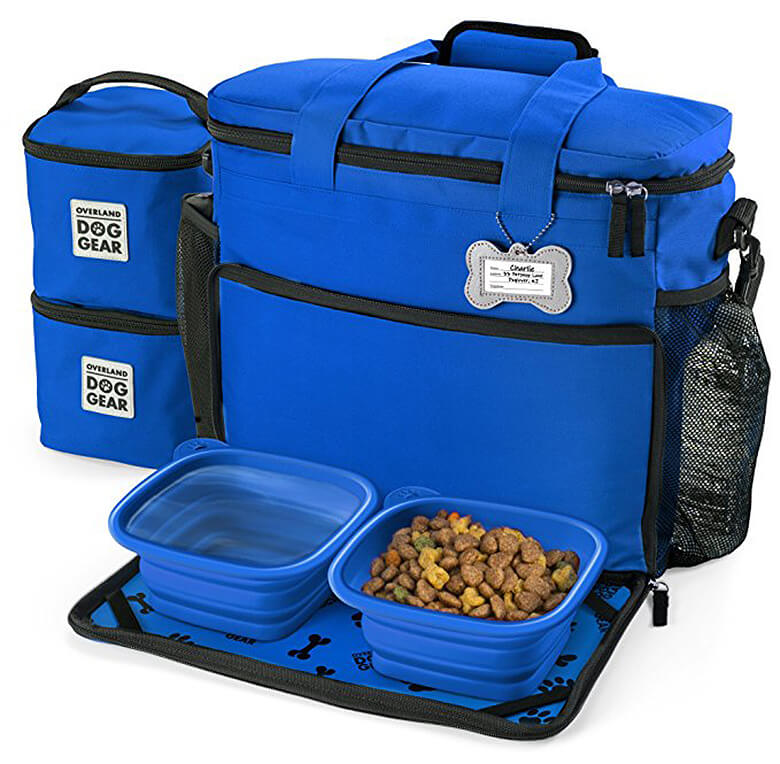 The Week Away Bag is brilliantly designed to hold everything your dog needs for a vacation, but it's still compact and lightweight. The bag contains lined carry cubes for food inside and collapsible silicone bowls and mat stored in the front flap. It has a place for everything. Mesh pockets on the side hold a water bottle or things that need to dry and air out (handy with a dog that loves to get dirty). A zippered mesh pocket on the top inside holds small gear like can openers and measuring cups securely, and the main compartment is divided for better organization.
Available in black, blue and animal print
Price: small $48.00; large $54.99
Rolling Week Away Bags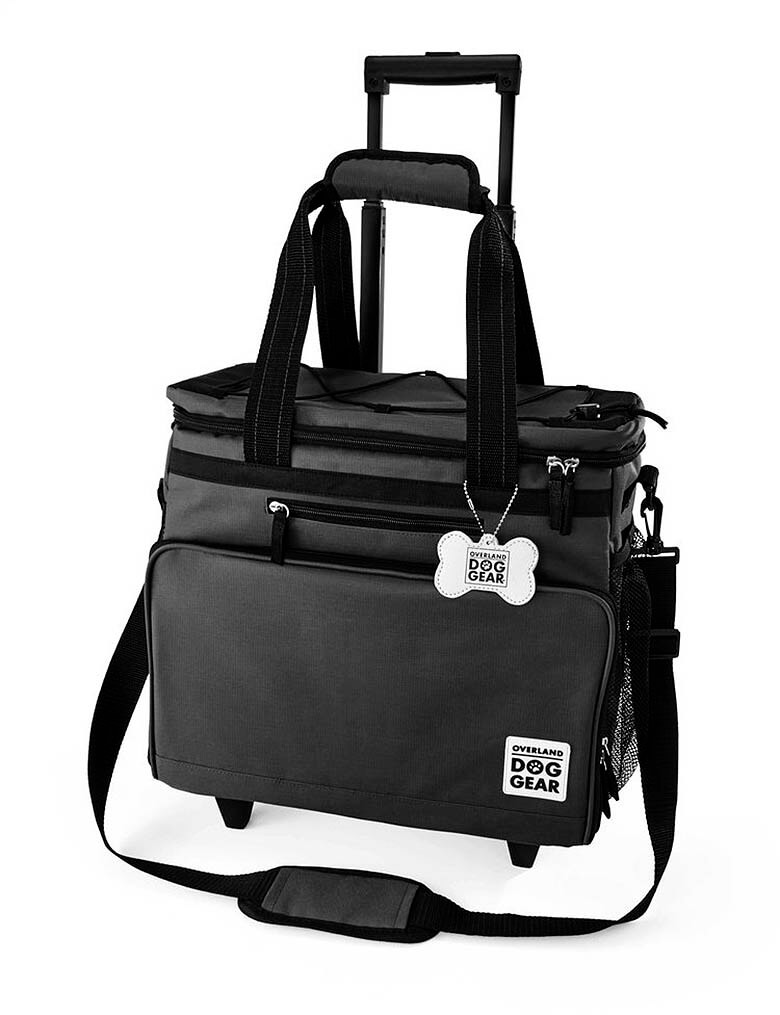 Available in blue and black
Price: $69.99
Ultimate Week Away Duffle Bag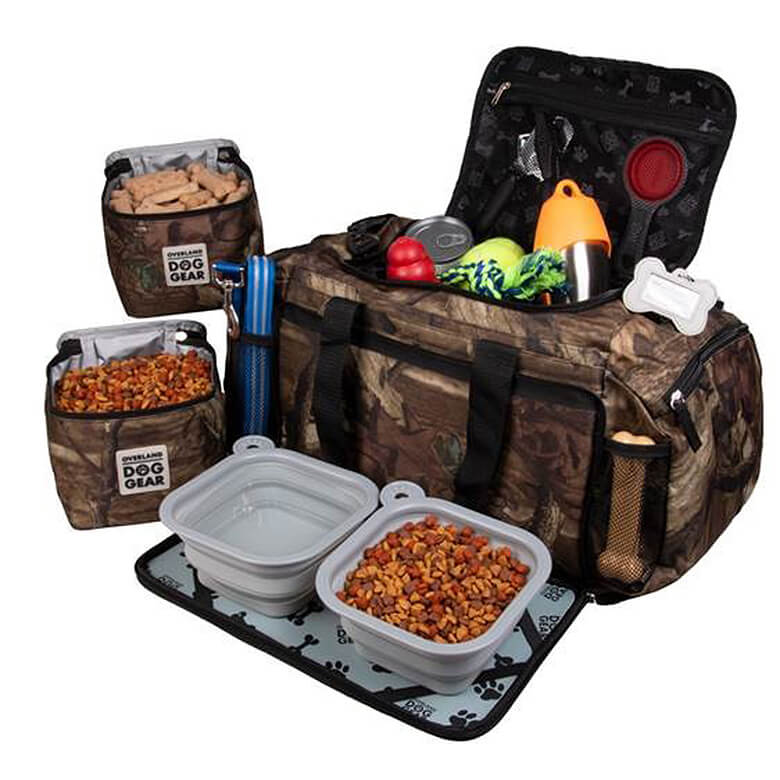 Available in red and camo print
Price: $59.95
Ruffwear Haul Bag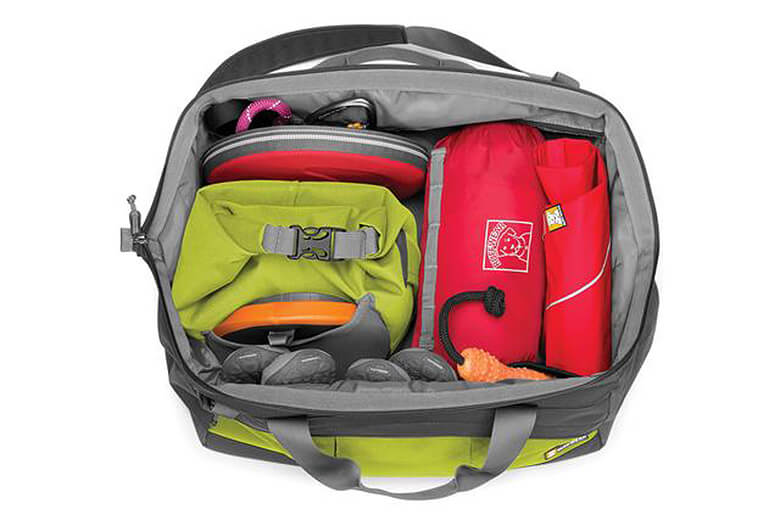 The Haul Bag is a large, duffle-shaped bag that holds a serious stash of dog supplies. The top has a wide, square opening for easy access. There are zippered interior and exterior pockets and mesh pockets for better organization as well as an ID sleeve on the outside for your address and any important information. A shoulder strap and top handles give you two carrying options. You can also buy extras for packing, like the Bivy Bowl for water, the Stash Bag for poop bags and the Kibble Kaddie for dog food.
Price: $79.95
Emergency Go Bags
In the past 18 years, Go Bags have become a household name. These bags are always packed with everything you need to survive a disaster, whether it's terrorists or hurricanes. As we learned from past events, it's imperative to take your dogs with you when you have to evacuate, and that means you have to be ready to go as fast as possible.
These are pre-packed canine survival Go-Bags with everything your dog may need for a few days or longer.
Deluxe Multiple Dog Survival Kit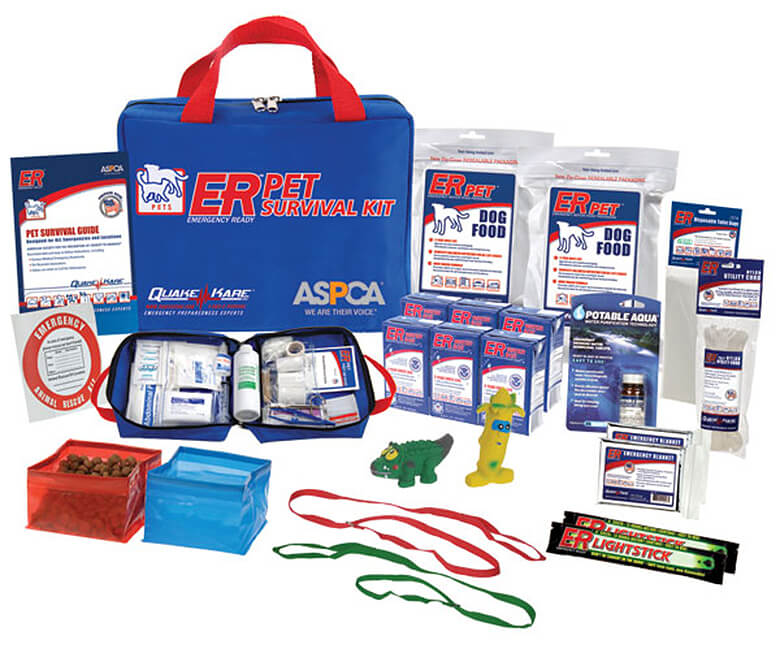 This Dog Survival Kit comes prepacked with everything your dog needs to survive an emergency. It has enough supplies for two dogs over a 72-hour time period, packaged in durable containers. The kit includes dog food packets, water boxes with straws, thermal blankets, light sticks, water purification tablets, first aid kit, three collapsible pet bowls, poop bags, chew toys, and a 50-foot nylon cord, all packed up in a durable nylon carry bag. $79.95
Other great options include:
Pet Emergency Kit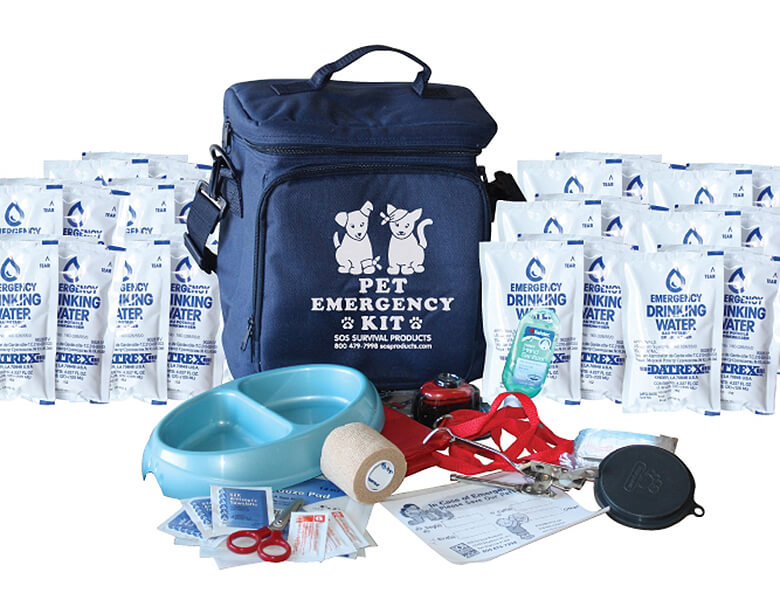 The Pet Emergency Kit is prepacked with emergency supplies.
Price: $37.88
Deluxe Dog Survival Kit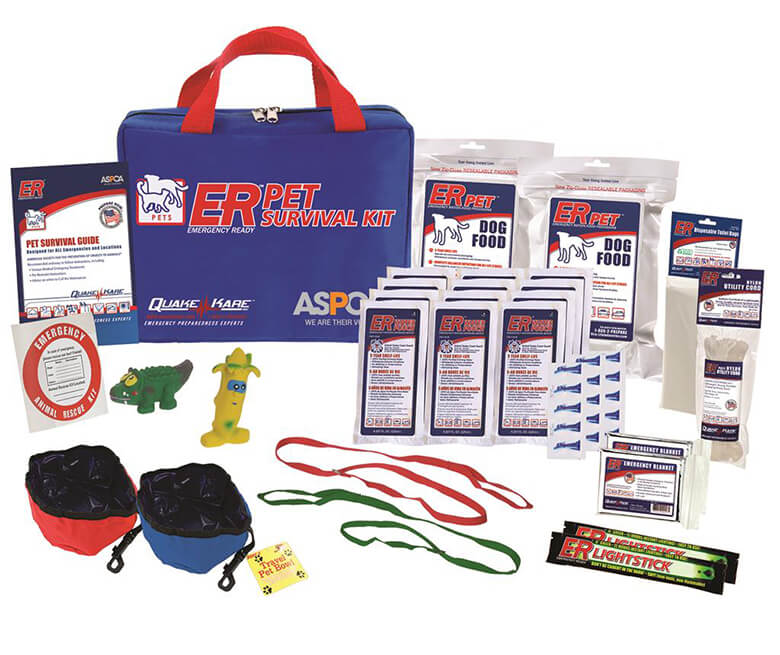 This Ultimate Deluxe Dog Survival Kit.
Price: $49.99