One of the most exceptional things about dogs is their acute attention to the here and now. Your pup is never worrying about past mistakes or future plans — in their own way, they are practicing a kind of mindfulness.
While we define it as being aware of our surroundings and also in tune with our thoughts and emotions without any judgment, dogs practice it naturally, which is why they often don't have a care in the world.
"Dogs remind us every day to slow down," says Carol Sumbry, a certified behavior consultant and professional dog trainer. "Dogs are great at seizing the moment and are natural meditators."
By taking a cue from your pup, you can learn how to fully embrace the present moment, which may help decrease depression and anxiety, improve memory, and boost our mental and physical health, according to research. And for those who don't want to sit quietly with their eyes closed, you can enjoy mindfulness with your dog on your daily walks.
Here's how both of you can enjoy a more mindful walk.
Choose the Right Gear
When it comes to taking a leisurely walk with your dog, the last thing you want to think about is being uncomfortable. Pick properly fitting shoes and attire along with a convenient holder for poop bags, so the only thing you have to focus on is your surroundings.
As for your dog, choose a collar or harness that doesn't cause any discomfort or impede your pup's gait. Dress your pooch appropriately for the weather and have a slightly longer leash to let them enjoy this mindful walk.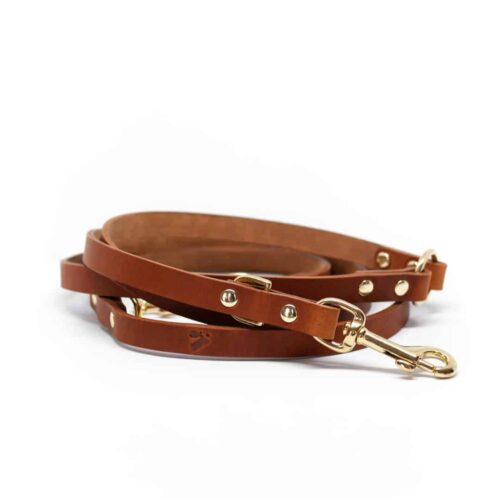 For those who want a leash that has it all, UK brand Vackertass' 5-in-1 leash is the perfect option. At 6.5 feet with hooks throughout, it is extra-long, allowing you to use at its full length, mid-length, with a cross-body option or short, at 3.75 feet to allow your pup to be next to you

"The walk should give your dog an opportunity to explore and be a dog! Sniffing and information gathering is crucial for their mental health," Carol Sumbry, a certified behavior consultant and professional dog trainer, says.
Find a Quiet Environment
The right environment is essential for you and your pet to get the most out of the walk. Sumbry suggests finding a secluded area away from all the hubbub of traffic, barking dogs, and other loud noises.
"I recommend getting out with your companion at least twice a week to a more remote area like a park to connect with nature. Grounding by getting in nature is a great way to reduce inflammation, and improve your sleep and mood. It's as healing for you as it is for your dog," she says.
Sumbry also recommends varying your routine to keep the walk interesting — for both you and your dog.
"Try other sensory-stimulating but calm environments where there are trees, rocks, or new scents for your dog," she says.
For you, changing things up allows you to visually focus on your new surroundings, distracting you from negative self-talk that may be going through your head.
Related: This Simple Trick Will Stop Your Dog From Pulling on Walks
Connect with Your Dog
A mindful dog walk is a great opportunity to deepen your connection with your pet. Sumbry recommends ditching your smartphone and bringing your dog's favorite toy instead.
"During the walk, think of it like being in a dance or conversation with your companion. Bring a favorite toy or one you just bought for him to 'find' magically on your walk. Bring treats and work on your connection with your dog. You can incorporate fun trick training or focus games on a walk to splash in a bit of learning in a fun manner," she says about how to enrich your walks.
Your dog's favorite toy got an upgrade. The chic toy ball from Hoadin is covered in a linen and cotton blend and filled with corn-based fiber and a squeaker. Perfect for fetch or just a little bit of chompin. 

Take Time to Settle In
Mindful walks should not be rushed. So, trying to squeeze in a short, fast walk with our dog will cause more stress than relaxation. Instead, be intentional and take your time.
"Take your time, engage, be present, and pause. This also teaches your dog to be calm on walks," says Sumbry. "If your dog gets riled up, take a moment to resent. Stop at a bench until your pet is calm before continuing the walk. This helps your dog learn that he can be calm in places outside the home."
And be present, paying attention to what you and your dog are enjoying.
"Stop to explore the world with your companion. Look at what he's looking at! Be mindful of what he likes for future destinations," says Sumbry.
A mindful morning dog walk can set the stage for a great day. It allows you to take the time to relax and slow down.
Related: When Taking Your Dog for a Walk, Beware of These Hazards