When dogs get bored or lonely, they invent their own entertainment. This translates to chewing and tearing up inappropriate things, like sofas, cushions, shoes, clothing, garbage and even walls. You may think your dog is getting even with you for leaving him alone or being too busy to play with him, but that's not the reason. They are just restless.
For the most part, dogs need jobs. Dogs need activities that challenge them mentally and exercise to get their heart pumping. Without anything to do, they often become destructive, and without exercise, they becomes obese. Either scenario indicates an unhappy (and unhealthy) pup.
There are easy solutions in the form of dog puzzle toys and games. Even if you have to leave your dog home alone for many hours, puzzle toys for dogs can provide enough stimulation to keep your pooch occupied. They can alleviate boredom and even ameliorate separation anxiety.
"The biggest concern for most of our pets is boredom. They are not able to have the outlet to be able to do the normal things they would do in the wild," says Dr. Andrea Y. Tu, veterinarian and the medical director of Behavior Vets of NYC. "If you think about dog in the wild, the majority of their time is spent looking for food, hunting for food, eating it. Dog puzzles gives them the outlet for mental energy and physical energy."
Different personalities and breeds may dictate the most successful dog puzzle toys. Remember to supervise your dog during puzzle time.
Related: Are We Teaching Our Dogs to Be Lazy?
Here are some of the best puzzles and games on the pet market.
1. Nino Ottosson Dog Brick Interactive Puzzle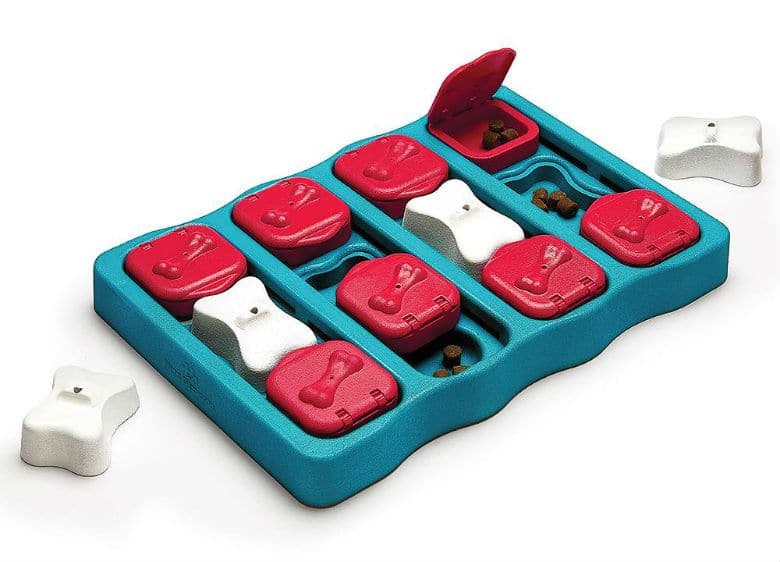 From Sweden, Nina Ottosson is one of the original inventors of the interactive dog toy back in the 1990s. You can find a wide range of interactive games organized by easy, medium and advanced puzzles.
Related: Why People Are Waiting Half a Year for These Custom Dog Kennels
One of the company's most popular dog puzzle toy, the Dog Brick, is hard to beat. You can hide treats in the hollows under the "brick" compartments, which your dog has to slide to access, and bones, which have to be lifted or knocked aside.
"Loved this product! Kept the pup entertained for longer than other toys. Helped build up her confidence and coordination. We used training treats, dog biscuits and frozen water and fruit."
— Marian, verified Amazon buyer
Available on Nina Ottosson and on Amazon for around $37.00.
2. Kong Classic Dog Puzzle Toy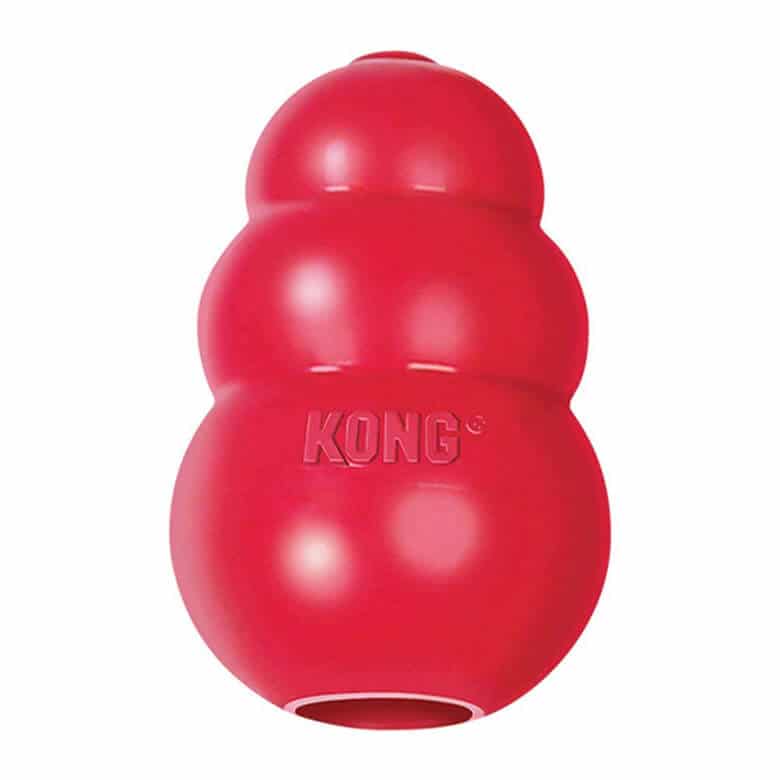 An oldie but goodie, it's hard to go wrong with a Kong. These are especially great for teething puppies, and it will keep a food-motivated dog occupied for hours. Fill them with peanut butter and kibble. Kongs are durable and multi-purpose; they bounce and roll and can be used for fetch. The shape makes them bounce unpredictably, which keeps your dog interested.
"My dog does not eat her dog food unless I put it in Kong. Slows down feeding time and makes her play with it to get her food. I put a tiny bit of peanut butter on dog food at the end of the Kong. Now she eats her kibbles."
— Delina, verified Amazon buyer
You can get them all over, but try Amazon or Chewy for all sizes, from x-small for $7.49 to XX-Large for $24.99.
3. Trixie Activity Flip Board Interactive Dog Puzzle Toy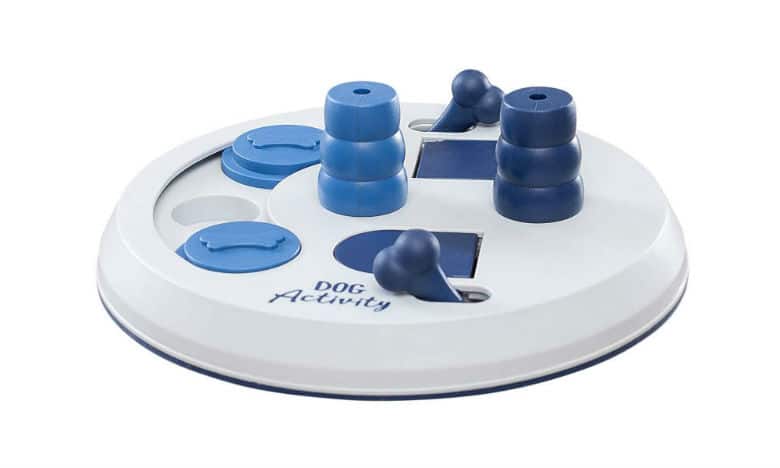 This is both a treat puzzle and a real puzzle toy for dogs. Designed for small dogs specifically, your pup has to slide open compartments, flip levers and lift out cones to get at the treats. The rubber rim keeps the puzzle stable while your dog explores, and it is dishwasher safe. Recommended for "intermediate canine players." You can vary how many treats and the placement of the biscuits to increase the difficulty.
"I got this for my 4 month old puppy for when she's at work with me. She loves to chew and toss this around on the concrete floor and there's no issues it's very sturdy. I highly recommend this puzzle board. I love that it has 3 types of puzzles so she really has to use her brain instead of each being the same."
— Tiff, verified Amazon buyer
Available on Amazon or Chewy for $10.99.
4. Nina Ottosson Dog Twister Puzzle Toy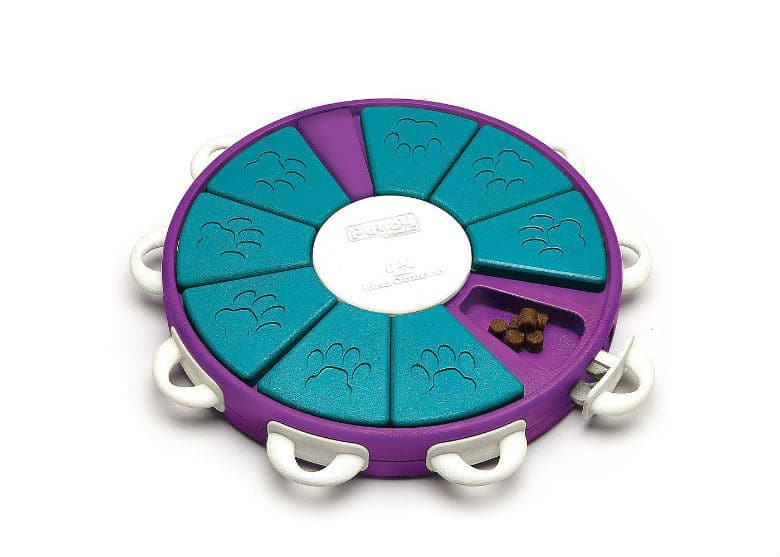 Among the most popular dog puzzle toys from Nina Ottosson is the Dog Twister, a challenging treat dispenser game. Your dog can push the interlocking segments around to find the treat, but to make it harder, you can lock some of the panels in place.
"This is awesome! My border collie's level of intelligence is a part-time job for me. He requires engagement and he figures out everything fast. This puzzle took him a good hour and a half to figure out the first time and every time after that, he sits with this for about an hour. He's really calm (which he's normally not) and concentrated with it, methodically moving pieces."
— Courtney, verified Amazon buyer
Available on Nina Ottosson, Chewy or Amazon for around $20 to $30.
5. Trixie Activity Poker Box Interactive Dog Puzzle Toy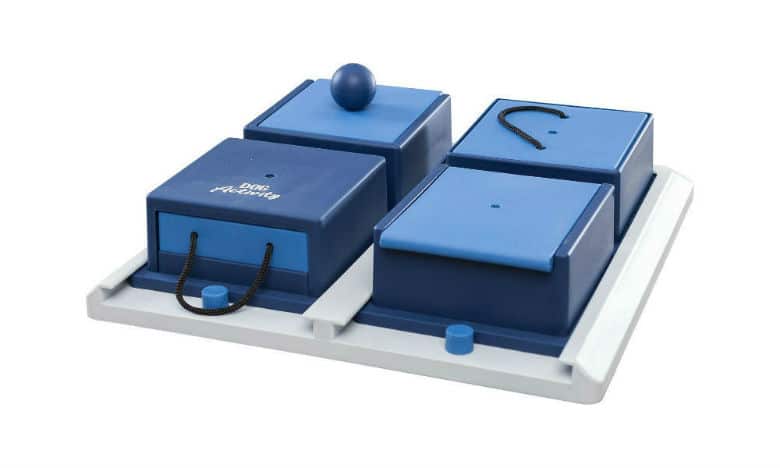 This treat puzzle has four containers for treats, and each one opens a different way. Your dog will have to navigate lids, flaps, knobs, ropes and drawers to get to the reward. It is challenging and requires concentration for most dogs, not only helping with mental stimulation but also a way to burn off energy. Each box needs a different technique to open it.
"I love this smart toy for my Sheltie. She loves it and is very good at figuring the parts out. The directions are great for introducing different levels of difficulty for your dog. And it's a long lasting toy she won't get tired of because of all the options and ways you can use it. I highly recommend it!"
— Annette, verified Amazon buyer
Get it at Amazon or Chewy for under $20.
6. Outward Hound Hide-a-Squirrel Dog Puzzle Toy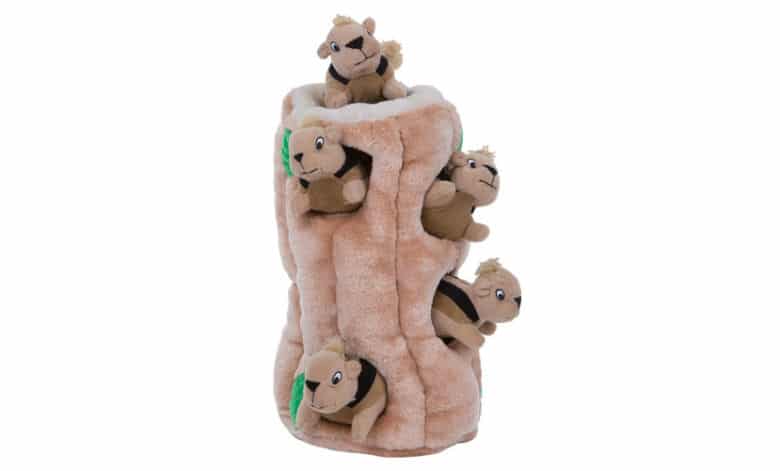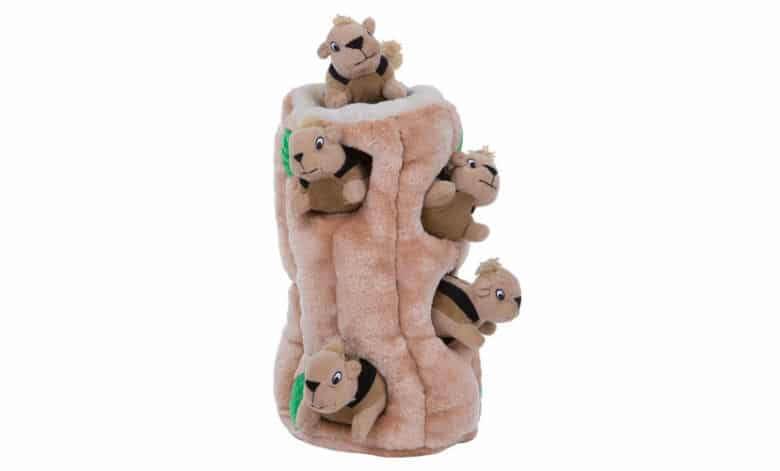 If your dog goes "nuts" over squeaky plush toys, he will love this puzzle. This puzzle toy for dogs uses a combination of textures, shapes and sounds to keep your pup interested. Just stuff the squirrels in the plush tree trunk, and watch him go crazy trying to pull them out..
Customers of both small and large dogs report their dogs stay in love with this puzzle. It's one of the few that doesn't use food as a reward, so it's great for those chubby pups who need activity but not calories. If your dog gets carried away, replacement squirrels are available.
"I have a Goldendoodle puppy (11 weeks). My vet said they are an intelligent breed and recommended getting her 'puzzle toys.' She loves this one! She loves to pull the squirrels through the holes."
— Rebecca, verified Amazon purchaser
Get it on Amazon or Chewy in four different sizes for under $15.
7. Nina Ottosson Dog Casino Interactive Game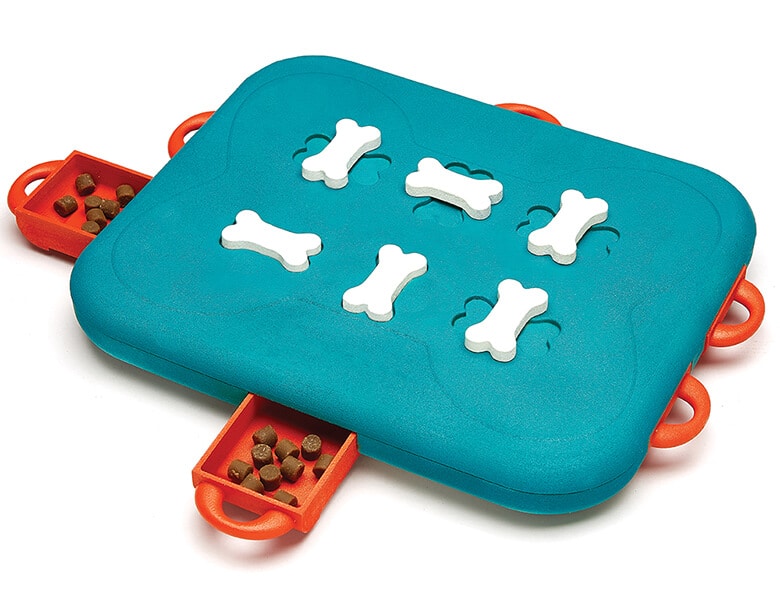 Bring Vegas to your dog with this Dog Casino game. This treat-seeking dog puzzle has no removable parts, so it's safe for even the most determined dog. To play, switch the bones to the "unlock" position to drop treats into the drawers. Then close the drawers and lock the bones. If your dog is stumped, try unlocking a bone and opening a drawer to teach him how to play the game. Durable and easy to clean.
"My dog loves this puzzle. I fill it up when I leave her so she has something to work on while I'm away. You can turn the bones from slightly awry to all the way halfway to make it harder for the dog to get the treat."
— Richard, verified Amazon buyer
Get it at Nina Ottosson, Amazon or on Chewy for around $19.
8. Omega Paw Tricky Treat Puzzle Ball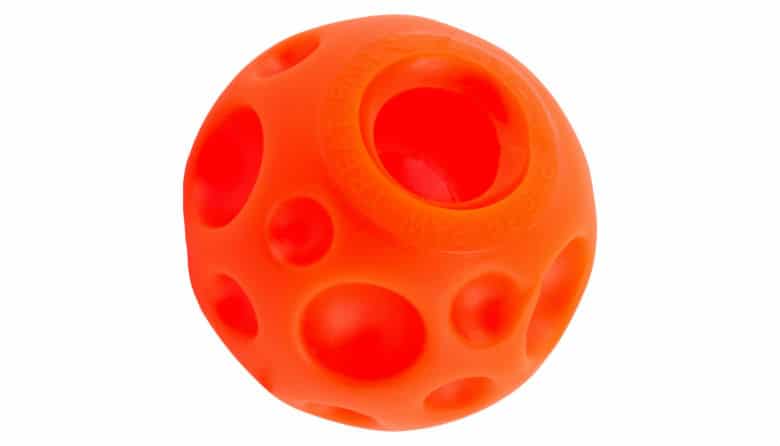 This is a durable treat ball that dogs love. It's made of soft, pliable vinyl, so there are no sharp openings where your dog could get hurt. Your dog rolls the ball around, and the treats fall out. The unique shape and soft texture makes it easy for your dog to pick up. It holds up to tough chewers, is quiet on hardwood floors and dogs can roll it, pick it up, shake it and carry it in their mouths.
"The puzzle toy balls keep the pups engaged, utilizing their nose, challenging their perception to solve the puzzle that leads them to get the ball to drop the treats and it teaches them patience. I loved these so much that I bought an extra ball for the pups that visit and have avidly recommended these toys to my friends and family."
— Shantell, verified Amazon buyer
Available in three sizes, ranging in price between $5 to $10 on Chewy or Amazon.
9. iFetch Interactive Ball Launcher Dog Toy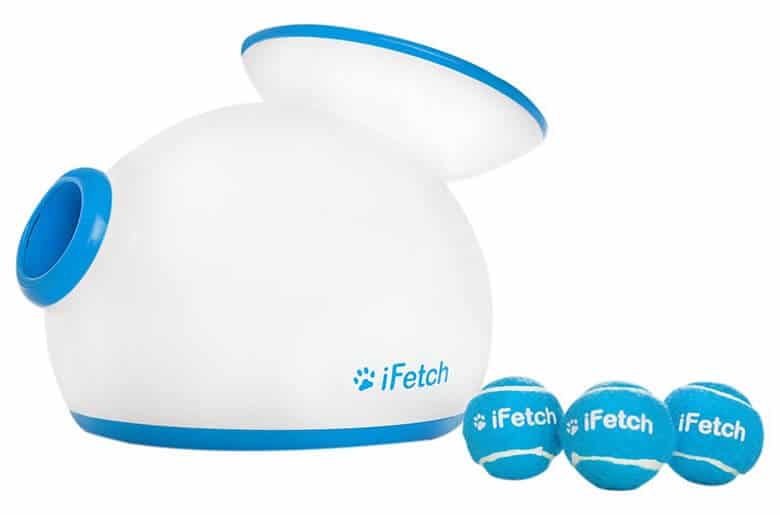 No review of interactive dog puzzle toys would be complete without this (dog) crowd favorite. The iFetch launches the ball, and it will launch them again once your dog brings it back (that's the fetch part) and drops it into the machine.
The iFetch works on an AC Adapter or six C-cell batteries. It comes with either three mini tennis balls and has three distance settings of 10, 20 and 30 feet (for smaller dogs) or three big tennis balls with launch settings of 10, 20, 30 and 40 feet (for larger dogs), making it the perfect puzzle toy for dogs of any size.
"My dog loves this! It took her about a week to learn how to put the ball in herself but now she is constantly playing with it. It's by far her favorite toy. She could play with this for hours."
— Wayne, verified Amazon buyer
The small version retails for around $115, whereas the larger version is around $200. Get it at iFetch, Chewy or at Amazon.
10. iFetch Frenzy Dog Puzzle Toy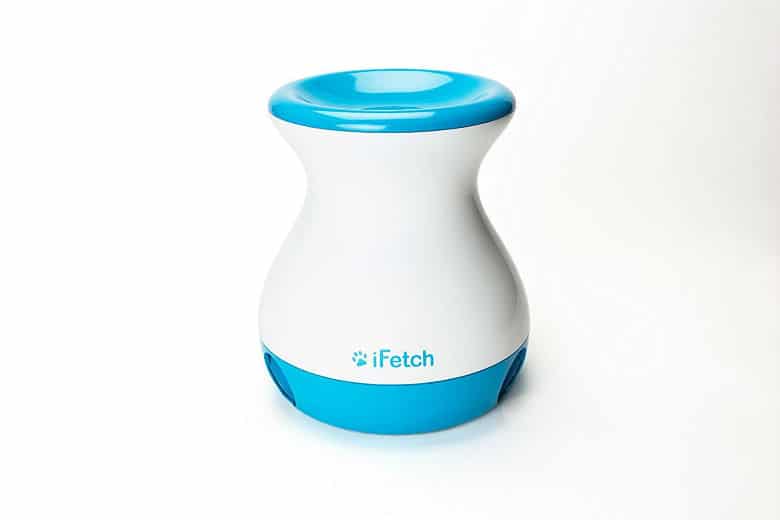 If you're on a budget, get the iFetch Frenzy. It's an interactive, gravity-driven fetching toy that doesn't require electricity or batteries. It is for smaller to mid-size dogs. Your dog just drops the ball into the top, and it rolls out of the base in a random direction, which keeps your dog interested.
"My red toy poodle loves this product! He gets so excited when he puts the ball in the hole and it keeps him busy!!!!"
— Gina, verified Amazon buyer
Buy it at iFetch, Chewy or Amazon for $29.95 to $39.95.
Related: Bored Dog? Give Him One of These 5 Toys to Keep Him Busy
11. Bob-A-Lot Interactive Dog Puzzle Toy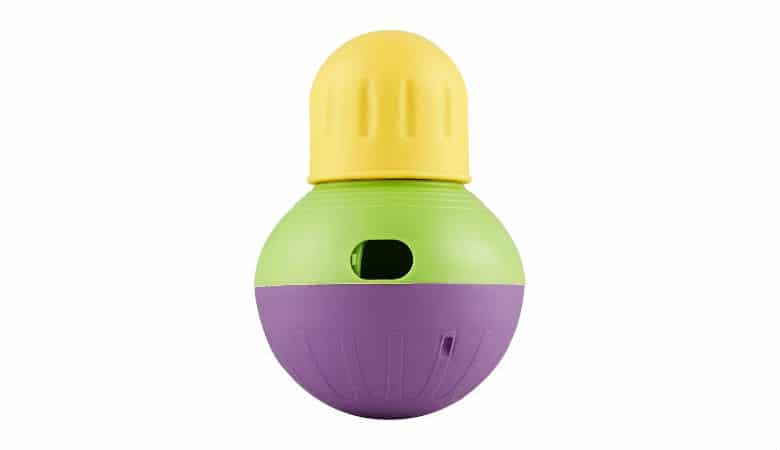 Inspired by inflatable punching bags for kids, the Bob-A-Lot interactive dog puzzle toy will be hard to take down by your pup. Heavier on the bottom, the Bob-A-Lot erratically wobble making it an unpredictable toy for your dog. It fits up to three cups of dog food, so it is perfect for those who want their dog to slow down during mealtime. This particular puzzle for dogs has adjustable openings on the top and bottom allowing for various kibble and treat sizes.
"My dog loved this toy. This toy definitely made mealtimes more fun, as well as it made mealtimes take longer. My dog would seem more tired than usual after playing with it for a bit, just because he was getting so much mental stimulation with focusing and thinking of how to get the snacks inside out."

— GL, verified Amazon buyer

Available in two sizes on Amazon and Chewy for about $20.
12. Qwizl Treat Puzzle Dog Puzzle Toy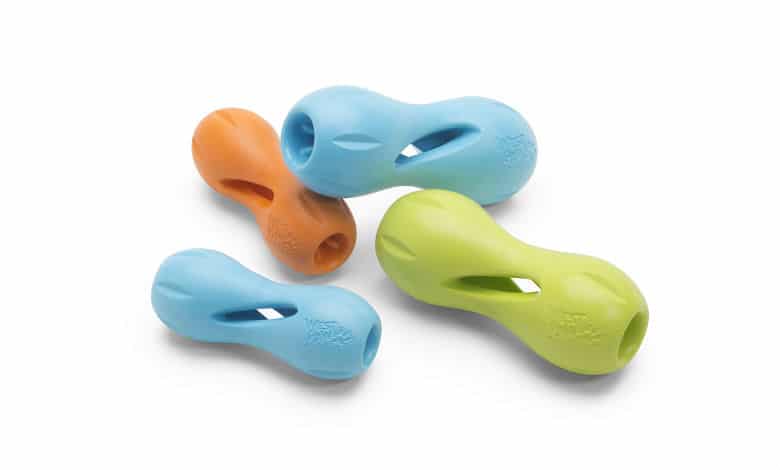 For those tough chewers, West Paw has something for you. Called the Qwizl, the award-winning dog puzzle toy lets you put treats in the ends — think: long, stick-like biscuits — and with its flexible ridges, it secures the goodies. The sides are open to let the scent be released on all sides, and the curved shape makes it easy for dogs to grab on with their paws. It is not only perfect for dog puzzles, but can be used for fetch and even floats.
"We recently adopted a medium size dog who is a heavy chewer. This dog is really smart. This is the first puzzle toy that we have found that is a real challenge to him. That means it's great for him for 2 reasons: it keeps him engaged and he isn't eating a million calories worth of treats."
— Momster, verified Amazon buyer

Available in two sizes, three different colors on Amazon, Chewy and West Paw for $16 or $20.
13. PAW5 Wooly Snuffle Puzzle Mat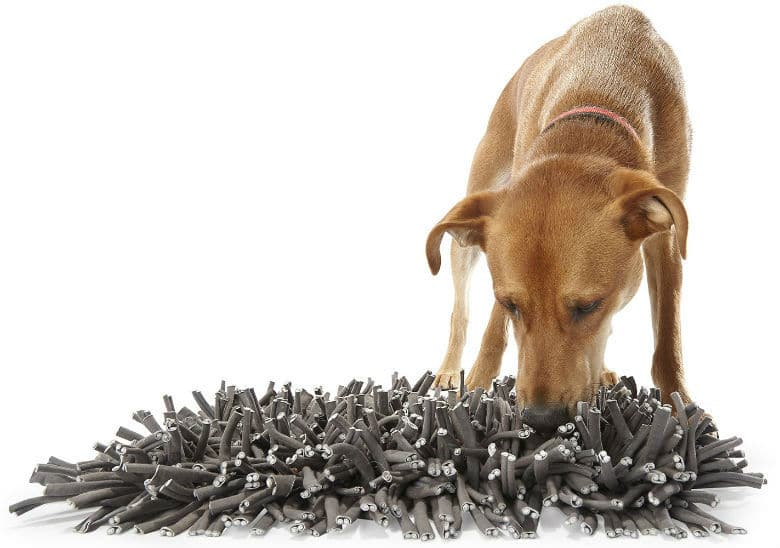 The snuffle mat is the perfect dog puzzle toy to utilize your pooch's sniffing instincts. Made of soft upcycled material you simply hide treats or kibble under flaps and let your dog forage for the treats. It is not only eco-friendly, but is also machine washable and easily rolls up for storage and transportation.
"I am THRILLED with the Wooly Snuffle Mat! She doesn't have to be a genius to use it! I spend a little extra time to make sure that the food is very well distributed inside the mat so she can really forage. Not only does it slow down her eating, but it allows her to hunt for her food just like she hunts for bugs in the yard. I definitely recommend it."
— Jennifer, verified Amazon buyer
Available on Amazon, Chewy and PAW5 for around $40.
14. Nina Ottosson Dog Tornado Puzzle Toy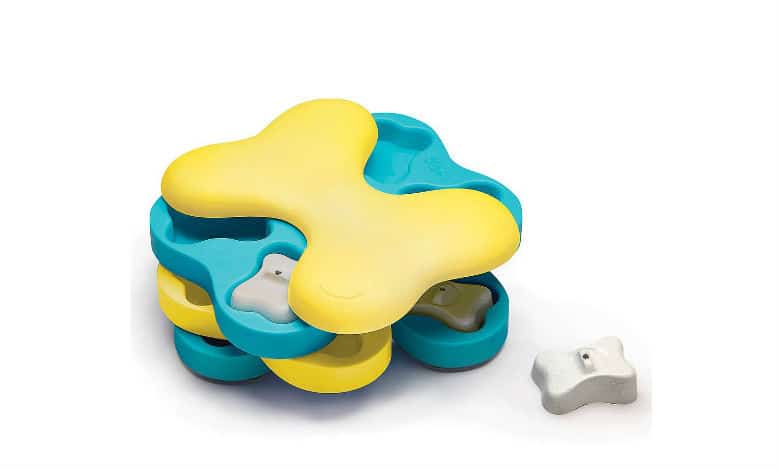 This Dog Tornado puzzle toy will take your dog for a spin. With four levels and 12 compartments, the toy turns while your dog tries to unveil treats and food. You can add bones on top of the compartments to make it even more challenging. This puzzle for dogs can be used either as an interactive activity to keep your pup busy during the day or help your pooch slow down at mealtime.
"My super smart six month old Aussie Shepherd/Golden Retriever mix puppy needs so much mental stimulation or she gets destructive. This toy is perfect!!! It kept her occupied for at least 20 minutes and then wore her out!!! Excellent!!! Highly recommend!"
— Lisa, verified Amazon buyer
Available on Amazon, Chewy or Nina Ottoson for under $20
15. West Paw Toppl Treat Puzzle Toy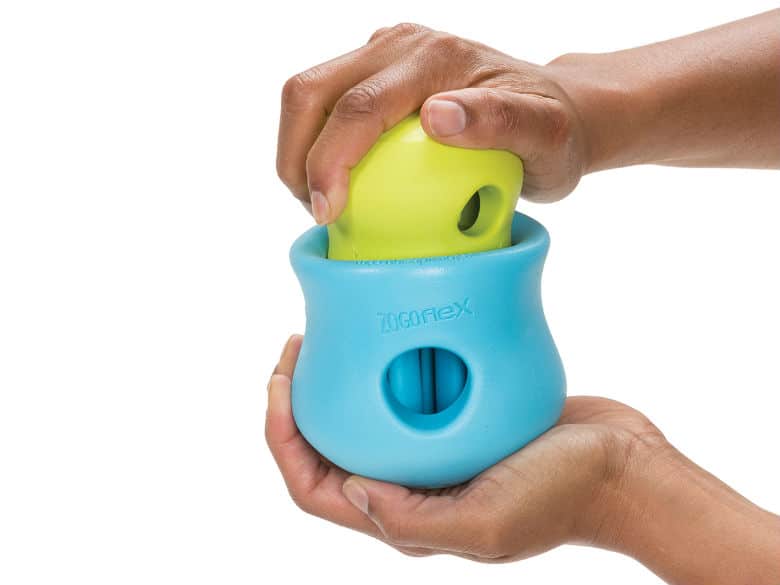 Another fun puzzle toy from West Paw, the Toppl is durable, with West Paw having a "Love It Guarantee," meaning the company will issue a refund or replace the toy if it gets damaged. Fill the Toppl with treats or kibble by inserting them into its inner "teeth," which holds the goodies. Your dog will have to work to remove and can do so from two different openings. Need a bigger challenge? You can combine two Toppls, inserting a smaller one into a larger one, to make it an even harder dog puzzle.
"We have a dog with separation anxiety and the trainer we are working with recommended treat toys that can keep her busy for when we are leaving. She specifically recommended this toy and I can see why. This toy is perfect."
— Parallel, verified Amazon buyer
Available in two sizes, three colors on Amazon, Chewy and West Paw for $15.95 and $20.95.
16. ZippyPaws Popcorn Squeaky Hide-and-Seek Dog Puzzle Toy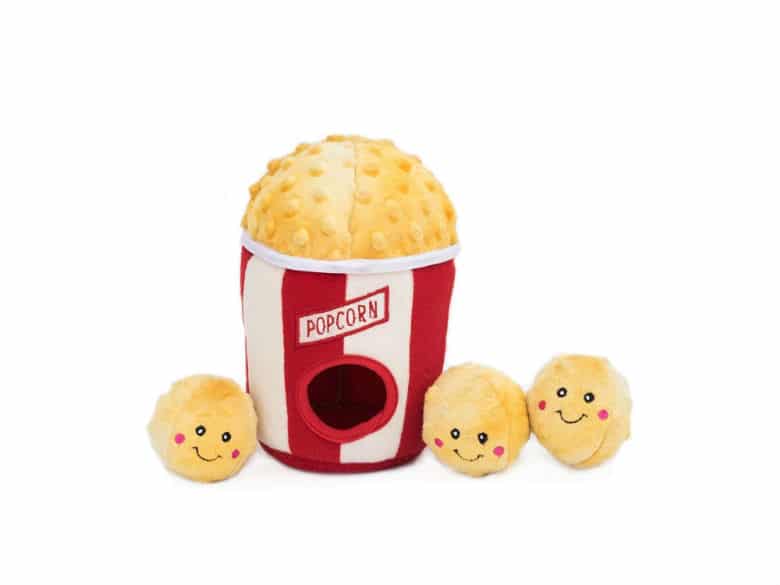 This puzzle toy may make your dog a bit hungry! Stuff the three popcorn balls into the bucket and watch as your pup tries to get all these yummy toys out. You can also hide the popcorn balls around your house for a fun game of hide and seek. And when your pup is tired of the squeaky dog puzzle, he can cozy up to it during nap time. Best for small and medium dogs.
"My two dogs (Chihuahuas) have been playing with this every day for almost two weeks and it is in the same condition as it was day one. It is very durable and holds up to their rough playing with it. They really love it. The hole is small enough to give them a little bit of a challenge getting the popcorn balls out and the balls double as a fetch toy because of their shape and resemblance to their regular fetch balls."
— Olynomad verified Amazon buyer
Available on Amazon, Chewy and ZippyPaws for $7.99 to $8.99
17. Nina Ottosson Dog Smart Puzzle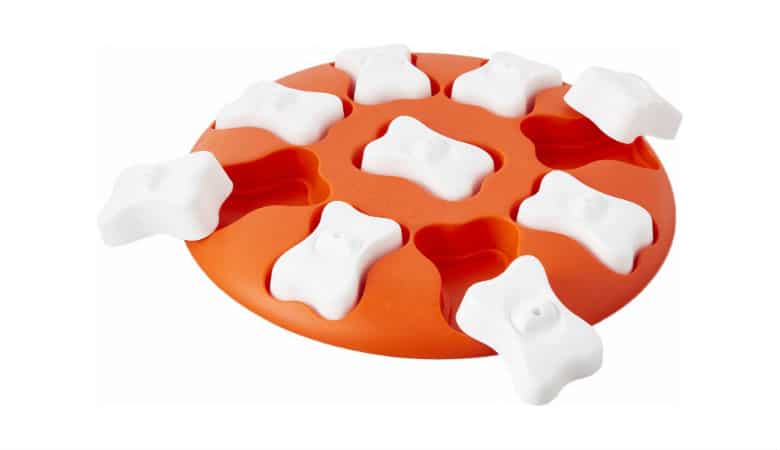 For the dog-puzzle newbies, this Nina Ottoson toy is for you. Hide treats randomly under the bones, with the option of having the bones flush against the board or elevated. Your pup can nuzzle the bones with her nose or paw at them. The entry-level game is perfect for those dogs who are destructive and need an outlet for her energy.
"HE LOVES THIS! It is so much fun to see him figure it out. This is definitely the beginner board, but you can make it slightly more challenging by flipping the pieces around. There's a small hole in each piece so the dog can smell what is (or isn't) inside, and some helpful tips included."
— E. Rose, verified Amazon purchaser
Available on Amazon, Chewy and Nina Ottoson for $11.99.
18. Trixie Mad Scientist Puzzle Game for Dogs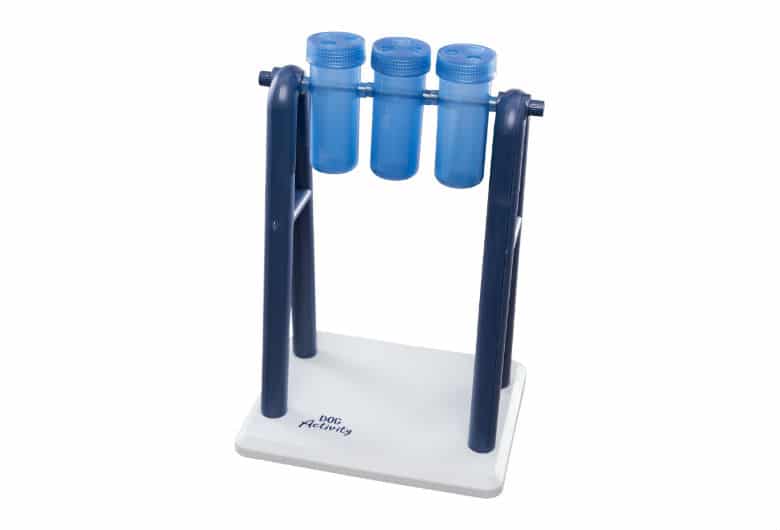 A bit of a topsy turvy game for your pooch, this dog puzzle from Trixie forces your furry to think differently when it comes to treat time. Fill the beakers with some yummy treats. Your pup will have to turn over the tubes to release the goodies. Once your dog masters the first level, you can cover the beakers with lids that have holes in them. There are two different lid sets for varying degrees of difficulty. The Mad Scientist dog puzzle has a non-slip bottom and is dishwasher safe.
"This is a perfect puzzle toy. I have bought a flip board for my dog and he figured it out too quickly. This one took him just long enough to figure it out to not get bored with it. I love that it comes with multiple caps to increase the difficulty. Seems fairly sturdy too, I just won't be leaving it with him unattended since he is a chewer."
— ALook, verified Amazon buyer
Available on Amazon and Chewy between $18 and $24
19. PetSafe Busy Buddy Barnacle Treat Dispensing Dog Puzzle Toy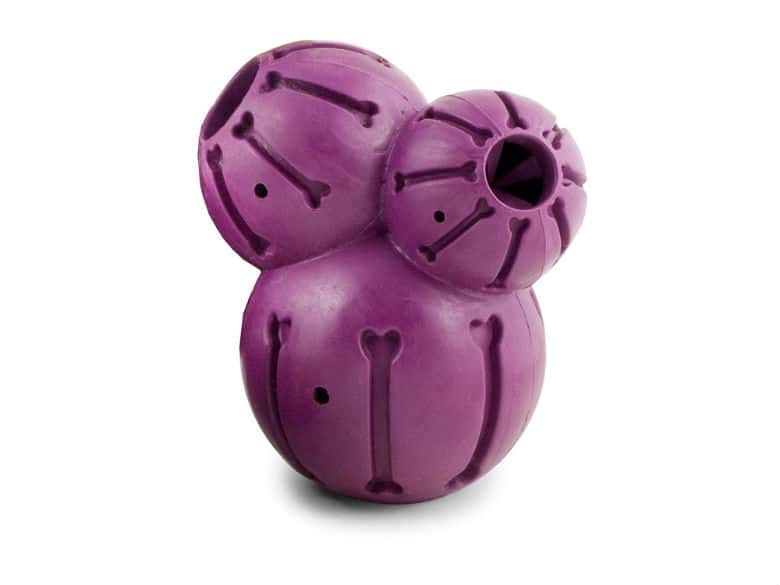 Another simple yet fun dog puzzle, this barnacle toy rolls and bounces irregularly keeping your dog on his toes. Made of rubber, you can put in kibble, treats or peanut butter in the three chambers before giving it to your best friend. Your dog will have to learn to roll the dog puzzle toy to get the treats out. Great for all sizes.
"This is truly a challenge. Things don't just fall out, even when he rolls it around. Since the food is really hard to get, it entertains him for longer. My anxiety-ridden, food-driven dachshund mix, who has earned the name 'scissor mouth',finds true doggy joy in each hard earned morsel he pries out of this crazy thing."
—Tracker, verified Amazon buyer
Available on Amazon and Chewy in four sizes between $5.95 and $15.95
We may seem a small commission if you decide to purchase some of the products mentioned.