For our four-legged sidekicks, the dog days of summer is no joke. With the sun beating down on them, heat can cause disorientation, vomiting and exhaustion, to just name a few issues.
Living in the biggest urban sprawl in the nation, New York City, the heat is even more unforgiving, for both myself and my two dogs, Milo, a pit bull mix, and Lola, a husky mix. Temperatures tend to soar into the 90s during the summer, and often with no grass or trees in sight, along with stifling air, the city turns into one big sticky, concrete jungle.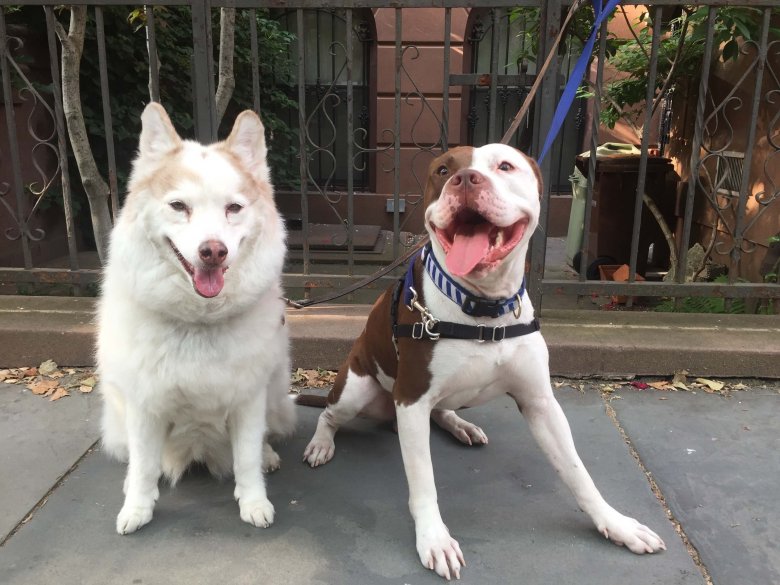 While I definitely feel it — constantly sweating anywhere I go — my dogs have it worse. While some, like Lola, have fur to insulate and cool themselves off, short-hair dogs are getting hit directly with the rays. They can even get sunburned, as their sensitive skin remains not protected.
When it comes time to getting our dogs out and exercising them, it is important to take precautions. When it is a muggy, swamp outside, we walk our dogs in the morning and in the evening to avoid the sun at its mightiest. But still, by the end of our trip, tongues are out.
Related: Super Easy 'Pup Pops' Recipe That Your Dogs Will Absolutely Love
So, when I heard about Ruffwear's Jet Stream vest, I decided to investigate it for Milo, the pit bull mix with a thin coat. The activewear dog company touts the Jet Stream can keep your dog cool on "high-intensity adventures," like hiking. While walking around New York City isn't exactly a crazy, vigorous activity, it does work up a sweat.
The Jet Stream works by using shading and evaporative techniques to cool down your dog. Its spandex fabric fits over the top of your dog to block the sun's rays, similar to if he was hanging out in the shade or under the tree.
It also comes equipped with a three-layer cooling chest panel that is activated by soaking it in cold water. It's supposed to work like a sponge, soaking up the water to keep your dog cool.
Our take
We wanted to test this bad boy out, so we decided to give it a whirl in the heart of the summer season – in July, where the temperature hover around 90 degrees, even in the evenings.
The soak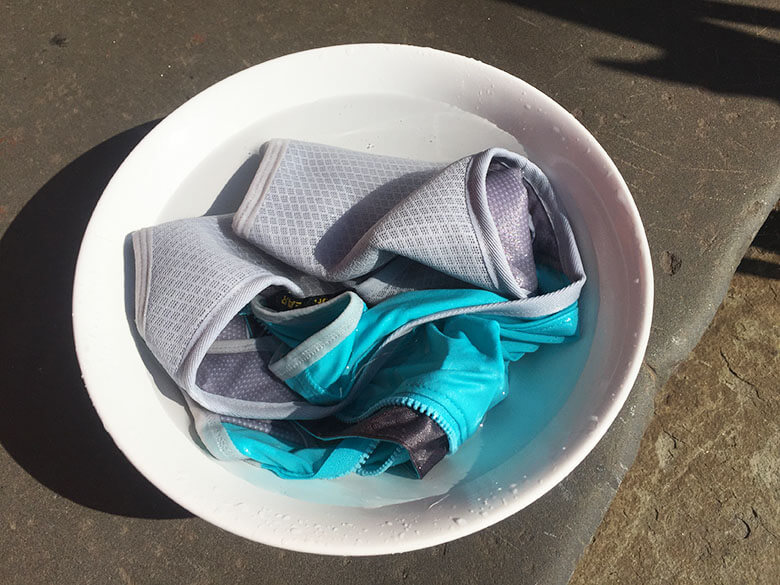 First, my boyfriend and I had to prep. We put the vest in a bowl of cold water, while we got the dogs ready for their walk. It is usually a pretty big production, with us running around asking, "Where are the dog bags?  Milo, you need to calm down.  Lola, are you ready to go? Babe, do you have the leashes?" Once set, we started the journey.
The squeeze
Once all situated, we took the Jet Stream vest out of the bowl and gave it a good squeeze. It didn't have that heavy feel, as some items do when they get soaked in water (okay, most items). Rather, it was light, but definitely kept the water.
Related: Everything You Need to Know to Have a Happy and Safe Summer for You and Your Dog
We needed some science
If I am going to test out this Jet Stream, I am not going to mess around. I needed some proof if it worked, or didn't. So, I decided to take Milo's temperature – the easy way. I used one of those infared thermometers to measure his ear temperature. While Milo definitely hated the thermometer, we were able to get an accurate reading: 100.2. He was right in the normal range.
Decking out our dog in the Jet Stream vest
Milo is a super chill dog, so putting on the Jet Stream vest was a breeze. For some more rambunctious pups, it may be tricky to gather both sides, attach them to the zipper and close up the vest.
One thing that I didn't love was the actual zipper. There wasn't really anything to grasp onto, making it a bit of a pain.
Also, the fabric – on his back and chest — is much thinner than the marketing picture.
We're off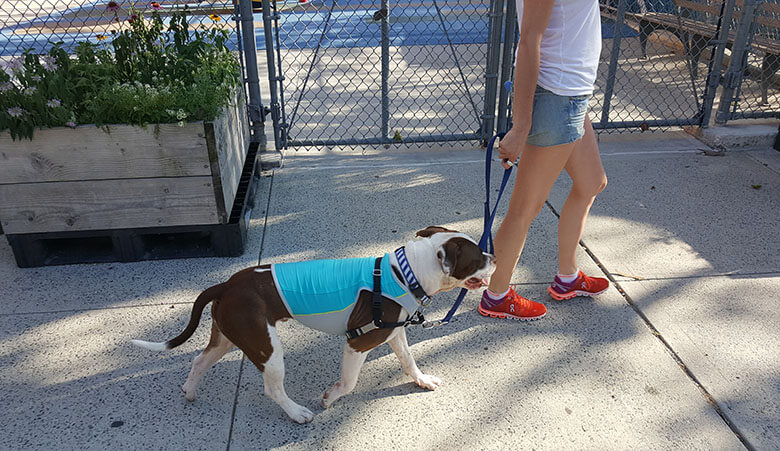 During the walk, there was no fuss with the Jet Stream vest. It didn't roll up, get saggy or was in any way restrictive. It was like he wasn't wearing anything – and wasn't the least bothered.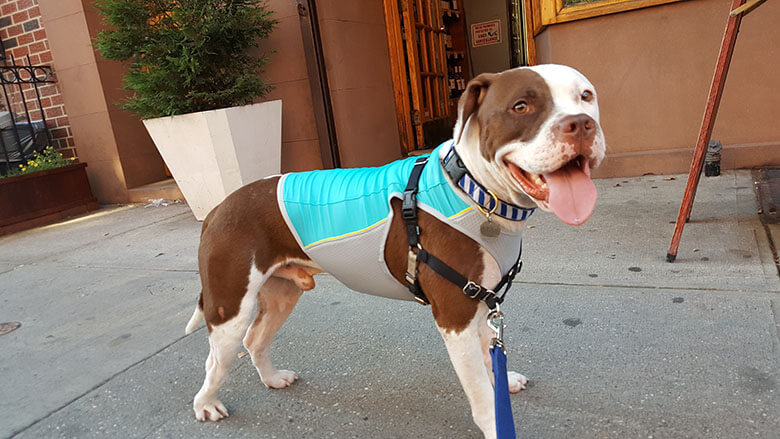 The real test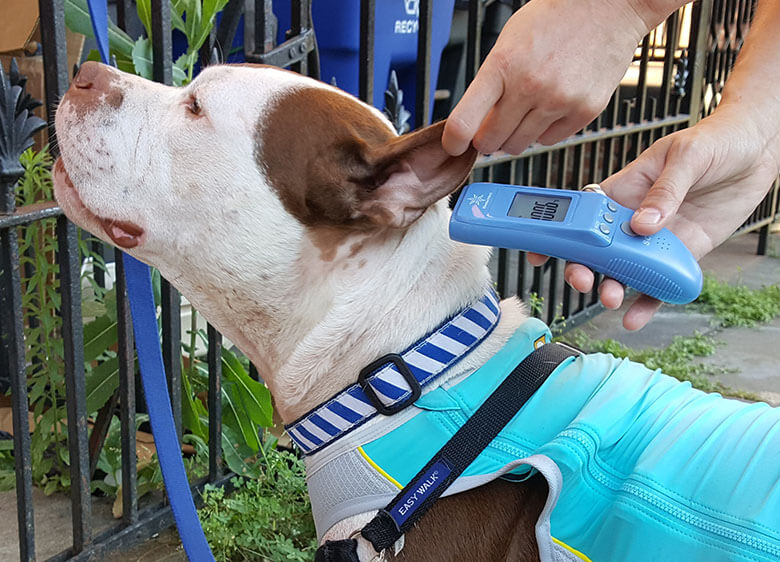 We went a little under a mile and by the end, his tongue was definitely hanging out. Now, came for the real test. I wanted to see if Milo's temperature elevated during our steamy walk. Once again, I got out the trusty thermometer, stuck it by his ear and got a quick read. Drum roll … nearly the exact same temp.
What we think:
For the active dogs, this is definitely worth a try. I am not sure if it keep them significantly cooler, but for strolls around the neighborhood on disgustingly, sticky days, it does the trick. It is lightweight, holds the water and comfortable. Plus, Ruffwear does have a 100% guarantee, so if you aren't happy with the product, you can always return it.
All our picks our independently chose, but we do earn an affiliate commission to support our work. However, if we don't like the product, we aren't going to write about it. Making a few cents off an affiliate just isn't worth it to us.
Related: From Runway to Sidewalk: 5 NYFW Trends Your Dog Should Be Wearing Right Now