Hot sidewalks. Melting tar. Steaming asphalt. Boiling blacktop. Metal surfaces. Gravel. Sand. You may not realize, but these surfaces can burn your dog's paws in hot weather.
Many surfaces absorb heat from the sun and stay hot for hours even after the sun has set. Temperatures on some surfaces can reach 145° or higher. Always check surfaces by placing either your hand or your bare foot on it for 10 seconds. If it's too hot for your hand or your foot, it's too hot for your dog!
Related: How to Prevent Your Dog's Paws From Getting Burnt This Summer
Signs of burned pads include:
Limping
Refusing to walk
Darker or discolored pads
Blisters or redness on the pads
Missing part of the pad
Excessive licking or biting pads
Heavy panting or whining
If you notice any of these symptoms, take your dog to the vet. If you can't get the dog there immediately, flush the paws with cool water and carry your dog to a grassy area.
To prevent these injuries, avoid the hottest parts of the day. Walk your dog in the early morning and late in the evening when sidewalks have cooled down. For other parts of the day, invest in some good booties to protect your dog's paws.
Here are some of the best.
Pawz Rubber Boots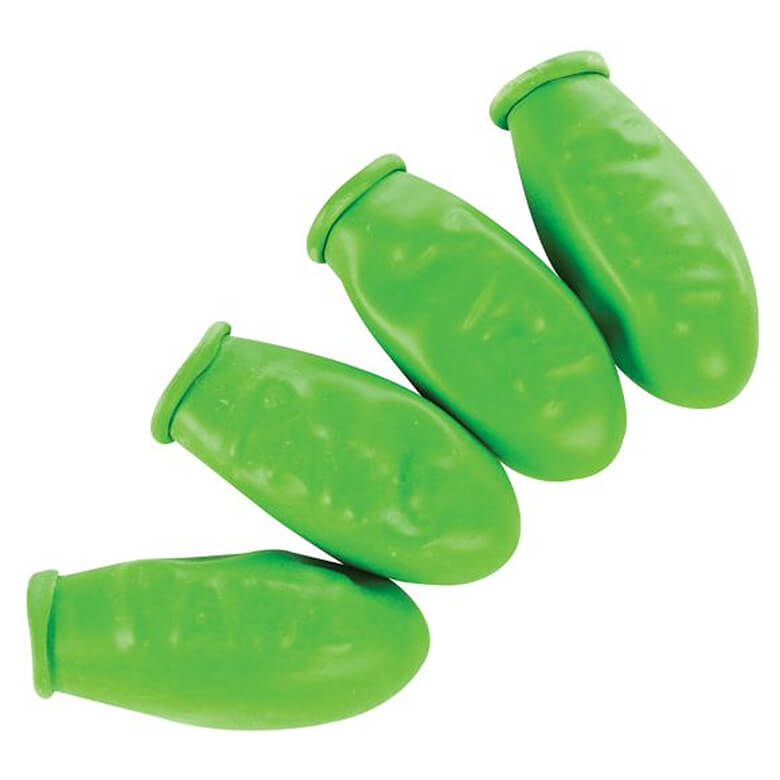 Pawz are disposable rubber boots (but they last forever). They're waterproof and thin enough so that dogs can feel the pavement under their paws, which makes them easier to walk in. They act as a barrier to hot surfaces and have been tested on extremely hot surfaces. They can be tricky to put on at first, so plan to have someone help you by holding up the dog's paws. Have the dog stand on a surface like a bed, stretch the boot open with your two middle fingers, lift the paw with your index finger and pop the boot on. They come in packages of 12 boots. Sizes from Tiny to X-Large.
From $8.47 to $15.99
Bark Brite All Weather Neoprene Paw Protector Dog Boots
These Bark Brite boots are lightweight and mold to your dog's paws for more comfortable walking. They're also water and puncture resistant. They have a slit in the back to make them easier to put on and non-skid soft soles for traction. To put on, unfasten the strap, pull boot wide open and slide your dog's paw all the way in to the bottom. The fit is meant to be snug. Refasten straps and tighten until secure but comfortable. Sizes from Small to X-Large.
From $26.99 to $30.99
Related: The 9 Must-Have Items for Your Pup to Combat the Rainy Weather
Ruffwear Grip Trex
The Grip Trex is a sturdy boot for summer adventures with a breathable mesh upper that keeps your pup's feet cool. These do have a hard sole, which makes them great for rugged adventures (your dog will walk funny until he gets used to them). The boot opens wide and has a hook-and-loop with hardware closure that cinches for a secure fit. In three colors with sizes from 1.5 inch to 3.25 inch.
$74.95
Lonsuneer Dog Boots
The Lonsuneer dog boots act as lightweight paw protectors in hot weather. The upper is of breathable mesh hemmed with a durable cloth and a flexible cuff at the top. The soles are flexible, non-slip and waterproof. An adjustable strap secures the boot. Bend the cuff down to put on the boot, then roll it back up and fasten the strap. These are good for light protection in sand and on surfaces, but they aren't waterproof. Sizes from Small to X-Large.
From$12.87 to $14.97
EXPAWLORER Waterproof Dog Boots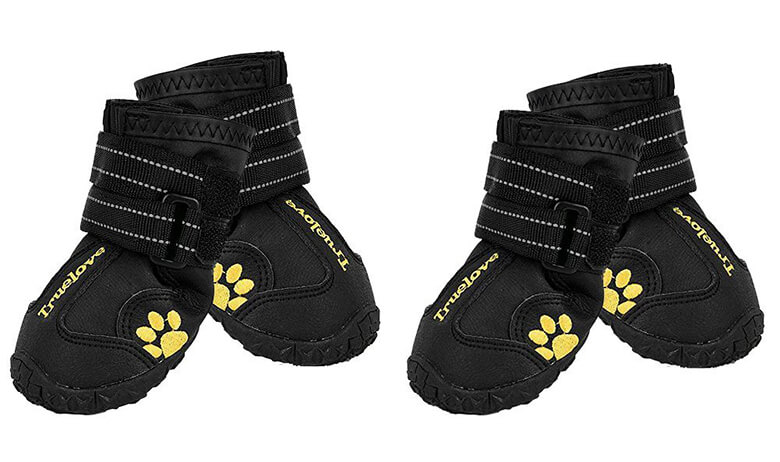 These lightweight EXPAWLORER boots have an ergonomic shape to make your dog's paws comfortable. They are waterproof with a flexible, grooved sole and fasten with secure double Velcro straps. With reflective material, they help keep your dog safe at night. They have an expandable closing to make them easier to put on and take off. The sole makes them good for slippery surfaces, including indoor hardwood floors and tile surfaces. There are eight sizes from 2.2 inches to 3.3 inches.
Related: The 5 Winter Skin Miracles Your Dog Needs
$22.99
All our picks our independently chosen, but we do earn an affiliate commission to support our work. However, if we don't like the product, we aren't going to write about it. Making a few cents off an affiliate just isn't worth it to us.