January 9th was a date that forever changed the life of an abused pit bull.
It was a cold, winter day when animal rescuer Michael Favor of New York City-based No More Pain Rescue received a call about a dog living in an abandoned house with a couple in Staten Island, New York. The concerned citizen told him that the dog looked neglected, and the couple did not have the funds to properly take care of the dog.
A few days later, after a snow storm, the Good Samaritan once again contacted Favor alerting him that the couple had left, probably to get out of the freezing weather, but left the dog to fend for herself.
Related: Hunky Firefighter Adopts Dog He Posed With for Calendar Shoot
"Mike and I didn't ask any questions and ran right to the house to pick her up," says Favor's fiancé, and co-founder of the rescue, Erica Mahnken."I stayed in the car while Mike went inside, he said the house was a disaster."
Living in squalor, the windows were broken, feces everywhere, no heat or electricity and no food or water for the dog that was left behind, a pit bull they named Ashley.
Despite the deplorable conditions, the dog knew they were there to help.
"Ash came running down the stairs, tail wagging and jumped right into my car," recalls Mahnken. "She was extremely malnourished, her ribs were showing, and she had cigarettes burns on her head, but as happy as a puppy could be."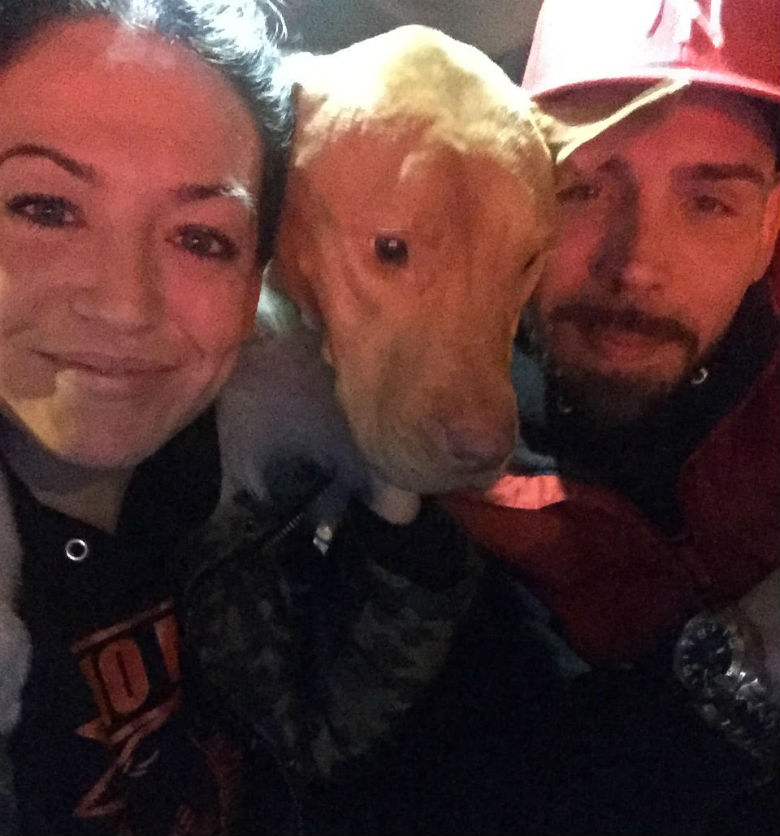 Because No More Pain Rescue is foster based, meaning they don't have a physical shelter, they needed a place for Ash to go for a few days, before taking her to a vet and adopting her out.
Related: Hero Dog Shielded Owner From House Fire
They reached out to their friends at fire station Fort Pitt to see if they could help. "They stepped up, like they always do, and told us to bring Ash there right away," says Mahnken.
Right when Ash arrived at the fire station, it was like she was home – wagging her tail at everyone, giving kisses and running around.
After the fireman took her to the vet (and realizing she was 20 pounds underweight), the crew called up No More Pain Rescue, saying they wanted to adopt Ash.
Related: Caught on Tape: Firefighter Reunites With the Sick Puppy He Saved
"I couldn't have picked a more perfect home for our once abandoned little girl," says Mahnken.
Related: These Firefighters Are Stripping Down to Save Puppies
The once neglected pit bull now gets walked about 30 times a day, receives endless treats, gets to go on some calls (she has her very own seat in the fire truck) and has her own Instagram account.
Mahnken and No More Pain Rescue couldn't be happier about the outcome.
"My heart is ready to explode with all the love and support Ash has been receiving," she says. "She's one of New York's Bravest now, and she has her whole life ahead of her."