In a strange twist of fate, a firefighter ends up adopting the dog he posed with for a calendar.
When Rob Tackett met his sidekick model, a dog named Kimber, for a photoshoot benefiting an animal shelter, there was an instant connection.
"Instantly, I knew that this dog was special," Tackett wrote on Facebook about meeting the dog for the Charleston Animal Society's "Charleston Firefighter Calendar," which features attractive firefighters posing with shelter dogs to raise money for the organization. "I carried her around the entire day, as she would rest her head on my shoulder."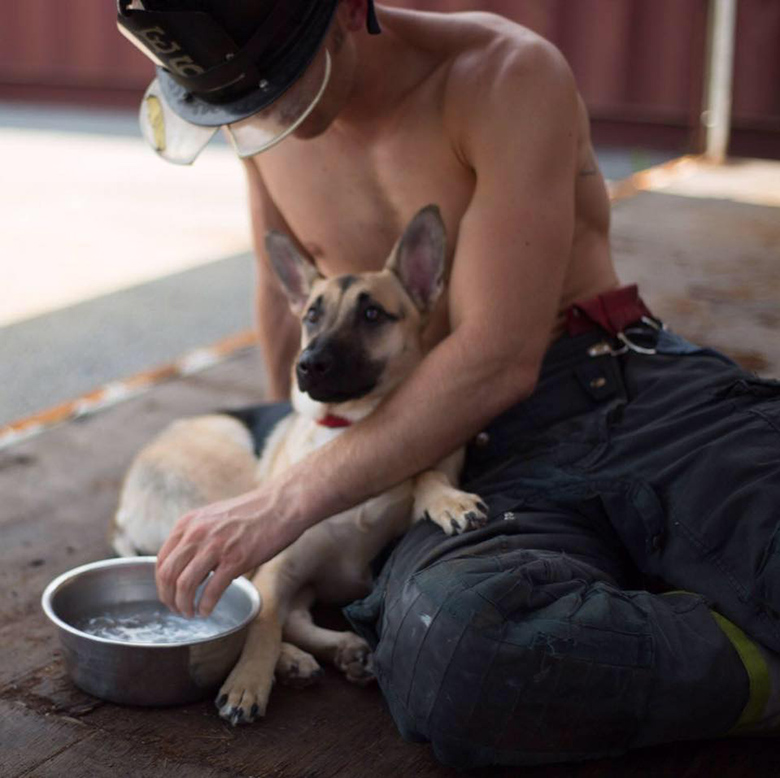 Related: One Year Later: Abused Pit Bull Caitlyn Found With Electrical Tape Around Her Muzzle Is Thriving
The German shepherd had been found on the streets, malnourished and with mange, according to People.com. After being brought into the Charleston Animal Society, it was discovered she also suffered post traumatic stress disorder (PTSD) and was hesitant of men.
Steve Hall understands a bit where Kimber was coming from. As a Marine sniper, he served three tours in Iraq and Afghanistan.
When he returned home, Hall, too, suffered from PTSD and had nightmares, flashbacks and anxiety, according to a video he made with Charleston Animal Society.
It wasn't until Scout, a German shepherd dog, entered his life that things started to look up. He no longer had to take 20 pills, instead he turned to his dog for support.
But when floods ravaged South Carolina in 2015, Scout ended up passing away due to a rare fungal infection that comes with wading in flood water.
Related: Dog Found With Her Mouth Taped Shut Stars in Shirtless Firefighter Calendar
Hall started spiraling again – the flashbacks, anxiety and nightmares returned. When he heard about Kimber, he decided to adopt her. But Hall unfortunately fell ill, and was unable to care for the dog. He asked Tackett, who formed a bond with Hall during the photoshoot, to take her.
"He was heartbroken," Tackett tells People.com. "He said, 'My health is not where I want it to be. We can't take care of Kimber. I don't want her going anywhere else.' "
Tackett agreed without hesitation.
"I love that dog," he says. "She is an incredibly special dog, I've never been around a dog like her. Just being around her makes everything easier."
Kimber has gone onto become a PTSD dog and Tackett plans on taking her to visit veterans, and the pair will always maintain a special relationship with Hall, Tackett tells us.
Tackett is grateful for this opportunity that Charleston Animal Society provided by saving Kimber, writing on Facebook:
"I am not sure if anyone knew of her life's purpose, but I do know they cared enough to save her life," he writes. "It is because of these acts and the overwhelming generosity, and support, of our community, that I have had the privilege of watching one special German Shepherd provide so much joy to our soldiers."
Related: Football Players Team Up With Animal Shelters for Adorable Calendar
His full post is shown below. If interested in buying a calendar and helping more dogs like Kimber, head to Charleston Animal Society.