Sometimes, it is just time to go.
Yesterday, Bretagne, the last surviving 9/11 rescue dog, was euthanized.
Firefighters at the Cy-Fair Fire Department in Harris County, Texas, lined up at the Fairfield Animal Hospital, as the 16-year old golden retriever and her owner, Denise Corliss, took their last walk together.
When it was time to say goodbye, she was given a hero's farewell.

Firefighters and rescue workers lined the sidewalk as her body, draped in an American flag, was carried out. Tears streamed down some faces. But for Bretagne, she was now at rest after a life full of intense activity.
Related: Last Surviving 9/11 Dog Gets a Very Sweet 16 Birthday Celebration
In 2001, after graduating from Disaster City, the 52-acre search-and-rescue training center in Texas, Corliss and Bretagne (pronounced Brit-nee) were deployed to New York to assist after the World Trade Center attacks.
The team worked in 12-hour shifts for 10 days at Ground Zero. While Bretagne, like other dogs, was unable to find a survivor, she did provide a surprising service. Many of the firefighters and volunteers would turn to her for comfort, sharing stories about the people missing, or who they were searching for.
"Dogs can be so comforting, so it makes sense to me now," Corliss told CNN. "I just didn't anticipate that, then."
A teammate added, "If you ask anybody whoever knew or trained with Bretagne, they would tell you 'Oh she just loves me!'. That's the kind of dog she is, affectionate to everybody, and fiercely devoted, never takes her eyes off her handler. She has always taken her job as a search dog seriously, but herself not so much. Always ready for a belly rub, or a treat. In remembering her first deployment at the World Trade Center, there are images of her going to where she was directed to search, the unknown, the chaotic environment. But even then, she knew who needed the comfort of a dog, which firefighter needed to hold her close and stroke her fur."
Related: Hero Dog Dies After Rescuing People From Devastating Ecuador Earthquake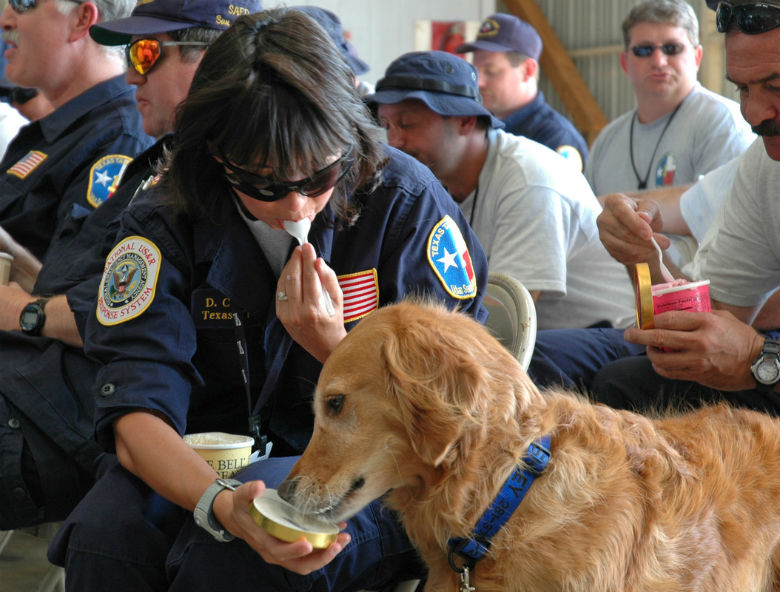 After 9/11 Bretagne went on to offer her assistance in nearly 12 other disasters, including Hurricane Katrina and Rita.
In 2009, she stopped working nationwide, and instead became part of a local fire department as its goodwill ambassador. A few years later, she retired. During her golden years, she took on a new role: reading assistance dog. She would visit schools once a week and help develop reading skills for children who "may be intimidated or uncomfortable reading out loud to their classmates, have an opportunity to develop reading skills by reading to her," Corliss told the outlet.
Related: Dog Survives Blaze in Shed, Becomes Firefighter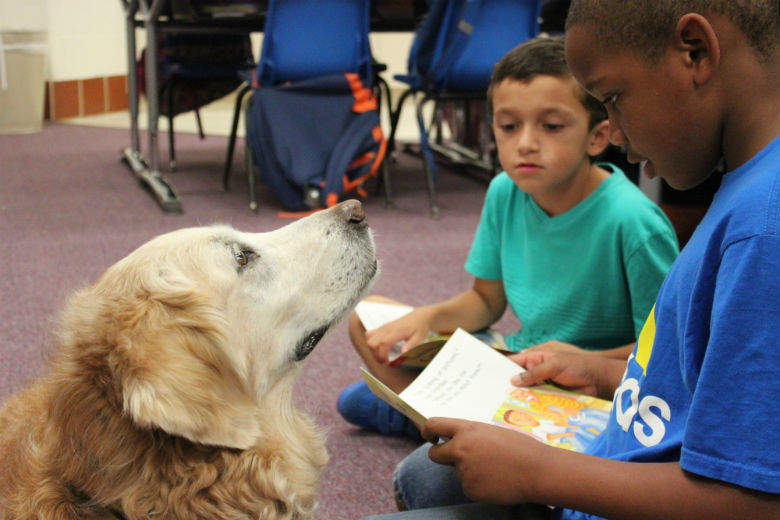 RIP in Bretagne.
Images via Texas A&M Engineering