Savoring French cuisine and a glass of wine on a garden patio while your canine holds court under your table — it's hard to imagine a more enchanting experience. But this is only the beginning of the magic that is Zazie in San Francisco's Cole neighborhood.
The neighborhood bistro serves its delectable fare with a complimentary side of playfulness and an infusion of community spirit. And dogs are considered an important part of that spirit.
The restaurant doesn't just welcome dogs but actually rewards their humans for bringing them along. Your pooch is invited to join you on the patio any day of the week, but when Fido comes to dinner on Monday nights, you'll receive a $10 discount on any listed bottle of wine. Seriously.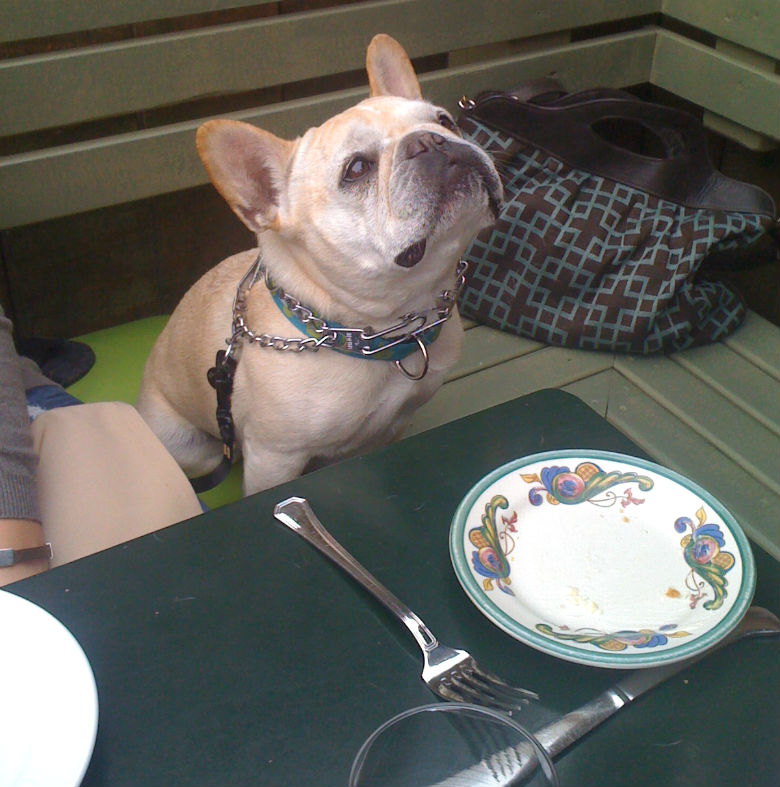 Related: San Franciscans, Put Your Paws Together for the Historic Shotwell's Bar
"I always felt bad that dogs spend their entire day sitting at home waiting for their people to return," owner Jennifer Piallat tells This Dog's Life. "I wanted them to be able to enjoy the evening with their people, and I wanted our neighbors to get to go out to dinner without having to feel guilty for leaving their pup at home."
It's a compassionate policy indeed. What better way to end your Monday than by bonding with your dog while enjoying a great meal?
You'll find 35 selections on the wine menu – approximately 15 white wines and 20 reds. Whether you sip a Cave Ribeauville Alsace Pinot Blanc ($11 for a glass/$28 for a 21 oz. pitcher/$42 for a bottle) or share a bottle of Domaine Juliette Avril Chateauneuf-du-Pape ($79), you'll find the libation to satisfy every palate.
There are plenty of pup regulars on the patio, including three Westies who join their human folk there weekly.  "One of them has to come in a little red wagon now because he's gotten quite old, but you can see he still really enjoys it," Piallat says. And, the patio literally went to the dogs when the Golden State Greyhound Adoption—to which Zazie makes annual donations—visited with 30 adoptable dogs. Zazie also donates to Saving Grace and No Boundaries animal rescues.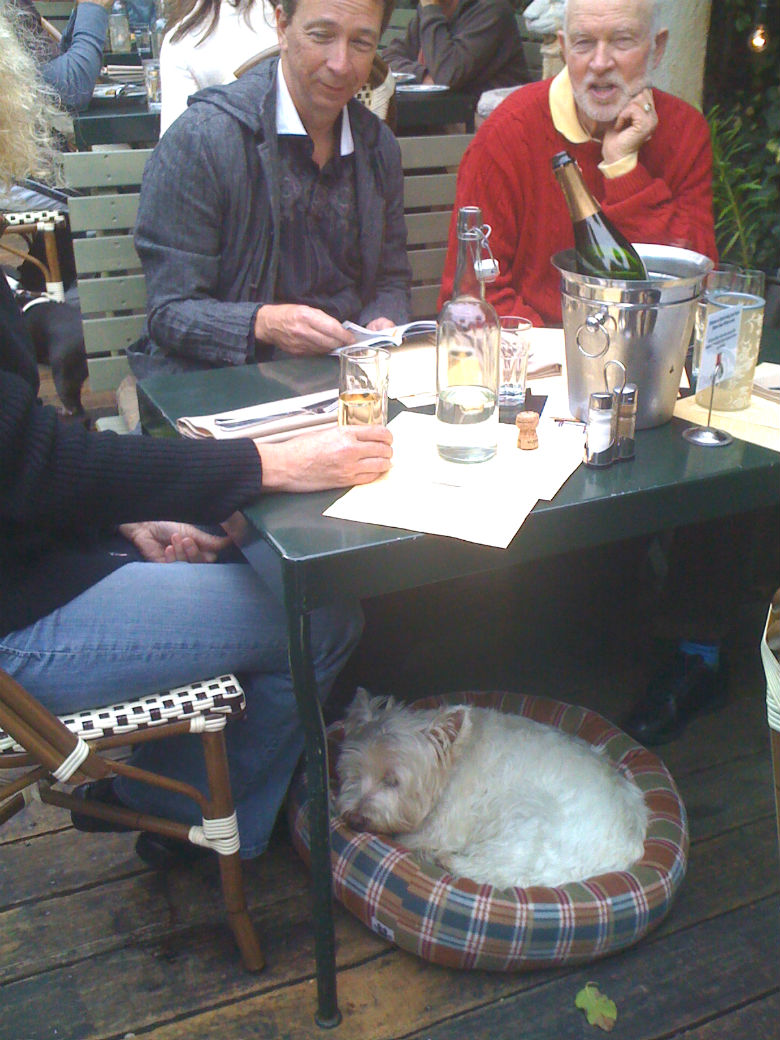 Related: San Francisco's Holy Water Bar Will Lift Both You and Your Dog's Spirit
Whether you head out for dinner or meet your besties for brunch, Zazie's menu offers plenty of delicious options. For a classic brunch experience, try one of the restaurant's seven eggs benedict dishes with from-scratch hollandaise (prices range from $12 to $36).
For dinner guests, Piallat recommends the Pâté de Volaille, house-made brandy-and-chicken-liver paté on grilled levain ($13), to start. Tender, slow-braised coq au vin ($29) and boeuf bourguignon ($31) are popular main course offerings.
"I think people associate those things with warmth and comfort, while not being as bad for you as many 'comfort' foods," Piallat says. Warmth and comfort is what Zazie offers on every level.
Piallat credits her team for the restaurant's familial environment. By facilitating positive work conditions, Piallat—who spoke at a 2014 White House Summit on Working Families—lays the foundation for a cohesive, committed staff.
"I treat my guests and my employees as I would want to be treated in their position," she says. "That means full benefits and flexible scheduling for my staff and special events, birthday parties, and seasonal dishes for my guests."
It also means a patio where dogs can be treated as respected guests, enjoy treats provided by the restaurant and get to know the other neighborhood pups.
Related: San Franciscans, Follow Your Nose to the Dog-Friendly Bloodhound Bar
As much as Piallat's yearly trips to France help shape Zazie's menu, they also inspire the restaurant's pooch-welcoming attitude. "In France, dogs go everywhere, she says. "I love seeing them out shopping and dining when I'm there."