With its ceiling of grey clouds, shabby-chic walls and funky mix of pendant lights, Holy Water resembles the lair of some religious society whose major ritual involves the communion with spirits. And beer. And wine.
"The idea of Holy Water is that it cures you, blesses you," says owner John Ottman of his dog-welcoming bar. "Having a rough day? Come have a pint, blow some steam off, lift your spirits."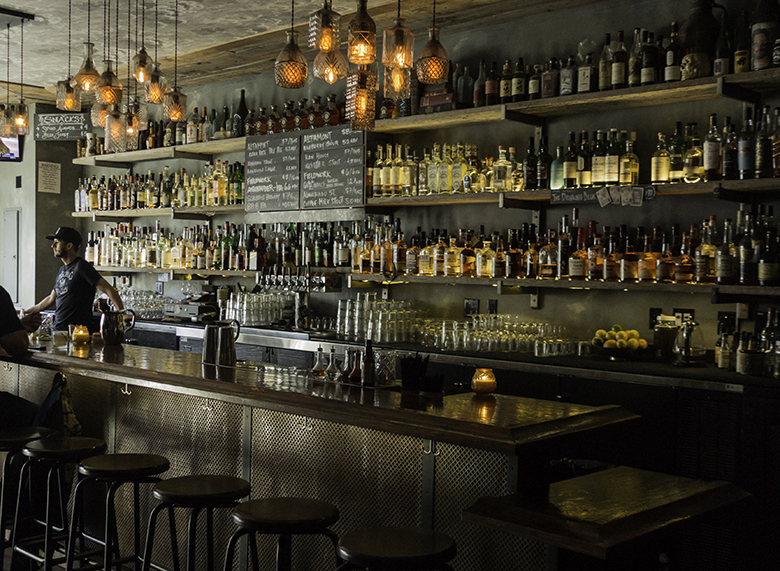 Since its opening three years ago, Holy Water has attracted plenty of converts, human and canine alike. Two legs or four, it matters not: everyone's invited. "Why would we force you to leave your little buddy at home?" Ottman reasons.
Related: San Franciscans, Follow Your Nose to the Dog-Friendly Bloodhound Bar
Here, you'll find plenty of dog regulars for your pooch to mix with. While Fido is making new pals, you can enjoy one of Holy Water's crowd-pleasing cocktails. (All cocktails on the menu are priced at $10.)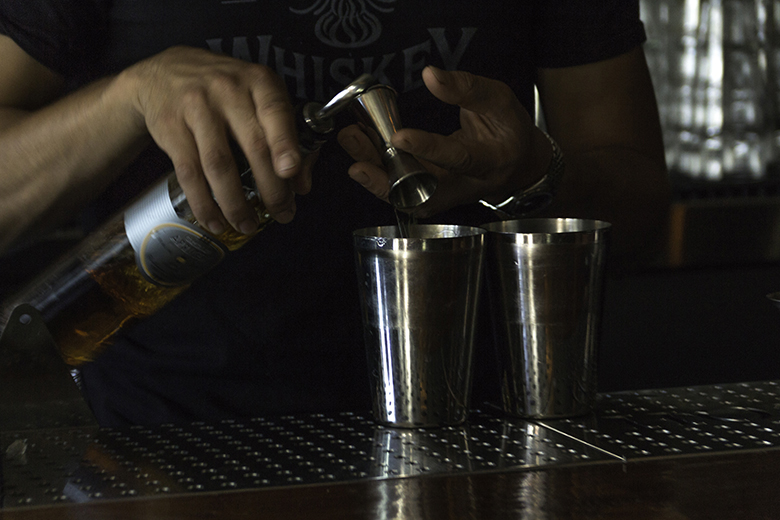 Need a little anesthetic after a long work week? Try a Painkiller—aged rum, pineapple, coconut crème, and orange juice give this libation a tropical vibe. For a quintessentially San Francisco concoction, an After the Gold Rush—with pineapple gum, apricot brandy, and lime—should hit the spot.
According to Ottman, all of the drinks on the rotating 12-item cocktail menu are popular requests. The bar also does a brisk beer trade, rotating between one and five of its eight taps weekly.  Some of their more well-known ales include Common Sense from Berryessa Brewing Company, Overripe by Fieldwork Brewing Company and Blueberry Yum Yum from Altamont Brewing Company — all priced around $7.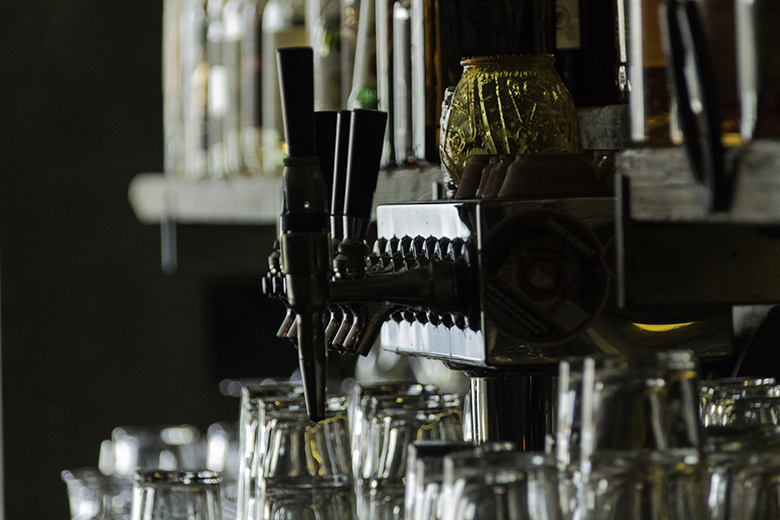 Related: Meet the Man Photographing San Francisco's Cutest Dogs on the Streets
There are always plenty of elixirs to choose from, but come the witching hour, things really get interesting. Holy Water has recently begun breaking out the rare and exotic spirits for a little creative mixing nightly after 11 p.m. If you and your pup can stay up late enough to enjoy this fun, inventive event, you'll be rewarded with some cutting-edge mixology.
Experimentation is the name of the game during the 11th Hour promotion, "so some things will be amazing, others not so much," is the cheerfully non-nonsense description on Holy Water's website. "Customers won't be obligated to pay for what they don't enjoy." You can also choose a couple of ingredients yourself and let the bartender whip you up something delicious.
Whether you're enjoying an old favorite or braving new territory at the 11th Hour, the staff at Holy Water wants to give you the friendliest, most relaxed experience possible. Quality drinks and a curated design scheme are a big part of the Holy Water experience, but it's the welcoming neighborhood bar philosophy that really gives this bar its soul.
"Absolutely nobody has an ego here," Ottman says. "We are trying very hard to keep the main thing in mind. Customers." Those customers and their dogs are a big part of what makes Holy Water special.
Related: San Francisco Man Opens His Heart to Neighbors' Homeless Dogs, Feeding Them Every Day
"A very large majority of our customers are locals," Ottman says. "Before, folks would have to travel all over San Francisco to find their favorite watering hole. Now, they just walk a few blocks. Bernal is a very close knit community. We get people to come to Holy Water that have lived in Bernal all their lives and some that just moved last week. Call me crazy, but I like to think that at times Holy Water can feel like Cheers. Everyone knows each other, and have built friendships because of this place."
Cheers to new human and canine friendships alike.