With "Bring Your Dog to Work to Day" just around the corner (June 21), it's only fitting that we look at the most dog-friendly companies of the year.
Not only are dogs great for company culture, but they can also help alleviate work stresses, calm down emotions and increase those feel-good oxytocin levels.
Rover, the dog-sitting website, has released its top 100 dog-friendly companies for 2019. It looked at a number of variables collected from pet parents, including what office perks are important to them and what sort of pet-friendly amenities do they want. The company took that data and compared it against dog-friendly offices across the U.S.
Related: From Around the Web: The Lovers and Haters of 'Take Your Dog To Work Day'
Here are the top 10 most dog-friendly offices in the U.S.
10. Uber
The ride-hailing company does not always have the best reputation, but when it comes to dogs, it is winning.
Uber not only has dog beds scattered throughout its offices, but its unlimited PTO benefit allows for new dogs owners to take as much time as needed to train their pups before bringing them to work.
9. Ceros
The tech company for designers and marketers takes its office dogs very seriously. The New York City-based company not only offers partial pet insurance coverage, but it also has its own Dogs of Ceros calendar. They aren't messing around.
8. Zogics
"Pawternity" policies are becoming more and more popular, and Zogics, a wholesaler of fitness equipment, has joined in on the fun. Its policy not only includes an extra week of personal time off to help employees adjust to life with their new dog, but Zogics also provides a $200 gift card to purchase dog supplies and a lifetime supply of its Zogics pet shampoo.
7. Petco
It would only be fitting that one of the nation's largest pet retailer would make the list. Petco provides discounts to new dog parents when they adopt a dog, and also, when a four-legged friend crosses the rainbow bridge, it will give its employee an extra day off to grieve.
Related: Everything You Need to Create an Awesome Dog-Friendly Office
6. Nestle
Another major player in the pet space, Nestle, is all about the dogs. The company, which owns Purina, provides new dog parents a $250 stipend when they adopt a pup. Its corporate campus not only allows pooches to come to work, but also provides a dog park for them to play. Oh, and it holds the world record for most pets in an office at one time.
5. Airbnb
Dogs truly are part of the team at Airbnb. Besides amenities and a pet-friendly atmosphere, dogs are provided their own badges, just like employees, to be used when entering the building. Also, each one has their own "people page" in the company's internal database, so the team can get more acquainted with the pooch.
4. Petsmart
The other major retailer in the dog space, Petsmart, has some major perks for its office dogs. The company provides partial pet insurance and has a play area for pooches to romp around with their owners.
3. Trupanian
The pet-insurance company not only provides its employees coverage, but also gives time off when they lose a dog. And when employees don't have time to step away from their desk to provide exercise for their pup, Trupanian has an in-house dog walker.
2. Procore Technologies
When people think of Procore Technologies, a construction management software company, dogs are probably not the first thing that comes to mind. But that isn't stopping the Carpinteria, Calif.-based company from providing the best to their furry friends. Procore has its own Slack channel for its dog-obsessed employees to share pictures and videos of their dog. It also throws "pawties" at the company and has dog-friendly happy hours.
1. Amazon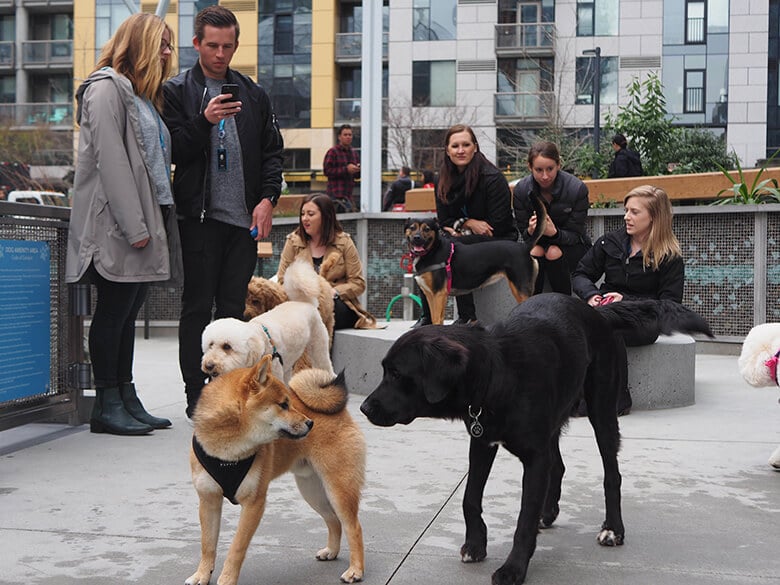 Amazon does a lot of everything – from having one of the biggest marketplaces in the world to now owning Whole Foods. And when it comes to its office dogs, it is all in. The company has more than 6,000 registered dogs, has a beautiful on-campus dog park and offers its employees free poop bags. Also, its "page not found" URLs features an employee's dog.