The hardest part of of having a dog is losing them much too soon. Not only is it excruciatingly painful, but it often involves some very, very hard decisions. It can be traumatic and takes a long time to move on.
Our deep bond with our pets has gained recognition over the years as more people see their dogs as family members, and the media has acknowledged how difficult it is to lose a pet: The Washington Post posted an article in 2012 titled: "The Death of a Pet Can Hurt as Much as the Loss of a Relative" and the same year, The New York Times posted the article, "Grieving for Pets and Humans: Is There a Difference?"
Psychology Today ran a 2016 article called, "Why Losing a Pet Hurts So Much." "From one pet owner to another, we understand the intense pain and emptiness that occurs after this loss. There is no correct way to grieve and work through this process, as everyone walks down a different journey with a pet."
Related: 'A Dog Legends Are Made Of': Owner Writes Touching, Yet Funny Obituary for Her Rescue Dog
It can help with the grieving process to find a way to memorialize your dog. There are many different ways to do this, so you can choose one that feels the most powerful — and natural — way to honor the intense love between you and your dog.
Have a Funeral
Pet funerals serve the same purpose as human funerals: they offer an opportunity for people to publicly acknowledge their love and their grief. There are a few different ways to plan a funeral for your dog. You can arrange a private cremation, you can buy a plot at a pet cemetery or you can arrange a memorial in your home, a park or a place that your dog really loved.
If you decide to bury your dog in a pet cemetery, you'll be able to choose a coffin, have a viewing and a procession to the grave where you can hold a ceremony. It's a profound experience as you are there with other people who understand that no, it's not "just a dog."
If you're interested, here's a directory of pet cemeteries, or talk to your veterinarian.
Design an Urn
If you decide to cremate your dog, which is the most popular choice, you can request a regular, partitioned, or a private cremation. Psychology Today covers a lot of questions that you may have. Your vet will ask you if you want the remains (and if they don't, be prepared to bring it up). If you decide you can't handle the ashes, that's okay; you can have a memorial anyway.
If you do want the ashes, there are numerous companies that will help you personalize an urn. You can also buy an urn online, or ask your veterinarian if their cremation service can include an urn (as opposed to a box), and then customize it yourself.
Invite a group of family and friends who loved your dog, and hold a memorial party. Put the urn in space that feels right to you. Raise a glass to your never-forgotten dog, and have everyone share their favorite stories.
Donate to a Shelter
Donating to a shelter of your choice as a Memorial Gift will give a second chance to dogs that need it the most. Check out local shelters or larger organizations, like the ASPCA or Best Friends Animal Society.
If you want to make sure your donation is going to a worth shelter, sites like Charity Navigator will give you a lot of information about how a shelter's finances are dispersed, their "Accountability & Transparency Performance Metrics" and other information to help you make an informed choice.
Turn Your Dog's Collar and ID Tags into Jewelry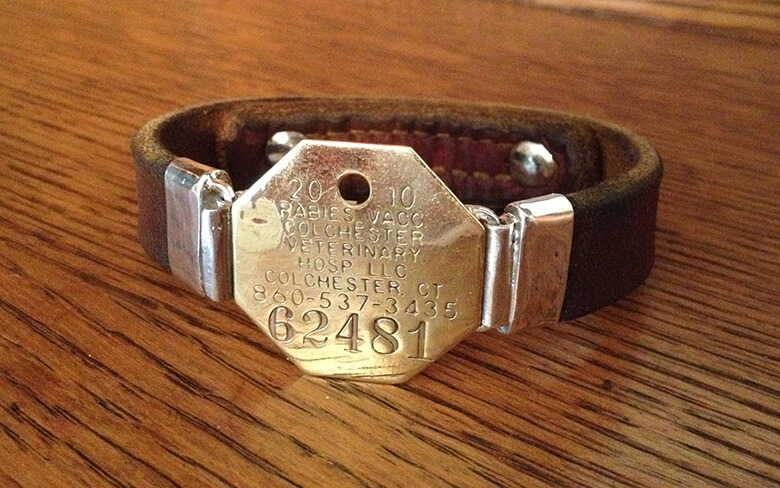 You can either do this yourself or work with a jewelry maker. Sketch some designs using your dog's leash, collar, tags or whatever object makes you think of him the most.
Related: Dog Uses Her Painting Skills to Raise Money for Charities
Commission a Portrait
There are numerous artists who specialize in portraits of pets. Each one has their individual style, so you can find a painter who represents your dog's personality. They will create an original painting, drawing or print from a photograph of your dog. Deciding what medium works best for you will help you narrow down artist.
To give you an idea of what the differences are, look at a few different artists: Etsy artist Emma Kaufmann paints bright, uplifting watercolor portraits. Marion De Lauzun creates Warhol-style pop art portraits from photographs; L-Shan works in watercolor; Katie M Doyle works in embroidery; Dyanna Bruno works in acrylic on canvas.
Keep looking until you find an artist who will capture the spirit of your canine best friend in all his or her glory.
Create an Online Memorial Scrapbook
Post photos of your dog and share all the stories you can. Invite all of his friends to do the same.
Create a Blog
Documenting your dog's last day will inspire you to make it one of the best of her life. Have a party, laugh, cry, invite all your dog's best buddies. It will be hard to look at for a very long time, and then you will be so glad you put it together.
Memorial Jewelry
If you like the idea of keeping your baby close to your heart, consider investing in memorial jewelry, which uses an actual paw print or your dog's cremains; fur to craft rings and necklaces; or tiny urns that allow you to keep your dog's ashes with you at all times. Originally called "mourning jewelry," this memorial goes back 2,000 years.
Companies that use technology to turn your dog's ashes into a diamond include Eterneva and LifeGem. If you're looking for something simple and unisex, take a look at Jewelry by Johan Pet Memorial Band, which also incorporates your dog's ashes. There are numerous crafts shops that create jewelry from an impression of your dog's paw, such as 4 Paws Forever and Silver Pet Prints. Urn necklaces like this one at Spirit Pieces or Jewelry Keepsakes literally contain a part of your dog to wear over your heart.
Give a Dog a Second Chance
This may take some time until you're ready. Go to a shelter or rescue, and let a dog choose you. A new dog will never replace the dog you lost, but it's one of the most meaningful tributes to the dog you lost. You'll save a life and give a dog a chance at life in a loving home. Your dog would be proud of you.
Related: Hilarious Video Shows Adorable Shelter Dogs Unsure of Magician's Tricks During a Holiday Visit