The holiday season is a special time of year when we indulge in everything that makes us feel all warm and fuzzy — including freshly baked Christmas cookies. Of course, dogs can't eat any kind of cookies intended for us humans due to potentially toxic ingredients. But that doesn't mean they should miss out on delicious desserts.
Bring lots of joy and holiday cheer to your dog this season with her very own batch of festive, homemade dog goodies. (Also, makes a wonderful gift for fellow dog parents.)
To give you some ideas, we've rounded up a few of our favorite dog-friendly Christmas cookie recipes. That way, you can cozy up on the couch with your canine companion and treat her to some sweets — especially made for her.
Related: The Canine Chef Shares Her Favorite Dog-Friendly Recipes for a Yummy Holiday Meal
1. Apple Sauce and Veggie Dog-Friendly Christmas Cookie Treats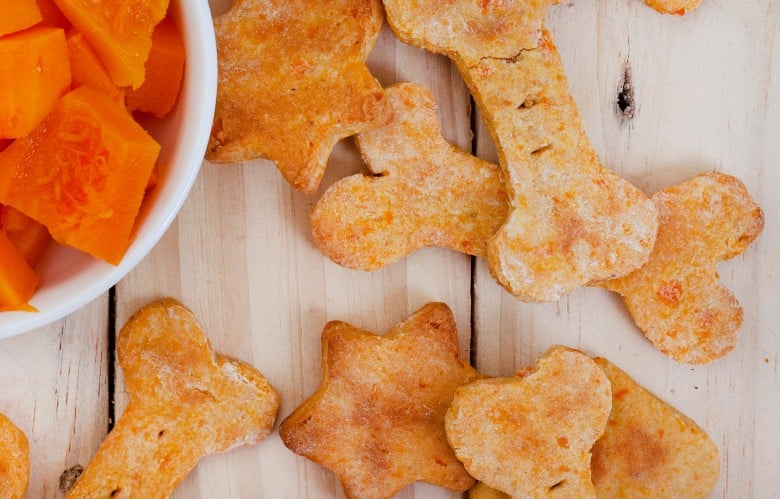 Treating your dog to homemade Christmas cookies doesn't have to require a bunch of ingredients — or time! This three-ingredient recipe offers a healthier option for your canine companion that can be whipped up in less than an hour. Plus, who could resist those fun, festive Christmas tree shapes?
Ingredients:
¼ cup of frozen dog-friendly veggies, like carrots
1–1.5 cup of all purpose flour
¼ cup of applesauce
Directions:
Place frozen veggies and applesauce in a blender, and blend until smooth.
Mix in flour ½ a cup at a time until you've achieved a smooth mixture. Aim for a thick and slightly sticky consistency, not runny.
Pour your mix into molds, then bake at 350 degrees for 25–35 minutes.
Bake until the treats appear fully dry and can easily be popped out of the molds.
Let the treats cool completely, then pop them out of the molds.
Related: 30 Super Easy Dog Treats Recipes Using 5 Ingredients or Less
2. Peanut Butter and Ground Oats Biscuit Dog Treats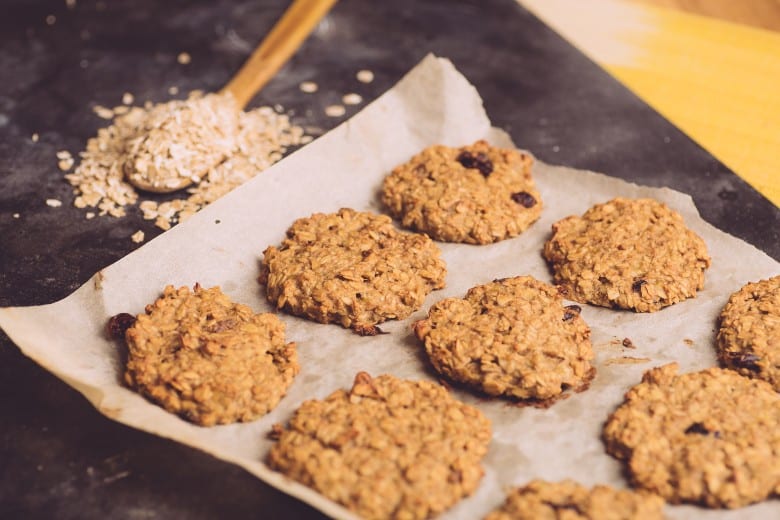 These wag-worthy Christmas treats will surely get two paws up from your pooch. They're made with just five basic ingredients and an optional dog-friendly icing too in case you really want to spoil your canine friend. 
Ingredients:
For treats:
2 cups ground oats (or oat flour)
1/2 cup peanut butter (opt for plain and natural; avoid any that contain xylitol)
2 tbsp. molasses (do not use blackstrap)
1 tsp. ground cinnamon
1 large egg (substitute flax or chia seed egg)
For dog-friendly icing:
3 tbsp. low-fat cream cheese
4 tbsp. plain yogurt
Pinch of ground cinnamon
Directions:
Preheat your oven to 350 degrees.
In a medium mixing bowl, whisk the egg with cinnamon and molasses.
Stir in peanut butter and mix until combined.
Stir in ground oats and mix until thoroughly combined.
Roll out the dough between sheets of parchment paper to ¼ inch thickness. Use a 2-inch cookie cutter to cut out treats.
Place the treats on a parchment-lined baking sheet, spacing each about an inch apart and bake for 18–22 minutes. Remove them from the oven and let them cool on a sheet pan for five minutes prior to transferring them to a cooling rack to cool off completely.
Combine all the ingredients for your icing in a small bowl and drizzle it over your cooled dog treats. Then, let the icing set for about two hours before storing.
3. Cranberry Dog-Friendly Treats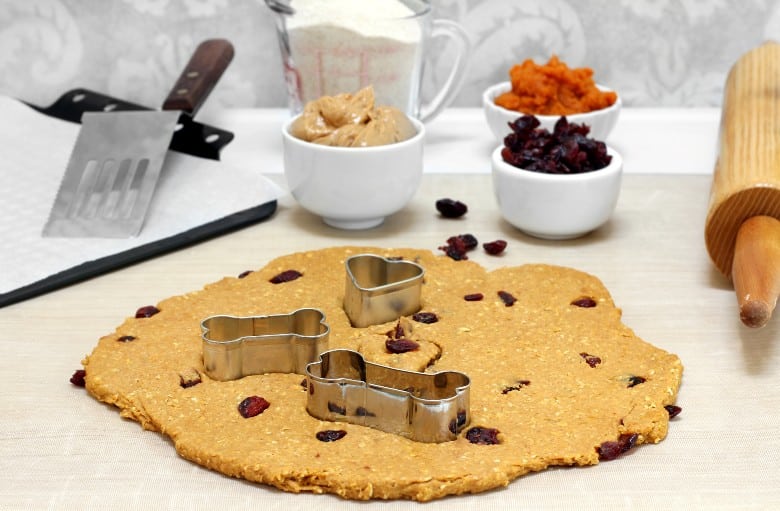 Dogs can also get in on the holiday yums with cranberry desserts, and this recipe is definitely a must-try for the season. These cranberry cookies take just 30 minutes to bake and are bound to be a delightful hit for your pooch.
Ingredients:
2 cups uncooked old-fashioned oats or brown rice
½ tsp. baking soda
1 egg
½ cup unsweetened applesauce
2 tbsp. coconut oil
½ cup fresh cranberries (if whole frozen cranberries, let thaw)
¼ cup unsweetened dried cranberries
Directions:
Preheat your oven to 350 degrees. Grease a baking sheet. You can also line the baking sheet with parchment paper or a silicone mat if you prefer.
Place the oats (or brown rice) in a food processor or blender to make flour.
Combine your flour and baking soda in a bowl.
In a separate bowl, combine the egg, applesauce, and coconut oil.
Add the wet ingredients to the dry ingredients. Mix well.
Add the cranberries, then stir them into the dough.
Place the dough onto a lightly floured surface and roll it out to ½ thickness.
Cut out shapes with your favorite holiday-themed cookie cutter.
Gather any dough scraps, re-roll them, and cut so all the dough is used.
Put the cutouts on your prepared baking sheet.
Bake at 350 degrees for 15 minutes.
Transfer the treats to a wire rack to cool.
Enjoy!
4. Peanut Butter Banana Dog-Friendly Christmas Cookie Treats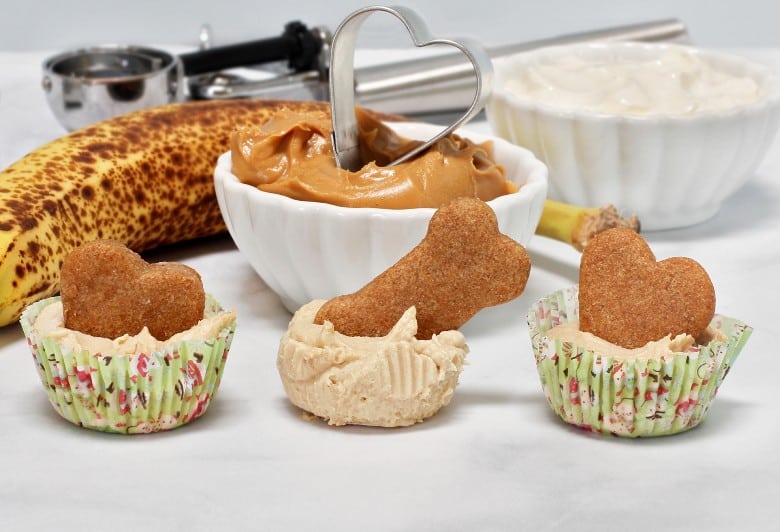 How cute are these? Bring the holiday cheer to your pup with these Santa red, dog-shaped cookies to let her know these were made just for her. Made with peanut butter, banana, and brown rice flour (plus, beet powder for the holiday hue), your dog is sure to drool over these delicious Christmas cookies. Get the full recipe.
Ingredients:
1 ⅓ cups brown rice flour (plus extra)
⅓ cup plain, natural peanut butter (note: avoid any peanut butter that contains xylitol, as it's toxic to dogs)
1 egg
1 ripe banana
3 tbsp. organic honey
*Optional:  ¼ cup beet powder for red coloring; replace with brown rice flour for a peanut butter cookie color
Directions:
Preheat your oven to 350 degrees. Line a large baking sheet with parchment paper.
Combine all the ingredients (minus the beet powder) in a large bowl. Stir together until mixed thoroughly.
Add the beet powder and knead together. (The dough should not be sticky. If it is sticky, add extra rice flour in small increments and knead together with your hands.)
Turn the dough out onto a large sheet of parchment paper; top with a second sheet.
Roll the dough between both sheets to a ¼ inch thickness. Use cookie cutters to stamp shapes from the dough then transfer to the prepared pan. Once the pan is full of cut-outs, place them in the fridge to chill for 15 minutes.
Bake the cookies for 10 minutes for 2-inch shapes, 12–15 minutes for larger cookie shapes.
Let them cool completely.
Related: From Poinsettias to Christmas Lights, Here's How to Keep Your Dog Safe This Holiday Season
5. Gingerbread Dog-Friendly Cookie Treats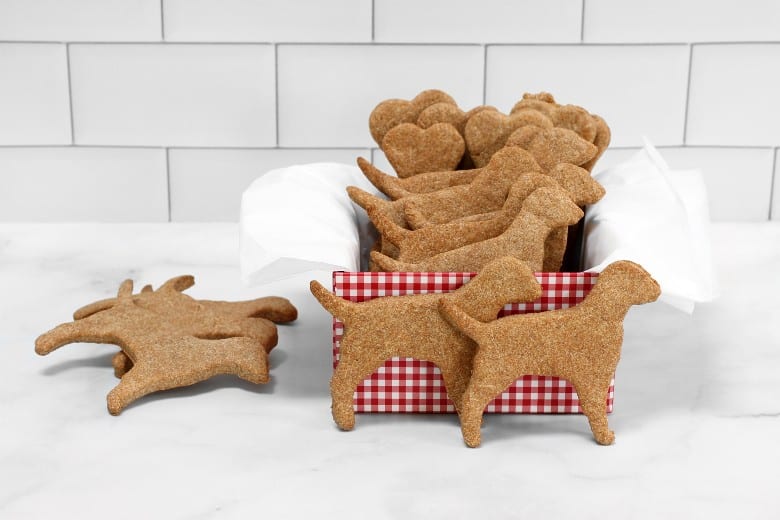 What would Christmas be without these tasty, traditional cookies? This recipe includes everything you need to know on how to make the best dog-friendly gingerbread men cookies this holiday season. These are totally cute, and your pup is bound to love them
Ingredients:
1 ½ cup whole wheat flour (or any other that suits your dog's needs)
1 ½ cup oat flour (made from rolled oats)
1 tsp. baking powder
1 tbsp. ground ginger
1 tsp. turmeric
1 tsp. ground cinnamon
Pinch of ground clove
Pinch of allspice
1/4 cup molasses
3/4 cup applesauce
1 egg
1 tsp. vanilla extract
1 tbsp. coconut oil
*Optional: Carob chips for gingerbread eyes and buttons
Directions:
Preheat your oven to 350 degrees Fahrenheit.
Combine the flours, baking powder, and spices in a bowl and mix them all together.
Add molasses and applesauce, then mix to combine.
Next, add the egg, vanilla, and coconut oil and mix to combine. (Add more flour if needed.)
Roll out the gingerbread and cut into traditional gingerbread men (or your choice of shapes).
Bake at 350 degrees for 20 minutes. If you prefer soft cookies, bake until you notice the cookies start to get golden around the edges. If you prefer crunchy cookies, bake longer to give your cookies a longer shelf life.