Dogs love to play. For some, their nirvana is chasing a tennis ball — over and over and over again. For others, it's a rope for tug-o-war. Or a squeaky toy. Or a chew bone.
These toys address dogs' needs of exercise and having fun. But they don't do much for a dog's intelligence. There's a lot of running back and forth, or chewing, or tugging, but not much thinking. And that's where interactive brain games come in.
There are brain toys out there that challenge your dog to use her mind (and nose) in different ways. Interactive toys keep your dog's brain active and increase your dog's confidence. They can help improve problem-solving skills, along with promoting mental stimulation. They also relieve boredom – if your dog is always bouncing off the walls. (Keep in mind, some of these games have smaller parts and you should always be supervising your dog to ensure he is safe. Always.)
Related: 10 of the Best Interactive Puzzles and Games for Your Bored Dog
For those dog parents who want to provide a little more than an everyday toy, here are some of the best interactive games to turn your pooch into a canine Einstein.
1. Nina Ottosson DogCasino Interactive game
Nina Ottosson is one of the original inventors and producers of interactive games geared to stimulating your dog mentally, and the DogCasino is one of her best. This game teaches your dog through sequential steps. Yes, it's a treat dispensing game, but it's loaded with obstacles that make it more challenging than other typical games. Take out the bones to open the drawers and drop in treats. Then close the drawers and put the bones back in their holes to lock the drawers. Your dog has to use his paw (or his mouth) to remove the bones and then pull out the drawers to get at the treats.
Price: $19.99
2. SunGrow Unique Shuffle Puzzle Smart Toy
This game acts as a hide-and-seek game for your pup, dispensing kibble or treats through slides and a wheel. You hide kibble or treats under a shape and your dog has to figure out how to retrieve it. Like the other puzzles, it helps with problem-solving skills, while also building confidence for your dog. We also love that SunGrow's toys are all environmentally friendly and are created using safe high-quality wood.
Price: $16.95
Related: Get Your Dog's Mind Working With Our 'Stinky Dog Treat' Scavenger Hunt Game
3. Pupper Pamper Treat Dispensing Dogs Puzzle Toy
This is a slightly different variation to most interactive puzzles, as it requires your dog to paw at dispensers to get them to turn over – and spill out the goods. Because there are different sized dispensers, your dog will have to learn how to spin each one to get the kibble out. The Pupper Pamper is adjustable and has two different height settings, so various sized dogs can get in on the fun. Perfect to not only test IQ, but also for fast eaters, those who suffer separation anxiety (will keep them busy!) and get bored easily. It is available for small dogs and large dogs.
Price: $38.99
4. OurPetsIQ Interactive Treat Ball
This brings together two things dogs love: balls and food. Simply put your dog's favorite treat or dog food in the ball and let him go at it. You can adjust the ball to make it more challenging to get the food out. Not only does OurPetsIQ ball promote slow eating, but also engages them physically and mentally, while rewarding them for completing the task. It is ideal for small to medium-sized dogs. It is available in two sizes: 3-inch or 4-inch hole opening
Price: $9.53-$11.58
5. Dog Tornado Puzzle
Another one from the mind of Nina Ottosson, the Dog Tornado Puzzle features 12 compartments and can be used to feed a dog who's known to hoover his food. Each level spins as your dog searches for treats, which keeps him interested and engaged. You put treats or kibble in some compartments and cover some with bones. The more compartments covered, the harder the game. Your dog spins the levels to get at the compartments, and then has to remove the bones.
Price: $19.99
Related: 4 Ways to Get Your Hyperactive, Crazy Dog to Calm Down
6. Trixie Activity Gambling Tower Dog Toy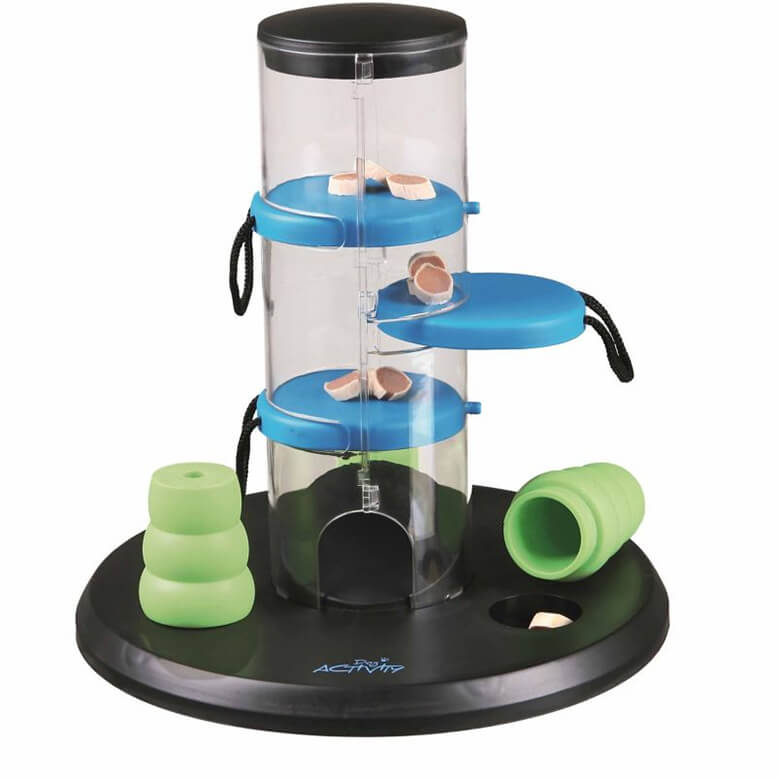 The Gambling Tower requires figuring out how get at the treats in the base and in the tower. In the base, the dog has to lift the 3 cones straight up to remove them and get to the treats. In the tower, there are three obstacles that have to be removed by tugging on the rope loops, allowing the treats to fall down to the bottom. It's harder than it sounds; watch a Border Collie work it out. You can vary the number and placement of the treats to make it more challenging.
Price: $23.39
7. Dogit Mind Games 3-in-1 Interactive Smart Toy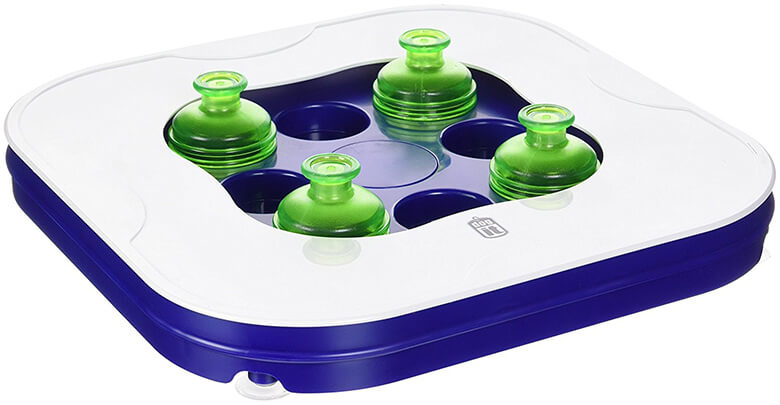 The Dogit Mind Games is actually 3 puzzles in one. One game is "Hide and Seek" requiring your dog to remove the tops to get at the treats. Then there's "Spin-a-Whirl" where your dog has to nudge the wheel around the game board to reveal the treats, and finally, "Sliding Puzzle" where you dog has to slide the tops to uncover the treats. Switching between games keeps your dog challenged and sharpens his problem-solving skills.
Price: $9.81
8. Spot Ethical Pet Interactive Seek-A-Treat Shuffle Bone Toy Puzzle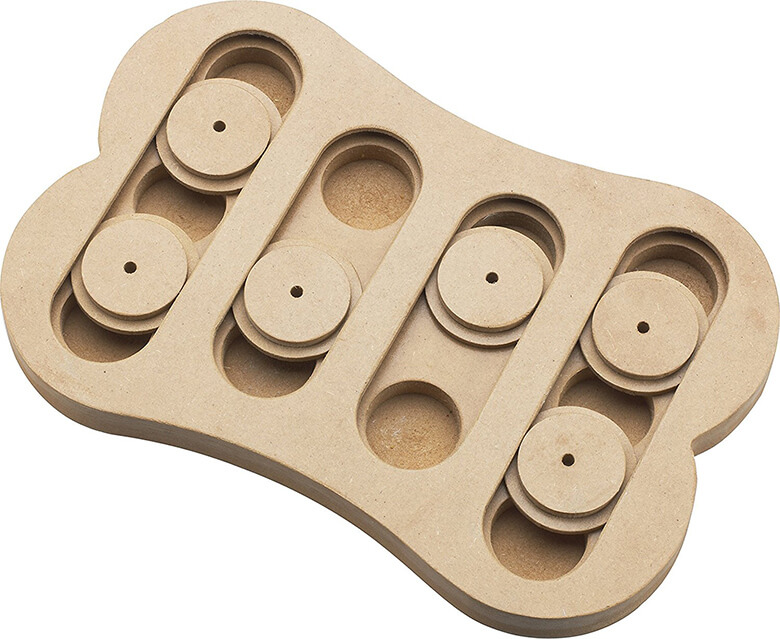 The Seek-A-Treat Shuffle Bone Toy Puzzle is made of wood and shaped like a bone. There are four slots with 10 holes for hiding treats and six sliding disks. Your dog has to slide the disks to find the treats. Vary where you put the treats to keep your dog interested. It's good for a beginner as it only involves one main challenge, but it's a great "gateway" to more challenging games. Because it's wood, if your dog is a chewer, make sure to always supervise.
Price: $10.10
Related: Bored Pup? Here Are 15 Yummy Things You Can Stuff Inside Your Dog's Kong — And Keep Her Happy for Hours
All our picks our independently chosen, but we do earn an affiliate commission to support our work. However, if we don't like the product, we aren't going to write about it. Making a few cents off an affiliate just isn't worth it to us.