Often when companies enter a market, disrupt an industry or are first movers, they are inundated with a lot of criticism and scrutiny from media and people.
And in the dog world, Dog Parker is the latest target.
The Brooklyn-based startup describes itself as a company that "provides smart dog houses outside of storefronts, so your dog has a safe and comfortable place to stay while you're inside." So, rather than tie up your pup while you run into a shop, she can hang out in one of these houses. Members pay a yearly fee for access to the app and are charged by the minute to use Dog Parkers.
Related: I Learned Why Everyone Is Obsessed With the Puppia Harness
It has raised $1.5 million in funding under this mission and has expanded from a handful of these houses to now 45 in Brooklyn – with plans to expand beyond the New York City borough. (Dog Parker told us there is a waiting list for 27 locations.)
But that doesn't make founder Chelsea Brownridge's job easy.
A few months ago, an article came out in The Outline describing Dog Parker as a "dog prison." Written by Amos Barshad, he says that while Dog Parker positions itself as "on demand neighborhood dog houses," he notes that dog houses "don't lock you inside via app once you enter them."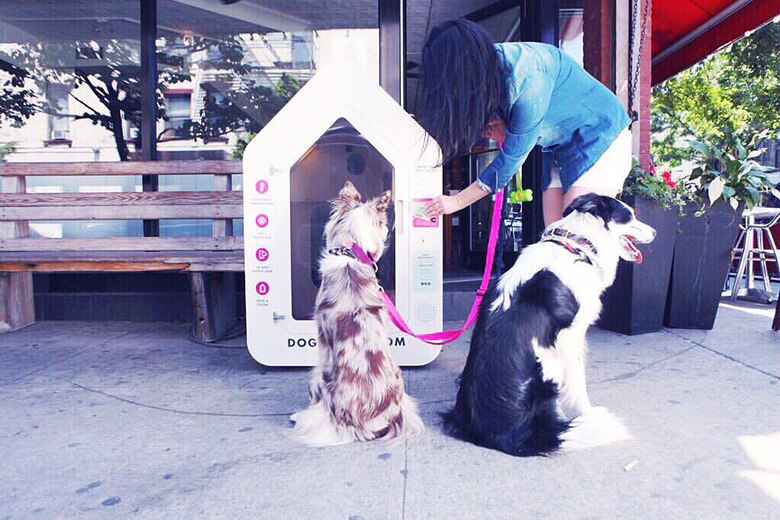 Barshad went on to ask dog owners how they felt about these prison-like dog houses, with responses including, : "lol I do not trust these AT ALL" and "I've seen them! They scare me!"
He even asked Brownridge if she heard that people think these houses are like prisons, and the founder did acknowledge people have called them that.
While Barshad was definitely skeptical about Dog Parker, in the end, after trying it out himself, he did state they were roomy. (Dog Parker maximized on Barshad's conclusion with a sponsored post on Facebook driving people to learn more about its company).
Yesterday, The New York Times also wrote a piece about Dog Parker, in which the writer says he camped out in front of a Dog Parker situated at a pastry shop in Williamsburg for three hours without one use.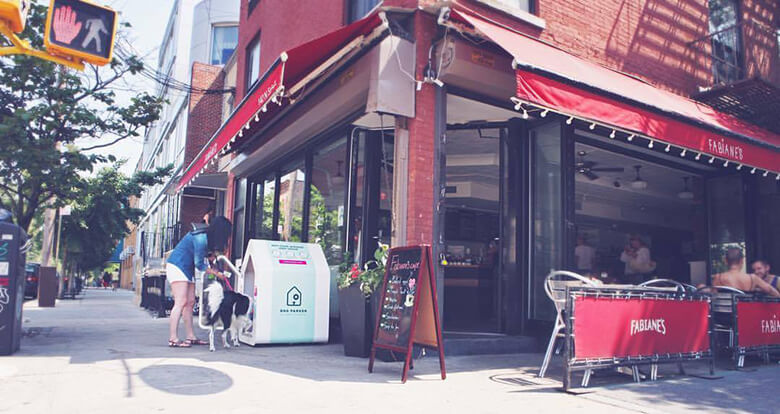 Brownridge rebuffed the claim that Dog Parker isn't being used by providing me with the company's own data, including that on average, each Dog Parker is used 6-10 times a day.
Related: New Report Reveals the 10 Most Dog-Friendly Cities in America
And here's the thing, I may one day be one of those users. I don't have a Dog Parker subscription, nor do I have any connection to the company (besides writing news stories about the launch), but I am an active – and busy — dog owner.
I have two dogs, an American Stafford mix named Milo and a husky-mix named Lola. They are my everything. I dote on them like crazy (been accused more than once of being a helicopter mom), love them with my whole heart and want them with me as much as a I can, including when I run errands.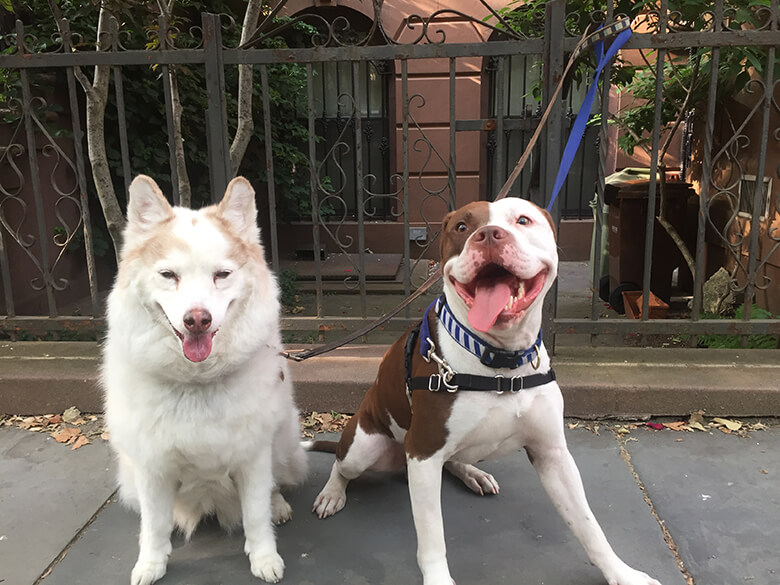 I take my dogs on a long walk and during it I may stop and grab a coffee, pick up the laundry, or yes, run into a pastry shop. And each time, I tie up my dogs, sprint into the shop and dart back to them as quickly as I can. (Granted, when I go into these places, they are tiny and there is always glass, so I can see outside.) My fear is always someone will snatch them and bring them into an god-awful world – dogfighting, laboratory testing or being resold on Craigslist. Yet, I take that risk – the risk that if I turn my head for one second they will be gone (like this owner's dog).
Some will call me irresponsible; I get it. But I do it. I am extremely busy and taking them with me while I run errands is part of my lifestyle – and same for many other New Yorkers, along with other urban owners across the country. It's one on the reasons I love being a dog owner in the city; they just are part of my routine.
So, would I use the Dog Parker for these 5-minute errands? Absolutely. Putting them in a safe spot, where I know no one could dog snatch them would provide me peace of mind. Which is why Brownridge initially created the product. "We've built a safe, comfortable place for pups so that their guardians have a better option than tying them up, leaving them exposed to risk," she says.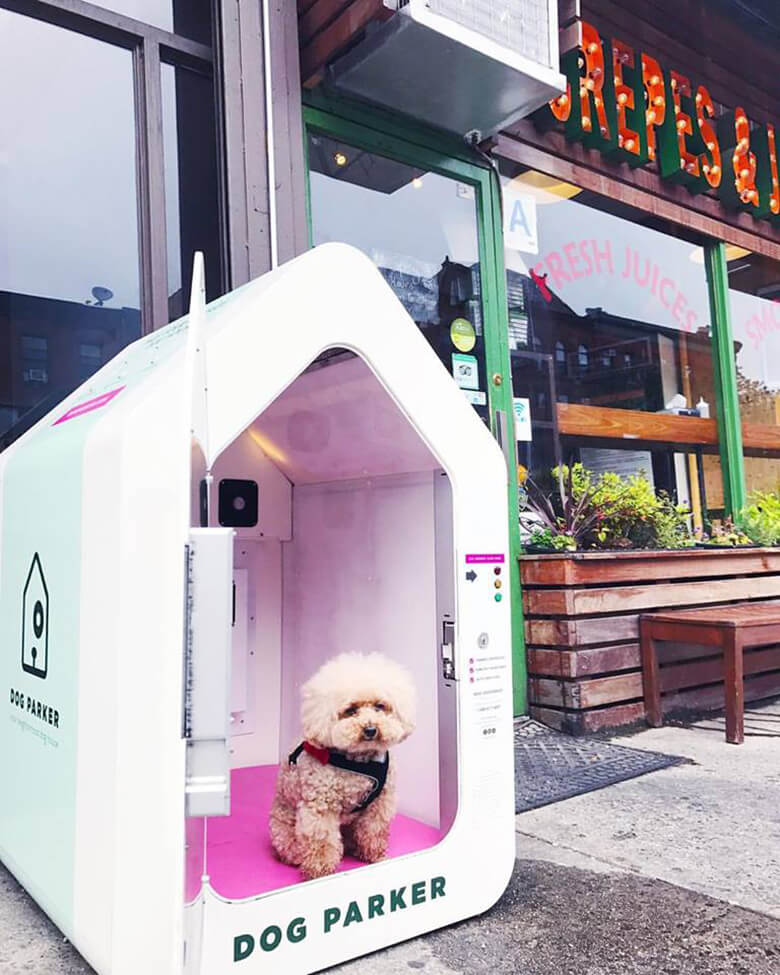 However, I do take issue with Dog Parker's other usage: having your dog sit in one of its high-tech homes for a long time, like when you go out to brunch and don't want to leave your dog home, the restaurant isn't dog friendly or there isn't any outside seating. Each Dog Parker has a maximum time limit of 90 minutes (scaled back from its initial three-hour limit) and there are a few of the company's homes at restaurants for take-outs or if people want to sit down for a meal.
People, leave your dog home in these situations. There is no reason your dog should have to sit in one of these houses (even if ventilated and temperature controlled) for more than 10 minutes, 15 minutes tops.
From a common-sense standpoint, your dog could get anxious and stressed sitting inside one of these Dog Parkers where strangers can tap on the windows, the animal doesn't know where her owner is (or if will return) and is not comfortable with the surroundings.
When asked about this, Brownridge told This Dog's Life, "Depending on the pup's temperament and comfort level with our houses, 90 minutes is suitable by all crating standards."
I disagree. A dog's crate is his home, safe spot and is in a familiar location. It isn't comparable to a Dog Parker.
While I take issue with the maximum time limit and the fact Dog Parkers are in front of restaurants, Brownridge says a pup's average time in a Dog Parker is 14 minutes. So, just have that be your true purpose: super short trips.
Moving forward, I am hoping Dog Parker continues providing a safe alternative to tying up your dog, but also only focus on putting their houses in spots where fast trips are the norm and lowering the maximum time to 20 minutes. So, Dog Parker can do what Brownridge told me it set out to do: "provide by-the-minute service because it is designed for quick trips, allowing you to include your pup in your day-to-day life, if you choose, rather than tying them up."
Related: After Given 5 Years to Live, an Overweight Man is Prescribed a New Diet: A Dog