It's time to celebrate the greatest holiday of the year: National Puppy Day. Since 2006, National Puppy Day, falling on March 23, has been the official day to celebrate our unbridled love for those widely cute furballs that bring so much happiness and joy to the world.
While this National Puppy Day is different than ones before, due to the coronavirus pandemic, there are still ways to celebrate — you just need to focus on safety.
This Dog's Life asked animal behavior consultant Kayla Fratt for her suggestions on ways to show your puppy love this year. The CEO of Journey Dog Training in Missoula, Mont., reminds puppy parents to pay close attention to what their particular puppy gets excited about because each puppy is different. "Some are social butterflies or cuddle bugs, while others will find exercise in the wilderness the most fun," she says.
Of course, go ahead and use this day as an excuse to give your pup extra hugs and smooches. And then take the time to identify the activities your puppy really loves – and the ones they don't. "If you do something for, to or with your puppy, and she doesn't come back for more, then it's probably not a great thing for your puppy at that time," says Fratt.
Related: What to Expect When You're Expecting a Puppy
Remember: it's okay to call all your dog puppies on National Puppy Day, even your seniors.
Here are some tips for giving your puppy the best day ever:
Treats
While you are stuck inside, you can give your puppy a special treat!
Puppies (and basically all dogs) tend to get really excited about treats. Treats are also a great way to encourage your puppy to love training. For puppies, training sessions should only last for around 15 minutes; after that, puppies often get distracted, discouraged or bored, which defeats the purpose. If you do training outside, make sure you follow your local government guidelines and practice social distancing.
Choose your treats wisely. Use "high-value" treats for training, meaning treats that you know your dog goes crazy over. Fratt makes her own treats by cutting up tiny pieces of hotdogs or roast chicken. (You can also check out our 30 dog treat recipes, featuring five ingredients or less.)
"I divide treats into a few different categories," says Fratt. "Training treats should be soft, meaty, and VERY small." Fratt. recommends Zuke's Mini Naturals if you're buying treats. Similar brands include Spot Farms and Ziwi Good Dog Rewards. You can also use larger-sized treats and break them into small pieces.
For "just because" treats, try to pick healthy, organic choices — but don't overdo it; obesity is just as unhealthy for dogs as it is for humans. If you want to really go all-out, put your apron on and whip up some homemade treats in your kitchen.
Chew Toys
Puppies have 28 "milk teeth" that start coming in at around 2 to 4 weeks of age. They usually begin falling out at around 12 to 16 weeks, to be replaced by 42 permanent adult teeth. This process, called teething, is painful. The discomfort, combined with curiosity, motivates puppies to chew. You can show your puppy love by giving her plenty of appropriate chewing toys.
"I generally help teething puppies by providing LOTS and LOTS of appropriate chews," says Fratt, "and setting the puppy up in a playpen so that they can't access any inappropriate chews (like shoes)." She recommends using a KONG puppy toy filled with treats and freezing it, which will help reduce teething pain. You can fill it with low-sodium chicken broth, cooked ground meat or canned dog food. Plug the opening with peanut butter and then pop in the freezer.
There are also a lot of chew toys for puppies available (all available for delivery, so you don't need to leave your home during the coronavirus).
Check out these picks:
For non-puppy dogs, here are some recommendations:
Related: 8 Super Tough Dog Toys for Power Chewers
Puppy Toys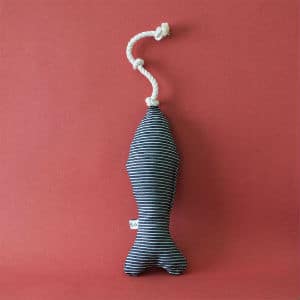 Let your puppy play with different toys. Try out stuffed animals, squeaker toys, balls, rope toys and even Frisbees. Since puppies come in all sizes, be sure to buy a toy that's appropriately sized, and always supervise your puppy while he's playing. Hide a few around the house, and then encourage him to find them.
For pups who love a good game of fetch, get the KONG AirDog Squeakair Balls Packs, which come in sizes from X-small to large.
When selecting a toy to buy look for well-made, sturdy toys that can stand up to chewing, throwing, and sleeping on. Try our Squeaky Fish Rope Toy, PetZu Heartbeat Dog Pillow or the Smart Pet Love Snuggle Puppy.
Playtime
Not all dogs like the way humans show affection. For example, many dogs find hugging annoying or even frightening, especially when hugged around the neck. Instead, show your affection by giving your puppy plenty of attention with tugging games, walks or other teeth-free activities, says Fratt.
But that doesn't mean your puppy doesn't enjoy your physical affection. Give your pup a special treat by figuring out how he likes to be touched. "Many dogs only like petting in a specific way at specific times from specific people," says Fratt. "So you'll have to get to know your puppy and see what she loves."
Fratt also suggests putting your puppy's "bad" behavior to good use. "Your puppy drives you crazy with stealing trash? Try letting her shred newspaper or find hidden treats — or better yet, hide balled-up newspaper with treats inside it. This lets her play a new game that makes both of you happy."
Related: 19 of the Best Interactive Dog Puzzles and Games for Your Bored Pooch
Also, consider having a virtual puppy date. Post on your neighborhood Facebook group or on local community sites like Nextdoor. Then connect via Zoom or Google Hangouts. It is not only entertaining but could also provide some much-needed engagement for dog parents stuck in their homes.
Related: The Rules of the Game: How to Keep Your Puppy Safe During Playtime
Give Your Puppy a Special Day
All most dogs want is to be with us, so set aside a day to give your puppy your full attention. Then after a long day of puppy adventures, have dinner together and curl up on the couch to watch Animal Planet.
Our dogs give us so, so much during their lives. Let's give them this day that's all about them.