Despite the name, dog playpens aren't only for playing. They are actually a great tool for dogs of all ages.
If you have a new puppy, a dog playpen gives your pup an enclosed space that's roomier than a crate and can still serve as a housetraining tool. There's enough space for a bed, food and water bowls, and puppy pads. It also keeps them safe and secure. This is true for adult dogs, too.
Dog playpens are also perfect if you're popping out to the store or busy around the house. If you're chilling in your backyard, but don't want to keep an eye on Fido, you can pop him in an outdoor playpen and let him (and you) enjoy the day.
A playpen is also effective for keeping your dog corralled during that important dinner party with clients, your boss or that friend who's terrified of pooches. It is also a great tool for keeping young children and an excitable dog safe and sound.
The size of the playpen will depend on the size of the pooch. Larger dogs need stronger pens with higher sides. Small dogs also need a playpen that they can't jump over, particularly if your tiny pup is a tiny Houdini.
Related: Give Your Pup a Lift: Check Out the Best Dog Stairs and Dog Ramps
There's a large variety of playpens on the market, from heavy-duty metal to portable fabric ones.
Here are some of the best available:
Tespo Dog Playpen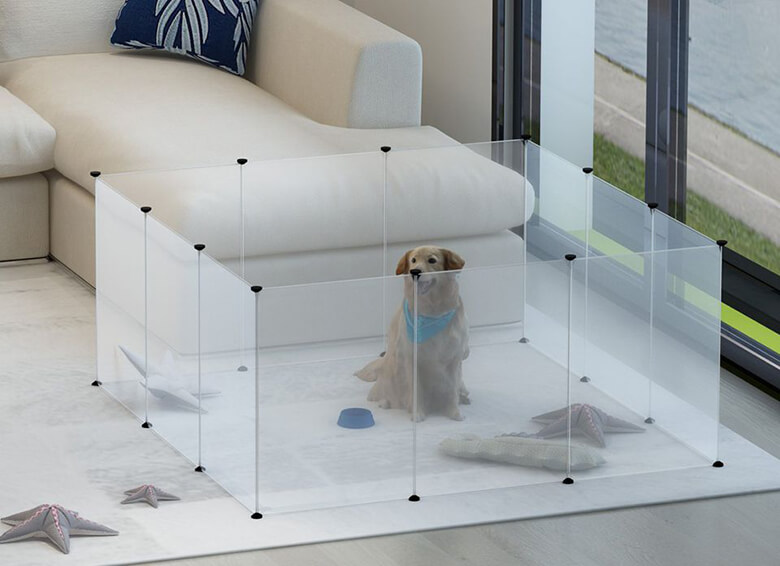 For the style-conscious or modern art maven, you can't beat the transparent, customizable 12-panel Tespo. Made of eco-friendly plastic resin, it can be set up for a large 28-square-foot indoor space, giving your pup enough room for playing and resting. The panels interlock with steel and plastic connectors that are sturdy and strong.
You can configure the space into different shapes depending on your needs. Plus, because it is transparent, it gives a clean look and appears like it is taking up less space than it actually is. The 28-inch high panels are both durable and washable, and they can be broken down for storage when not in use. There are no tools required, making set up a cinch.
Price: $46
IRIS 8 Panels Exercise Plastic Pen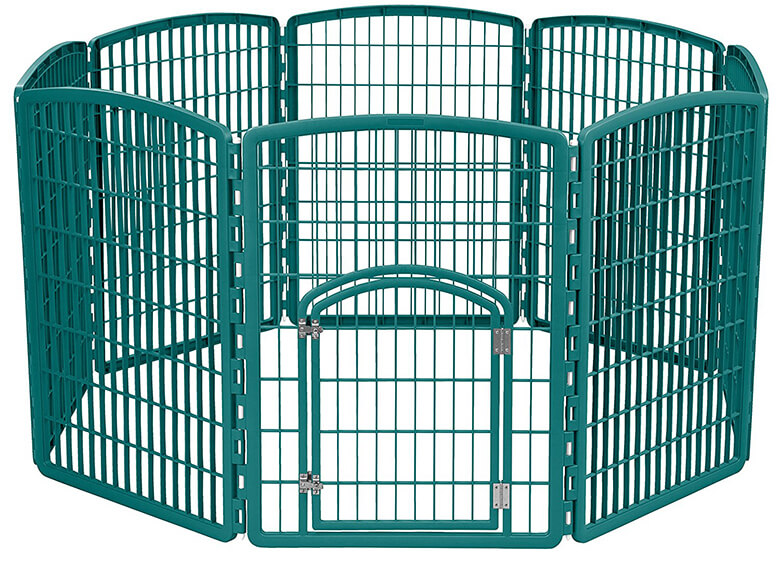 This playpen made by IRIS can be used inside or out. Made of durable, heavy plastic, it comes in nine colors to suite any taste or décor. The panels are 34 inches high, and when assembled, the pen provides 21-square-feet of space.  There is even a panel add-on kit for when your puppy grows and a built-in door for your dog's easy access. The panels interlock with full-length connecting rods, and the non-skid rubber feet ensure a sturdy, slip-free pen. Take out the rods for easy storage.
Price: $60
Richell Convertible Indoor/Outdoor Dog Pet Playpen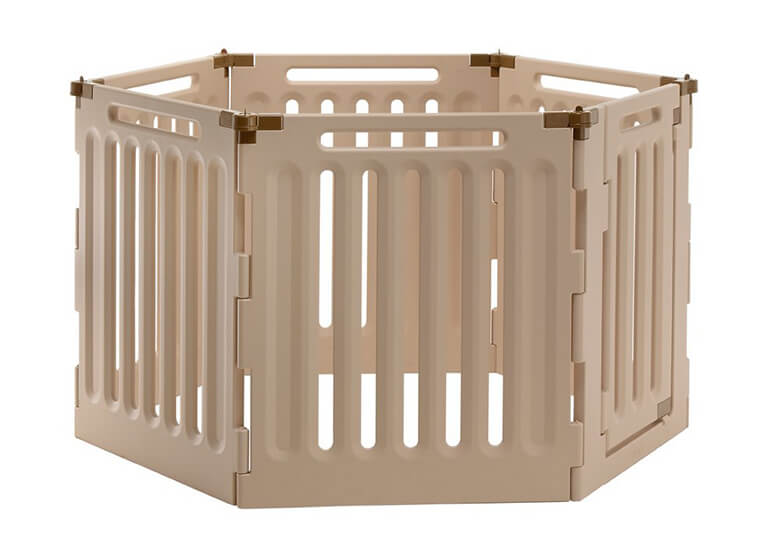 The Richell convertible playpen may be one of the priciest, but it can be converted into a rectangle, hexagon, gate or room divider. It is like three products in one!
With the six-panel set up, your dog has easy access through a lockable door. The durable, molded plastic construction resists mold and mildew and is easy to clean. You can also purchase a "comfort mat" for padding on the floor, or it can be attached to the top for shade on sunny days. It will convert easily for use as a gate to keep your dog in one room. The walk-through door opens both inward and outward. It is also available in four panels for smaller dogs, and in low, medium, and tall at 20.3, 28.1, or 36-inch height. For bigger dogs, some people have bought two playpens and connected them. (The company also makes a wood version that is a bit more stylish.)
Price: $177 to $182
Related: Brrr! Check Out the 8 Best Dog Winter Coats
MidWest Homes for Pets Metal Exercise Pen
Versatile MidWest metal playpens come in 5 heights from 24 to 48 inches high and in models with and without a built-in door, which is secured by a top and bottom latch. It configures to 16 square feet of room and includes eight ground anchors for use outdoors. It is assembled easily without tools using rods and snaps. The gold or black coating is durable and rust resistant.
A sunscreen top for shade (and to keep a jumper in) is sold separately. Disassembles easily and folds flat for storage.
Price: From $26 to $77
EliteField 2-Door Soft Pet Playpen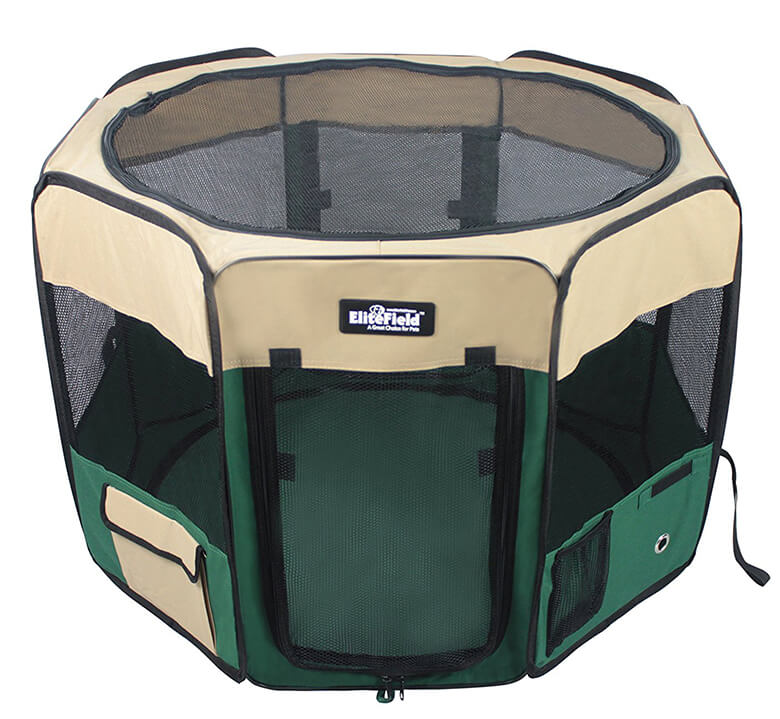 If your dog loves road trips, EliteField two-door soft playpen is for you. Lightweight, yet durable, it comes with a two-year warranty. The portable pen sets up and breaks down easily. It comes in eight color combinations and seven sizes from 20 inches to 36 inches high. Pens have two zipper-locked doors and a washable mat and top cover. There are accessory pockets to store all your dog's needs, including water bottles, toys and treats. It provides a lightweight, airy space for puppies to play and chill. This pen is sturdy and roomy, and the bottom mat and top cover zip closed for security. It comes with four stakes for outdoor anchoring and a carrying case for travel.
Price: $38-$73
BestPet Heavy Duty Pet Playpen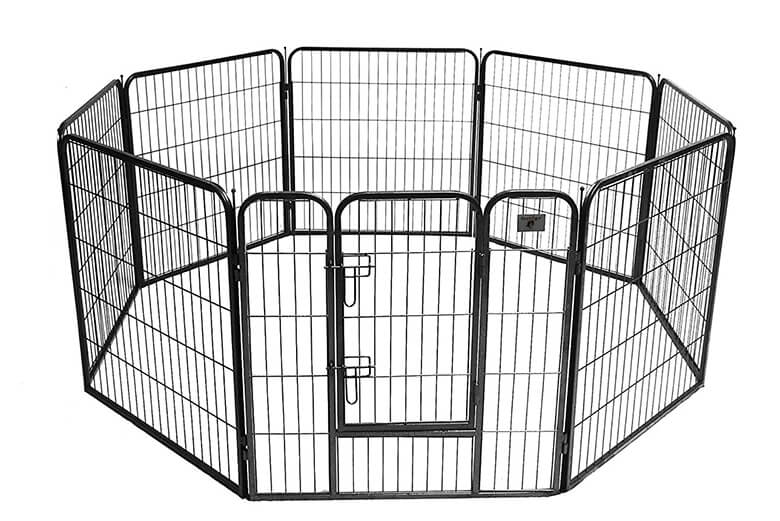 If your pup is the Terminator, BestPet heavy duty playpen is the perfect choice. At 40 inches high, it will contain all but the most determined small to medium-sized dog and even a larger couch potato. The frame is heavy metal tubing that will prevent dogs that love to chew from breaking out. It's also weather-resistant. Panels connect with rods that are designed to be sunk into the ground if using outdoors. It can be configured into different shapes, and the base is flat for stability. With 28-square-feet of space, your dog will have room to romp. The pen has a latched door for easy access. You can even configure a dog run by connecting two or more together.
Price: $85
Related: The Beginner's Guide to Potty Training Your Dog
 All our picks our independently chose, but we do earn an affiliate commission to support our work. However, if we don't like the product, we aren't going to write about it. Making a few cents off an affiliate just isn't worth it to us.