All featured products are independently chosen by This Dog's Life. However, we may make a small affiliate commission if you click through and make a purchase.
Your pup may be covered in hair but that does not protect him from the sun. Dogs like humans need sun protection too.
Indeed, 94 percent of veterinarians dermatologists recommend the use of dog. Skin tumors are the most common form of tumors found on dogs — and can be cancerous. Approximately 14 percent of skin cancer on dogs is sarcoma, a deadly form of cancer. This type of cancer on dogs is likely to be a dark red or blue growth and are most commonly found on the "dog's hind limbs, prepuce, and ventral abdomen, but may appear at any place on the body," according to PetMD. If you notice any growths please call your vet immediately.
While sun protection is needed for all pups, there are dog breeds and types that are more susceptible to burns and skin ailments. Those pups include the following: thin and/or short haired dogs; light and/or white-haired dogs; light skin coloring, including pink and white skin; pooches that have been shaved, exposing their skin; and active dogs who are exposed to sun at high levels for a long duration of time .
The breeds that are predisposed to skin tumors include Weimaraners, Boxers, Bichon Frises, Bulldogs, German Shepherds, Pit Bull Terriers, Poodles, Golden Retrievers, Pugs, Dalmatians, Beagles and Chinese Crested, among others.
Related: Super Easy 'Pup Pops' Recipe That Your Dogs Will Absolutely Love
To ensure our dog is safe from the sun's harmful rays, we need to be proactive with dog suncare and skin protection.
Below check out our favorite tip and finds, so your dog can have fun in the sun.
The Lowdown on Dog Sunscreen
You need to use a sunscreen that is made for a dog and not a human. Make sure that the sunscreen is free of zinc oxide, a toxic chemical for pets that is found in human sunscreens. If ingested, it can harm your dog's red blood cells and could result in a blood transfusion.
Before you take your pup in the sun, apply skin protection to your dog's ears, nose, belly and all areas where your pup has no or little fur. The hairless skin is the most unprotected part of your pup's body. Apply 15 minutes before you go out in the sun and reapply every two hour and after they get wet.
Similarly to humans, there is a wide assortment of dog sunscreens available to dogs — from sprays to balms and wipes.
Below is a roundup of some of our favorites.
Related: Everything You Need to Know to Have a Happy and Safe Summer for You and Your Dog
Dog Sunscreen Sprays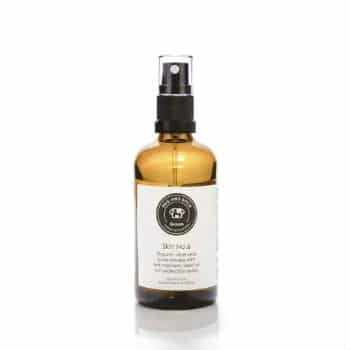 As the name implies, spray dog sunscreen conveniently sprays sunscreen at every angle for a quick and easy application. This application is ideal for those pups that can sit still and aren't scared easily. (As you can imagine, it can unnerve certain dogs if you spray a substance on them.)
Dug and Bitch is one of our favorite dog sunscreens. Not only is it non-toxic (no zinc oxide)– in case your pup is curious and licks his fur, — it also naturally protects your dog against the sun. It is made from red raspberry seed oil, a natural sun protectant, and aloe vera, to soothe your dog's skin.
If your dog is going to be splashing around, consider Epi-Pet dog sunscreen, as it provides protection for up to 80 minutes.
Another spray, we are obsessed with is from Gerrard Larriett Aromatherapy Pet Care. The line has a product called Vitamin & Essential Oil Sunscreen and Skin Conditioner For Dogs. Like the others, it contains UVA and UVB inhibitors, to help block the sun's harmful rays. And it also has vitamins and essential oils to provide extra protection. For instance, its lavender oil is known to protect against certain bacteria, the aloe vera will help sooth redness and some think vitamin E can stop the aging process by blocking the free radicals in your dog's body.
Sunscreen Wipes for Dogs
Wipes are easy to use and a soothing way to apply dog sunscreen to your pup. It is great for those dogs who are anxious, or are movers and shakers. Also, dog sunscreen wipes are amazing if you just need certain areas protected, like the ears, nose and muzzle.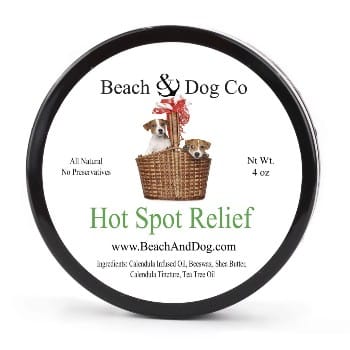 There aren't a ton out there, but we found Petkin doggy sunwipes tends to do the job. The wipes' protection can be compared to SPF 15 for humans. Because of the material, the sunscreen is not greasy and can easily be wiped on dogs. (Again, small, specific spots are best for this product.) It also has a summery beach smell of coconut vanilla, which makes your dog smell yummy while he is safe in the sun. These wipes should not be used on broken skin or in the eye area. The active ingredient — the one that protects against the sun — can irritant your dog. So, definitely be cautious.
Dog Sunscreen Balms
Balm is perfect for your doggy's nose and sensitive skin areas. It leaves a thick coating and is water resistant, so it's perfect for your active dog.
As you'd expect, the beach is an ideal place to apply balm and Beach & Dog Co. has a fantastic all-natural dog sunscreen balm.  It is toxin free — no zinc, titanium dioxide, benzophenone or oxybenzone. It also has aloe vera and shea butter to protect and moisturize your pup's sensitive skin from salt damage. Plus, it adds oils, like organic coconut oil and grape seed oil for some extra benefits. Love it!
If there is any adverse reaction to the dog sunscreens listed above, call your vet immediately.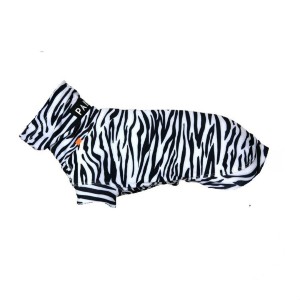 Dog Sunscreen Shirts
Another option besides sunscreen is a doggy coverup. We love coverups because it provides coverage for your pup all day-long, whether the shirt is wet or dry!
Finnish brand Paikka, known for its innovate products, has a sunscreen dog short that provides UV protection (UPF 50+). Its zebra-stripe print acts as a natural deterrent for bugs, as the stripes can confuse insects' radar — just like in the wild.
It is very comfortable for pups and have quick dry material for the aquatic dogs. Also, because of the material — polyester and elastane — the shirt will keep its shape, so no more worrying about a saggy top, which can happen with the cotton ones.
Related: Dogs Show Off Their Surfing Skills In 10 Amazing Shots
Doggles
Yes, you read it right, doggles. Doggles are goggles made for your doggy and are perfect for dogs who love water sports, or just need to block the harmful rays while walking.We love the brand Doggles (the company who made dog goggles very popular) for its shatterproof guarantee. It also provides 100 percent UV protection for your pup's eyes, as well as protection from water, wind and other foreign objects that can be dangerous to your pup. The product is adjustable on the chin, making sure that your pup is comfortable and safe. Doggles also offer interchangeable lenses, like leopard, so your pup has options for all her adventures.
Add Some Shade
While the above products will definitely add protection, it is also important to make sure there is ample shade available for you pup, as she can overheat easily and really shouldn't be out in the sun for long periods of time.
Let your dog have fun in the sun, but be safe.