Disneyland is a magical experience for just about anybody, but one lucky dog also got to experience the enchanted place – and for a good cause.
Elijah, a 1-year-old Labrador retriever, is currently training through Canine Companions for Independence, a nonprofit that matches up dogs and people with disabilities free of charge.
Ashely Wilt, is his volunteer puppy raiser, who received Elijah at 8 weeks old. "I am raising him for his first year and a half of his life with the goal of him graduating as a service dog," she tells This Dog's Life. "I am responsible for his care, socialization in all settings and the training of 30 to 40 commands."
Related: By Hiring Those With Autism and Other Developmental Disabilities, Company Gives Us Lots of 'Good Reasons' to Buy Its Dog Treats
One thing he needs to get comfortable with is being around a lot of different people, noises and situations. So, what better place to train than Disneyland?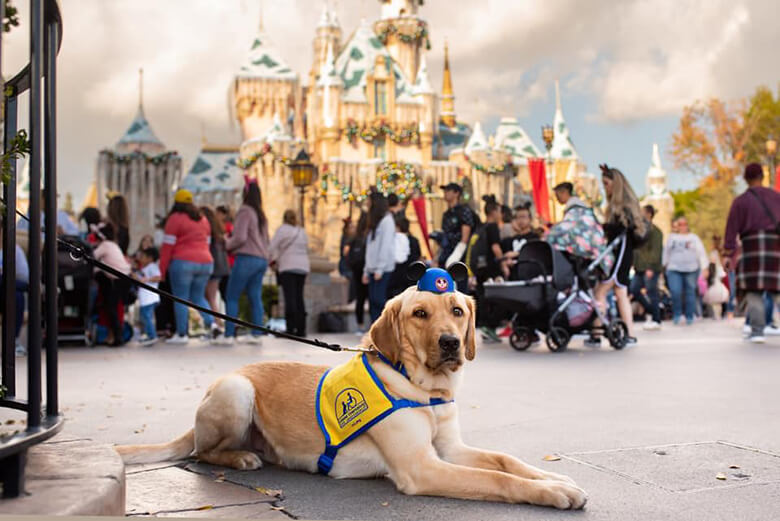 Related: Binge Worthy: Netflix to Release Heartwarming Series All About Dogs
Wilt agreed. Last month, took Elijah to "The Happiest Place on Earth" to get him used to various experiences. And while we are sure he got training, he also got to meet some pretty characters.
There was Winnie the Pooh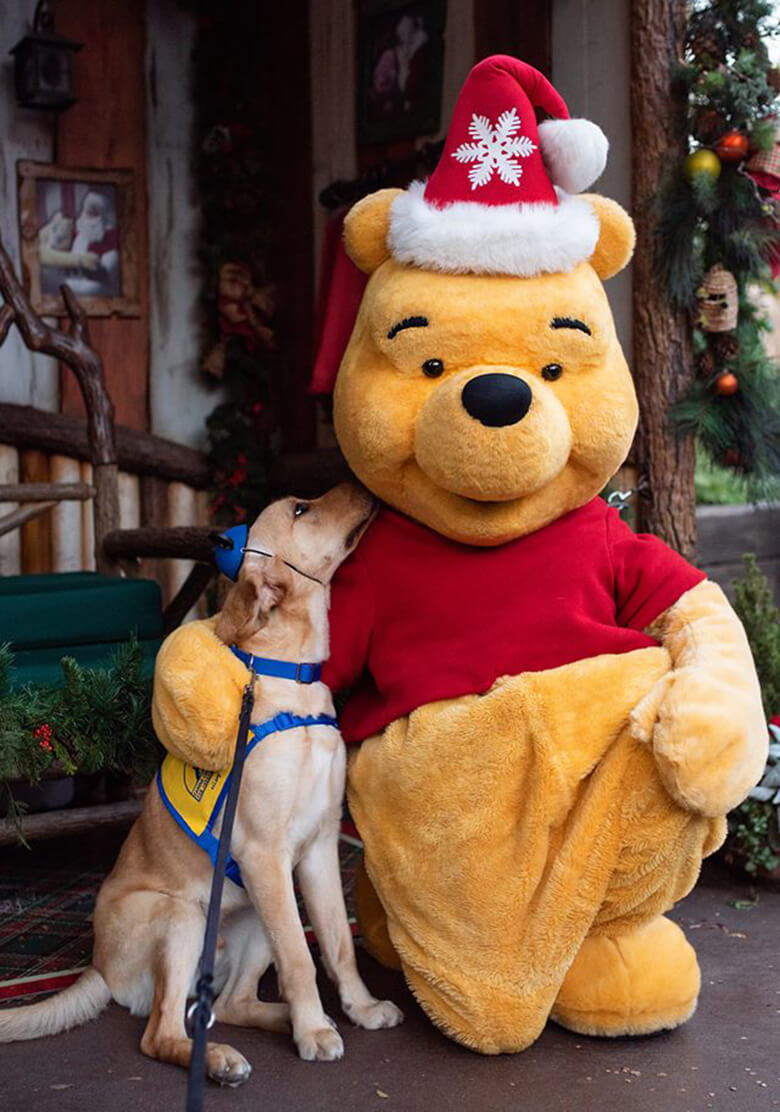 Cinderella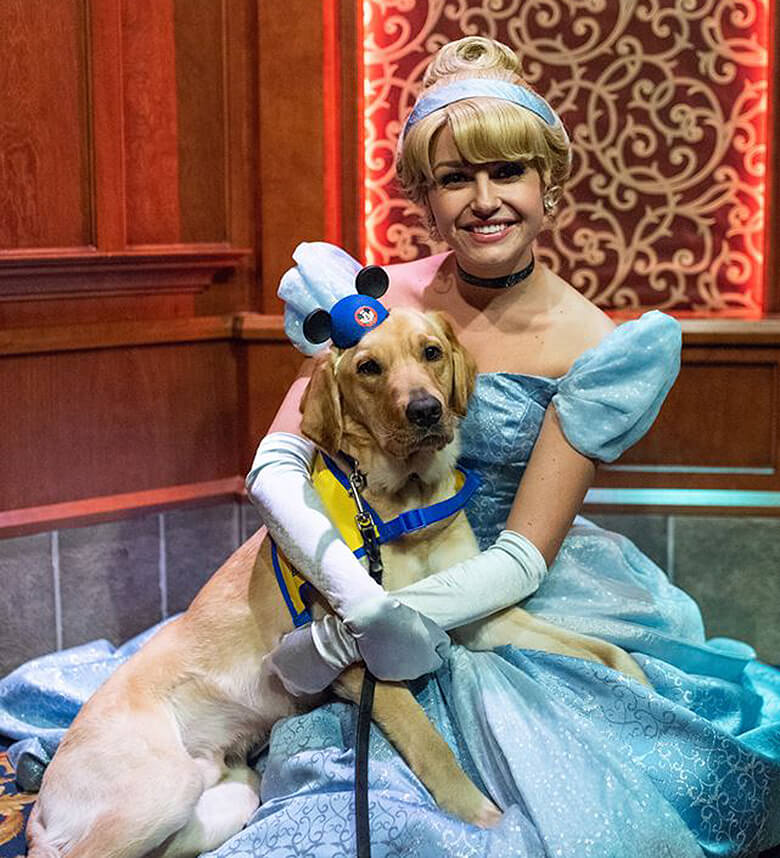 And Snow White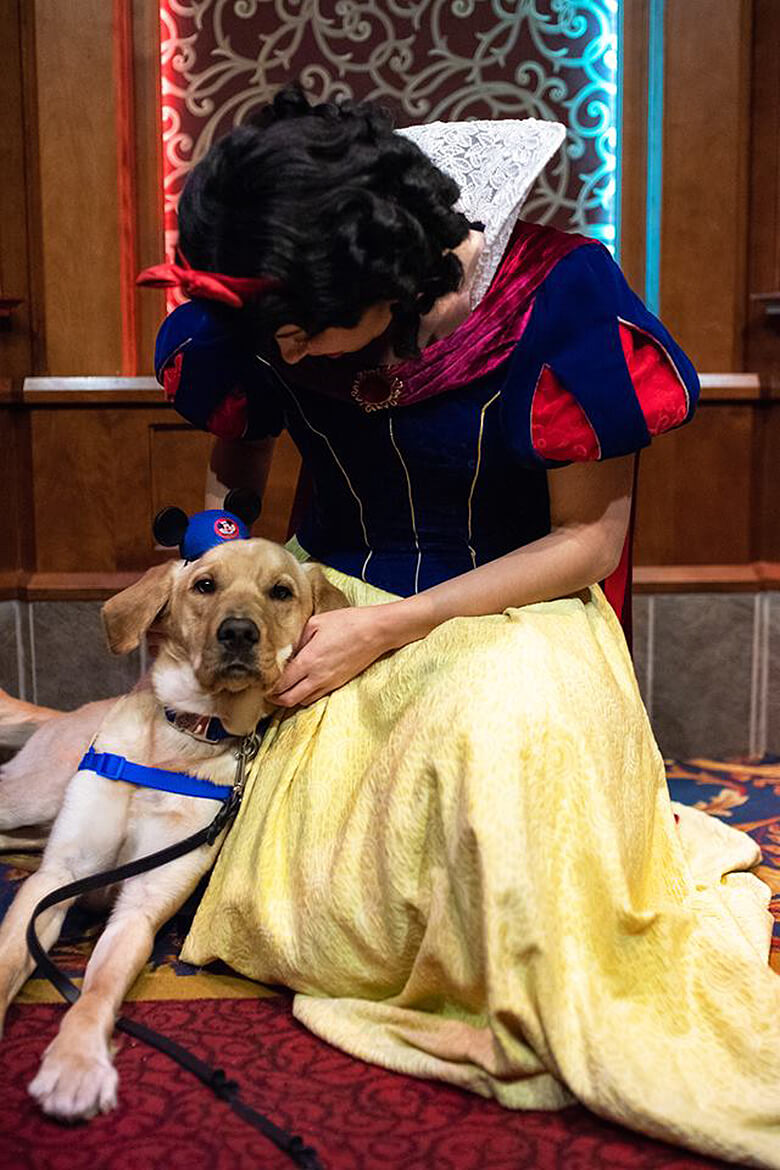 "Elijah definitely enjoyed his day in Disneyland!" says Wilt. "His tail never stopped wagging." "
Besides hanging with his favorite Disney characters, Elijah was able to get a taste of what it will be like being a service dog, and what is expected of him.
"Working is fun for him so he loved showing off all of his commands while we trained at Disney," says Wilt. "Elijah got to practice focusing on his handler and working around so many distractions. There were screaming kids, food all over the floor, huge crowds, and characters in costumes. He exhibited calm and confident behavior through it all."
Besides Disneyland, Elijah has already mastered a number of skills. Wilt is a full-time college student, so he has sat with her through many hours of lectures and classes, long night studying and "all of the crazy experience that living on a college campus brings," she tells us. He has even flown with her on over 20 flights. "I think all of our travels, college life and his day at Disneyland, nothing could faze him. He is certainly prepared for his future as a service dog," she says.
He will be leaving Wilt in a couple weeks when he goes onto the next part of the training program. Of course Wilt will be sad, but she realizes her training with Elijah will help someone in need.
"Elijah is the fourth service dog that I have raised, but it doesn't get any easier," Wilt says.  "The emotions are always a roller coaster. There is heartbreak for having to say goodbye. There is sadness for the end of our journey together. There is joy for the time I spent loving him. There is hope that he will fulfill his purpose. There is love for all that he is. Though most of all there is pride for seeing how ready he is to change someone's life. I see no greater gift than loving Elijah for the last 22 months and being willing to give him to someone who needs him more than I do."
Related: George H.W. Bush's Service Dog Sully Lays By His Casket In Photo With Caption 'Mission Complete'