When it comes to transparency of puppy mill breeders, it could go from bad to possibly worse.
Last year, the current administration did a complete overhaul of the USDA's Animal Care's website, making it nearly opaque. Prior to the change, the site, to some degree, acted as the public's eyes to the approximately 9,000 animal facilities, including commercial breeders (also known as puppy mills). People could view information about the breeders, including any violations they may have incurred by the USDA. It helped watchdogs, consumers and retailers gain insight  into where the dogs came from, what the living conditions were like and how they were treated. Yet, the administration decided to change the website.
Citing privacy concerns, the agency removed nearly all information on the records "based on our commitment to being transparent, remaining responsive to our stakeholders' informational needs, and maintaining the privacy rights of individuals."
Related: The 4 Things You Can Do to Fight Back Against the USDA's Removal of Animal Welfare Data
It was a huge step back for the animal-welfare world, with Elizabeth Oreck, the national manager of puppy mill initiatives at Best Friends Animal Society, telling us at the time,"It makes it nearly impossible to enforce current laws that prohibit the retail sale of dogs and cats from breeders who have been cited for certain federal violations, and it gives the public no way of knowing, when they walk into most pet stores, anything about the origins of the pets for sale."
The new protocol is people have to submit a FOIA (Freedom of Information Act) request, a law that requires the release of records controlled by the government. Yet, in the case of when consumers receive records back pertaining to commercial breeders, nearly everything is hidden. Indeed, the Tampa Bay Times, recently reported on a FOIA request it submitted to the USDA asking for recent inspection records for 15 puppy mills that supply dogs to local pet stores. After waiting nine months for the information, they finally received it: 54 pages that were completely blacked out.
"Every word of every inspection — from the date to the violations — were redacted from the documents provided. Providing 'personnel and medical files,' the agency said, would 'constitute a clearly unwarranted invasion of personal privacy,'" the paper reported.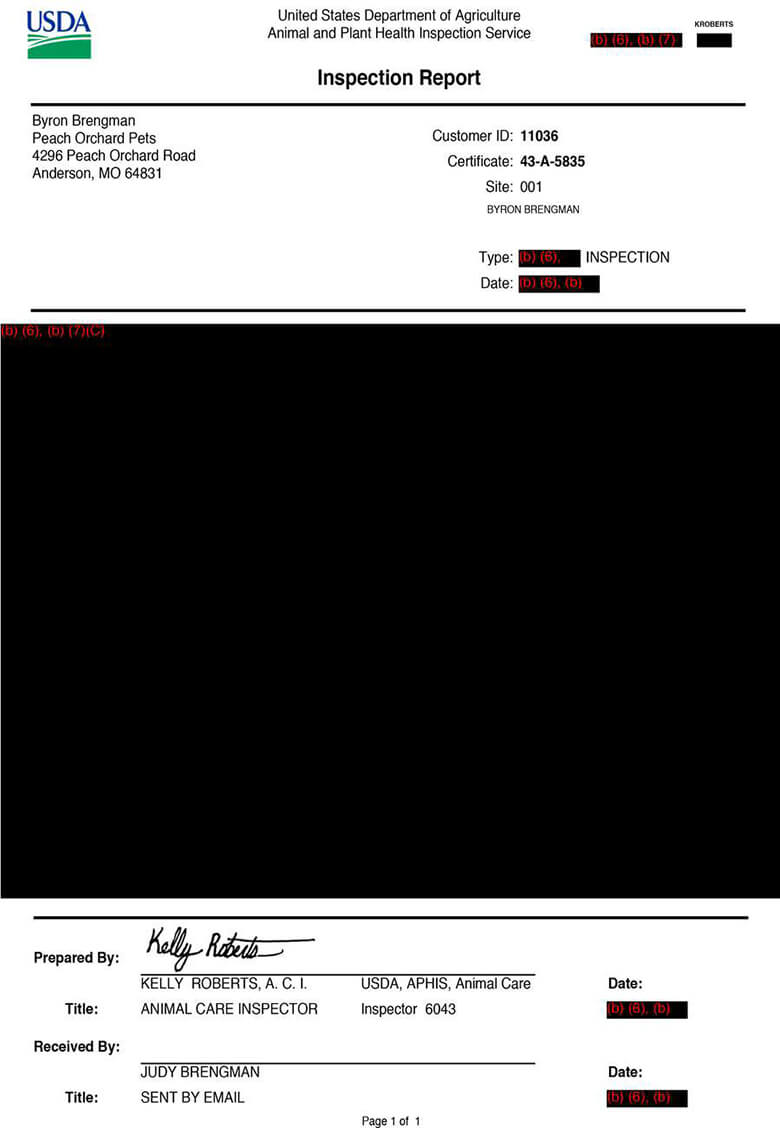 Tampa Bay Times noted all this information was available prior to the current administration. (National Geographic had a similar article in which it received 1,700 blacked-out pages.)
Related: USDA Rolls Out 'Refined' Animal Welfare Database, Continues to Protect Puppy Mills
And if a consumer goes to the USDA's page called "Frequently Requested Records – Freedom of Information Act," the individual will have a similar experience: pages with nearly all information blacked out.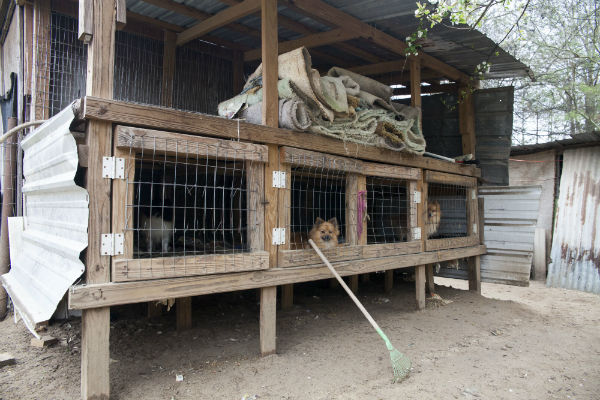 In the coming weeks, it may get much worse for dogs at commercial breeders. The administration is having a public hearing for comments on having a third-party organization (not related to the government), inspect facilities licensed under the Animal Welfare Act.
The concern is that these outside organizations could potentially have close ties with the facilities they are inspecting, while avoiding being accountable to the public. Animal welfare organizations are worried.
"If this policy is adopted, puppy mills, zoos, and research laboratories would be inspected by people with close ties to these industries – people who cannot be and will not be impartial," says Maureen Linehan, the senior manager, media and communications at ASPCA. "Inspections will likely be infrequent and inadequate, while animal abusers go unpunished and animal cruelty is ignored."
Related: Tennessee to Have First Statewide Animal Abuse Registry
Linehan noted that the USDA did outsource inspections for horses under the Horse Protection Act, which she deemed bias.
"The USDA has previously supported industry-friendly 'enforcement' under the Horse Protection Act," she told This Dog's Life. "These private inspectors who conduct inspections at Tennessee Walking Horse shows are employees of horse show organizations. A 2010 audit by the USDA Inspector General detailed how these inspectors often disregard violations and recommended that the agency abolish the program."
Kathleen Summers of The Humane Society echoes her concerns, calling out in particular the American Kennel Club (AKC), an organization that makes money from breeders registering litters, possibly having a role in the inspection.
"While the AKC opposes virtually all government regulation of dog breeders, it does claim to have its own inspections program," she says, noting the program is not transparent and are a disservice to animals. "On several occasions, people who were reportedly inspected by the AKC were convicted of animal cruelty a short time later. For example, in 2014, two Mississippi dog breeders, one of whom had been listed as an AKC Breeder of Merit, pleaded guilty to animal cruelty after more than 70 dogs, including a former AKC "Best in Show" dog, were found living in filthy and miserable conditions. Yet this operation had recently passed inspection by the AKC.
The AKC says it is against third-party inspectors.
"The American Kennel Club believes all USDA inspections should be conducted by individuals trained and employed by USDA," says Sheila Goffe, the vice president of government relations. "Instead of using third party inspectors, we support simply providing additional funding for USDA so they can conduct any necessary supplemental inspections. The use of inspectors that are not USDA employees poses significant risks that would outweigh benefits to the animals kept in regulated facilities."
When asked for comment from the USDA about why the government agency decided to consider seeking a non-government agency to oversee these businesses, a spokesperson told us it was too early to answer the question.
The agency is accepting public comments until March 21. To date, there are more than 25,000 comments. If you would like to provide feedback, here is the link to voice your opinion.
Related: San Francisco Pet Stores Can Now Only Sell Rescue Dogs and Cats
This article has been update to reflect a comment from the AKC