Director Michael Bay honored his promise to have "Britain's loneliest dog' star in his upcoming movie.
Named Freya, the 6-year-old staffordshire bull terrier, has been spotted on the latest installment of the "Transformers" franchise.
The dog landed the role after Bay heard about Freya's plight. The pup, who has epilepsy, had spent all but six weeks of her life at England's Freshfields Animal Rescue, reportedly being overlooked more than 18,000 times. Looking to stir up some attention for the dog, several UK news outlets ran her story, dubbing her Britain's loneliest dog, hoping she would finally catch someone's eyes. Bay caught wind of the story and was determined to help Freya out, tweeting:
"Found this in the news last week in the UK. We gave the Loneliest Dog, a role in Transformers," Bay posted on Twitter. "Freya has epilepsy and has been in a shelter her whole 6 year life. We are also going to find her a home," he tweeted. "If not she will come to my house. Welcome to the cast Freya!"
Related: Loneliest Dog' Gets Opportunity of a Lifetime: Star in New 'Transformers' Movie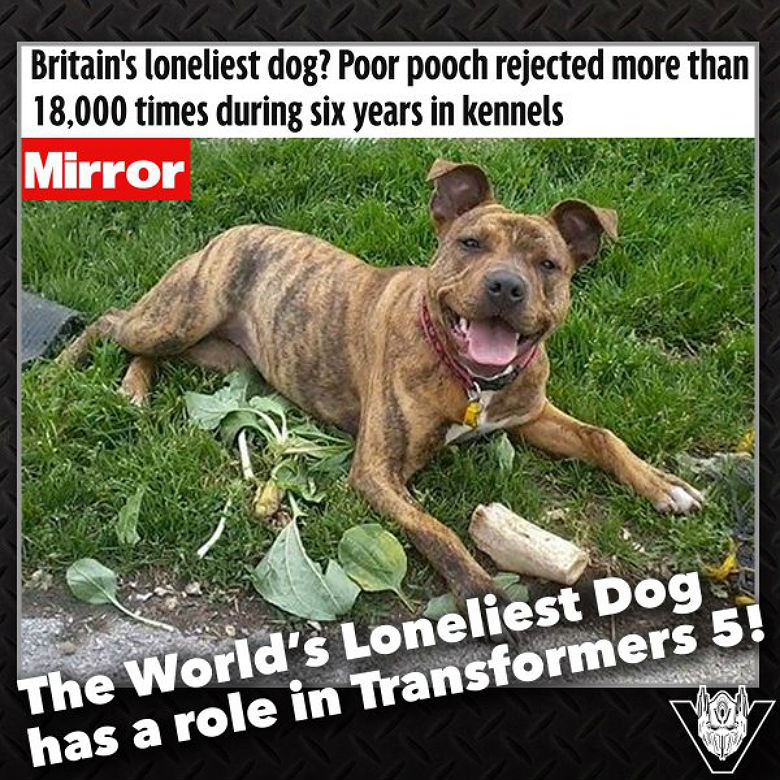 All the publicity worked. Frieda was adopted by Ray and Jackie Collins from Cheadle Hulme, Greater Manchester. The pair have two other rescue dogs and were prepared to care for her epileptic needs.
Related: 'Loneliest Dog' Who Is Promised a Role in Upcoming 'Transformers' Movie Gets Adopted
"When I spoke to Ray I knew there was something special about him and Jackie. They have rescued dogs all their lives and quite frankly have put up with a lot from dogs in their care and had never given up on any of them," Collette Piert of Freshfields Animal Rescue told This Dog's Life at the time. "They were already experienced with epilepsy too having previously owned a dog suffering with seizure's so that was an added bonus. They seemed to understand from day one what was expected to make things work for Freya."
But Bay and company stayed mum if they would live up to their promise of landing her a role on the upcoming Transformers movie. Well, we now know he did.
In a YouTube behind-the-scenes clip of the upcoming Transformers movie, you can see Freya working alongside her costar Anthony Hopkins.
"Freya's doing an amazing job acting," Bay says in the video.

Related: Dog Hidden at New York Shelter Is Looking to Catch the Eye of Someone Special