A dog that no one can see is seeking our help to get him adopted.
Named Hawkeye, the pit bull is currently being housed at New York City's Town of Hempstead Animal Shelter. But most people who visit the shelter have no idea he is even there.
The dog is kept away from the other dogs, where he would be visible to potential adopters. Instead, he is tucked away behind a door in his own room, where very few people see him and has received little interest.
The reason for this predicament is Hawkeye's anxiety at the shelter. The 2-year-old dog came to Hempstead Animal Shelter this past summer when he, along with his sister Petal, was found tied up at a park. While Petal got adopted quickly, Hawkeye still waits for his forever home at the shelter — a detrimental environment for the dog.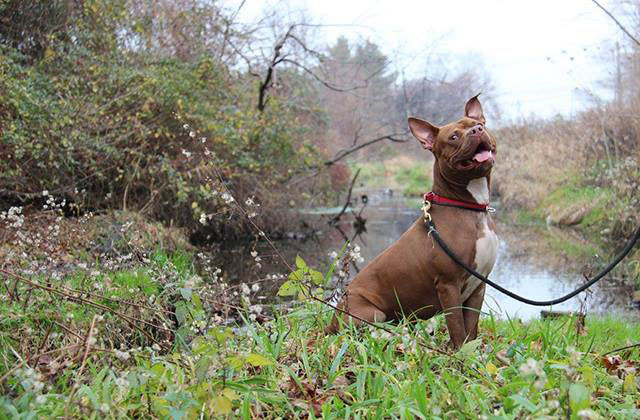 Related: Remember Murdock, the Former Bait Dog? You'll Never Believe What Happened to Him.
"Hawkeye started spinning shortly after he came to the shelter, and it worsened with time," Ellyn Ruddick-Sunstein, Hawkeye's sponsor, told This Dog's Life. "He was so anxious about the barking and noise in the kennels that he literally threw himself off the walls of the kennel and could not stay still."
While moving Hawkeye away from other dogs has helped reduce some of these anxieties, he still can't have any sort of comfort in his crate. "He can't have stuffed toys, rope toys, or a real bed, because he gets so frustrated and lonely that he tears them up," says Ruddick-Sunstein. But there is something that makes this lonely dog extremely happy.
"Hawkeye loves people. He lives for the moments staff and volunteers come to say hello," she says. "When someone comes to visit him, his whole body wiggles like crazy."
Related: See How a Little 'Flower Power' Magic Is Helping This Former Fighting Dog Find His Forever Home
She adds, "He is very playful and affectionate and he can occupy himself for hours playing outside with a toy. He is loving and affectionate and will give kisses and sit on laps."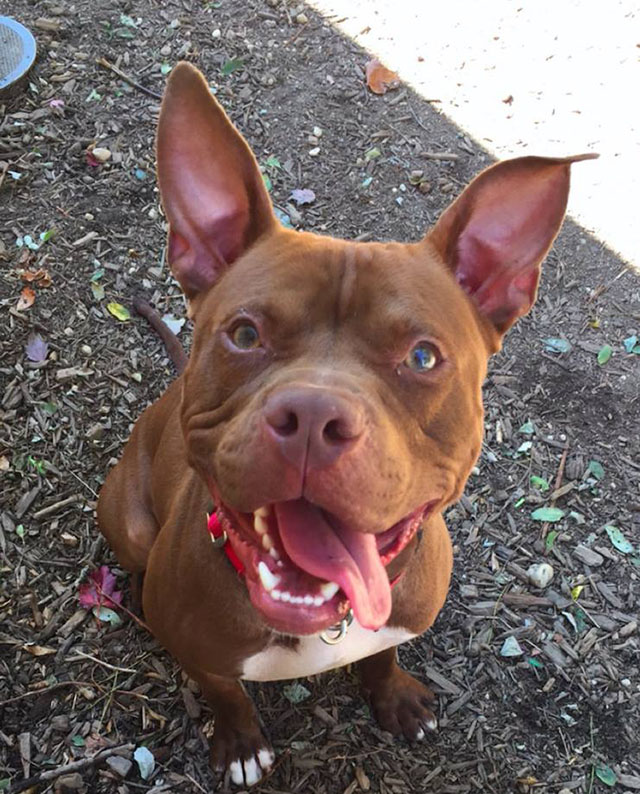 His sweet demeanor has caused the staff at the shelter to become extremely attached for the dog and only wanting the best for him.
"Some dogs are once-in-a-lifetime dogs, the kind of dog whose endless love and exuberance changes the way you see the world. The kind of dog who makes everything–even the little things–magical," a post of Facebook states. "The kind of dog who can't sit still for a photo because he's just so happy to be alive. Hawkeye is one of those dogs."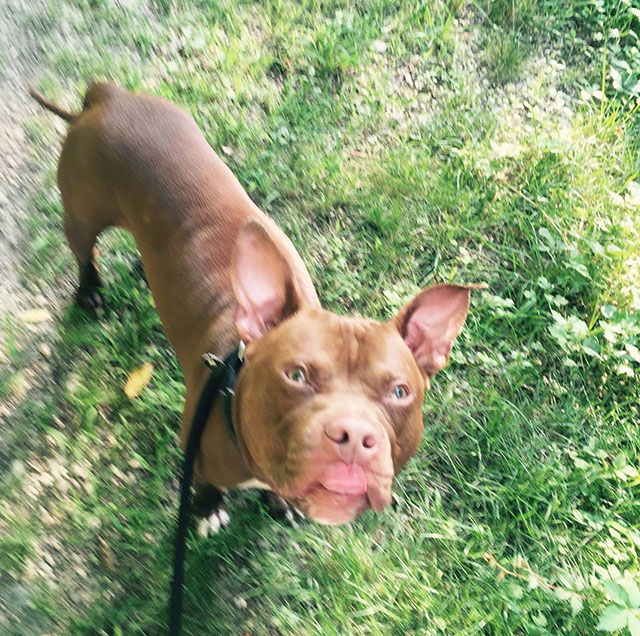 Hawkeye is just looking to catch the eye of someone special. Because Hawkeye's anxiety is getting worse, we need to find this dog a foster or forever home as soon as possible. Like we mentioned, this remarkable dog LOVES people and would do best in a home where he is an only dog.
For those interested in this dog or know someone who would be contact Hempstead Town Animal Shelter by phone at (516) 785-5220 or by email at animalinfo@tohmail.org. You can also follow his journey on Facebook at Hawkeye the Wiggly Pibble.
Related: Former Bait Dog Gets Second Chance, Thanks to 'New Leash On Life' Prison Program