Ever wished you could snuggle up with a playful pup while enjoying a drink with friends after work? Well if you live in New York City you're in luck, because one young organization is bringing people and pooches together over pints and everyone's invited.
Named Puppies n' Pints, this small organization with a big following works to connect dog lovers with rescue pups over a couple of beers in a relaxed bar or brewery setting. Working with various rescues and shelters around the New York City area, their often sold-out events aim to raise awareness around the many adoptable dogs in need around the city, opening the door to help people adopt, foster and volunteer their time to help dogs in need.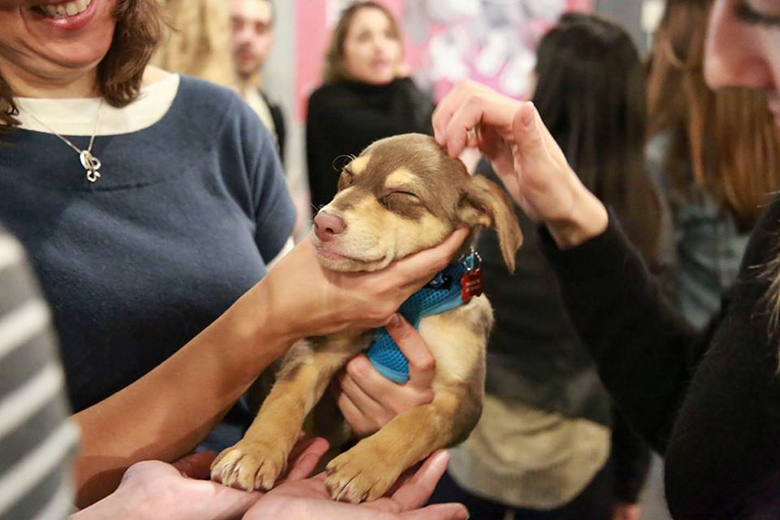 Formed in 2015, Puppies n' Pints came about at the insistence of Adriana Krasniansky, who pushed hard to convince her roommates to adopt a dog of their own. Unable to find the time or space to give a pooch the proper care that it needs to thrive, the recent college grads got the idea to give themselves what they were missing while helping others, simultaneously.
Related: Bowser Beer Lets Your Dog Enjoy a Cold One, Too
"Ultimately, we wanted to create a space for folks like us – animal lovers who are unable to adopt just yet, or those who are ready but have such busy schedules that maybe they can't take the time to visit a shelter, or just don't know where to begin," says Michelle Pathe, event organizer and Puppies n' Pints co-founder.
The group works with local shelters to allow dogs of all ages the opportunity to get out of their kennels and into the arms of loving New Yorkers. "We think it's casual yet informative," says Pathe. "You can come with a group of friends for some mid-week stress relief, or you can come and talk directly to a representative from one of our shelters about the adoption process."
For anyone unfamiliar with pet adoption, fostering or volunteering, the events thrown by Puppies n' Pints creates a friendly space to gain information and talk to people with first-hand experience. Think of it as happy hour with the ultimate happy ending – a forever home for an adoptable dog in need.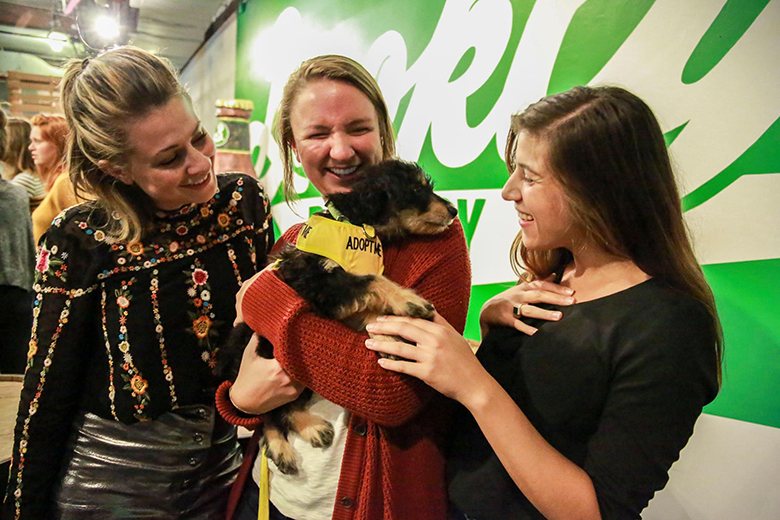 Related: Jenga, Dogs and Beer Galore at Manhattan's Clinton Hall
The unique gatherings are exceptional for two reasons — the most important being the opportunity it gives shelter dogs to shine their brightest. Creating a neutral and laid-back environment is an immeasurable gift for a shelter dog, as it helps to allow their natural temperament and demeanor to show — an aspect that can unfortunately become compromised within the stressful settings of many shelters. Some dogs tend to shy away from visitors, while others bark loudly, demanding attention. Often, these traits don't fairly reflect the typical personality of the dog, and many don't get the chance to show a potential adopter their true colors.
Additionally, these fun social events can mean just as much for stressed out city dwellers, serving as an informal form of pet therapy for everyone involved. "It's not unusual to see people, total strangers, sitting cross-legged on the floor with one another while petting and playing with the rescues," says Pathe.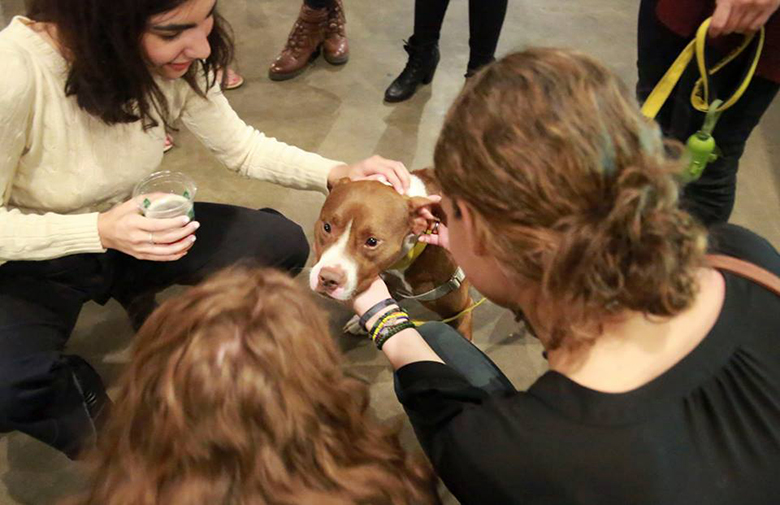 So what can one expect at a Puppies n' Pints event? If you're interested in checking one out for yourself, it's advised to get there early, as it's not uncommon to be met with a line around the block. "We think people just want to get there on time in order to maximize the amount of puppy time, and we don't blame them," jokes Pathe. Once you're in, just enjoy the company of that evening's featured pups, and feel free to mingle with guests over a drink if you're not too distracted.
Related:L.I.C. Bar Offers Music, Beer and Pups. Do We Need to Say More?
The events don't just work to benefits the pups who made it out that evening – all proceeds from ticket sales — usually around $15 — go to benefit the featured shelter directly, which have included Mr. Bones & Co, Zani's Furry Friends, and Sugar Mutts, among others.
Putting together a rescue-based event requires the right contacts and constant communication, aspects which came together fairly easily for the group. "When we first started, we essentially reached out to a handful of local shelters in New York City and Northern New Jersey who had a fun and social culture, and were dedicated to their mission of helping all dogs find a loving home," Pathe explains. Fortunately for the group, their contacts responded with an enthusiasm and willingness to combine efforts, working together to create the events attended by many. "We've been lucky enough to work with multiple shelters over the last year, forming great relationships with the incredible people who run them," she adds.
Now that the rescue pups were in place, the Puppies n' Pints team were left to get the word out, which spread pretty quickly thanks to social media and word of mouth. "At first we relied almost entirely on social media and totally lucked out that the word about our first few events got around so quickly, basically overnight," Pathe says. "Now we have a bit more of an audience and voice in the rescue community, as well as plenty of friends at shelters and other organizations we've partnered with, and people are always happy to tell their friends about us."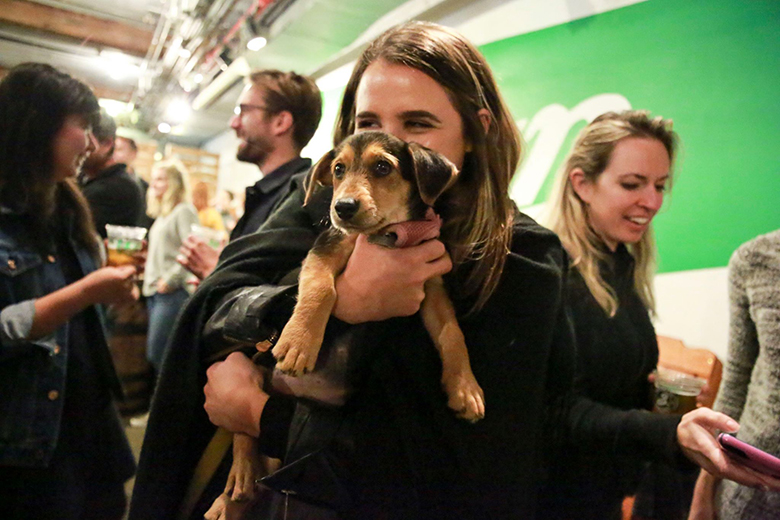 As the Puppies n' Pints community continues to grow, new partnerships are being formed, bringing the gift of puppy love to new frontiers while introducing their attendees to exciting organizations, such as Ladies Get Paid, a free membership service designed to help professional women "form authentic connections with other lady bosses."
"We have a few more groups we're excited to team up with for our next few events," says Pathe. "After over a year of hosting these huge happy hour events, we're excited to experiment with other types of gatherings and getting adoption shelters involved."
Related: NYC's The Half Pint Is a Drinker's Haven and a Dog's Stomping Ground
With a lot of progress made in a relatively short amount of time, Puppies n' Pints is looking to the future with optimistic eyes, always searching for new and creative ways to bring people together and raise awareness around the millions of dogs in need. With tentative plans to branch out into cities beyond NYC, and possibly open the arena up to include more family-oriented events, replacing pints of beer with pints of ice cream, the Puppies n' Pints community is expected to keep growing, and Pathe invites anyone with an idea to reach out anytime.
"If you love dogs and want to get involved or have an awesome idea for an event, hit us up. Seriously! Shoot us an email or a Facebook message, we're always down to share ideas over a beer," she says.