Patsy, a border collie/kelpie mix, became a viral sensation after a video showing her after she rounded up 900 sheep, saving them from one of the many fires in Australia.
"Hey Patsy, can you hear those sheep?" Cath Hill, whose brother, Stephen, is Patsy's owner says in a Facebook video. "That's all your work, well done. You little champion, good girl."
The 6-year-old dog helped Stephen save the sheep on New Year's Eve after a bush fire broke out near them and quickly spread.
Despite the smoke, heat and danger, Patsy calmly worked to ensure the flock was out of harm's way, herding them to safety.
We spoke to Hill to learn more about they story behind the viral video. (Stephen is working hard, doing post-fire recovery on his farm and helping the community.)
Related: Dog Badly Burned in Fire Is Training to be a Therapy Dog for Burn Victims
Q: Can you share exactly what happened that led up to the huge rescue effort?
A: We were up on the farm for the Christmas and New Year holiday season with my brother when the fires came through.
On the 30th of December, fire conditions in North East Victoria were extremely dangerous. Temperatures were over 40 degrees Celsius (104 F), and the winds were very strong.
Late in the afternoon, a bush fire started about 30 kilometers (approximately 18 miles) away from our family farm in Corryong. Due to the extreme conditions, the fire was unable to be controlled by firefighters and it spread very quickly.
We received warnings about the fire on our mobile phones and realized there was a chance that the fire could come our way, so we packed up our things and got ready in case we needed to evacuate into the town for safety. At that stage, we didn't expect to need to evacuate from the farm until the morning. However, the fire moved much faster than anyone expected, and the strong winds were blowing embers far ahead of the main fire front, causing new spot fires.
Around 11 pm that night, my brother got a phone call that the fire was moving very quickly and starting to cause spot fires close to us, so my family and I evacuated into the town, while my brother Stephen stayed on the farm with Patsy to defend the farm against the fire.
Stephen was quite adamant that he should stay on his own, as he didn't want to risk anyone else's safety. The farm was reasonably prepared for a fire, but if conditions are bad enough, a bush fire can be so intense that the best preparations can make no difference at all and everything can be destroyed.
The paddocks closest to the shearing shed and the main house had been grazed and mown so that there was no grass on them. There was very little fuel there to burn.
We had sprinklers on the roofs of both farmhouses, and Stephen had a water tanker on the back of the tractor ready to put out the fires once they got close to the houses and the sheds. What he needed to do was get the sheep from the outer paddocks and into the paddocks next to the house and shearing shed. But, because it was nighttime and the smoke was getting very thick, visibility was very poor. Stephen needed to wait until dawn for the visibility to improve, but all the time the fire was getting closer.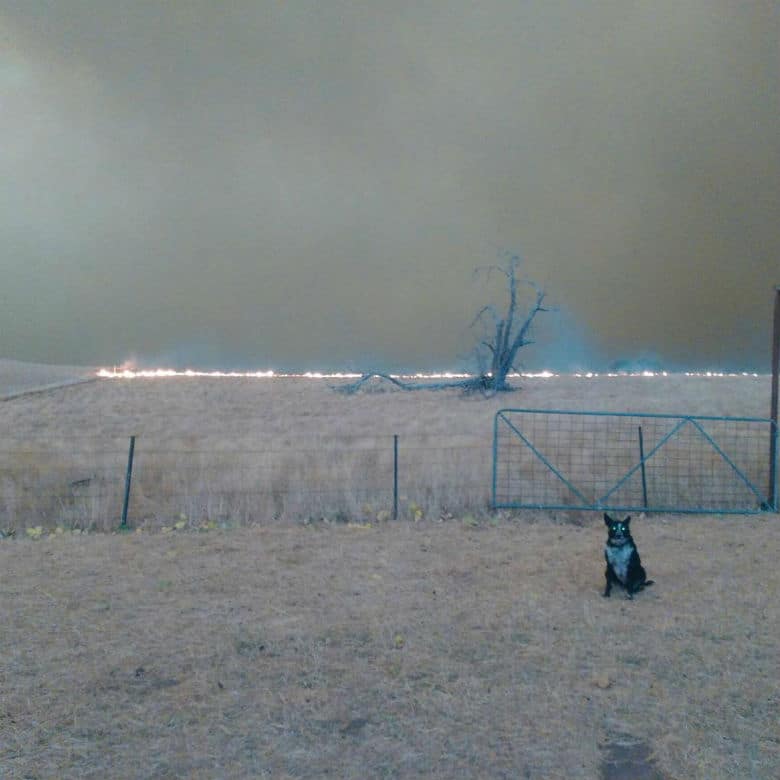 Around 4 am, it was the 31 of December now, the morning of New Year's Eve, Stephen decided he couldn't wait any longer. So, he headed out on his quad-bike, a four-wheeler motorbike, with Patsy to round up the sheep and bring them to the paddocks next to the house. The fires were close enough by now that they were throwing out enough light for Stephen and Patsy to see the sheep. Working one paddock at a time, they brought 900 sheep in to the house paddocks. This is where Patsy really showed what she can do.
Q: What did she do to keep the sheep safe?
A: Despite the smoke, the heat, the fire getting steadily closer, she just focused on the job of finding the sheep in each paddock, rounding them up and moving them with Stephen to where they needed to go. The fires didn't really make much of a difference for her! She's a border collie/kelpie cross, so she's a working dog through and through. These dogs have been bred for generations to develop their ability to work with sheep and cattle on farms, and they are very intelligent and resilient animals. They love to work; it's just what they are bred to do. They can be very focused and single-minded on the job.
So, when my brother needed Patsy to help bring the sheep in to safety, that's exactly what she did. She just got on with her job and did it, regardless of the conditions. We do think Patsy's incredible, but most well-trained, skilled working dogs would have done the same. That said, even the best dogs can have a bad day at the office, so we are all very glad that Patsy wasn't having a bad day on New Year's Eve!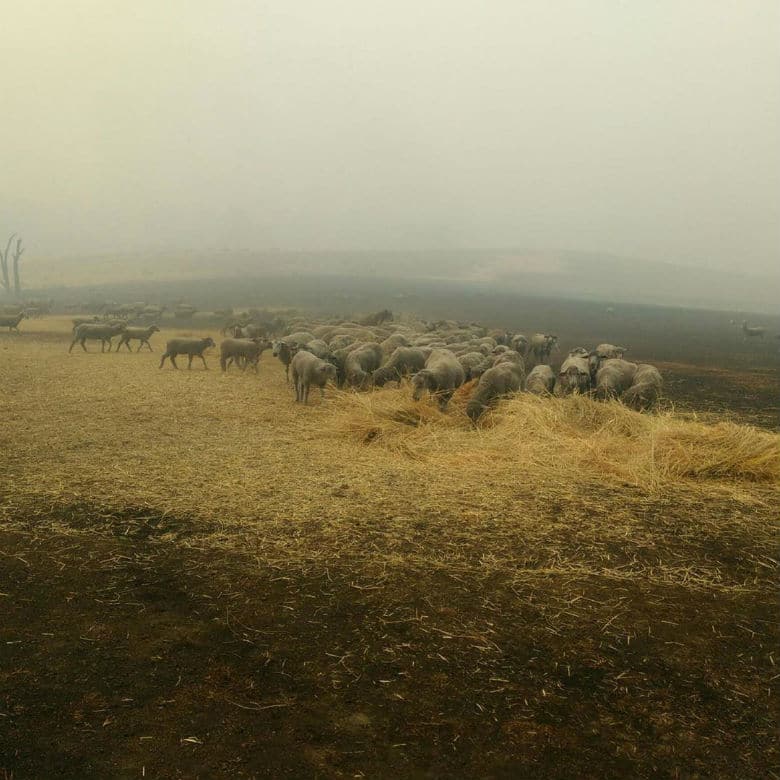 Q: But even after the sheep were safe, it wasn't over, right?
A: Once the sheep were all safely in the house paddocks, Stephen went out on the tractor and fought the fire with the water tanker to keep the shearing shed, the hay shed and the houses from burning.
Patsy found herself a safe spot, no one is actually quite sure where, but we think she probably went under the house. The sprinkler was running on the house roof so that would have been the coolest and wettest place around.
From where we were in the town, my family and I could see the fire front as it crossed the farm and then spread down the valley. By this stage, we had lost power and all communications, so we had no idea what was going on at the farm.
Related: A Dog Separated From His Family During the Deadly California Fires Is Finally Reunited With Them a Month Later
The last time I spoke with Stephen before we lost phone communications, I knew that he and Patsy had got the sheep in to the house paddocks, he was just waiting for the fire to come. After that, we didn't know if he had been able to defend the farm or if the fire had been too strong. We didn't know if he and Patsy had made it through or not. We just had to wait until they came back to the house in town, and that wait was the longest of my life. Seeing them come through the door safely was one of the best moments of my life.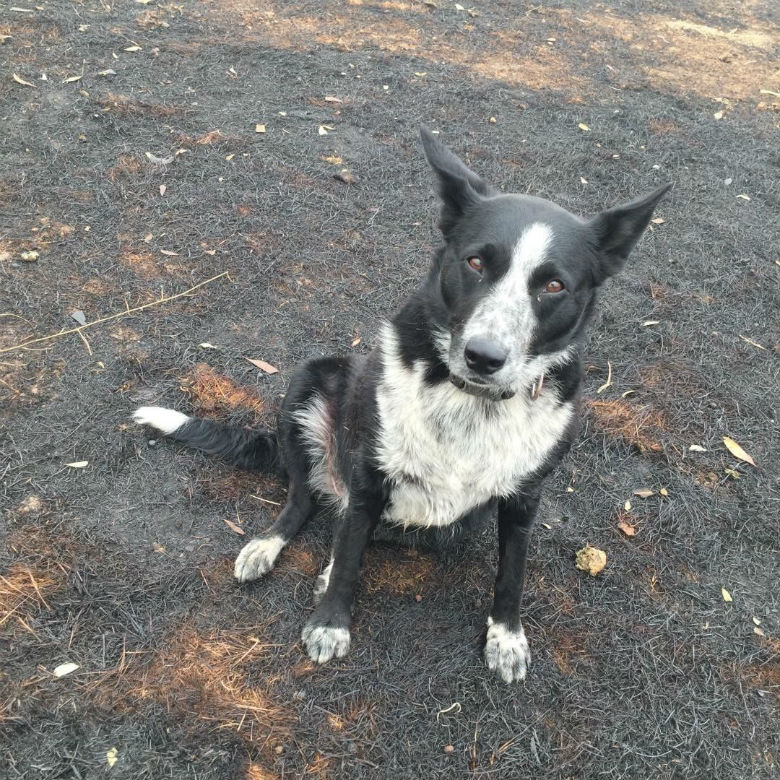 Q: What was your reaction to the Patsy video going viral?
A: People often joke about wanting to go viral on social media, but really, Patsy's story going viral across the world is simply mind blowing. We still can't believe that she's been seen by literally millions of people!
When I posted that 20-second video of Patsy on Facebook, all I wanted to do was show our friends and family that we were okay, and that despite the destruction and devastation, we had a lot to be thankful for. I made it public and didn't think anything more of it. And then off it went! It got shared and shared again, hundreds of thousands of people saw it, and within 48 hours the international internet news sites had found the story and they just ran with it.
It was particularly hard for Stephen to get his head around how far and how quickly Patsy's story spread, because he doesn't use social media at all. But once we realized that people really responded to Patsy's story as a little piece of good news to come out of the devastation of the fires, we thought we should keep sharing it as a positive and hopeful message.
If it helps raise awareness of the bushfire crisis in Australia, and helps encourage people to donate to bushfire relief, and puts a smile on people's faces too, then it's got to be a good thing.
We are blown away by the interest, support and good wishes from everyone all over the world. It really means a lot to little communities like Corryong and other places in Australia that have been impacted by the fires.
Q: How has the post-fire recovery been?
A: For now, the fire danger in Corryong has eased, so Stephen and Patsy are hard at work with the fire recovery efforts. The sheep, the farmhouses, the shearing shed and the hay were saved, but the paddocks are almost all completely burnt, and most of the farm fencing will have to be replaced. The machinery shed was burnt down, too. Stephen has been working to repair fencing on the farm, look after the sheep that he and Patsy saved, and help other farmers in the local area.
At times like this, everyone pitches in to help each other. There are people in our community who have lost absolutely everything, so we really have been very lucky. As a working dog, Patsy enjoys having things to do, so any time someone needs some help rounding up sheep or cattle she's always happy to help!
When she's not working, she loves to ride on the back of the quad bike, and jump in water troughs!!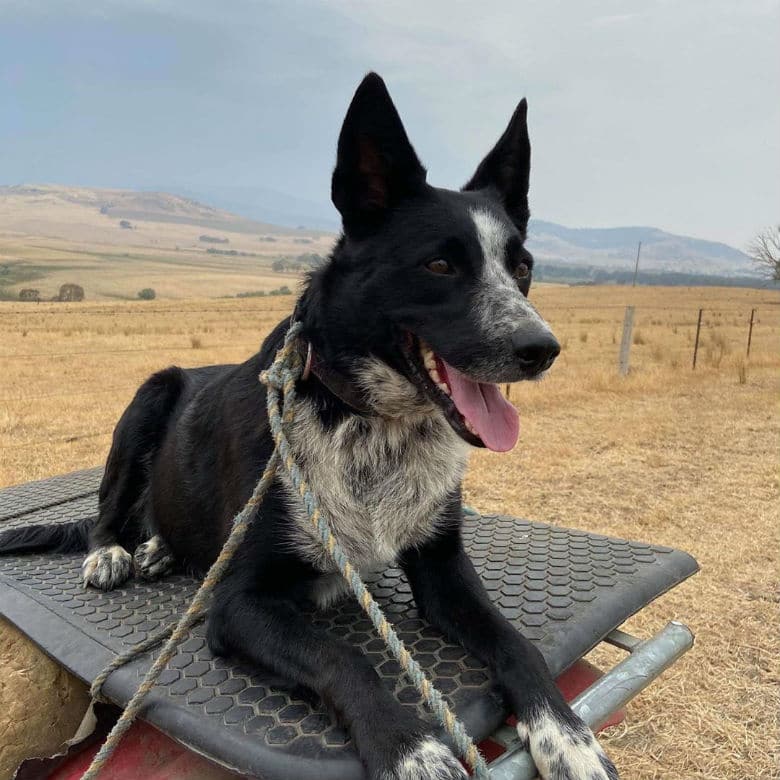 Q: What can you tell us about the fires right now?
A: Unfortunately, the fire crisis in Australia is not over, and it's not going to be over for a long time, no matter what we do. These are the worst fires in living memory, and the combination of fires, long-term drought and record-breaking hot temperatures has produced a disaster on a huge scale. As well as people losing their homes, farms and livelihoods, 28 people have died due to the fires across Australia. Over 10 million hectares (15.6 million acres) of land including bush, national parks and forests have been burned, with the loss of millions of wild animals. The fires have been burning for months, in different states, and the recovery is going to take a very long time. If people would like to make a donation to help, these are some bushfire relief causes that our family supports. All donations will be very gratefully received.
GoFundMe
Wildlife Victoria
BlazeAid

Related: Dog Risks His Life to Stay With Flock of Goats Amid Dangerous Wildfires