Everything changed for a Shiba Inu named Taka the night his family's home caught fire last October in Augusta, Ga. Taka was on the back porch. The family managed to get their children to safety, but by the time they went back for their dog, the porch was fully engulfed in flames.
When the floor collapsed, Taka fell through to the ground. Despite being badly burned, he was able to save his own life by running to a neighbor's house. Luckily for Taka, a young boy living in that house was friends with a nearby veterinarian technician's son, and they tagged her on Facebook.
As soon as Crystal Lesley saw the dog's picture, she told her neighbor to bring the burned dog in to the nearby animal hospital where Lesley worked. "He was still smoking when they found him," says Lesley. "We had never encountered a burn victim as severe as Taka before, and we were terrified that he wouldn't make it."
Related: A Dog Burned With Cigarettes Gets Adopted By Firefighters
The severity of the dog's burns were immediately apparent. The team couldn't even examine Taka because every time they touched him, the dog screamed in pain. They managed to sedate him and were able to assess the dog's injuries.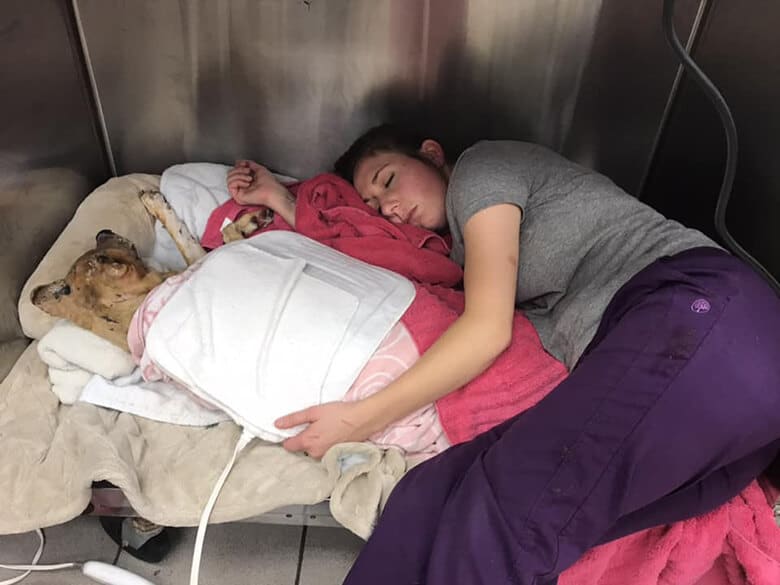 Lesley posted Taka's picture along with his story on the clinic's Facebook page. It went viral. "The community came together in a way none of us could have imagined," says Lesley. "The money they raised for his care allowed us to send him to specialist."
When the first specialist didn't make any progress, and Taka's pain increased, Lesley drove him to Columbia, S.C., to the Veterinary Specialists & Emergency Care. "He and I lay on the floor in the waiting area crying together," says Lesley. Taka stayed there in treatment for six weeks with Lesley visiting on the weekends. Finally, she got the call from his doctor she'd been waiting for: the dog was ready to come home.
Related: A Dog Named Snoopy Saves His Family's Lives as House Burns Down
A Second Chance
Lesley had been taking Taka home with her every evening. "I realized I couldn't part with him. We had been through too much together." The owner agreed to let Lesley adopt him. However, there was a slight problem: It wasn't love at first sight with her other dogs. It was obvious that Taka needed basic obedience training, but Lesley was afraid that at 9 years old, the dog was too old to learn new tricks.
Mandy Foster, founder of soon-to-be-launched The Canine Training Project and currently at Paws for Life, didn't agree. Despite Taka's age, the dog could definitely be trained. "I was initially contacted because Taka was picking fights with other dogs in the household. His mom thought she needed to re-home him out of fairness to him."
Foster immediately started Taka on a schedule of training. "He has conquered his aggression with the other dogs and learned his basic skills." He as ready to give back.
"After months of recovery and the impact he had on the community, I was approached by a nurse at a burn center about Taka coming in to visit burned children in hopes of giving them something to relate to," says Lesley.
Taka's personality was perfect for therapy work. "He LOVES kids and people. He is very silly and sweet and just has a great little personality," Lesley notes.
To become a therapy dog, Taka would need to be certified. Foster began training the dog, and in mid-July 2019, the dog passed his AKC Canine Good Citizen test. Foster has already begun the training that Taka will need to get certified as a therapy dog.
A dog needs certain qualities to become a therapy dog. Taka must be able to remain calm, friendly and affectionate with strangers, but this should be fairly easy, says Foster. He will also need to be comfortable around the sights and sounds of a hospital, which include the equipment and medical devices like wheelchairs, walkers and oxygen machines. Finally, the dog has to record a certain number of visits to a hospital, or a burn center in Taka's case, to achieve certification.
"I am so incredibly proud of him," says Lesley. "Just thinking back to how far he has come and where he is now is just so emotional. The amount of love and respect I have for him is profound."
Related: After House Explosion, Burned Dog Waits Five Months for Family's Return