Kanab, Utah is right in the middle of the "Grand Circle," an area close to beautiful natural wonders, including the Grand Canyon and Zion National Park, along with the Grand Staircase-Escalante National Monument.
It is also home to the largest sanctuary in the U.S. Owned by nationwide rescue organization Best Friends Animal Society, the nearly 3,700 acres is a refuge to 1,600 animals at any given time. With its Dogtown, Cat World, Marshall's Piggy Paradise and Horse Haven, along with the opportunity to hike and visit its renowned animal clinic and training center, the sanctuary attracts more than 30,000 visitors every year.
But to get there isn't exactly easy. The town has a population of less than 5,000. The nearest major airport is hours away. And the options for lodging are limited, especially if you want to bring your pet on the adventure.
Best Friends realized there was an opportunity and decided to build its very own pet-centric, 40-room lodging option.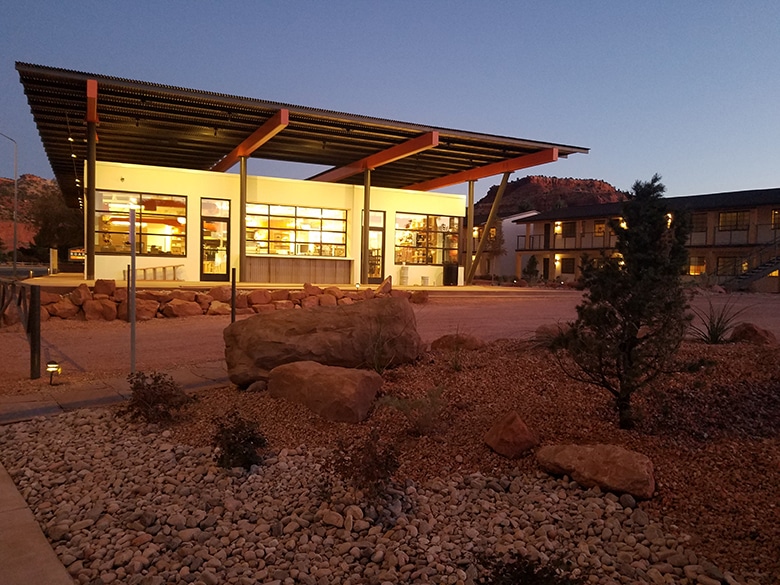 "It was also serendipitous that Best Friends had purchased a closed motel a few years back on Kanab's main thoroughfare," Brooks Bradbury, director of hospitality at Best Friends Animal Society, tells This Dog's Life. "We saw an opportunity to revitalize the existing property and create a lodging product that helped educate guests on Best Friends mission while creating a pet-centric hotel."
Called the Roadhouse and Mercantile, the property is more than pet-friendly, it is pet-centric, putting the needs of our four-legged friends front and center.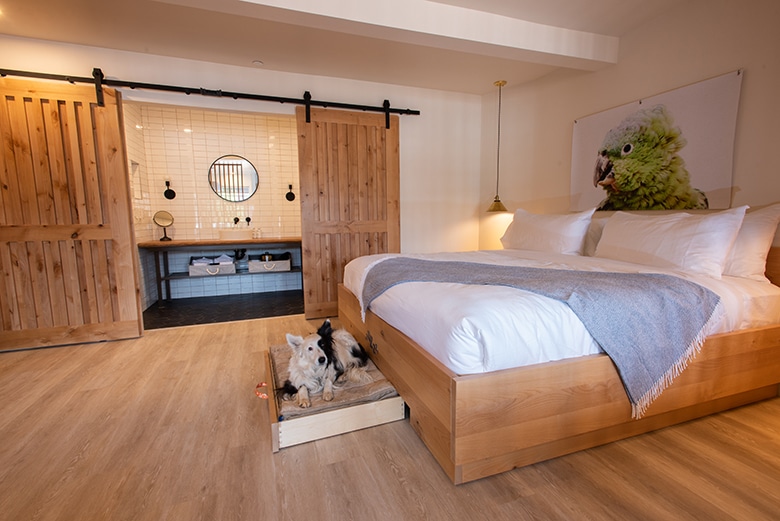 "Many hotels say they're pet-friendly, but these properties were not designed from start to finish with pets in mind. Here, that's all we know as caring for pets is Best Friends business," says Bradbury. "Each decision revolved around providing comfortable spaces and accommodations for pets and their people."
Related: The Woman Behind the Nationwide No-Kill Movement Shares Her Leadership Advice When Dealing With a Divisive Community
Every room is named after a Best Friends' animal alumnus and features artwork and an informative plaque of that animal. The rooms are outfitted with durable fabrics and materials to combat scratching and clawing. Also, to ensure pets stay safe, each room has a two-door entry system to prevent escaping.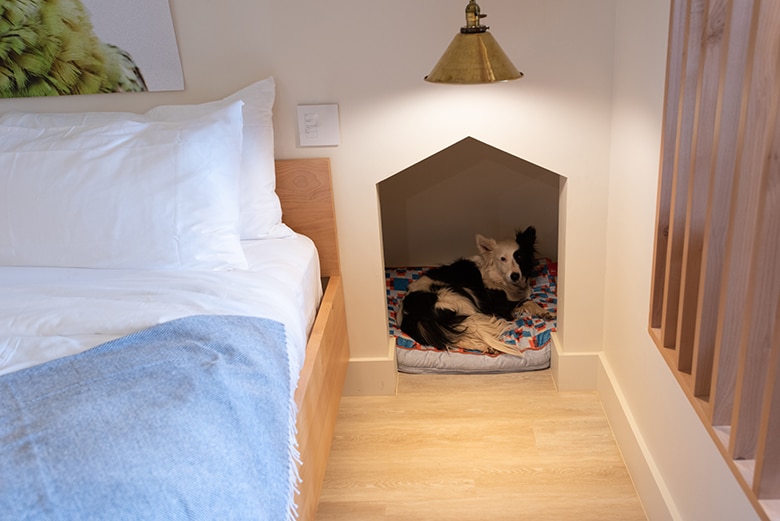 The layout of the furniture is designed with animals in mind. The beds are secured with wood paneling, so no animals can hide under them, and have a pull-out bed for pets to rest on.
Two of the rooms are specifically designed for cats and feature a window perch for patrolling the area, cat-proof blinds and curtains, high light fixtures to avoid any tangle sessions and a litterbox.
Related: 7 National Parks You Can Actually Bring Your Dog
The Roadhouse also has pet washing stations, a fenced in dog park with water fountains and splash zones, along with walking and sitting services. And the driveway uses red-crushed stones instead of black asphalt, so paws don't get burned.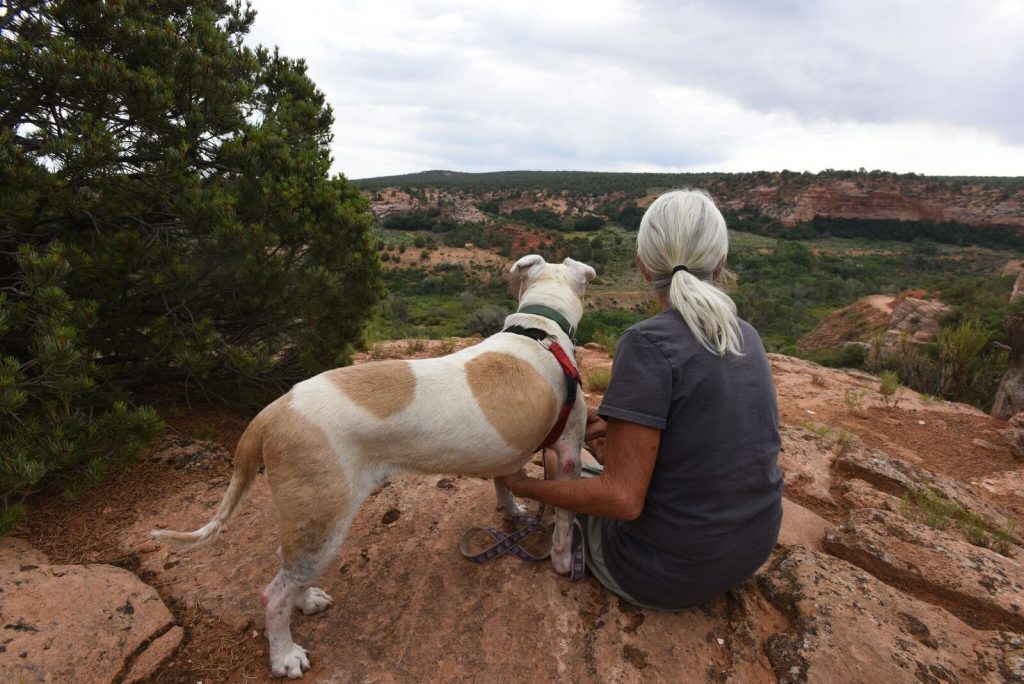 By providing a pet-centric space for animals, guests can explore what Utah has to offer or head over to the sanctuary to volunteer without worrying about their four-legged friend being safe.
And for those volunteers who want to bring back a furry from the sanctuary for an overnight sleepover, the hotel accommodates for these special nights.
"We welcome pet sleepovers for those who wish to become better acquainted with one of our very adoptable Sanctuary pets," says Bradbury. "Participants who do sleepovers tell us about the animal's behavior in a one-on-one situation in a home-like environment — behavior that may be very different from when they're around their Cat World or Dogtown friends."
Rooms start at $109 and all profits will go back to the organization's mission to help end the killing of animals in shelters by 2025.
"The Roadhouse personifies all the wonderful traits of Best Friends Animal Society: upbeat, fun, caring and community-driven," says Bradbury.
Related: Best Friends Animal Society Unveils Its No-Kill Shelter in New York City