After a life-changing moment, a veterinarian is making a difference in the lives of homeless people and their dogs all across California.
Back in 2010, when the U.S was in the midst of a downturn, Dr. Kwane Stewart was working at a municipal shelter in downtown when he noticed an unsettling trend.
"During the recession people were relinquishing their pets at a higher and higher rate. People couldn't afford care for their pets," he tells This Dog's Life. "I realized there was a huge need for our underprivileged pet owners and wanted to do something for those in the community that needed help."
So, during his spare time, Dr. Stewart began helping homeless people he saw with their pets – and continues to this day.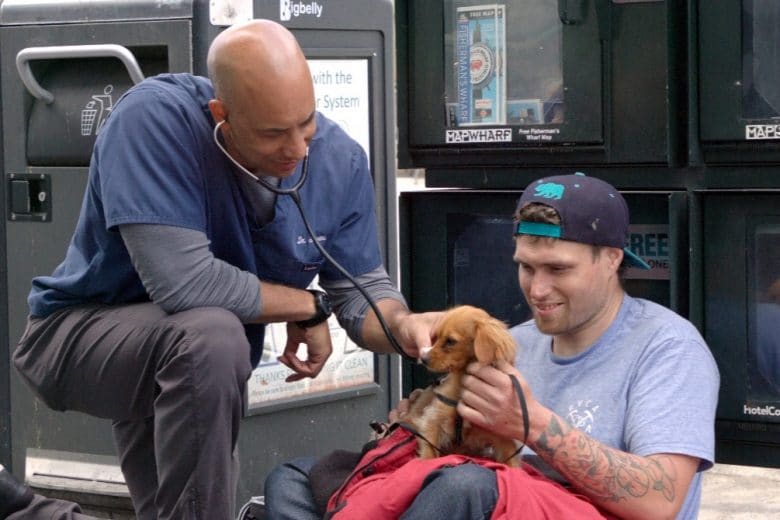 Related: A Dog and Man Found Each Other While Living on the Streets, Now Share a Home Together
"I have a soft spot for people who struggle economically," he tells us. "I see the pets as a huge support system, and I hate to see them have to part with their pet because they can't afford medical care."
When on the streets, Dr. Stewart, now known as The Street Vet, tends to see a variety of issues, including skin ailments, ear infections and arthritis, but the conditions run the gamut.
"I recall helping an older homeless gentleman battling colon cancer and his aging dachshund 'Crazy girl,' his 'lifeline,'" says Dr. Stewart. "She had recently gone blind, and he said he would keep his cancer if I could just restore her vision."
It's those moments that Dr. Stewart understands that regardless of our economic status, we all desire the same things in life.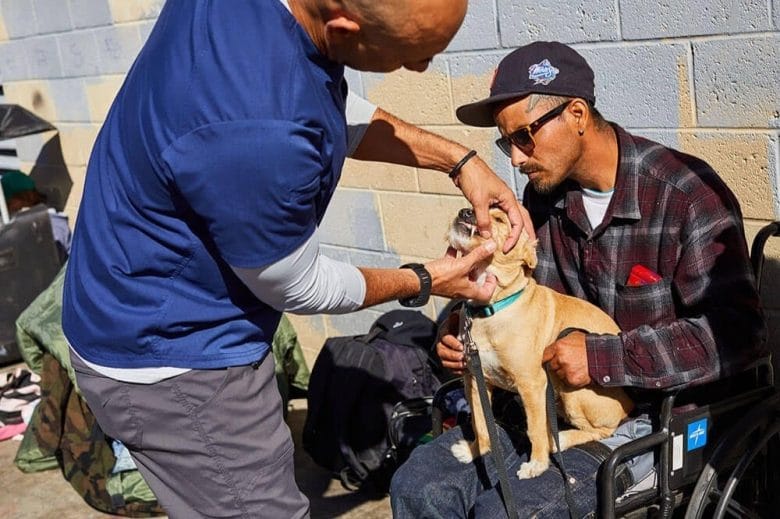 Related: Bilingual Dog Brings Hope to Trafficked and Homeless Teens
"We are no different or better than them," says Dr. Stewart. "Many of them hit hard times because of bad luck or a bad decision that snowballed. It could happen to anyone of us."
Now, with a GoFundMe campaign, Dr. Stewart is hoping to make a bigger impact on those living on the streets in California. Over the course of the campaign, he has raised a whopping $91,000 to date.
"It's unbelievable!" he says of the support. "I never expected it, but am very, very appreciative."
All the funds will continue to go towards helping treat common issues, like flea treatments and vaccines, and helping animals with life-saving or costly procedures, such as dental work or tumor removals.
But this is just the start for Dr. Stewart, who also acts as a consultant on Netflix shows.
"I would like to build on this awareness and stir up a 'movement,'" he says. "If more vets nationwide committed to treating just a couple homeless cases a month pro bono, it would make a monumental shift in the number of pets suffering on the streets."
Related: Pets of the Homeless Works to Keep Dogs Where They Belong — With Their Owners