When you think of grooming, you may envision just some snips and clips to spruce up your dog, but Gabriel Feitosa has something different in store when it comes to dog cuts. One word: showstopper.
By combining traditional grooming techniques with his larger-than-life looks and creatively inspired designs, he has been steadily elevating the dog grooming world — and people are taking notice.
Now, with nearly 20 years of experience, Feitosa has worked with international pet photographers for film, TV, and ad campaigns along with globally recognized breeders and dog show competitors. Through his passion for creative grooming, Feitosa has accumulated a cult social media following with over 400,000 followers on TikTok and nearly 50,000 followers on Instagram — and he's just getting started.
His pop art style with colors as vibrant as an Andy Warhol painting are fascinating to look at, and the process is just as fascinating to learn about.
How a Mile-Long Walk Led to a Lifelong Passion
As a young pre-teen, Feitosa would take his sister's dog to their local groomer for a bath and cut. Traveling the mile journey with dog in tow, little did he know these trips to the groomer would be the catalyst to a fulfilling career of his own.
Watching the woman bathe, cut, and spruce up dogs, Feitosa thought, "This lady plays with dogs all day and she makes money. How great of a life is that."
Feitosa wanted to learn more, so he asked the groomer if she would teach him how to wash dogs. He began bathing his own dog, and from that point forward, worked at the grooming salon after school.
"People thought dog grooming was something like an after-school job that would fade out over time," Feitosa says of his early start. "But it didn't fade out over time. I kept doing it."
Leveling Up to Stand Out in the Grooming World
After learning how to groom, Feitosa began working for more prestigious shops, kennels, and handlers, often for free as a way to learn new techniques and hone his skills.
"I would go and sometimes travel three hours, go to a kennel, work all day, wash all the dogs, and then at the end of the day, sometimes, they would give me a dog to practice on," he says.
Through this experience, Feitosa learned all kinds of grooming techniques — everything from the typical pup cuts to a teddy bear trim and the now popular Asian-fusion grooming (think: making dogs look as cute as possible, regardless of the breed style).
But what he is most known for in his artistic approach to grooming.
Related: How This Woman Paved Her Own Path to Become the Grooming Extraordinaire She Is Today
Using Creative Grooming as a Form of Expression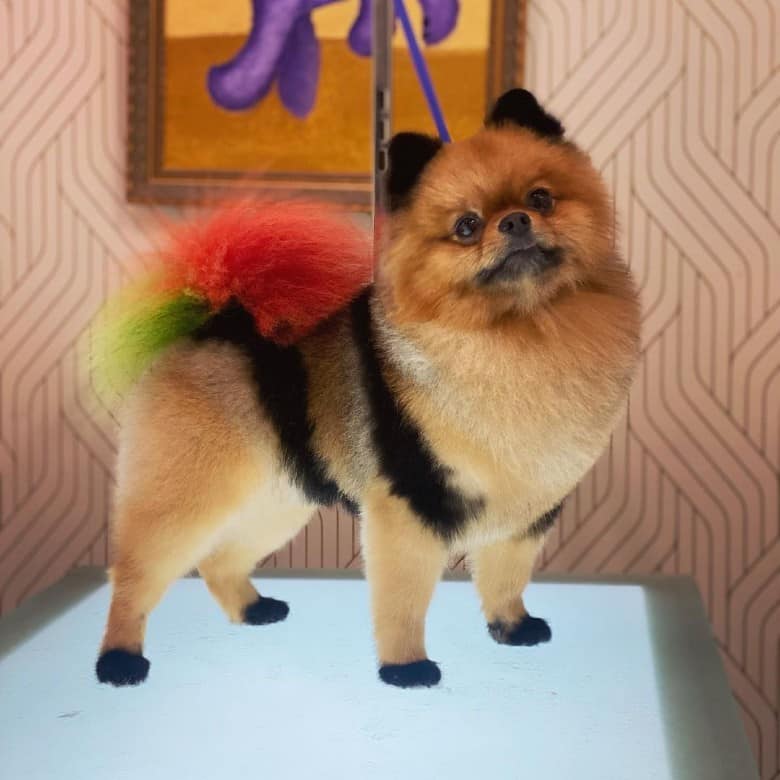 Creative grooming shies away from traditional cuts, allowing groomers the opportunity to focus on individual style and custom looks. For Feitosa, adding a splash of color, unique shapes, and more dimension to dogs' haircuts, marries his two passions: 2-D art and grooming.
"I wasn't fond of it initially," Feitosa says. "But then I found a way to express my artistry throughout the dogs."
He attributes his learning and progress to his dog Chronos, who he says was "a big help" and patient as he tried to create shapes, particularly the well-known "peach booty" cut.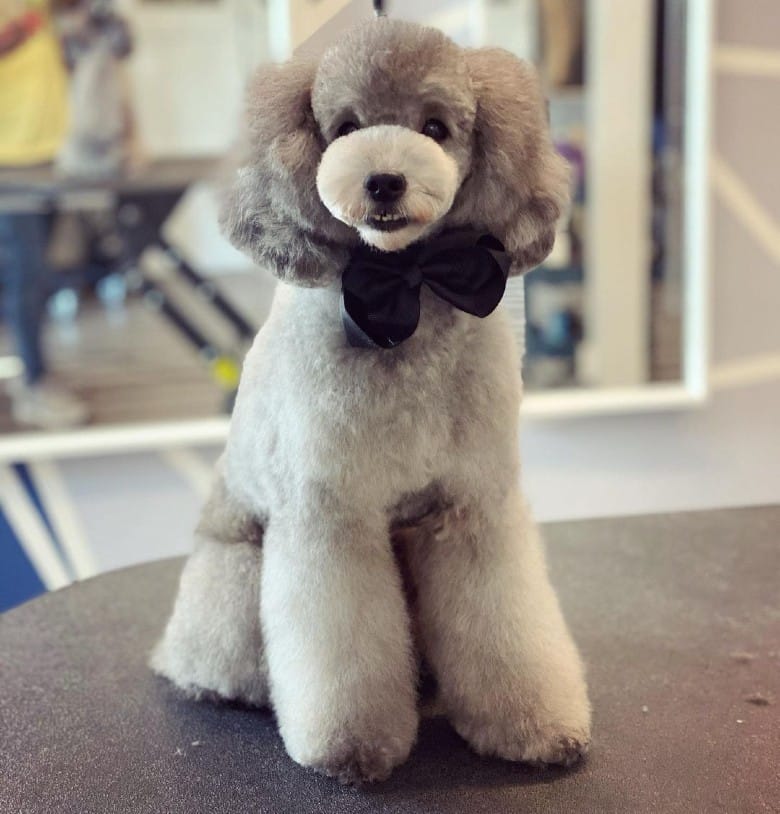 And now, there is no stopping him. Feitosa says ideas come from just about anything — an emoji, walking down the street, music, you name it. Once conceptualized, he sketches the possible look on his iPad and tries to emulate it to see how it'd look in person; it must be cute and practical. Every style is unique, every style has Feitosa's DNA embedded in it.
Additionally, he meets with each dog to gauge their personality to find a matching hairstyle and see if their hair is dense enough for a certain shaped cut. Regardless of the hairstyle, he aims to create accents that highlight each dog, not hide them, he says. (And yes, all products are pet-friendly, even the coloring, which is non-toxic and vegan. Watch this video if you have concerns.).
And his clients love it.
"Every time I do it, it's kind of addicting for my clients. They just keep doing more creative [grooming styles] because the dogs get really happy too," he says. "The dogs into the street and everybody wants to pet them, everybody wants to say 'hi' and all the kids want to play with them."
Related: Quick and Dirty Tools to Pick Up After Your Heavy Shedder
Pushing Forward With Dedication, Patience, and Persistence
When Feitosa shared his grooming pursuits while growing up, many naysayers, he says, felt he was "wasting his life" and that he should be pursuing an education.
"I wasn't very encouraged back then," he says. "In Brazil, it's already kind of unusual when you tell people you're a dog groomer…it was even more so back then."
Fortunately, Feitosa trusted his gut.
In 2018, he opened his very own grooming salon and pet store in San Diego, Gabriel Feitosa Grooming Salon and GFG Pet Store. After the pet industry became an essential business during the pandemic (and hit a record high of over $100 billion in sales in the United States as a result), Feitosa says his business experienced growth.
"My clients went from one to three dogs and more people became more connected with their dogs, especially during the lockdown," he says.
During this time, he also got chosen to be on the hit ABC dog grooming reality competition show Pooch Perfect where he and nine others used their expertise to give dogs transformational — often over-the-top — hairstyles.
Related: Dogs 'Strike a Paws' in Epic Grooming Competition
"You don't want to mess it up — the opportunity that can be once in a lifetime," he says of the competition. "You want to do the best you can," he continues. "Especially for me, who came from a place where I didn't have that many opportunities. I had to work really hard."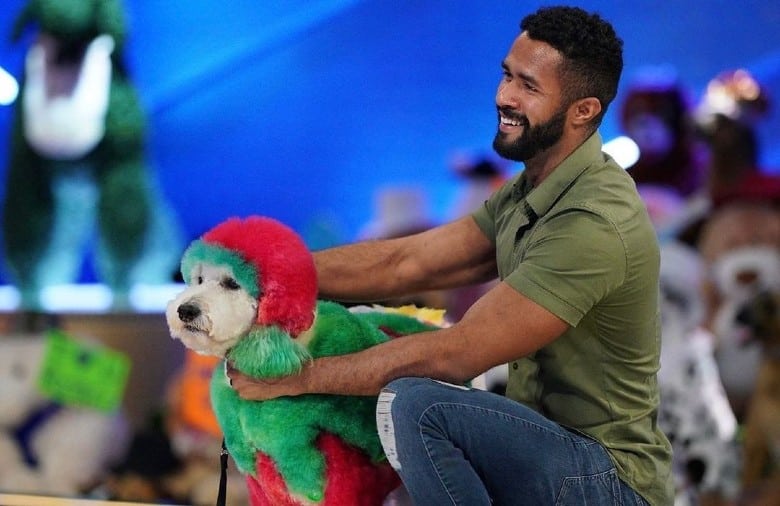 Finishing third in Pooch Perfect, along with his viral dog-turned-panda TikTok video and Grinch makeover has helped elevate his name and his brand.
"People started flying from New York and San Francisco to get their dogs groomed here," he says. "It's just really the place that I always wanted and the type of clientele that I always wanted. We have a lot of creative people who want their dogs [to look] unique and don't look like anybody else's."
What Feitosa loves the most about grooming: developing relationships with the dogs. "It really is like meeting a friend that, over time, you know all of the things they like and don't like."
He continues, "I love the moment when I deliver a dog and people are so excited to see their pet back. It's only three hours. But you know when you leave your house and just go to the grocery store and come back and your dog is so excited? That's the reaction the owners have when they pick up their dog…Some people cry when they see the transformation. It's so rewarding, really, because I know from that moment forward, that person is going to have a great week."
The Next Chapter for Feitosa
Feitosa's journey is filled with milestones he never thought he'd achieve — and he's on his way to accomplishing even more.

He's in the midst of releasing online dog grooming courses for groomers and pet parents to learn how to take his creative grooming concepts and bring them to life using the Asian Fusion face technique, coloring, airbrushing, and more.
In addition to several media projects, Feitosa is expanding GFG Pet Store and working with a franchise that wants to open 500 stores in the next five years, where he'll be helping select and train each grooming department.
"Grooming is becoming more of a part of people's lives. It's like going to the store or going to the hair salon," Feitosa says. "Now, they really see the importance of taking their dog regularly to the groomer…Grooming is becoming more essential to modern life."
Feitosa has found endless fulfillment in getting to make his clients and their fur babies happy through his artistry. He hopes to inspire others with his story as a young child from a third-world country with a passion and following what he loved to do. "If I, out of everyone, can do it, anybody can," he says.