Ashley Ann's lifelong passion for animals blossomed into a career that has redefined the grooming industry. Known as the "Grooming Extraordinaire", radio host of G'Rumor Has It and sole operator and owner of Lincoln Park, N.J.'s luxurious grooming salon, Diamonds in the Ruff, she has become a sought-after expert in the industry, styling celebrity dogs at her business.
Ann started her journey as a pet groomer nearly 14 years ago. A position as a professional bather cemented her aspiration for an animal-oriented career she had yearned for since high school. When she broke into the grooming industry, she realized she shared a special bond with animals.
"They tolerated me, they understood me. I understood them. I feel they appreciate me for enhancing their beauty," Ann told This Dog's Life.
After heavily researching the artistry of dog grooming in Asia, Ann was determined to learn prestigious techniques from Chinese and South Korean groomers — whom she viewed as top experts and even considered to be the best in the world — and bring those techniques back to the states.
Related: The Tricks Every Dog Owner Should Know on How to Reduce Shedding
"When I make my mind up to commit to something, especially when it relates to my career, I strive to be the best," Ann said.
After spending 13 years in the grooming industry, Ann completed a master's study program at Yin Li Grooming School in Chongqing, China. She is the first African-American to do so.
"It's been an honor and humbling to be the first African-American to achieve such a unique accomplishment in our history. At present, we are still suffering from oppression as black people. As a black woman and mother, it is crucial to set the tone for what we can be," she says. "Accomplishing that milestone was the first step to showing the world that we are powerful."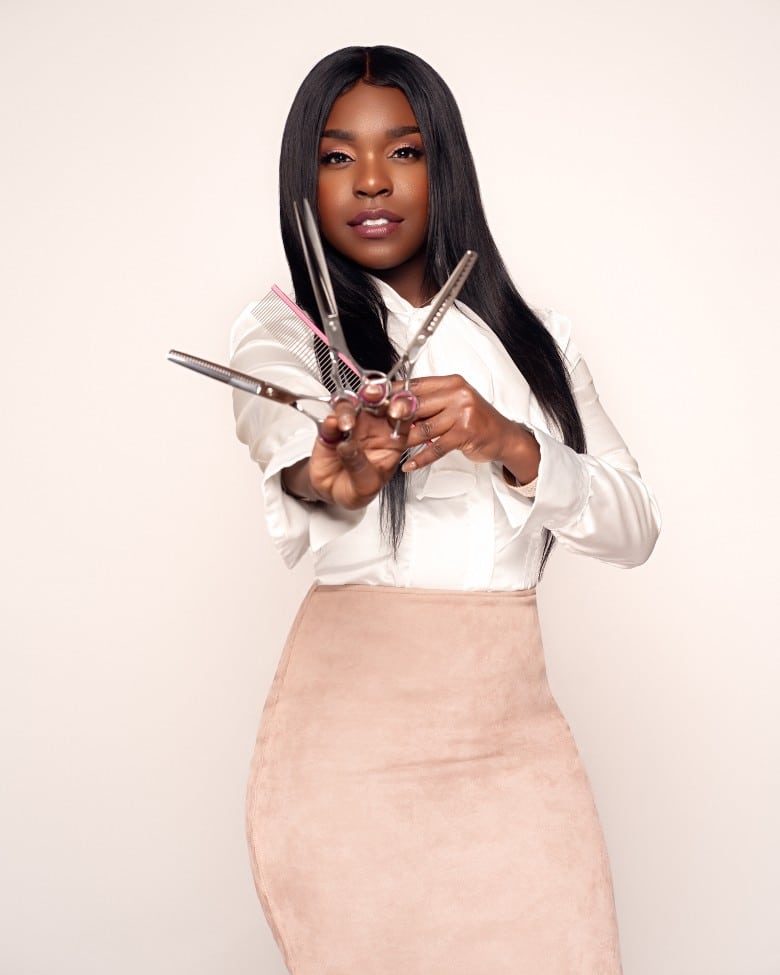 Ann's vision, originality and knowledge have undoubtedly helped her make a name for herself. She gives each pup their own look based on their personality and builds trust with her clients by giving them the peace of mind to leave their fur babies in her care and do what she does best.
"When they come to me, they know their pet is safe, will come home looking more beautiful than ever and most importantly, they know they'll come back happy with a peaceful mind," she said. "I go the extra mile to make sure my pet parents are in a happy place."
This approach is what has made Ann's business stand out and catch the attention of celebrities like Teresa Giudice, Shanda Freeman and Maddalena Castano.
So, what's next for the grooming extraordinaire?
She plans to continue to reshape the pet industry, with her current focus being educating others.
"I really want to share the knowledge that I have, share this passion for animals, and continue showing people different avenues in life. Throughout this journey, I've learned that there are many countries that do not have access to grooming academies," she said. "The more people that are aware and educated with proper pet maintenance, the better the longevity of their lives."
Here are some tips for a positive grooming experience Ashley Ann shared with us:
Introduce your dog to the grooming process early
Ann noted that consistency is key. Introducing grooming at home early on in their life makes it easier to take your fur baby to a groomer and helps them have more positive grooming experiences.
DIY care at home in between grooming sessions, such as properly combing your dog, keeping her clean and brushing her teeth, maximizes the entire process and saves you money in the long run. Plus, getting your dog acquainted with the process reduces anxiety when it's time to return to the grooming salon.
"When groomers and pet parents work together, we fulfill our obligations as their caretakers," Ann said.
Do your research to find the best groomer for your dog
Chances are, you do your research before getting your own haircut, so the same should apply when looking for the best groomer for your dog.
"You want to make sure whoever you are entrusting your pet with will commit to providing the absolute best TLC for your pet," she said.
It's important to ask questions and do your research about the grooming process. That way, you can make an informed decision about which groomer is the best fit for your dog. Ann mentioned that it never hurts to ask to see the pet groomer's work. You can also check out most grooming salons on social media platforms to get a better idea of their work, along with researching reviews, asking for references and seeking out recommendations from people you trust.
Related: Finding the Perfect Dog Groomer for Your Furry
Be proactive with your dog's grooming schedule
The first thing that should be done after a grooming appointment, Ann said, is to book your dog's next appointment. Ideally, four to six weeks from the last visit.
"Keeping your pet on a routine grooming schedule is the best thing that you can do as a pet parent," she said. "Groomers are able to maintain the pet's dental hygiene, skin and coats. We are also able to identify issues before pet parents are."
Ann advises to ask groomers questions, to be curious about how your pet was during the session and to just communicate overall. This not only provides you with better insight on the process, but also establishes a great relationship with your groomer, which ensures a positive experience for everyone involved: you, your groomer and of course, your pup.
Related: Need to Give Your Dog a Bath or Good Brush? Here's How to Not Make It a Complete Disaster.