Living with a dog can be hairy! Sometimes it may seem as if dog hair is EVERYWHERE, and you're fighting a losing battle. But there's hope.
While the best tool to get rid of dog hair on your furniture and floors is usually a good ole vacuum cleaner, sometimes we just need to grab something fast to make things presentable.
Here are some of the most effective quick-and-dirty tools to make your home and your clothes presentable in record time.
Handheld Vacuums
Bissell Pet Hair Eraser Lithium Ion Cordless Pet Hand Vacuum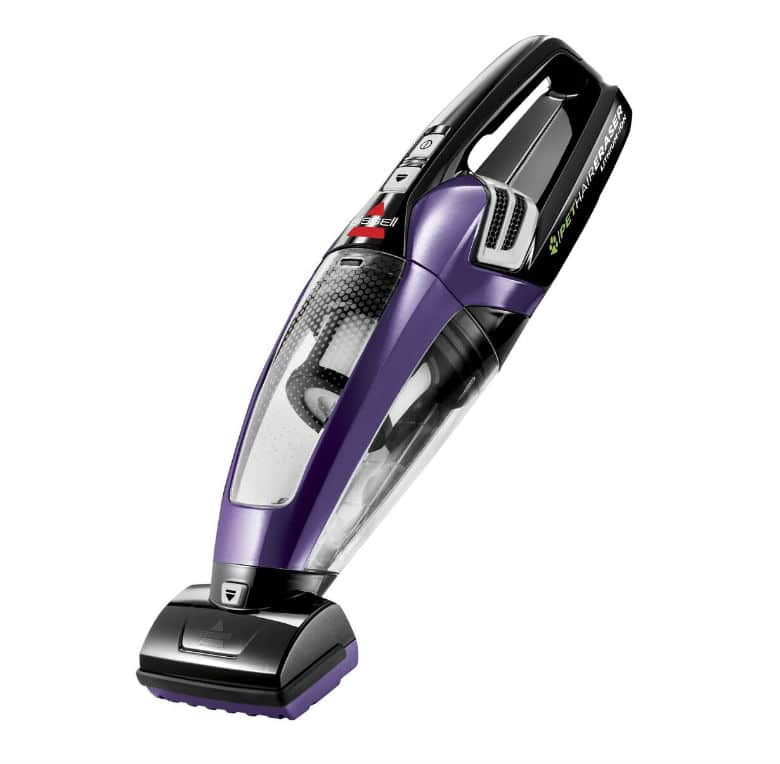 Coming from a company that founded their own Pet Foundation to support animal welfare organizations nationwide, you can be confident that Bissell understands pet hair. The Pet Hair Eraser is a lightweight, cordless super machine with triple level filtration. It includes a motorized brush tool to remove embedded dirt and hair, an upholstery tool for those soft surfaces that are hair magnets and a crevice tool to get into hard to reach places. With 20 minutes of power on a charge, you'll be able to conquer the hair pile before your guests arrive.
Price: $72.99
Related: 5 Non-Toxic Dog Stain and Odor Cleaners That Get the Job Done
Shark Cordless Pet Perfect II Hand Vac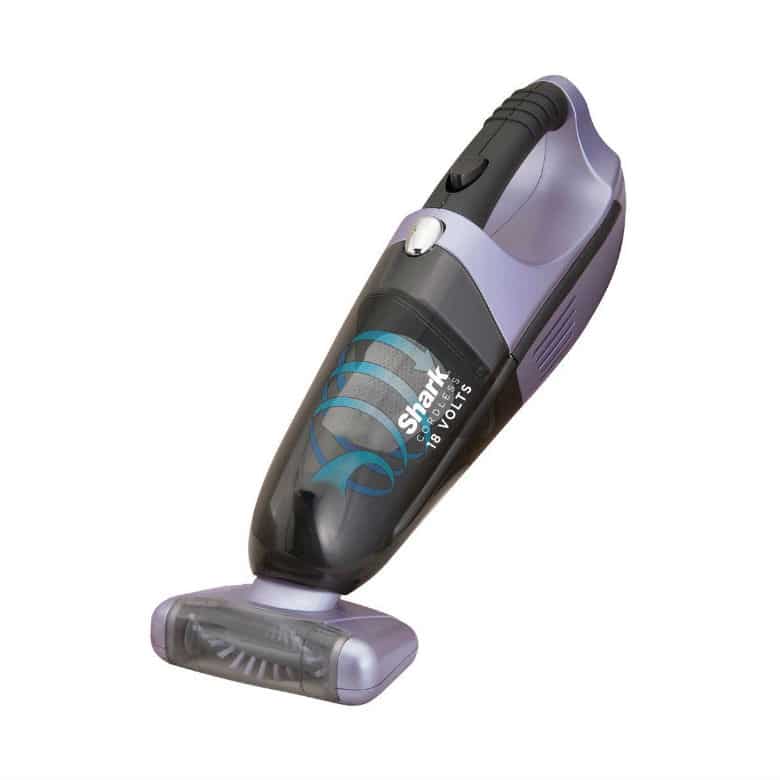 This little powerhouse makes getting rid of dog hair quick and easy. Designed for pet owners, the Shark Cordless Pet Perfect II Hand Vac comes with an extra-large TruePet motorized pet brush to remove even embedded dog hair and dirt. It also includes a crevice tool for getting into tight spaces, and for allergy sufferers, a dusting brush to remove fine particles. After fully charging, it runs for around 20 minutes. The charging stand can be mounted on a wall, and it holds all the accessories.
Price: $57.99
Rollers
Scotch-Brite Lint Roller Combo Pack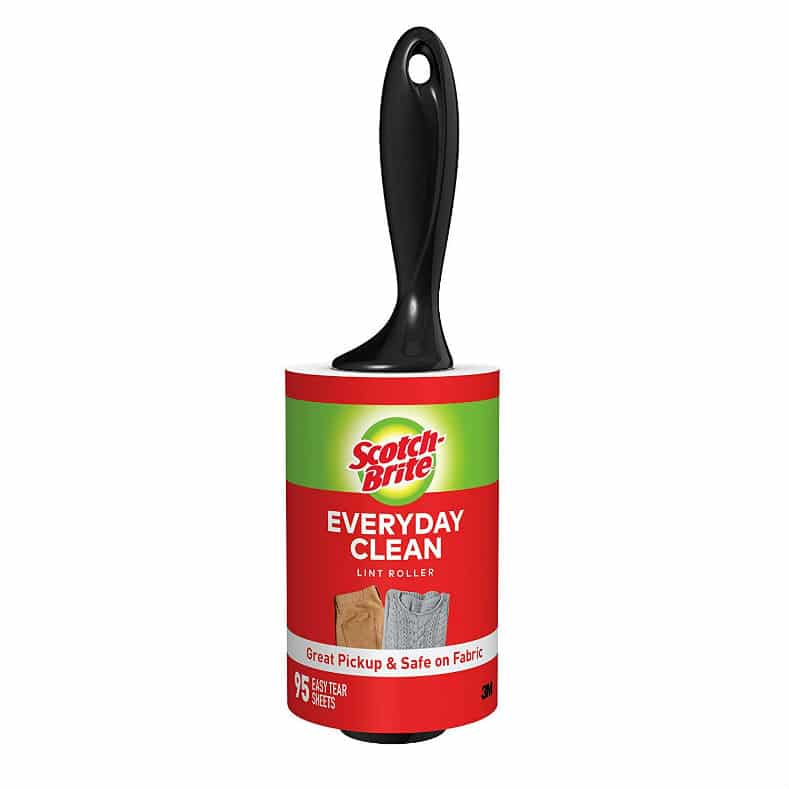 The Scotch-Brite Lint Roller is an indispensable tool for homes with heavy shedders. Perfect for running over your clothes before leaving your home, it picks up everything your dog throws at you, from hair to dirt to debris. It's inexpensive, so you can post one in every room, in your car and at your office. As the last step in getting ready, roll it over your clothes for pristine blacks and whites, and leave for the day with confidence. For homes with multiple pets, it's a must-have. The downside is that it's a disposable product, but there are five rolls in a pack and 475 sheets per roll, so they last a while.
Price: $11.25
ChomChom Roller Limited Edition Dog
The ChomChom Roller Limited Edition Dog is extremely effective. Used correctly, it will decimate dog hair on clothes and upholstery. It features a patented brush system and collects the hair in a receptacle for emptying — and it's reusable. To use correctly, brush the surface back and forth in short strokes; you should hear the roller clicking. It only rolls halfway, using static electricity to attract the hair. When you're done, press the handle catch to open the back, and remove the hair. It works on all surfaces, including carpet, upholstery and clothing.
Price: $24.95
Classic Red Lint Roller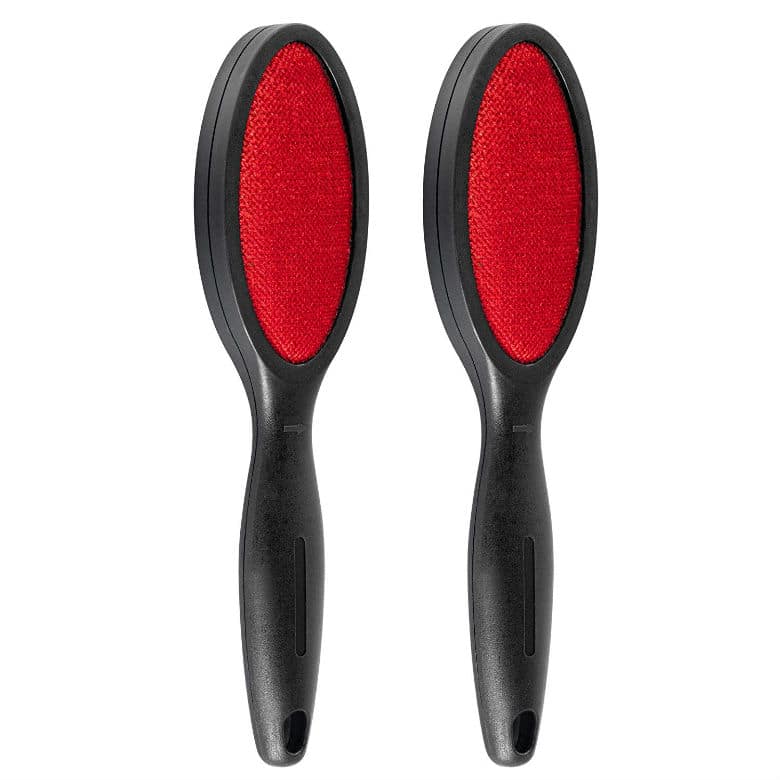 There is also the tried-and-true lint brush. It easily removes pet hair from our clothes, furniture and car, and there is no sticky tape to fight. Simply, follow the arrows, moving in a downward direction to remove fur, and then go in the opposite direction to clean the brush. Plus, it is environmentally friendly, with two sides to ensure a long brush life. Comes in pack of two.
Price: $8.97
Related: Need to Give Your Dog a Bath or Good Brush? Here's How to Not Make It a Complete Disaster.
Brooms
FURemover Broom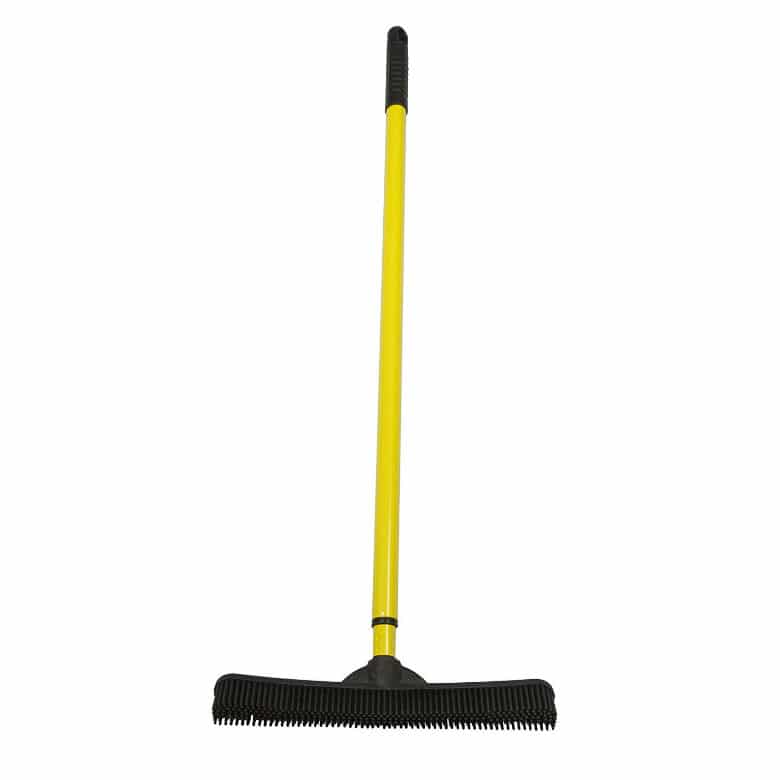 The Evriholder FURemover Broom is a staple at many doggie daycares — and you can't get a better credential than that. It works on multiple surfaces. Rubber bristles on one side attract dog hair on hardwood, rubber, concrete, tile and carpet. A squeegee edge on the other side cleans up mud and spills on hard surfaces including wood, tile and concrete. A telescopic handle extends from 36 inches to 60 inches for removing dog hair up high. Use soap and water to remove hair.
Price: $13.33
RAVMAG Rubber Broom & Squeegee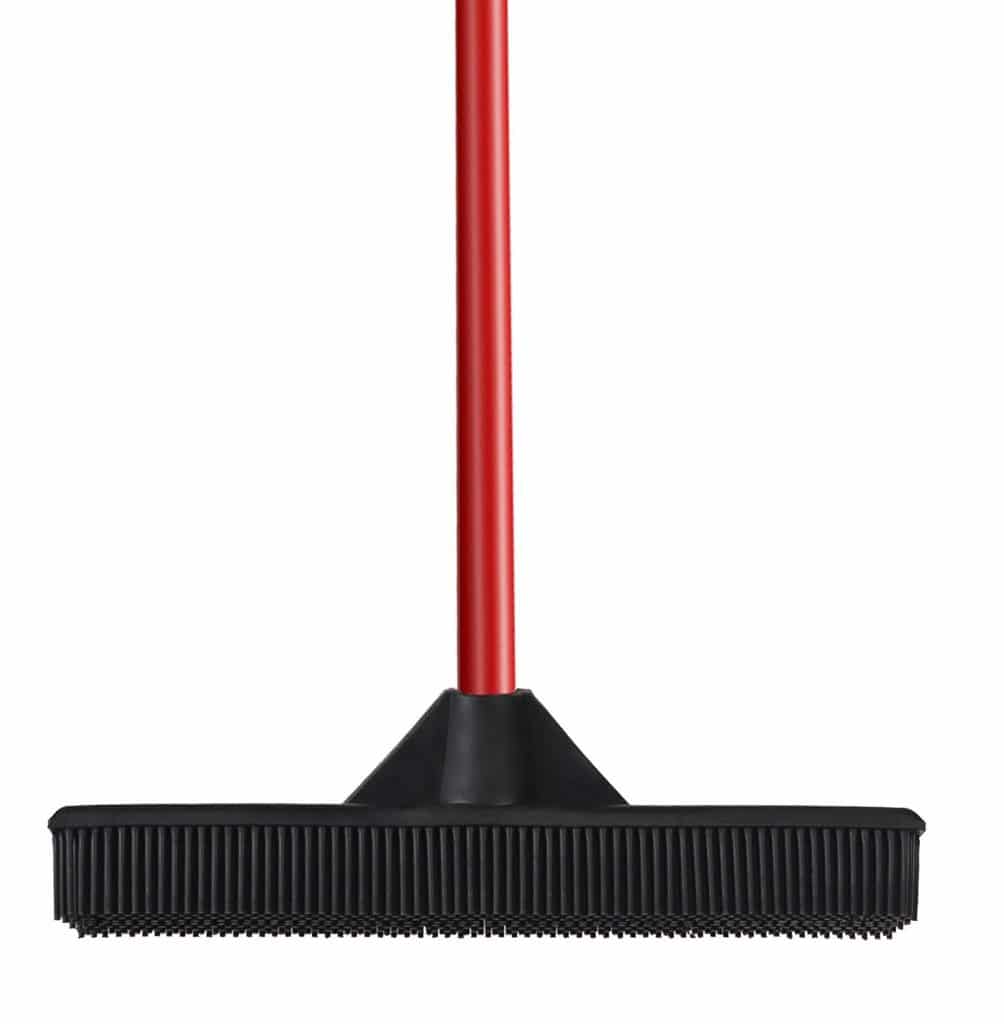 The RAVMAG Rubber Broom & Squeegee also removes dog hair from carpets and hard floors. It's designed for indoor and outdoor use, so you can use it on decks too. The bristles are made from natural rubber, and the interlocking bristles pick up even the smallest piece of debris. It will remove dog hair that your vacuum misses. The handle is set at 55-inches, so you don't have to worry about locking it in place. Use the squeegee side to clean up liquid spills. This broom is made well of high-quality materials.
Price: $39.99
DeShedding Tools
FURminator Undercoat Deshedding Tool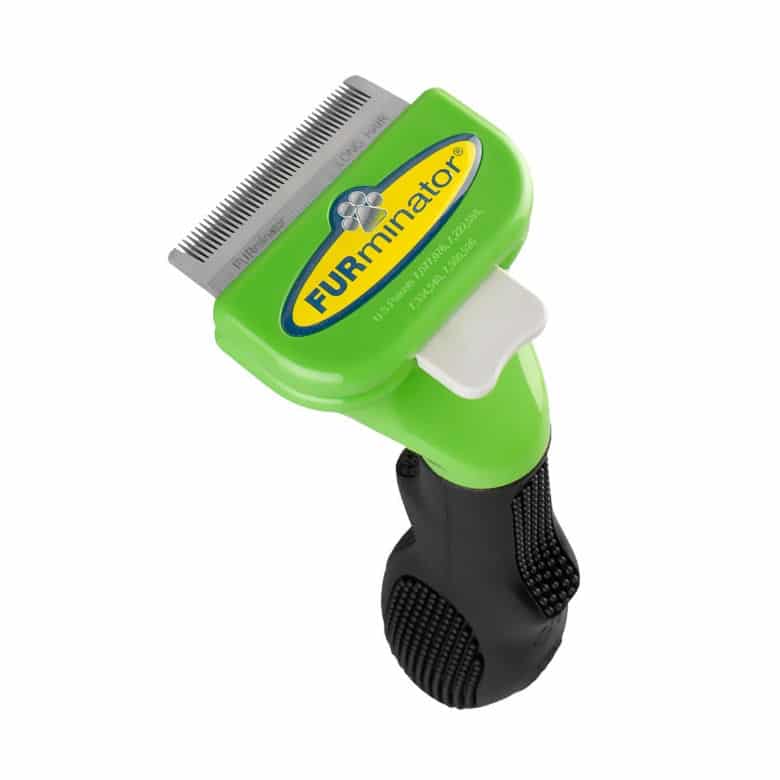 Go right to the source of the problem with the FURminator Undercoat Deshedding Tool. Designed to get through the topcoat to remove loose hair from the undercoat, it reportedly reduces shedding up to 90 percent. It features a skin guard to protect the skin and an edge guard to protect the blade when not in use. For best results, use on your dog after bathing when the fur is completely dry. Use long gentle stroke across your dog's coat in the direction the hair grows and brush up and away from the skin. The FURejector Button releases the hair. Available in sizes from extra small to giant and in short hair and long hair models.
Price: From $19.99 to $36.99
Oster ShedMonster De-Shedding Tool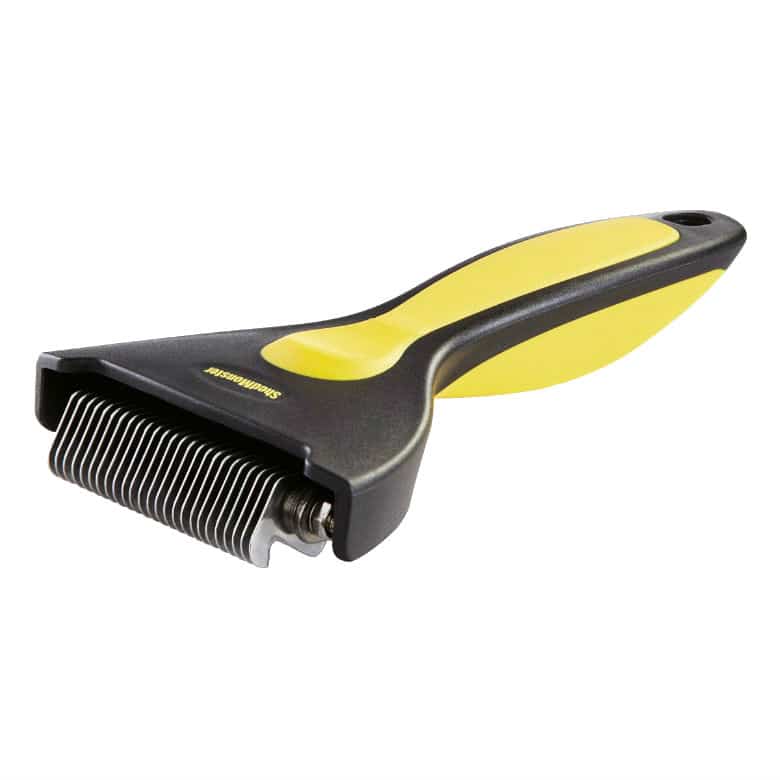 The Oster ShedMonster is designed to go deep into the undercoat and gently remove loose hair, while also removing tangles and mats. The smooth edges protect the skin, so it's good for dogs who are sensitive about brushing. It reduces shedding by up to 90 percent, and it works on both medium and long-haired dogs. It's also lightweight and has an ergonomic grip.
Price: $14.19