When it comes to dog adoptions, you are probably familiar with the phrase, "I didn't rescue them, they rescued me." But for one man, this saying hit much closer to home, as his rescue dog literally saved his life.
Brian Myers took in a 100-pound German Shepherd last fall, after she was returned three times, ending up at Ramapo-Bergen Animal Refuge in Oakland, N.J.
The rescue takes in dogs who are "hard to place" and unable to get adopted at other organizations due to behavior issues. In Sadie's case, it was because she had been aggressive towards men. But her past didn't deter Myers. Living alone and after suffering from Covid-19 earlier in the year, Myers wanted a companion.
Related: Dog Saves Freezing, Naked Girl Found in Ditch
"I decided it would be a good idea to get a dog after all the time I'd sat in my house by myself," Myers told The Washington Post. "I'd had a rescue dog before, but I had to put him down a couple of years ago. I was ready for another one."
When he heard about Sadie from a friend, he decided to meet her. "When I first saw Sadie, I thought, 'Wow, that's one big dog,' " Myers told the outlet. "I believe that her size is one of the reasons they had a problem placing her."
But the two quickly formed a bond, playing fetch and going on a walk around the refuge.
Once the adoption was finalized, Myers brought Sadie home and she put her paws on his shoulders in order to lick his face, thanking him for giving her a chance.
And this January, she paid him back. Myers suffered a stroke at his home, with no feeling on his left side. Laying on the floor, unable to move with his phone 15 feet away, he was helpless.
But soon, he felt the sandpapery tongue of Sadie.
"She kept licking me and crying, so I reached my right hand up to pet her, then I grabbed her collar," Myers told the outlet of his Jan. 16 evening.
To his amazement, Sadie began to pull Myers through the crawl space and towards his dresser where his phone was at.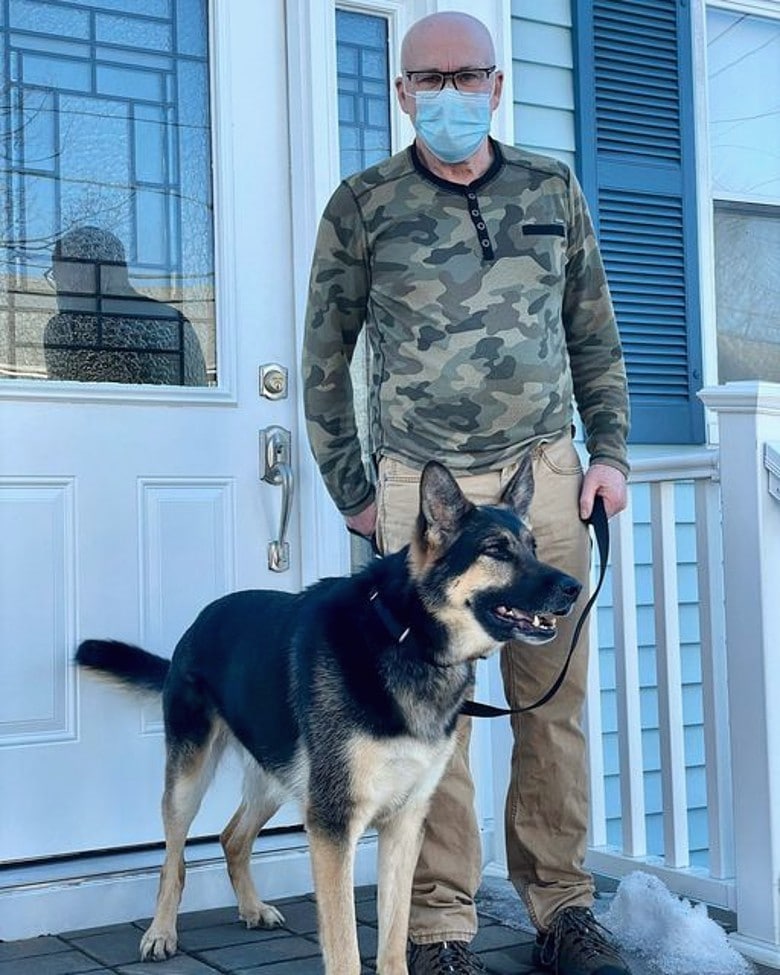 "She was not trained as a service dog, but she was in distress over what was happening and she could tell that I was in trouble," he told the outlet. "I don't know how she did it, but she knew."
He was able to call for help. After an ambulance took him to a local hospital, doctors told him that he suffered from a stroke and Sadie most likely saved his life.
"It was the best decision I'd ever made to adopt her," Myers, who was released from the hospital last month, told The Post. "I really feel it was meant to be."