After being saved from the streets, a special dog is now saving other pups' lives.
Named Berkley, the 4-year-old mastiff mix, is the resident dog at Shawnee Animal Hospital in Oklahoma, where he earns his keep by donating blood to pooches in need.
"If we get an emergency during the day or after hours at 3 o'clock in the morning, Berkley is here and available to do his job. He's a value to us," Kim Carver, an employee at Shawnee Animal Hospital, told KOCO.com.
The special dog made his was to the hospital when, as a puppy, he was unable to find his forever home. The staff put him to work right away, helping save an animal.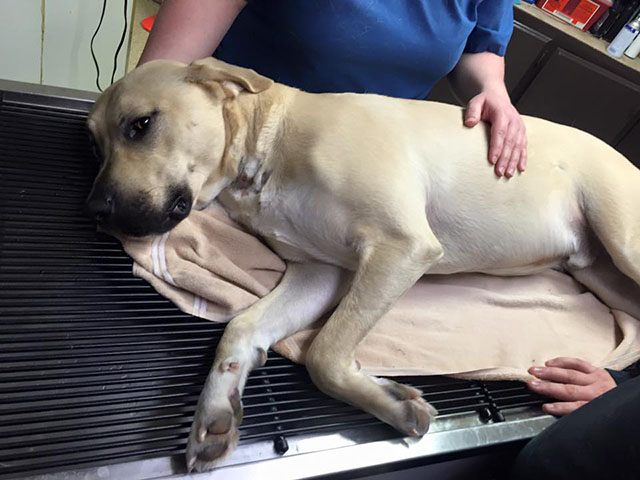 Related: Famed Photographer Creates a Viral Series of Her Foster Pup, Now Raising Money for a Rescue
"The dog had been run over and bleeding out, and we pulled quite a bit of blood out of Berkley. He saved the dog's life," Mike Steward, a veterinarian at the facility, told the outlet.
While Berkley's task at the clinic is to help out in need, in no way is he some sort of blood machine.
"We monitor his platelet and hematocrit counts due to the donations, to keep him safe and healthy," Carver told People Pets, who also revealed that Berkley saved her own dog with a blood transfusion. "And he is never, ever, overused. Several of us bring our personal dogs to work daily and at times they have donated in emergency situations to give Berkley a break."
So, what does Berkley do when he isn't being a lifesaver? Just being a dog. He spends his time hanging with staff, running around in the outside enclosed area or lounging around inside.
While a dog at heart, the staff's belief that Berkley is a "godsend" is quite fitting.
Related: A Dog No One Wanted Now Earns His Keep Donating Blood
H/T People Pets and images via Facebook