Except for cold-weather dog breeds, like the Alaskan Malamute and the American Eskimo, most dogs need a little help when the temperature plummets. Fortunately, there's a solution: a good, warm winter coat.
While the market is saturated with cute, trendy dog coats, in wintertime, you need a coat that does the job. These are some of the best dog coats for keeping your best friend toasty warm — and looking good, too.
1. Canine Styles Goose Down Puffer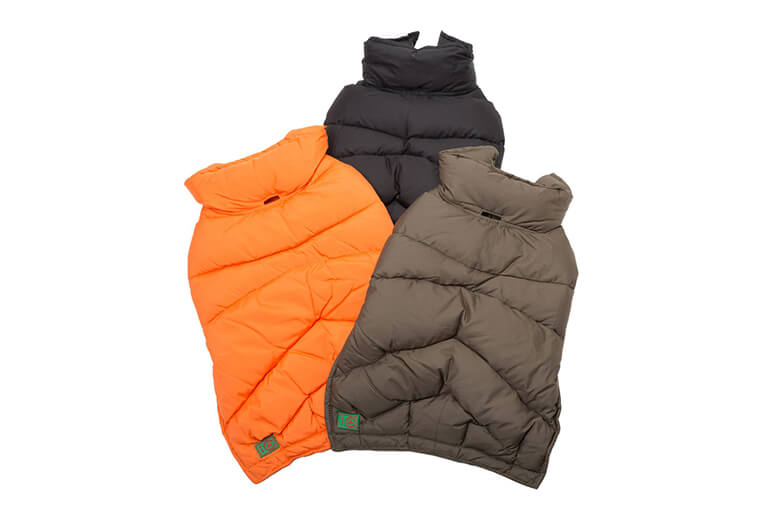 The Bentley of winter dog coats, these coats are stuffed with real down that will keep the cold at bay all winter. Water-resistant and snow-repellent, the Canine Styles Goose Down Puffer attaches around the neck and under the belly with Velcro closures. Darting on the back keeps the jacket snug and the cold out. There's also an opening at the neck for a harness or collar ring. The coat comes in seven colors and is sized from an 8 to a 28.
Price: $100 – $285
Related: Baby, It's Cold Outside: How to Keep Your Dog Safe From the Deadliest Winter Dangers
2. Gooby Padded Cold Weather Vest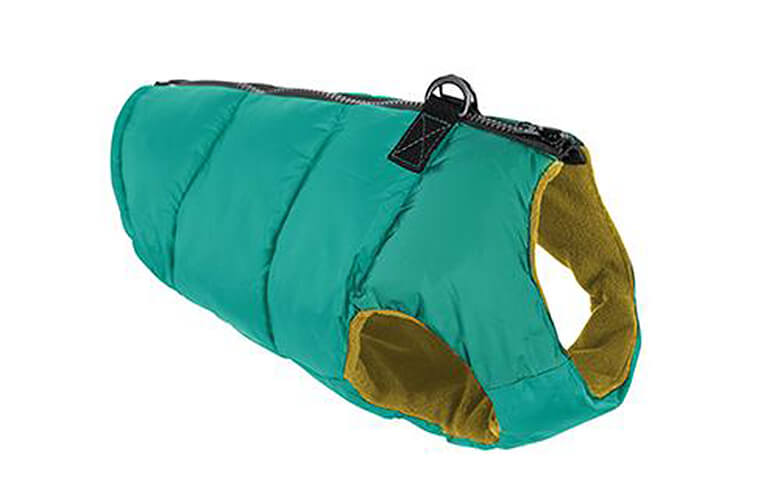 This thick, puffer vest is warm and convenient: it has a leash attachment on the back. Water- resistant with a zipper closure, the Gooby Padded Cold Weather Vest has a snap at the neck to make zipping it easier. The sizing runs from x-small for a 4- to 6-pound dog to x-large for a 20- to 25-pound dog. The coat comes in black with the option to choose four contrasting colors. Or you can select a solid coat, with the option of five different colors.
Price: $28.20 – $34.50
3. WeatherBeeta Reflective Parka 300D Deluxe Parka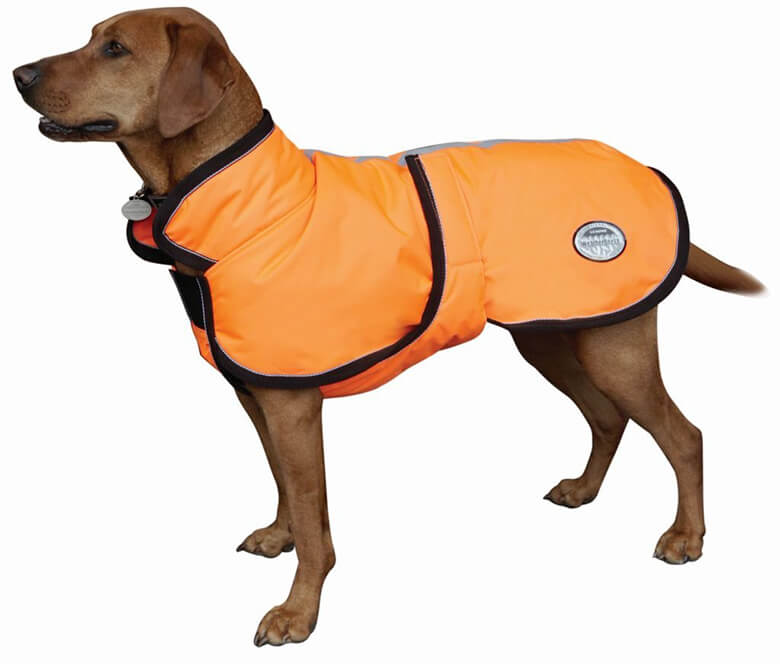 WeatherBeeta's Reflective Parka is a bright, insulated parka for dogs will keep your pooch dry and warm — and is easy to see in the dark. It's water repellent with a wrap closure around the chest and belly and a leash hole at the collar. It's also easy to put on and is available in a 12-inch to 32-inch size that will securely fit a small terrier to a large Great Dane. Reflective strips keep your dog safe on evening walks.The company also has a stronger triple-weave waterproof coat called the WeatherBeeta Parka 1200D Deluxe Dog Coat. It comes in in grey plaid, navy/grey/white, and navy/green.
Price: $38 – $50
4. Hurtta Casual Quilted Overall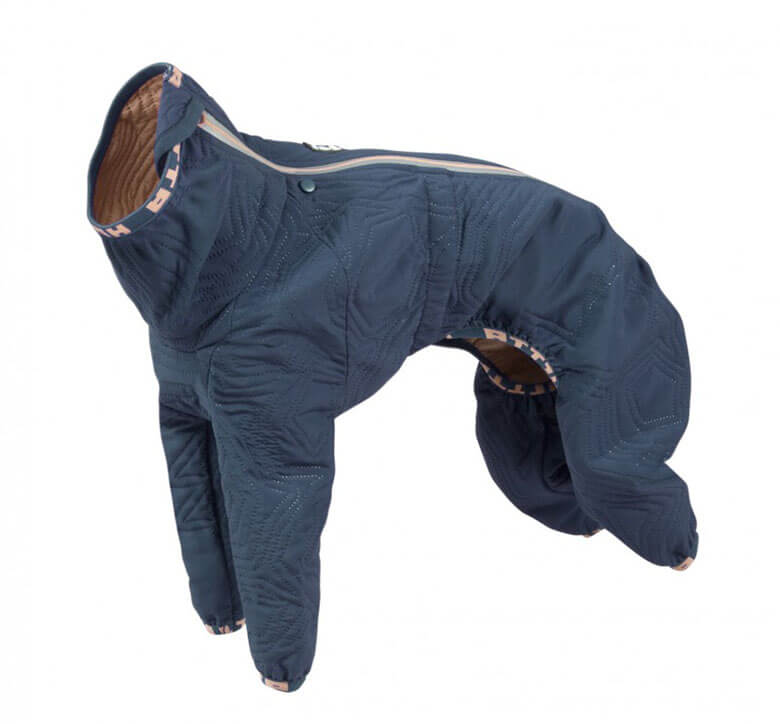 For the coldest and snowiest days, you can't beat the full-body coverage of Hurtta's quilted overall. Designed for slim breeds like the Afghan Hound and the Chinese Crested, the suit is water repellent and insulated with reflective strips on the back for safety. It comes in fuchsia and blue. On the Hurtta website, you select your dog's breed, and it gives you a range of appropriate lengths. (The company also has a version that doesn't cover the legs, too.)
Price: $70 – $80
Related: Tom Hardy, Casey Affleck and Edie Falco Lend Their Voices to Help Chained Dogs
5. Chilly Dogs Great White North Winter Coat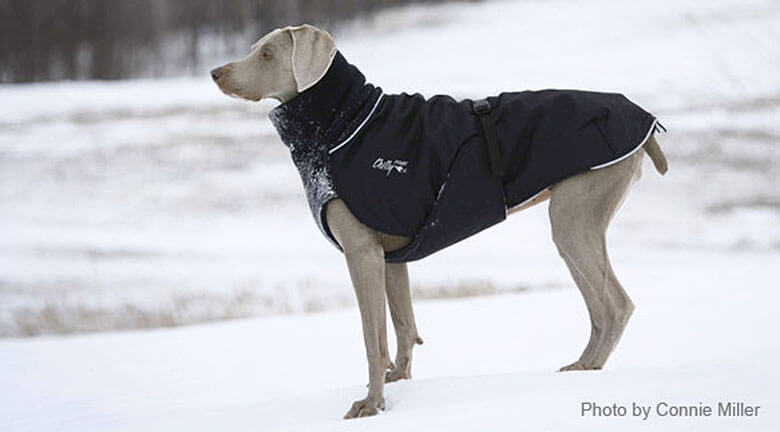 Made in Canada where they understand snow! The Chilly Dogs' Great White North Winter Coat is designed for warmth and durability for those dogs that like to romp through the fields, it has an easy on/easy off design the fits over the head and attaches with a belly band, Velcro and buckles for a customized fit. This coat will keep your dog warm in temperatures as low as -22 degrees. Available from 8 inches to 36 inches, in five colors.
Price: $75.95 – $130.95.
6. Canada Pooch North Pole Dog Parka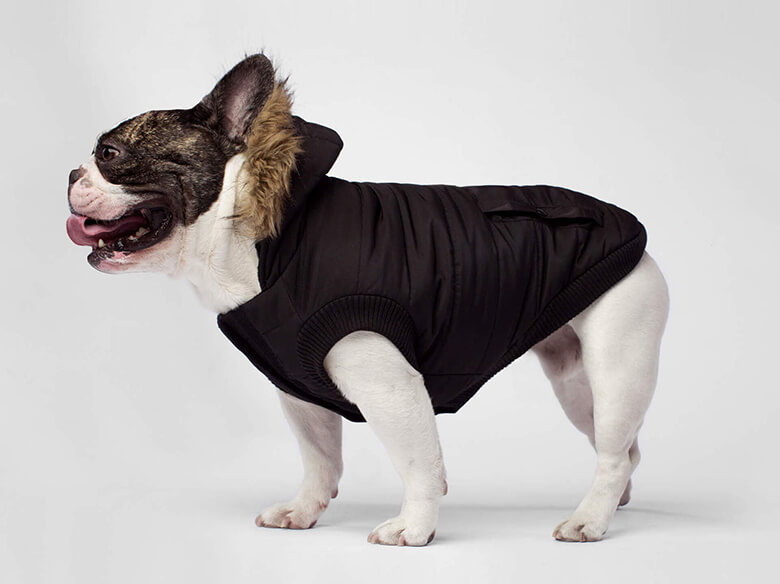 A faux fur-lined hood, down alternative fill, extra warm legs and complete belly coverage winter dog parka will keep your pooch happy when the snow is coming down.  The Canada Pooch North Pole Dog Parka is easy to put on with slip-through legs and a Velcro closure underneath for a snug fit. It even has a function pocket on the back and a leash hole between the shoulder blades. In three colors from size 10 to 26.
Price: $41 – $68.
7. Alpine Extreme Weather Puffer Coats by Doggie Design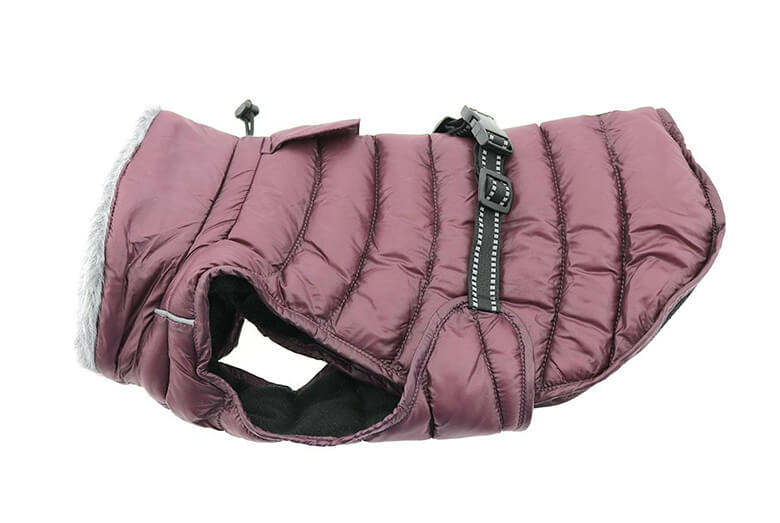 Fleece lined and waterproof, this coat from Doggie Design is perfect for outdoor adventure. You can even secure it close to the body with elastic loops that go around the back legs. It's lightweight yet substantial and covers your dog from neck to tail. It goes on over the head, a belly band wraps around the body with complete coverage, and the fit is customized with adjustable buckles over the back. An adjustable toggle at the neck keeps the cold drafts out. Sized from x-small to 5x-large, in four colors.
Price: $39.95 – $49.95
8. 2 in 1 Dog Snowsuit by Casual Canine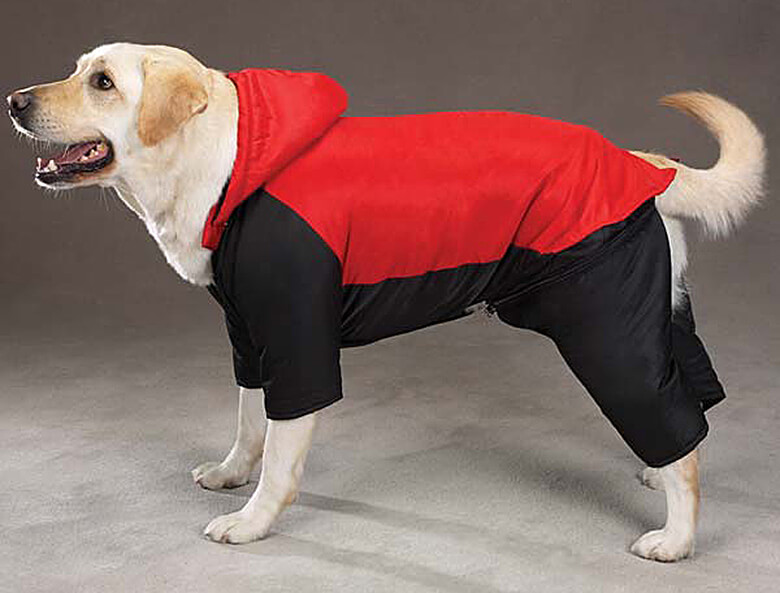 A full-body snowsuit with a zip-off hood and rear legs will keep your dog warm in any snow storm. The insulated nylon shell by Casual Canine is poly filled to keep body heat in. When the weather warms up a little, just remove the legs and the hood and you have a regular jacket. A Velcro closure under the belly keeps your dog insulated and snug. Available in red/black from x-small to 2x-large.
Price: $31.97 – $33.97
Related: Does Ruffwear's Jet Stream Vest Really Cool Off Your Dog?
All our picks our independently chosen, but we do earn an affiliate commission to support our work. However, if we don't like the product, we aren't going to write about it. Making a few cents off an affiliate just isn't worth it to us.