When it comes to getting up into a car, onto the bed or the sofa, or into a favorite chair, sometimes our furry best friends need a little help. Thankfully, some person invented pet stairs. They are the perfect solution when your dog is too tiny to make the jump, she's getting older or has a condition like arthritis that makes jumping up painful. Or you are worried (as you should be) that your dog will land the wrong way, causing injuries and putting stress on joints.
For those looking to give their dog a lift, here are some of our favorites:
Snoozer Scalloped Pet Ramp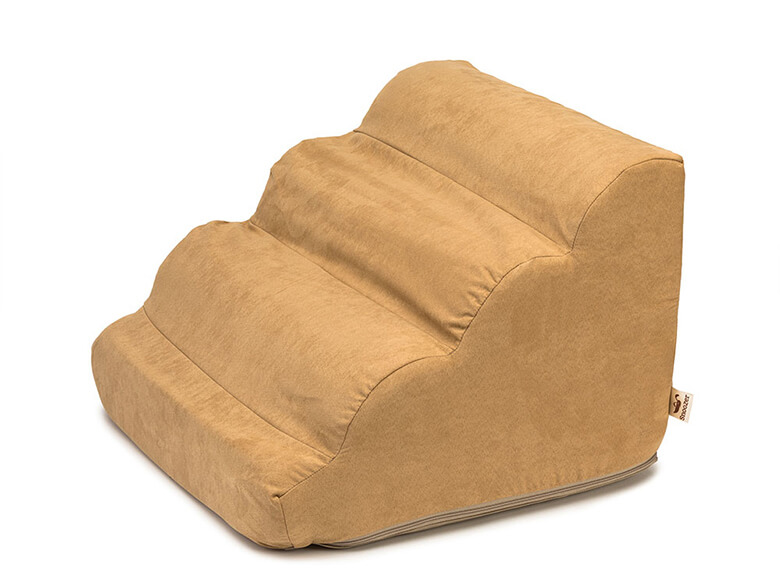 A great option for small dogs, the scalloped shaped steps are easy to negotiate for tiny or short legs. Constructed of high-density foam with a sturdy base for stability, the Snoozer Scalloped Pet Ramp comes in three sizes and four colors to suit every size dog and apartment décor. It can support pets up to 100 pounds, yet the ramp is lightweight and easy to maneuver. The micro-suede cover is removable and washable. Prices range from $99 – $159.
Related: Mailman Builds Ramp for Senior Dog on His Route
Solvit PupSTEP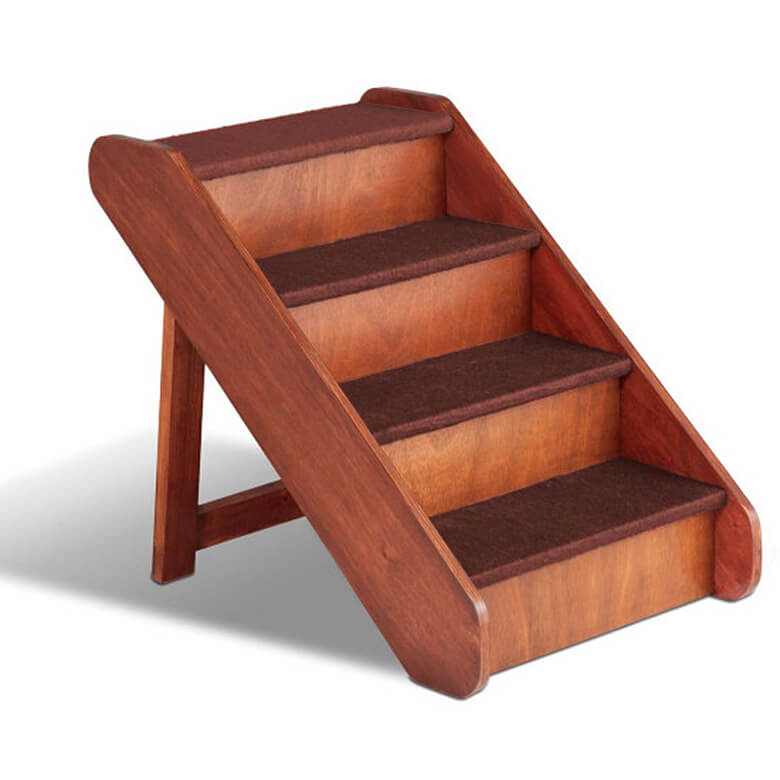 Solvit PupSTEP is an affordable, lightweight option that only weighs five pounds but can support up to 120 pounds. The steps have a built-in side-rails, non-skid feet and textured carpet on the steps for traction. Made from durable plastic, the steps fold up for easy storage. The step height is 5 inches and unit is 19.5 inches high. The price tag is $40. There is also an XL version for bigger dogs, which have wider steps and is taller. This version supports dogs up to 200 pounds. This model costs around $60.
If you want to raise the luxury level, the company also has wood stairs made from walnut-stained wood with a 6-inch high step and an overall height of 25 inches (shown in above image). This will cost you $60, whereas the XL costs $100.
Pet Ramp with Custom Cubby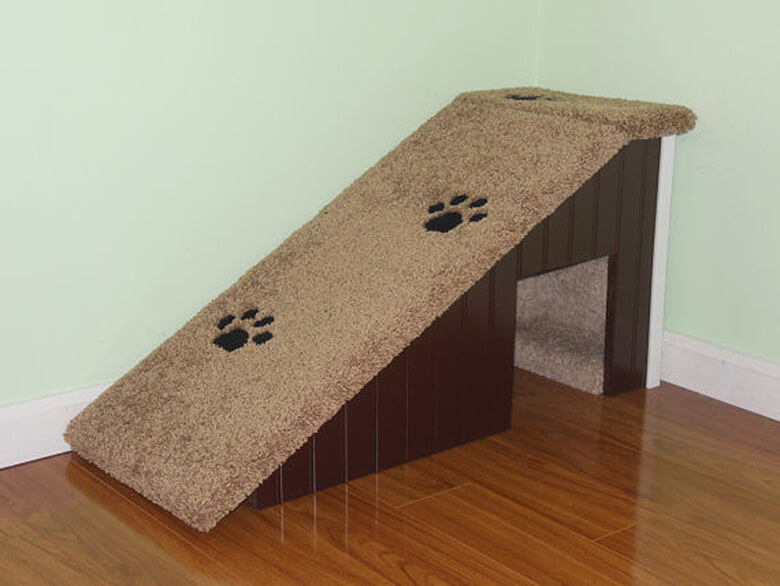 The handmade carpeted ramp from Pet Ramp with Custom Cubby can be ordered to a customized size. The standard size is 18 inches high with a gradual incline of 34 inches, which is great for dogs with knee or hip problems that have trouble navigating steps. Built from sturdy wood and available in a paw print carpet, there's a carpeted cubbyhole in the base for dogs that like enclosed spaces. The base can be ordered in 11 different colors. $149.
Loft Pet Steps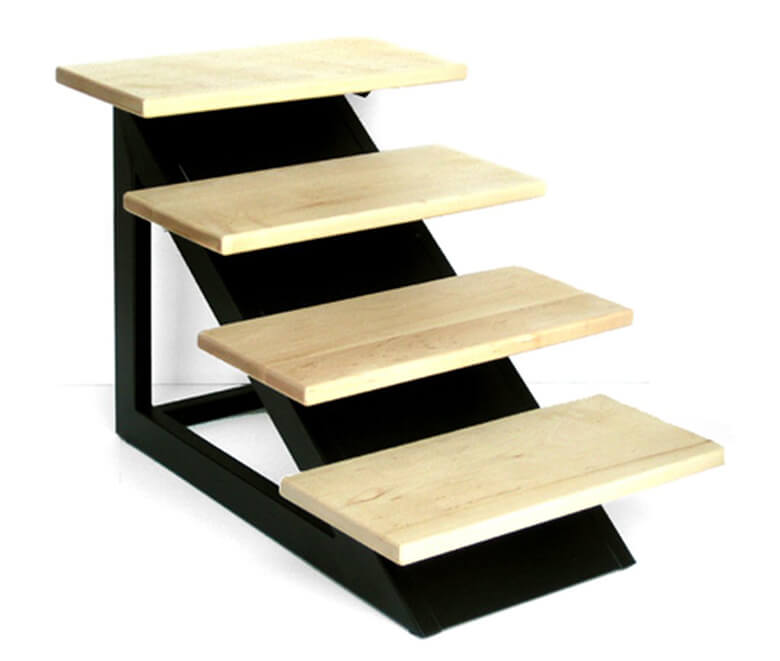 For some modern flair, try these solid maple stairs mounted on a recycled steel base. Rising to 19 inches, Loft Pet Steps are best for larger breed dogs. The faux open back on these stairs complement apartment décor styles from modern to Asian. The blond wood is coated with a sand finish so dogs won't slip. The weighted bar at the base makes these stairs safe for dogs up to 170 pounds. Crystal tips on the bottom provide stability. If you want pet steps as beautiful as your own furniture, these are a chic option. The price is $225.
Related: Watch Paralyzed Dog Take His First Steps
Pet Gear Easy Deluxe Soft Step Pet Stairs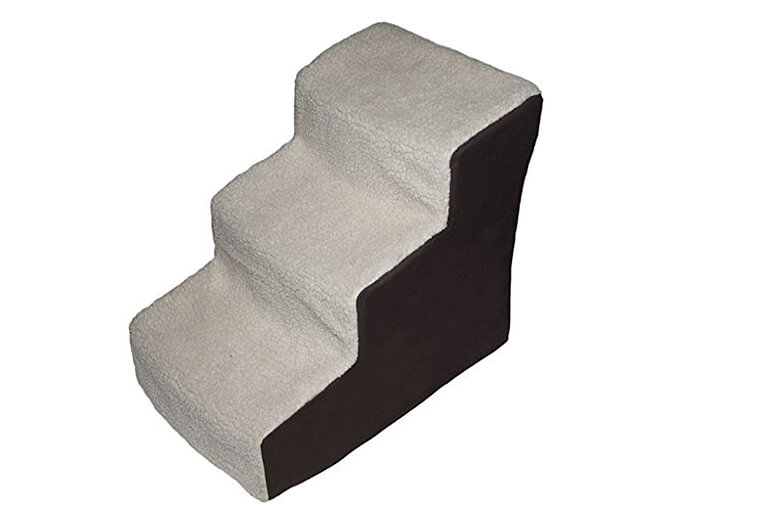 At 30.5 inches high, these are a great choice if you have a high bed. Stair landings are wider and deeper to accommodate small dogs, yet if handles dogs up to 150 pounds. The depth and angle of the landings allows small dogs to get all four paws on the step for taking it, literally, one step at a time. Rubber grips on the bottom keep the steps in place. The assembly is a snap — again, literally — as they snap together with no tools needed. The chocolate/oatmeal fleece cover can be removed for washing. The price for the Pet Gear Easy Deluxe Soft Step Pet Stairs is $44- 98.
Pet Classics Indoor Pet Ramps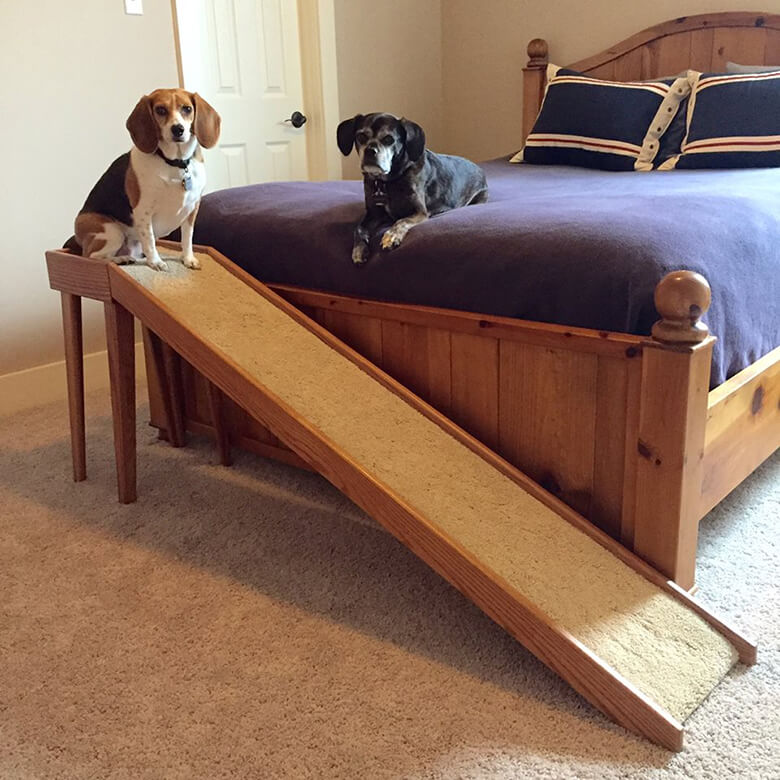 Pet Classics Indoor Pet Ramps are available in a variety of heights, finishes and slopes. Constructed of solid Eastern Red Oak or Maple, they have tapered legs and roomy platforms for pets that like to perch. Sofa ramps are 15 inches high, and bed ramps are 24 or 29 inches high. There's even a folding ramp for easy storage. Widths range from 12 to 16 inches. You can customize your ramp by choosing from 12 wood finishes such as Golden Oak or Maple Mission. Ramps have a low safety edge and plush carpet on the ramp for traction. Prices are from $199 up.
Gen7Pets Designer Wood Furniture Pet Steps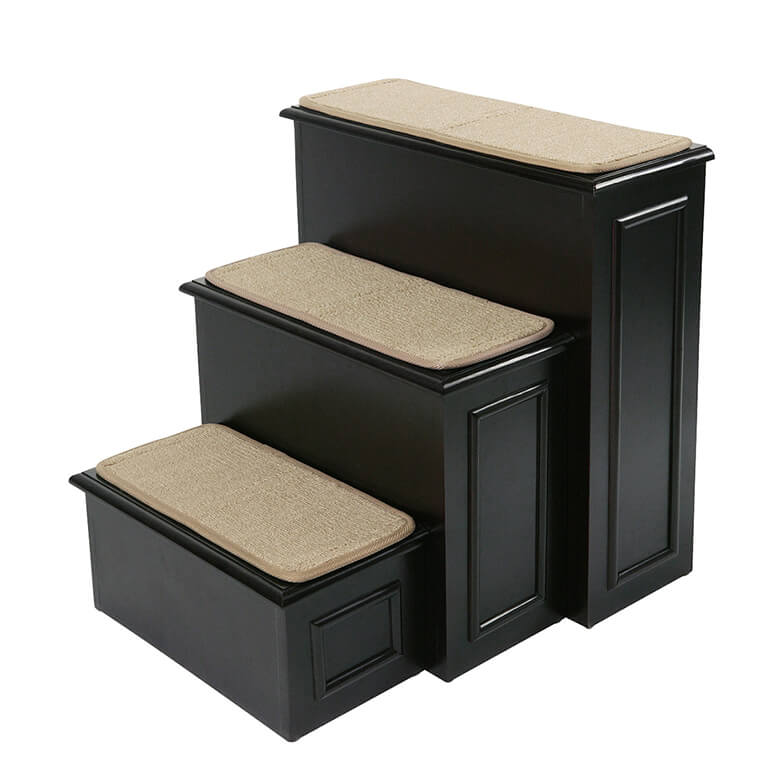 If you live in a small space and need all the storage space you can get, you'll love these 21-inch high hardwood pet steps. Available in espresso or mahogany finish, the Gen7Pets steps are hinged for easy access to large storage areas. Carpeted for traction with rubber pads on the bottom to prevent slipping and protect floors from scratches, these steps are designed to look like high-end furniture. $160.
Petsfit Wooden Pet Steps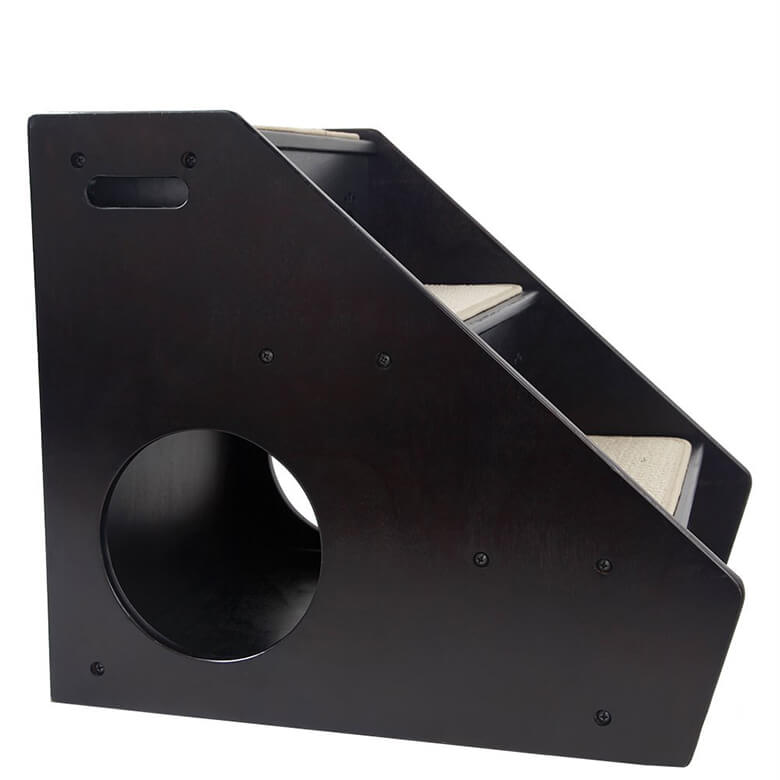 The design is sleek, geometric and modern and the price is reasonable for designer wooden stairs. The three-step Petsfit Wooden Pet Steps are 20 inches high and can hold pets up to 100 pounds. The treads are wide and deep for stability, and small dogs can jump up to each step safely. Side rails and rubber grippers make this a good choice for wobbly seniors. Available in a dark coffee or white finish. The two-step version at 14 inches high is perfect for sofas. $80 for the two-step; $96 for the three-step.
All our picks our independently chose, but we do earn an affiliate commission to support our work. However, if we don't like the product, we aren't going to write about it. Making a few cents off an affiliate just isn't worth it to us.
Related: 'Property Brothers' Build TODAY Show Dog an Amazing Play Area