While the trend of people transitioning from dog owner to dog parent continues, nothing epitomizes this movement more than last night's Casper event where dogs were being treated to filet migon steak dinners and hot dog-infused water.
The who's who of the dog world showed up at mattress startup Casper's unveiling of its latest product – dog beds.
Everyone from Toast Meets World (she recently launched her own book about dogs in the Hamptons) to Marnie (the senior dog with 2 million followers on Instagram) and Menswear Dog (he gives tips to guys on dressing) were at the "Dogfluencer Steak Dinner." In total, there were approximately 20 celeb pups in one room — and that doesn't come cheap (reportedly some command a fee of five to six figures for an appearance).
Related: Celeb Dog 'Toast Meets World' Takes Over the Hamptons in New Book ToastHampton
The celeb dogs did their part, walking the "green" carpet and posing for the countless photographers (who were uncomfortably squatting to be at the pups' two-foot eye level), before making their way to the launch party.
Once inside, dogs posed on the Casper beds for more "pupperazi" before being treated to a gourmet three-course meal that would make us humans drool.
All the dogs lined up in front of their place setting and enjoyed some hot dog-infused water before noshing on some biscuits served in white linen bread bowls. After that, it was onto the main course – steak entree with vegetable puree. (Our food for the night was micro-bite appetizers served on basil leaves.) Dogs could not get enough of the food, with some finishing the meal in record time and others going after their bud's plate. Then it was time for Shake Shack's Pooch-ini, a dish of dog-friendly ice cream with more biscuits (can't imagine how the rest of the evening went for some of these owners).
Getting settled in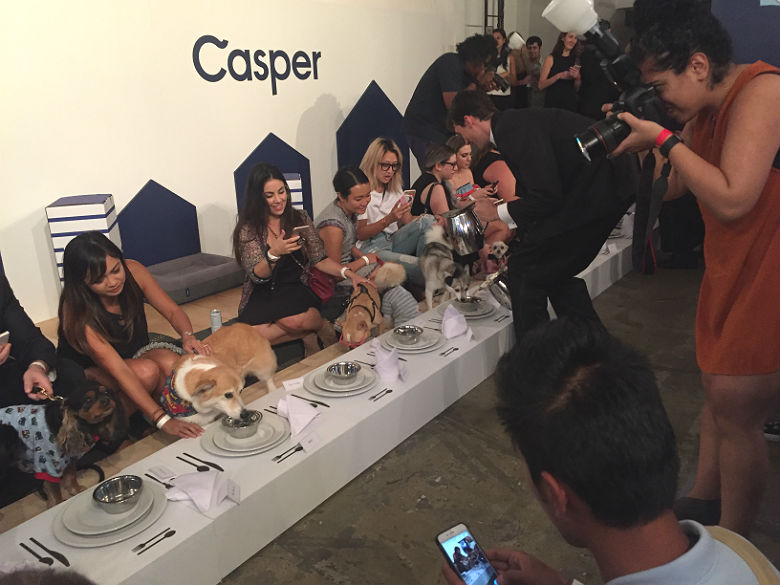 Dinner is served
Some dogs really enjoyed the food
And wanted more
Saving room for dessert
Chow time
The rest of the night was filled with dogs sniffing each other and wagging, jumping into a ball pit (people did too) and exploring the smell museum, which had pleasant scents like waffles and awful smells including dog poop.
Toast Meets World's Mom enjoying the ball pit with her crew
A doodle dog influencer enjoying his play time
Related: Dogs Way of Seeing is Actually 60 Million Times Better Than Ours
All this hoopla was for the unveiling of Casper's dog bed line. Coming in three sizes, the beds will set you back anywhere between $125 to $225. That is a lot money – and the founders are betting that dog parents will happily fork it over.
The selling point for these dog beds is that they are actually dog mattresses, a new market opportunity, according to co-founder Luke Sherwin.
"The same brilliant engineering minds" that created Casper's mattresses for humans spent a reported 430 hours and went through 110 prototypes in their San Francisco product-development space before settling on this bed, er, mattress.
The product is constructed from the same material the company's human mattresses are made from – memory foam. The material provides pressure-relieving benefits, while the foam bolster offers the dog added security.
Related: After Destroying Bed, Guilty Dog Begs for Forgiveness
Other features include a loose performance fabric to allow dogs to nest and a double-zipper design with integrated zipper pockets.
While this high-end dog beds may seem a bit too much for some people's pup (what happened to sleeping on the floor?), Casper said the idea came from the market.
"It is one of those simple demand stories," Sherwin tells us about how the product was conceptualized. "Our customers would take photos of dogs on Caspers and would literally ask, 'When are you going to make a dog bed?'" For some, not soon enough.
The beds are available for purchase on Casper's website and will begin shipping Sept. 6.