As many of us made the transition from working in the office to working from home, our canines have made regular cameos in our Zoom calls and cozy foot warmers while nesting under our desks and over our feet.
Despite the many perks of working alongside our pets, home offices and dogs don't always make the best mix. From making messes to barking incessantly during conference calls, our furries can sometimes be lousy coworkers.
If you're looking for ways to create a dog-friendly workspace, you're in luck! Here are sieven essential items every work-from-home dog parent needs.
Related: Jobs to Give Your Dog At Home
All featured products are independently chosen by This Dog's Life. However, we may make a small affiliate commission if you click through and make a purchase.
1. Puppy-Proof Your Office With a Dog Gate
You're neck-deep in an important work presentation with C-suite executives when your dog decides to make a sudden appearance and interrupts the whole meeting. To ensure every work meeting runs smoothly, it's a smart idea to barricade your pooch from your office.
Instead of closing the door on your dog completely, opt for an elegant pet gate, such as the Frisco extra tall auto-close gate. Tall enough to keep even the nimblest of jumpers out, this chic gate also allows you to keep an eye on your pet as you work.
2. Heavenly Haven
Some dogs won't disturb our Zoom calls. Instead, they prefer curling up at our feet. To keep your dog comfy during her midday naps, consider adding a premium dog bed in your office, such as Voldog's memory foam dog bed. Made to support your pet's joints, this bed also features non-slip fabric and a waterproof inner protector. Even if you accidentally spill your morning cup of coffee on the bed, it'll stay pristine!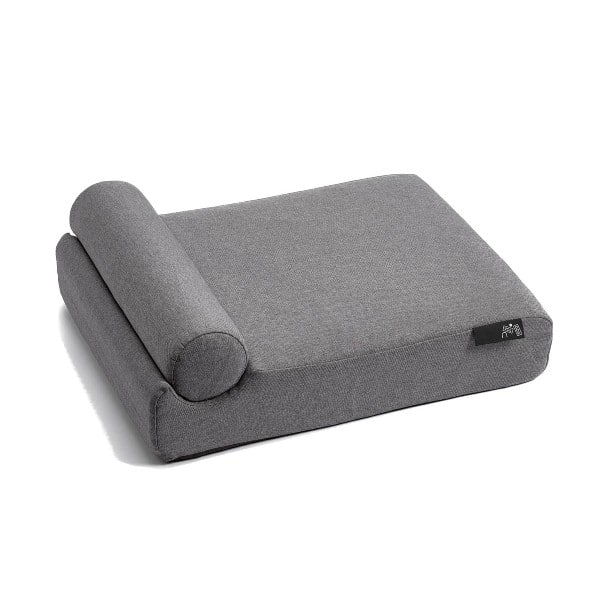 Voldog will make sure your dog can get some zzz's in style. Not only is it comfortable, the foam provides added support for your dog's joints. There is a non-slip fabric on the bottom while the inner protector is waterproof.
3. Avoid Pants Puddles
Nothing is more uncomfortable, or gross, than having your dog take a long drink of water to only come up and put his head in your lap. In addition to leaving puddles on your pants, he also leaves water on the floor. To mitigate the mess, consider getting him a strong and sturdy dish. Boo Oh's classic essential dog bowl are substantial enough to not flip over, while the dish's high sides keep dribbles to a minimum.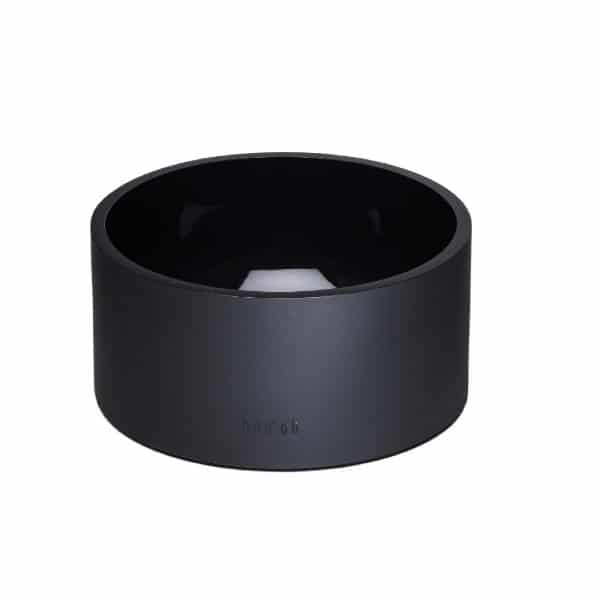 The bowl is made of the same material used in medical equipment and baby accessories, making it extremely durable. Its silicon-grip bottom ensures the bowl won't slide while your dog is eating or lapping up water. Interior is smooth, so cleaning is a cinch.
Related: How to Puppy Proof Your Home Without Sacrificing Style
4. Keeping Your Dog Calm, Cool, and Collected
For those dogs who are nervous nellies, they may need a little help relaxing. Studies have shown that calming supplements may help ease anxiety. Talk to your vet before starting your dog on any supplement program, and always follow the instructions on the back of the label. We highly recommend our Bye Bye Pup Worries wellness supplements that include natural ingredients, like lemon balm, and green tea, to relieve nervousness and stress. So, your work-from-home days can be productive while your pup is chilled out and at ease.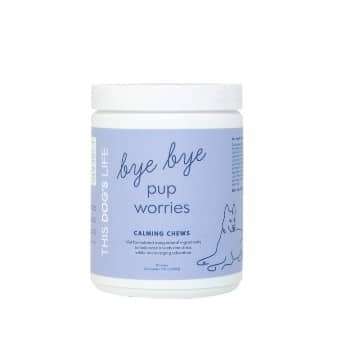 With 70% of dogs dealing with anxiety at some point, our Bye Bye Pup Worries can be used for everyday low-key nervousness. Formulated by a vet and backed by science, our chews use powerful natural ingredients to helps relieve nervousness, anxiety, and stress, so you can have a relaxed and happy pooch.
Related: 11 Tips From the Pros on Calming Your Anxious Dog
5. Encourage Solo Play
A mentally stimulated dog is a happy one. If you're locked to your laptop for hours on end, keep your pooch engaged with interactive dog toys. You can try a puzzle (there are plenty out there), a simple Kong, or a more technology-advanced toy, like the GoBone. This innovative toy allows you to play with your pup right from your smartphone, enabling you to stay at your desk. The bone uniquely responds to different types of touch, including avoiding, chasing, and teasing. This ensures your pet is endlessly entertained while you work.
6. No More Pet Hair!
If you live in a multi-pet household, chances are that every outfit is covered in dog hair. However, that's not a good look when you have to hop on a video call with your manager. Do away with unsightly pet hair for good with a handy-dandy pet hair remover. A few of our favorites (and all reusables) include fabric shavers, fabric lint rollers, and rollers. With thousands of positive reviews, these reusable rollers are effective and environmentally friendly!
7. Tune In and Tune Out
If your dog loves to vocalize his grievances with you working all day, ease his anxiety with DogTV. Created especially for canines, this unique streaming service is said to alleviate stress, fear, and anxiety all day long. Simply keep the volume low so it doesn't disturb your workflow.
With these seven products, you can productively work from home while keeping your dog happy and entertained from 9 to 5.