Kathleen Prasad had been practicing reiki, a technique using touch to heal a person by channeling energy, for years, when she decided to use it to help animals.
In 2004, she founded Animal Reiki Source, a program that certifies people in animal reiki, helping them build a stronger bond with their companion animal or those in the community.
"It was a natural shift. My dog and horse just loved the sessions, and my friends and others at my barn were fascinated and wanted me to try it with their animals," says Prasad, of opening up her practice to animals. "I was also walking dogs at a local shelter and it seemed a wonderful thing to do before I put them back into their kennels. They became so peaceful; it really blew the minds of the staff.
Word spread, and soon, Prasad was working on animals more than people. But she wanted to make an even bigger impact. A few years into running Animal Reiki Source, she decided to go after her dream: to expand animal reiki to shelter animals everywhere.
In 2007, she, along with Leah D'Ambrosio, launched Shelter Animal Reiki Association, or SARA, in Marin County, Calif. Teaching Prasad's "Let Animals Lead" method, an approach that uses meditation practices to create a peaceful, harmonic environment for homeless animals in shelters and sanctuaries, the nonprofit not only helps dogs, but also cats and larger animals, like panthers and horses.
Related: Is That Dog You Want to Adopt Aggressive or Just Fearful? How to Tell the Difference.
"Animal reiki, as practiced in the Let Animals Lead way, is a system of healing in the sense that the space of compassion and peace that we can share with others when they are suffering is the most powerful way to share healing," she says.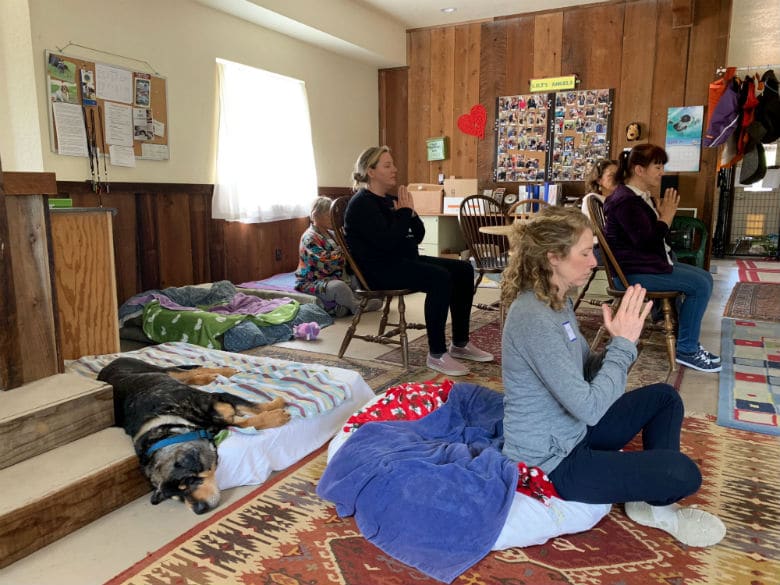 But unlike reiki for humans, Prasad's technique only uses touch if the dog seeks it out, and the practitioner only rests their hands gently on the dog's body. "Some dogs associate hands with abuse, so we want to make sure we only use physical touch when the dog initiates it," she says.
Prasad demonstrates this in a video where she walks into an area of the shelter with two rows of kennels, filled with barking dogs. She walks up to each kennel, greets the dog inside and sits down on a bench to meditate. She then kneels or sits in front of each kennel, lets the dog inside sniff her hands, and meditates. After about 30 minutes, every dog has settled, and there isn't a single bark to be heard.
The practice, she says, is about "holding space through meditation techniques that can calm the animal and induce a state of deep relaxation." Its focus is not on the dog's physical or mental problems but rather on the brightness of the dog's inner spirit, or reiki.
Some may be surprised that her technique can shift a dog's mindset, but science shows that our four-legged can recognize emotions. For instance, one study done at the University of Lincoln affirmed that our dogs can pick up when we're stressed, sad or afraid. It follows, then, that dogs can also be affected when our energy is peaceful, calm and serene.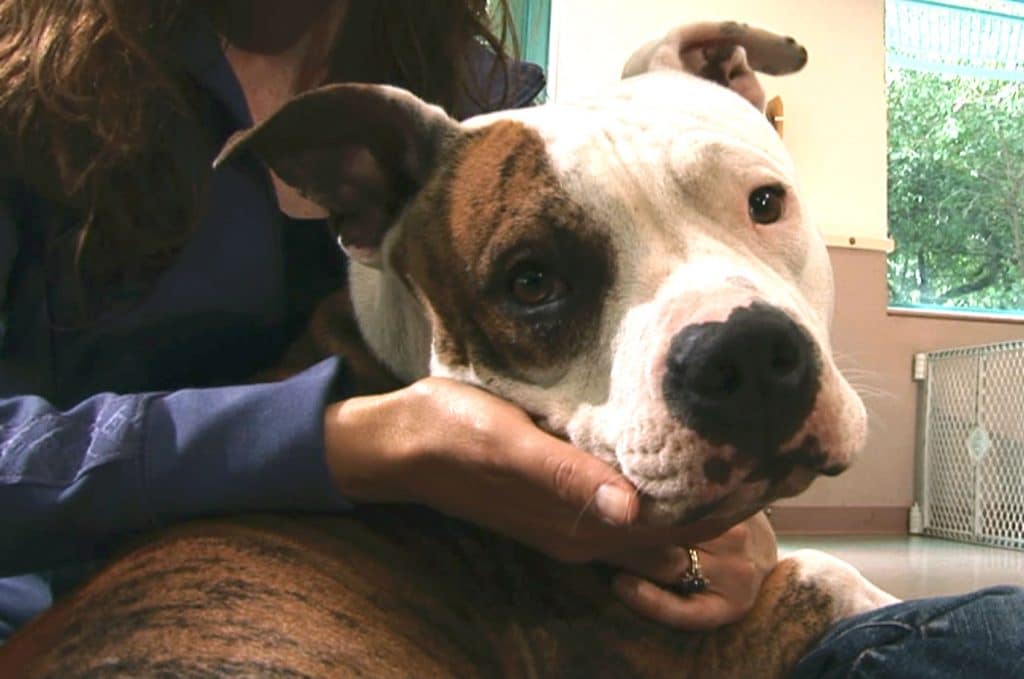 And reiki has been practiced on humans for decades. Originating in Japan in the early part of the 20th century by Mikao Usui, it has gained momentum in the U.S., with celebs like Cameron Diaz, Angelina Jolie and Ellen DeGeneres believers in the energy healing technique.
When Prasad teaches animal reiki to would-be practitioners, she makes sure they are in the correct mindset, one that is in a meditative state, and that the person regards the dog as the leader throughout the process.
It's one of the reasons, according to Prasad, that the Let Animals Lead method works particularly well with shelter dogs and dogs who have experienced abuse or neglect. It offers these dogs who have never had control of their lives just that: control of the therapeutic session. For dogs who have experienced human touch as painful, allowing them to initiate touch when they're comfortable — touch that feels soothing and peaceful — can be a powerful healing experience.
Related: Crazy, Anxious Dog? Here Are 5 Toys to Calm Him Down.
The practice uses a calm state rather than focusing on "fixing" the dogs, along with passive body language. Practitioners sit down, so they are on the same physical level as the dogs. This approach creates a safe environment for dogs to relax and relearn the good aspects of humans, while helping them experience deep relaxation in the midst of a noisy environment.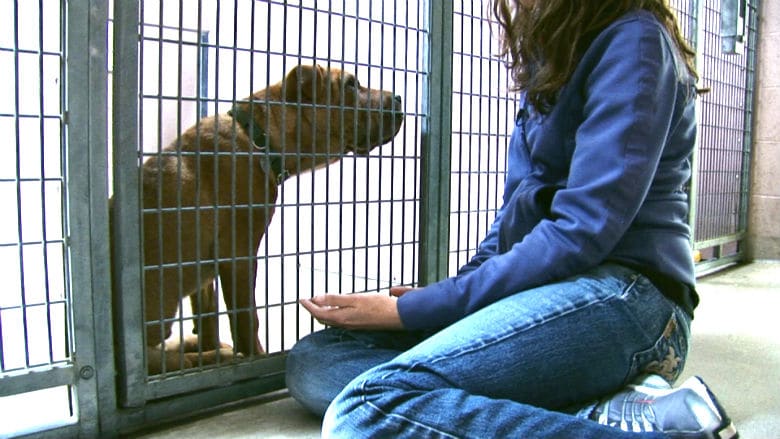 "When the animal looks at us, the perfection that we see within them is reflected back to them, rather than worry, pity and sadness," says Prasad. "This is a very powerful way to create a safe space for animals to heal themselves."
"Although we don't have official statistics, our members say that when they offer animal reiki to a dog that has been in the shelter for a very long time, they are often adopted almost immediately afterwards."
Sam Roe, a SARA Teacher from the United Kingdom, works at a shelter that once housed a senior dog named Chunkie Monkie. "He was stressed, anxious, vocal, hyper and he wouldn't settle, he says. "During our first session of reiki, he soon became quiet and came close to me, so he was touching my leg. We had a connection."
Following that first session, Roe decided to foster the dog. They continued with daily reiki sessions. "Within 48 hours, he was a completely different dog. He was quiet and patient. His energy had shifted so much so our cat Miesha became his sister by day four." He was later adopted.
There are many more accounts of the healing abilities of reiki for dogs, and Prasad hopes the practice will continue to spread to shelters across the country.
"The peaceful space created by the practice was something really important that every shelter and sanctuary should have," says Prasad. "It's a new way of supporting the dogs on a much deeper level that allows them to truly feel peace."