An anxious dog can break your heart. Whether it is separation anxiety, a fear of thunder or a dog with anxiety around a specific event like going to the vet, it's hard to see your dog in distress, especially when you don't know how to help them.
If your dog is suffering from anxiety, make an appointment with your vet. He or she may suggest supplements like CBD oil or even pharmaceuticals. You can also consult an animal behaviorist who specializes in anxiety.
Or, depending on the level of anxiety, you can try getting your dog some new toys.
Toys that increase your dog's exercise will help reduce his anxiety. Just like humans, exercise releases endorphins, which are opiate-like chemicals that produce feelings of euphoria and calmness. A toy that requires attention and focus can often calm an anxious dog and take his mind off the source of anxiety, whether that's fireworks or being home alone.
Related: 4 Ways to Get Your Hyperactive, Crazy Dog to Calm Down
Before you decide on any treatment, consult with your veterinarian. If toys can indeed help, we found the best toys for anxious dogs.
Let the play begin!
1. PetSafe Busy Buddy Calming Toys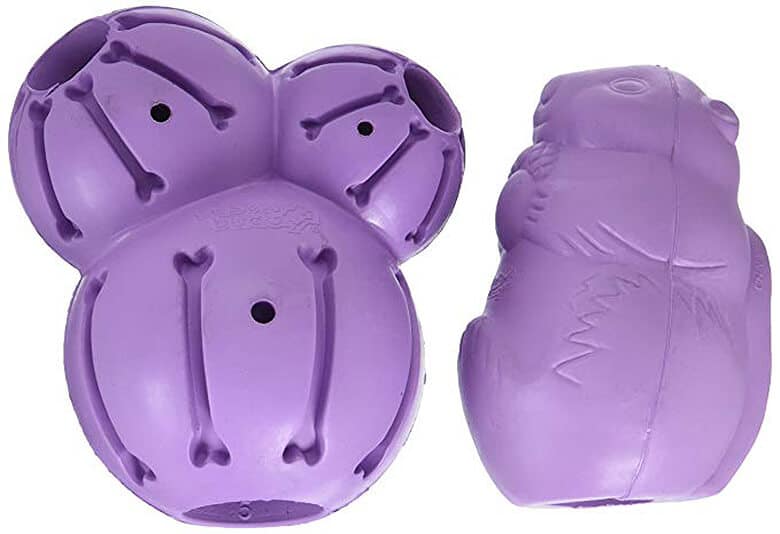 PetSafe Busy Buddy Calming Toys come in a pack of two different toys that are specifically designed to keep your dogs busy and distract them from the source of their anxiety. Made from durable, chamomile-scented rubber in a soothing lavender color, the toys both dispense food or treats and hold up to strong chewers.
The kit contains the classic PetSafe Barnacle and Squirrel Dude designs, and both can be filled with treats. The Squirrel Dude is great for determined chewers, and it has a crazy bounce when nudged or thrown that will keep your dog interested in playing longer. The Barnacle is perfect for filling with treats or peanut butter to keep your dog engaged and calm.
Price: Small: $15.95; Medium: $19.95
2. The Project Play Comfort Cuddler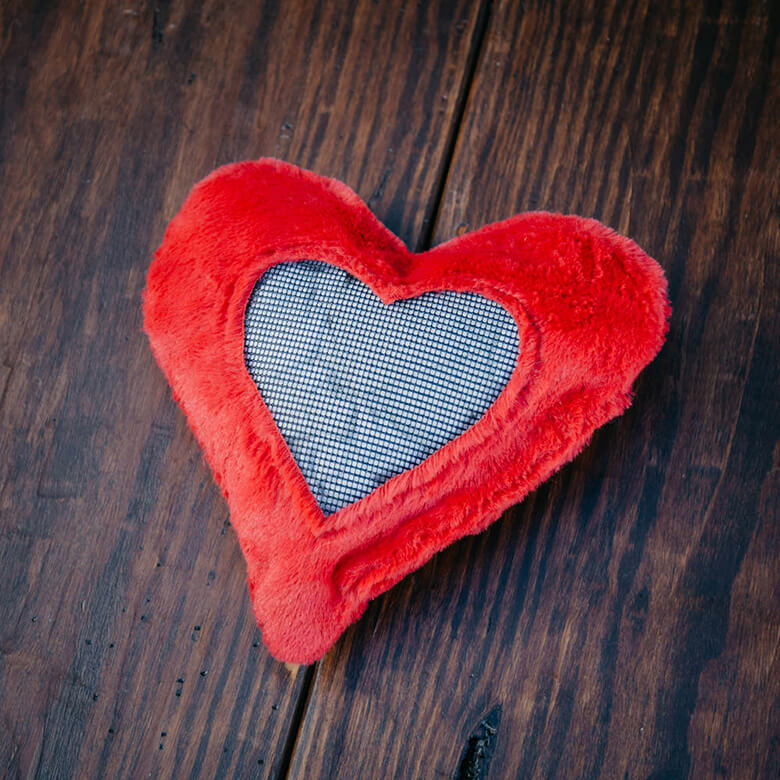 This is perfect for the dog that loves stuffies but suffers from separation anxiety. The Comfort Cuddler is an ingenious invention that provides a heart-shaped plush toy filled with your own scent, and we know that dogs love and are comforted by their people's smell. The toy has a mesh pouch in the center that opens with a Velcro flap. Stuff it with a t-shirt you recently wore or a pillowcase; the mesh allows your pooch to sniff your scent easily. Hand washable.
3. Smart Pet Love Snuggle Puppy Behavioral Aid Dog Toy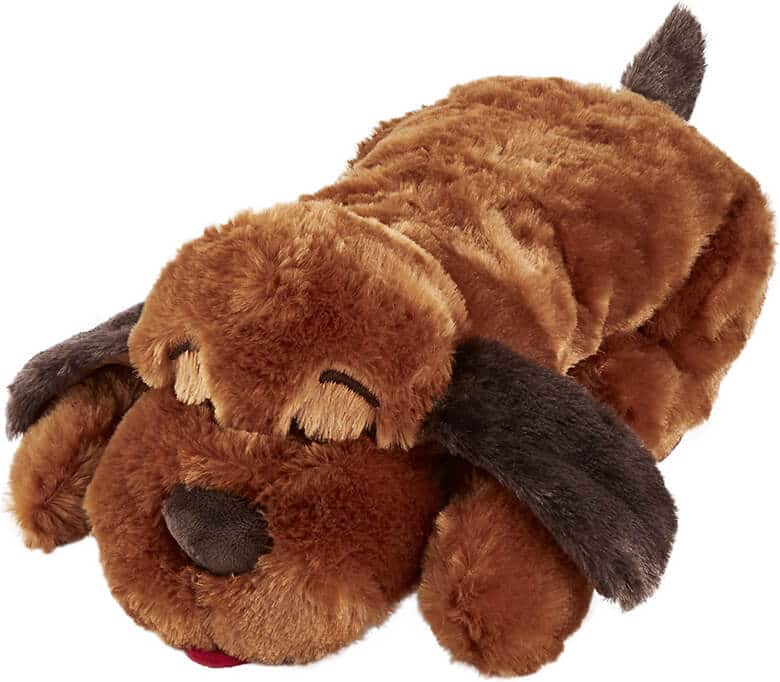 For the ultimate soother, try the Love Snuggle Puppy. This adorable stuffed dog comes equipped with a heat pack and heart-shaped device that simulates the sound and feel of a beating heart. The disposable heat pack requires no microwave, batteries, breaking or shaking; just open and place along with the heart inside the underside pocket. The heat pack works up to 24 hours, but you can also take it out, put it into a zip lock baggie, squeeze the air out of the bag, and seal. The pulsing and heat of the heart will last up to 2 weeks running round the clock on a single AAA battery. The toy is machine washable (remove the heart first!), and comes with a battery included. Available in three colors.
Related: Bored Pup? Here Are 15 Yummy Things You Can Stuff Inside Your Dog's Kong — and Keep Her Happy for Hours
4. Kong Classic Dog Toy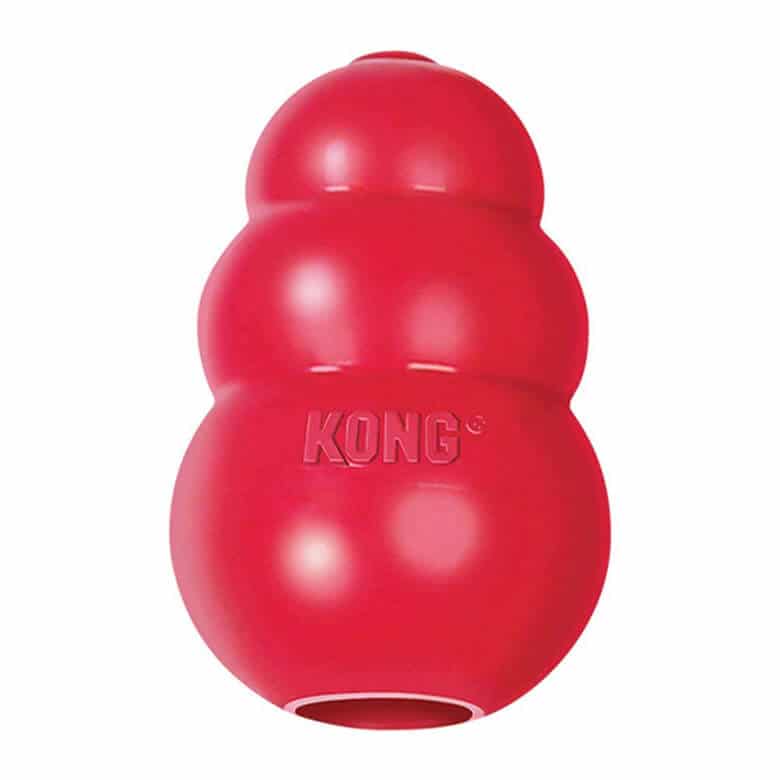 No list of calming toys would be complete without the tried-and-true classic Kong. Made of very sturdy rubber, the toy is meant to be filled with treats or food, such as kibble, peanut butter, small biscuit bites, or cheese. It has an erratic bounce to keep your dog intrigued and occupied for hours as he tries to lick out the food — or use it to play a game of fetch. It comes in sizes from X-Small to XX-Large.
5. Ethical Pet Seek-a-Treat Shuffle Bone Puzzle Dog Toy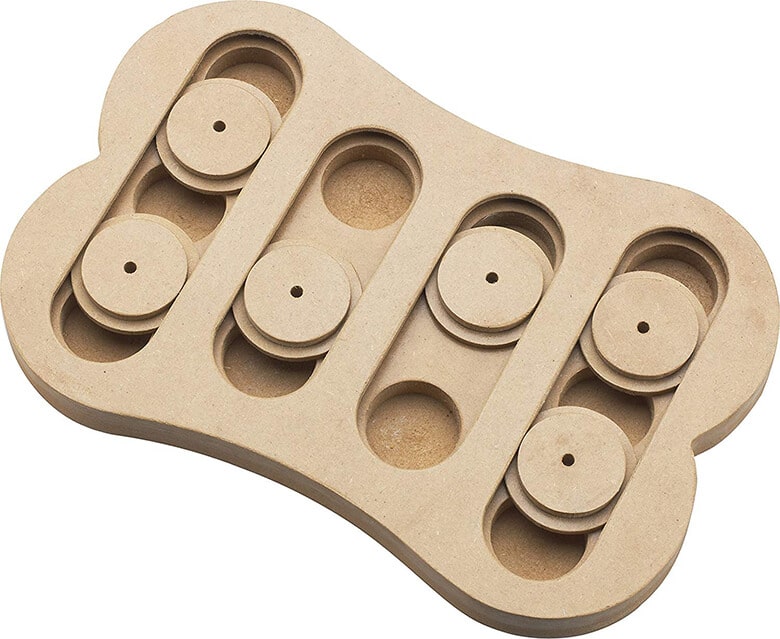 The Seek-A-Treat puzzle toy will take your dog's mind off stress and anxiety, while providing a dose of mental stimulation. The bone-shaped board has 10 chambers where treats can be stashed. Your dog has to move the sliding disks to reach the reward. Use with his favorite treats, and it will reward him for being a very smart boy! Good for dogs with anxiety when left at home alone. Made of durable wood, but supervise your dog at first.
Related: 10 of the Best Interactive Puzzles and Games for Your Bored Dog