On days when you have a million errands to run, it can slow you down to bring your dog along. If you're walking long distances, you may have to carry your small dog for part or most of the trip — and that can get tiring quickly. But how do you walk past those sad, puppy dog eyes when you head for the front door?
If you have a small dog, you don't have to. You just need a dog sling.
A dog sling is a carrier that you wear across your body. Most are a comfy pouch with mesh for ventilation. They usually have a collar attachment and some kind of closing. You can just slip your pup inside and go as fast as you need to knowing your pup is safe. Since the sling is worn against your body, your pooch will relax and enjoy the ride.
Here are some of the best slings, from basic to high-end with all the bells and whistles.
1. Good2Go Urban Sling Pet Carrier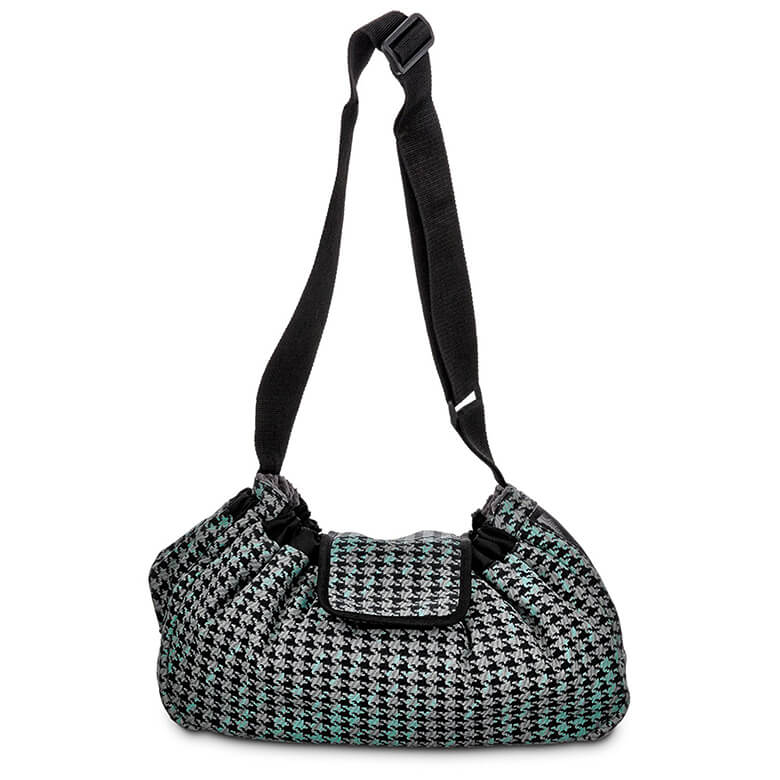 The Good2Go is basic but extremely handy. It has a soft, sherpa-fleece lining that your dog will love, a mesh peephole for ventilation and viewing, a safety collar attachment and an adjustable strap that fit across your body and distributes your dog's weight evenly. The soft outside is a classy blue/gray/black houndstooth. It's best for tiny dogs, though it can hold up to a 15-pound dog.
Price: $23.99
Related: 7 Awesome Dog Carrier Backpacks for Summer Hiking
2. BETTERS Sling Bag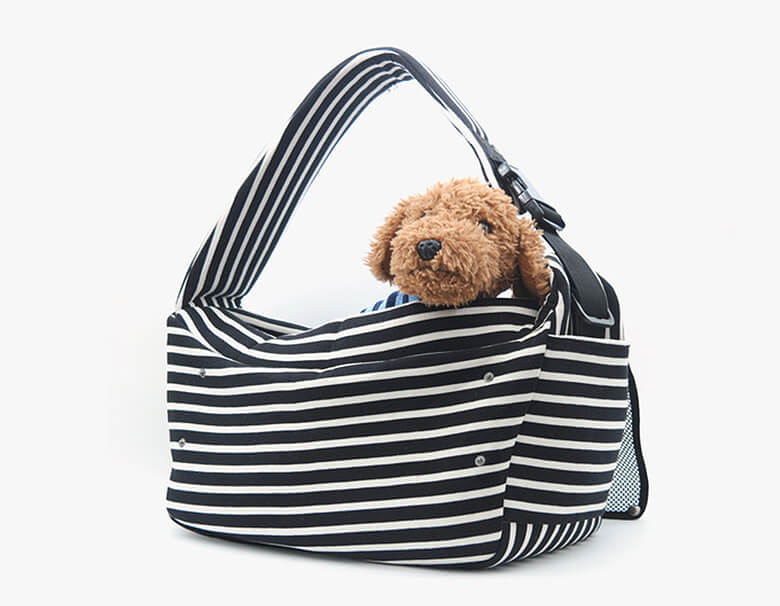 The BETTERS Sling Bag is also soft-sided, but it has extra features like an outside pocket that will also store your necessities like a cellphone, keys, wallet and still have room for a dog bone. The strap is padded and extra wide, and it has an adjustable, snap-open buckle for a perfect fit. There's a safety clip for the collar, an outside clip to attach a doggy bag holder and a removable mesh cover for those days when your dog needs to feel the breeze. Take the mesh cover off, and you can cover up your dog for trips to those not-so-dog-friendly places — or to just calm an anxious dog. The bag also has a removable bottom. Available in small for dogs up to 10 pounds and medium for dogs up to 22 pounds.
Price: $98 to $118
3. Louie de Coton Pooch Sling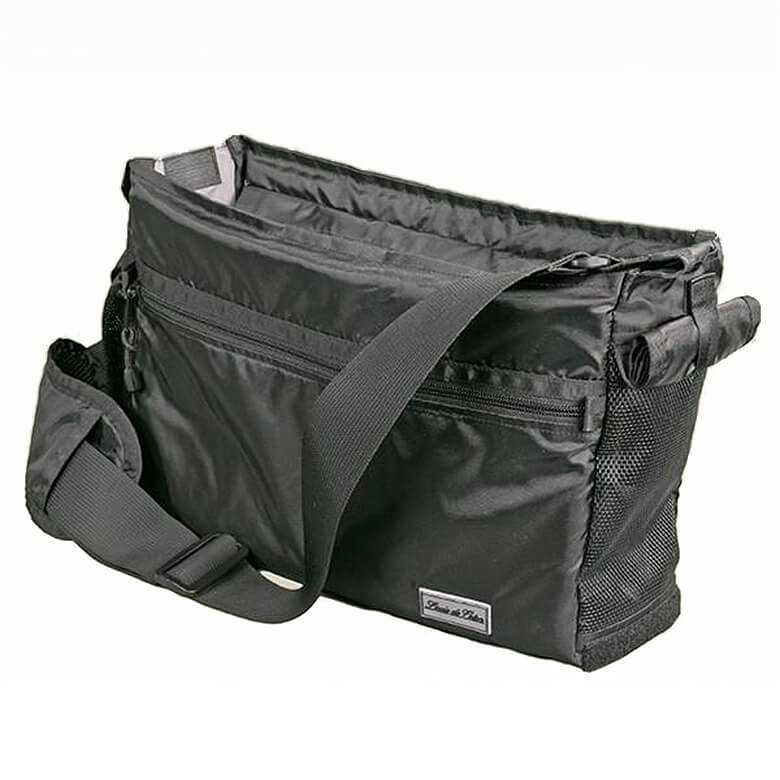 The Louie de Coton is made from a very durable Oxford waterproof nylon fabric. It's lined with a light, soy-based, recyclable, eco-friendly foam with an adjustable, padded shoulder strap. The mesh side windows can be covered with a Velcro closing that rolls down. There's a small zippered mesh pocket on the inside and a large zippered pocket on the outside. It also features a pocket on the side for a water bottle and two removable leash attachments inside for extra safety. What really makes this sling stand out is that you can change the look by adding pooch bag and liners/blankets, which are attached to the bag with Velcro. (They retail for around $36.) There are 15 different options. The bag holds up to 12 pounds and is 14 inches long.
Price: $112.99.
4. iPrimio Dog and Cat Sling Carrier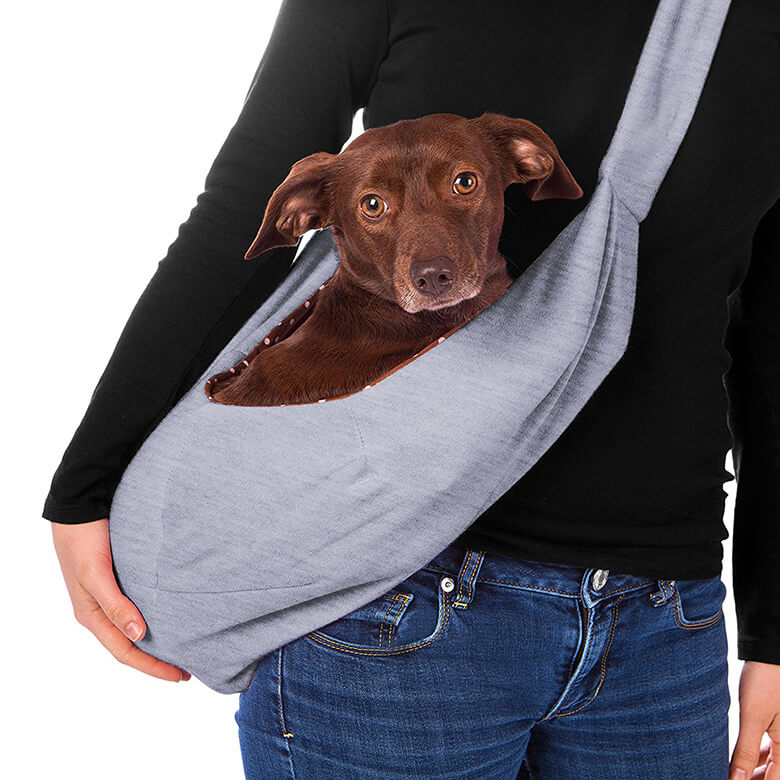 This iPrimio sling is economical yet fashionable. Made of breathable – and reversible! – material, the fabric is soft and can be easily washed. The iPrimio sling can hold up to a 12-pound dog and has a secure clasp to ensure your pup doesn't jump out. Available in teal, navy, gray, black, orange and pink, the Michigan-based company prides itself in the iPrimio and offers a 100% satisfaction guarantee.
Price: $14.95
Related: Check Out the Boots That'll Prevent Your Dog's Paws From Being Burnt During the Summer
5. Wacky Paws Pet Sling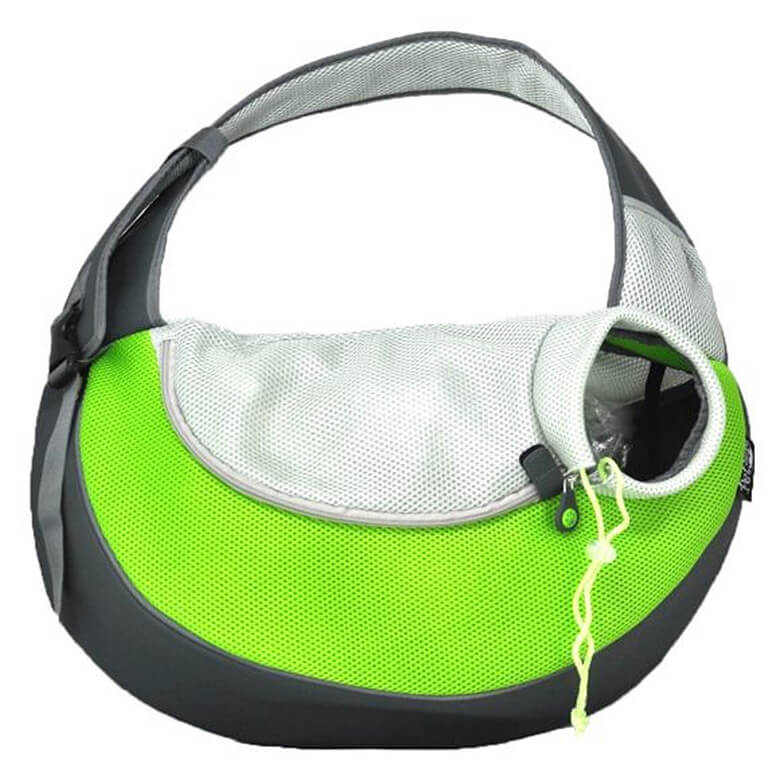 The Wacky Paws is made of an air mesh fabric that's lightweight and breathable to keep your pooch cool. What makes this sling particularly safe and sturdy is the hard rubber fabric wrapped from the bottom to the sides that maintains the structure and gives your dog a better sense of balance inside. The strap is thick and comfortable, and an interior clip attaches to the collar to keep your dog from jumping out. An opening on one end lets your dog peek his head out for sightseeing. The top has a zipper closing. It comes in two sizes for dogs up to 10 pounds and up to 15 pounds. Available in seven colors.
Price: $44.99 to $49.99
6. Timetuu BUY Pet Sling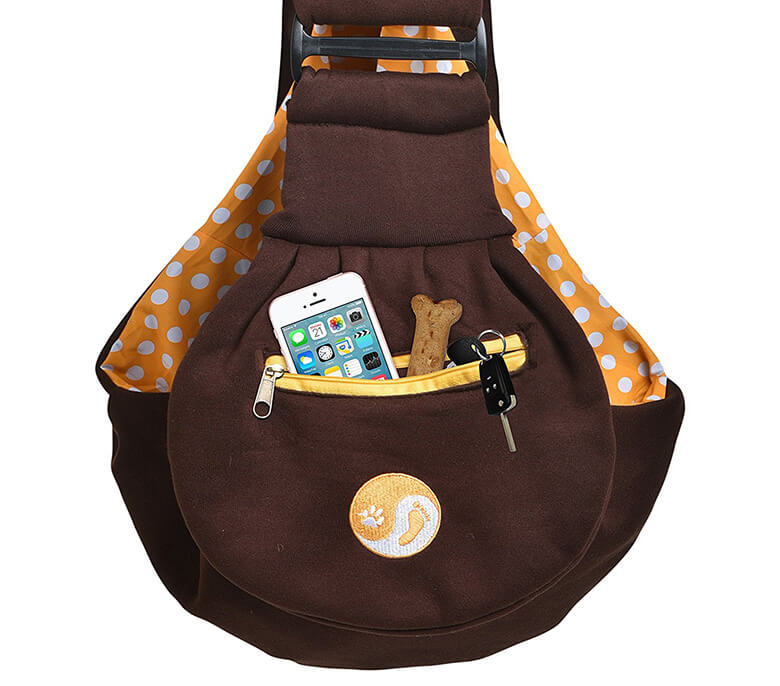 The Timetuu BUY is economical but well-made with some good features. It has a zippered pocket for your essentials, comes with a waterproof pouch for storage at the beach and is made from machine washable fabric that's very soft and cuddly. The adjustable strap is wide for comfort, and it has a leash attachment for safety. It comes in four colors lined with patterns, so the bags are reversible.
Price: $24.99
7. Retro Pug Pet Sling Carrier Bag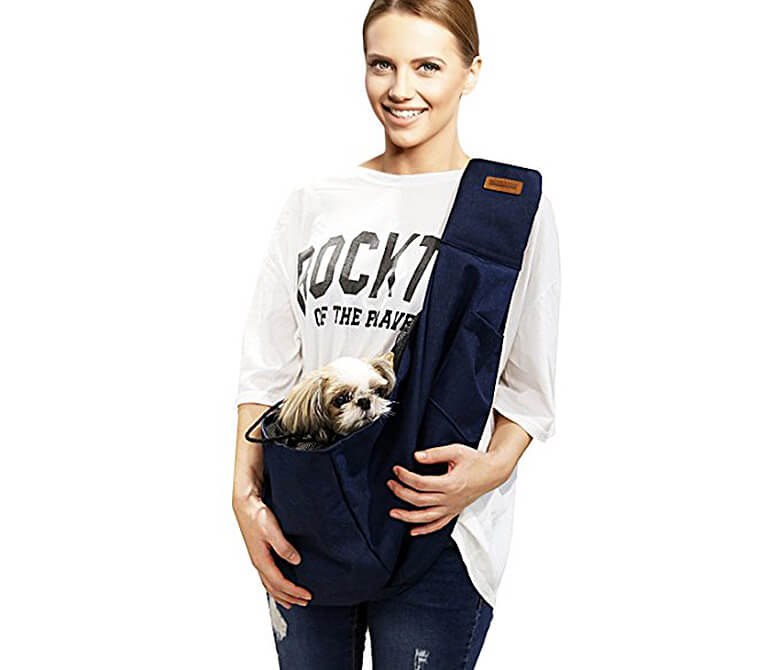 The Retro Pug is made of waterproof, high-quality material that ensures it will hold up, even during the toughest conditions. It has a leash ring and mesh safety net to protect your pup, in case he gets a little bit rambunctious. The adjustable shoulder strap has extra padding, so you don't have to worry about pain during long excursions. There are pockets for dog bags and treats, or your personal items, like a phone. We also love that the brand stands behind the bag by offering a lifetime warranty on it and 30-day money back guarantee. It can hold up to 20 pounds and comes in navy or gray.
Price: $40