Do you love spending a weekend walking through a National Park? Or hiking rough, rocky mountain trails? Or trekking miles through the forest? You'd love to bring your pup everywhere you go, but your dog might not have the stamina — or the size — to make it all day. Or maybe your dog is anxious in unfamiliar territory. Don't worry, you don't have to leave your best friend at home. You just need to invest in a good dog backpack carrier.
There are backpack carriers for serious hikers and for day trips. There are front carriers, expandable packs and backpacks that can convert to a tote, a tent or an airline-accepted dog carrier.
In the case of a backpack dog carrier, size does matter. Bring your pooch along to try it out. If you're ordering online, check your dog's weight and measure the chest at the widest point along with the full length (not including the tail) and the shoulder height.
Invest is a good quality backpack that's made from durable, strong material because the last thing you want is your dog falling through while you are enjoying the great outdoors.
Related: Check Out the Boots That'll Prevent Your Dog's Paws From Being Burnt During the Summer
Here are some of the best backpacks on the market for summer hiking.
1. Petsfit Comfort Dog Backpack
The Petsfit is best for dogs up to 15 pounds. At 17 inches high, your dog will have plenty of room to relax and enjoy the view. The plastic base provides extra stability, while the inside pad on the bottom is removable for washing. There's a top handle, two well-padded straps, a padded back and a waist and chest strap for serious hiking. A tether inside secures your dog, while the mesh window on the back can roll up for more air flow. It also folds flat for storage. Available in Gray/Green and Gray/Blue.
Price: $49.99-$52.99
2. Pet Magasin Lambo Travel Backpack
The Lambo by Pet Magasin is a unique pack that can transform into a kennel and an airline-approved carrier. You can set the pack down on the floor and zip open the two size panels; they expand outward to double the floorspace. Made from waterproof Oxford 1680D fabric, it features padded straps, a waist and chest strap, a safety attachment, a handle for the carrier option, and durable mesh sides. It fits some dogs up to 16 pounds and folds flat for storage.
Related: Beat the Heat: Here Are the Top Cooling Mats for Your Dog
Price: $49.00
3. K9 Sport Sack Flex
The K9 Sport Sack Flex is one of the only adjustable backpacks on the market to fit dogs up to 50 pounds. Made for serious hiking, it features an adjustable flex system, mesh vents and pockets, a waist belt with pockets, padded straps, a ton of extra storage, a safety D-ring, reflective fabric, an adjustable neck strap and even a whistle clip for backcountry trips. The storage compartment on the bottom holds gear, food, and supplies for a longer hike. Available in blue and green and in two sizes: extra-small to medium and medium to extra-large.
Price: $129.95
4. One For Pets The EVA Backpack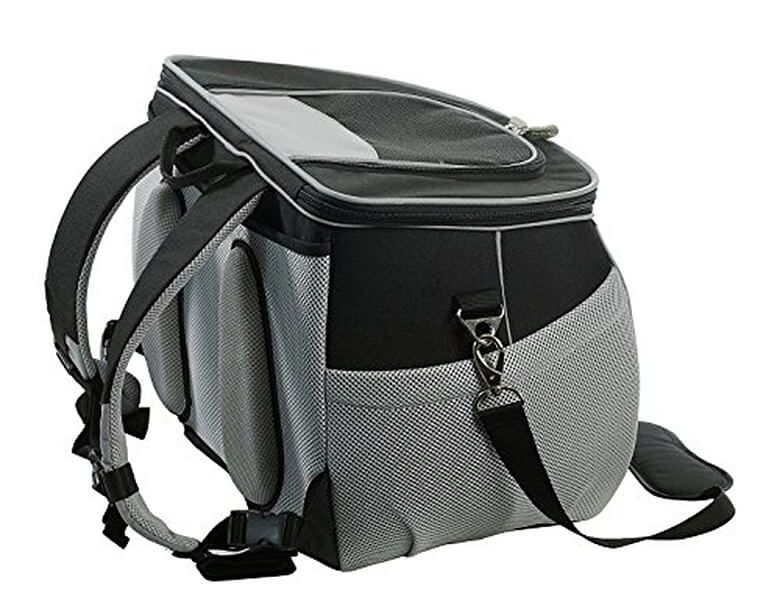 The EVA backpack is lightweight yet sturdy with a design that can be carried on your back, on your chest or with a crossbody strap. A rear compartment lets you slip it over the handle of a luggage trolley for plane travel, and it fits under most airline seats. A security leash inside keeps your dog safe. It features padded straps, a zippered top with a smaller opening so your dog can stick his head out, pockets on the front and the side and a roomy interior so your dog can sit, stand and lie down comfortably. Folds flat into a case for storage. Available in small and large for dogs up to 26 or 32 pounds.
Price $84 to $92
5. Zanies Casual Canine Ultimate Backpack Carrier
The Casual Canine has a unique expandable design for extra space. For dogs up to 22 pounds, it's made from durable nylon twill with a mesh entry door and large grommets and mesh sides for ventilation. Unzip the gusset, and you get a mesh tent for your dog to relax and enjoy the breeze. It has a self-locking zipper, a collar attachment, padded handles, a storage pocket on one side and a removable, washable fleece mat. Available in blue and green.
Price: $35.38
6. Kurgo G-Train K9 Backpack
Kurgo is a dog brand known for its high-quality outdoor gear for pups, and this backpack does not disappoint. Perfect for hiking, camping and traveling, the G-Train K9 Backpack can also be used for your daily commute. Besides a place for your dog, there are also separate compartments for your laptop and water bottles, along with additional pockets. The backpack can hold dogs up to 25 pounds and is made from water-resistant and waterproof fabric. Available in red.
Price: $130
7. Pawfect Pets Soft-Sided Pet Carrier Backpack
This Pawfect backpack will not only do the job, but it is stylish, too. The denim blue, with orange contrast stitching has ventilation on the front, top and back. The straps have extra padding, there are removable fleece pads and is made of durable material. The Pawfect backpack will hold dogs up to 10 pounds and is also acceptable for airline travel. Color denim.
Price: $39.95