Mark Barone has been a working artist for over 35 years. Drawn to the struggles of the human condition, the passing of his beloved dog, Santina, resulted in a shift in attention toward a different group of the underserved: the four-legged and forgotten shelter dogs of America.  
Having begun the organization An Act of Dog in 2011, the mission was to educate the world about the plight of homeless dogs through art. Each painting in the project focused on a specific unknown dog in a shelter who had been euthanized due to circumstances beyond his control – overcrowding, lack of funds, you name it. He had painted 5,500 portraits to represent the approximate number of dogs put down every day in U.S. shelters.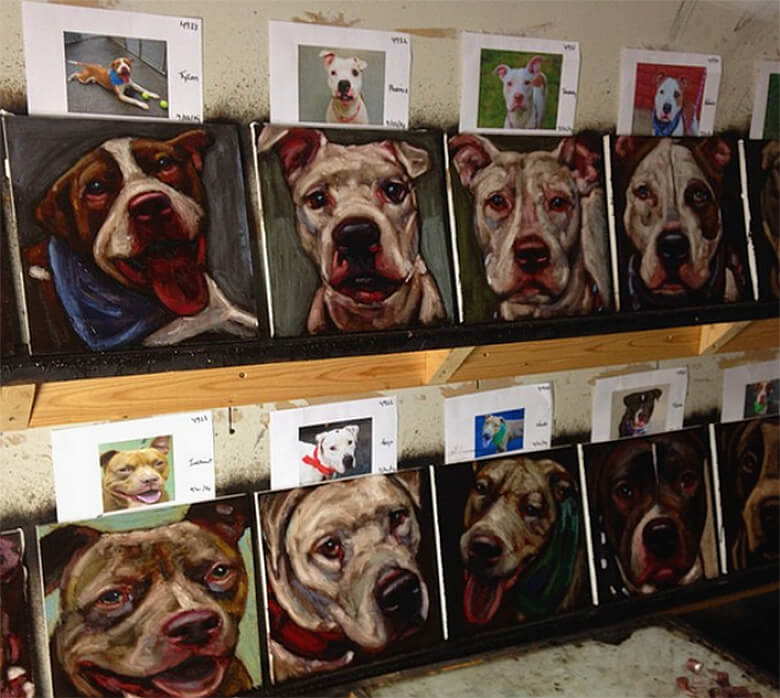 "I decided to paint the approximate number of dogs destroyed every day to illustrate and reflect the condition of our consciousness and help wake society up to the silent atrocities that are occurring in our very own neighborhoods," Barone told This Dog's Life at the time.
Related: Stunning Art Project Shines Light on the 5,500 Dogs Euthanized a Day
Since then, in a combined effort with his wife, Marina, An Act of Dog has been raising awareness around issues pertaining to the welfare of animals through a long and unpredictable journey.
In the early days of the project, a storm hit, destroying 1,000 of the 5,500 original artworks he had created, forcing him to start again. Once the 5,500 pieces were finally completed, he and Marina, sought to lock down a space to exhibit the works. It was to be called Museum of Compassion and house the 5,500 paintings, along with 11 larger installations, each raising awareness about an animal welfare issue – puppy mills, dog fighting and animal abuse, to name a few. It was to be an epicenter for conferences and a platform for "Ted-like" talks regarding animal welfare, as well as a space for other artists to create new works in the names of the charities of their choice.
Related: New York City to Get a Dog Museum Next Year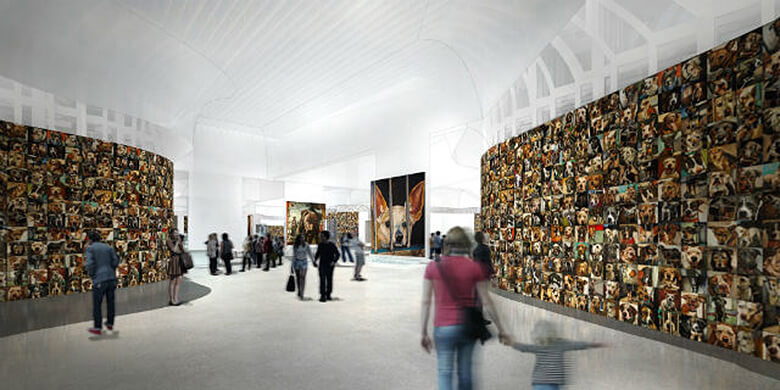 But the couple have received little support so far, forcing them to delay its opening.
Rather than throw in the towel, they decided to carrying on, adapting as needed and not giving up.
Now, An Act of Dog is awaiting the release of a documentary, working with filmmakers who have partnered with PBS to follow the journey, showcasing the work the Barone's have been doing in the arena of animal advocacy, education and community outreach.
An Act of Dog from Sagacity on Vimeo.
"Our hope is the film will touch people and stir them to get engaged in saving lives," says Barone. "Hopefully, we will get support to carry out our mission in a more powerful way, get the exhibit up and the interactive museum of compassion."
A release date is expected to be scheduled in the coming months, and for now, the filmmaking team is entering the project in various film festivals around the country.
Until then, An Act of Dog is remaining focused by relying on the power of art, or more specifically, the power of art as a vehicle for change. It has recently taken up working with several schools in New Mexico, along with some across the nation, to harness the creative power of middle school-aged children, educating them on the truths of animal cruelty, adoption and how their art can serve as a catalyst for movement in their communities.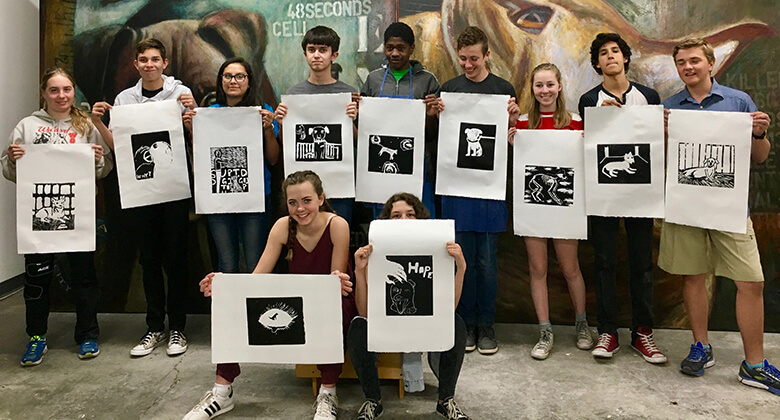 "Our purpose is to work with them to develop and create an art program that focuses specifically on art for social change," Barone says.
While each school comes with its own set of resources and needs, the implementation of an art program that will, hopefully, remain long after their time working together is over is the main goal of An Act of Dog.
Related: Artist Transforms Recovering Shelter Dogs Into Viral Superstars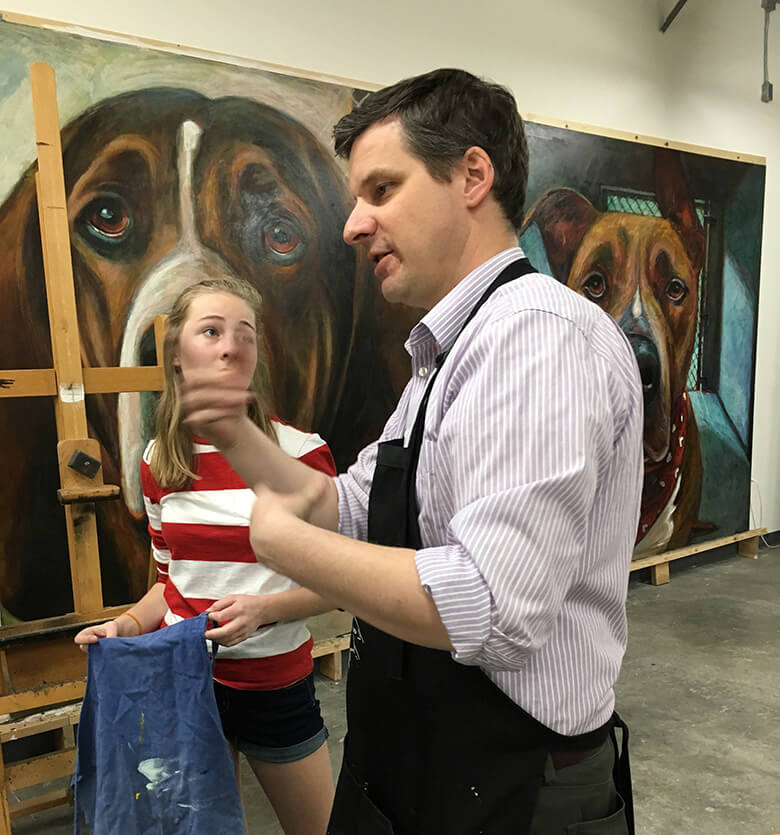 "The students learn about the sad conditions and reality for shelter animals," says Barone. "After they research and discuss their own findings, we work with them to create art and woodcuts that can speak to the issue and show them how to turn it into a product that can be used to save lives."
Designed to both educate the students and raise funds through the selling of works created, the collaboration splits any funds raised 50/50, with half going toward the funding of the art program, and half toward animal welfare groups in need of support. Sometimes selling their art themselves, though most opt to sell via the An Act of Dog website, where potential supporters can find prints featuring woodcut etchings created by students of the program.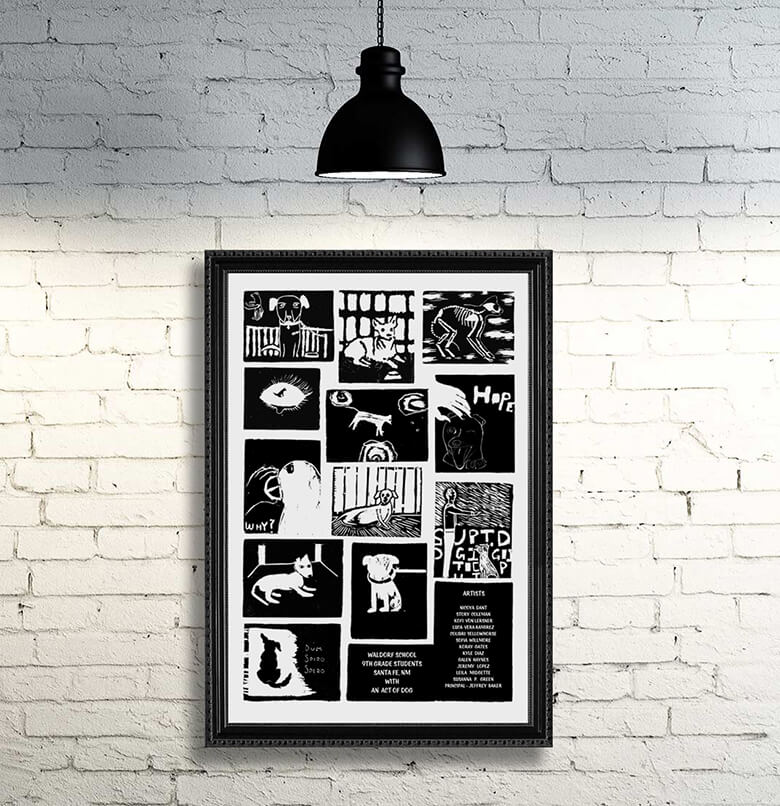 "Additionally, our program is designed to create a foundation for them to address any social issues that need art to be a voice for them," Barone adds. "Before working with An Act of Dog, the majority of these students only saw their art being used to decorate homes or art for art's sake," Barone says. "Now they believe that their art can be used to change the world and contribute to collective happiness."
Working with local schools at his studio and in their classrooms, and communicating with schools a bit farther away via Skype, the learning process has been eye opening for everyone — Barone, teachers, and students alike. So far, engagement and willingness to learn and create on behalf of the students is a power to behold, with each age group of kids bringing their own special set of skills and capabilities to the table.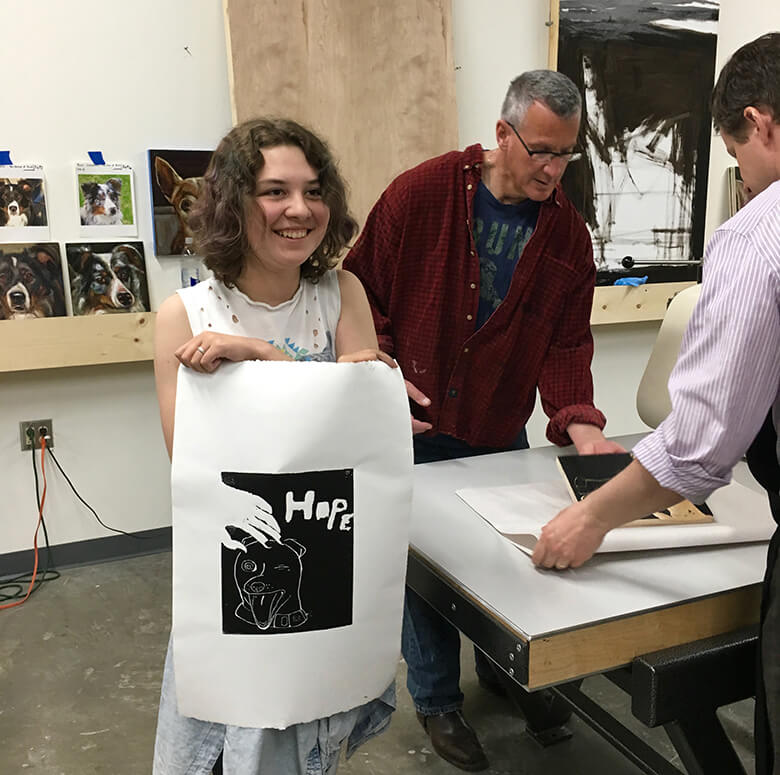 While the sixth graders Barone has worked with have generally been very outspoken and excited to confront the current truths of the situation, the older students have allowed the heaviness of such a large issue to resonate with them on a deep level, and in turn, have created exceptionally powerful art.
"Kids are so much more open than adults and are not afraid to look and stand up for change. They are powerful activists and have been extremely influential in changing their family member's ways of thinking and behaving as they relate to animals," Barone says. "When a kid stands up and tells us that we are not doing a good job of protecting the innocent and that we must do better, people listen."
Several students have expressed their gratitude and adoration for the opportunity to create thought-provoking art that yields an impactful outcome, including Stone Hill Middle School sixth grader, Naomi Badiola.
"My art teacher, Ms. Welty, is teaching us about animal cruelty," she says. "I hate thinking or seeing how animals everyday die, and it just breaks my heart, so I decided to do a project of my own. I am selling bracelets to raise money to donate to animal shelters so that they can have enough money to keep the pet instead of killing them."
For now, the minds behind An Act of Dog are staying busy with their artistic and educational endeavors, but are always looking toward the future, as the work of an activist is never quite through. They will continue development of more products in an effort to raise funds for animal welfare organizations, as well as arts programs in schools, and Barone is currently working on a couple of projects of his own, including the exhibit for the museum.
Related: After Being Ditched By Breeder Because of Size, Dog Is Now Mascot at Art Gallery
"I am working on 11 paintings that speak to other issues, such as, animal testing, dog fighting puppy mills, and many more," he says. "And, I am doing a series of 12 paintings that tell the stories of veterans with PTSD and the lifesaving relationships they have with their service dogs."
To keep up with An Act of Dog, and to stay posted on the release of their upcoming documentary, you can visit them online at anactofdog.org.