While this year will be a bit different, some are still making the trek to visit family (and hopefully taking all safety precautions). Others may making a new tradition by taking a trip outside of their neighborhood or city to enjoy some peace and quiet in a remote location, free from any worries about the pandemic
Regardless, if you're planning on traveling by car, make sure your dog is ready for the adventure. While some dogs simply love sticking their heads out of a car window and watch the world pass by, others are prone to anxiety and motion sickness.
Related: Here Are the Most Common Travel Injuries Your Dog May Encounter in the Car – and How Much They'll Cost You
If your dog is a poor traveler, here are some tips you can take in order to transform your vehicle into a safe, serene doggy haven when you're traveling.
Keep Things Safe
The most important thing to take into consideration when you're traveling with your dog is to keep him — and yourself — safe. A loose dog in your vehicle can be dangerous to you both. It's critical to keep your pooch safely secured while you're on the road.
If your dog is a toy or smaller breed, get him a dog booster seat so that he can enjoy the view from out of the window while still remaining safely restrained. Pet booster seats also surround your dog in supreme comfort, so he'll feel calm and confident during the entire journey.
For medium-sized and larger pups, a travel harness is a great option for keeping them safe in the car. These comfortable harnesses can be attached to the seat or seatbelt and will keep your pooch from running amuck while you're behind the wheel. Opt for a travel dog harness that has passed crash tests to ensure your dog is safe and sound, even in the event of a collision.
Get Your Pup Prepared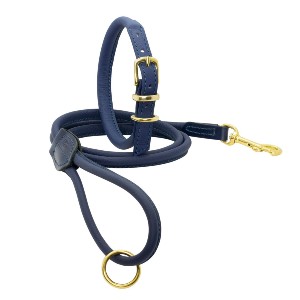 It's always best to be prepared for any scenario. You never know what curveballs life will throw while traveling with your dog. While driving with your pooch, don't to forget to pack the following:
Your dog's ID tag, even if he is already micro-chipped
Plenty of water and snacks
Cleaning items, including poop bags, disposable towels, and disinfectant spray
Start Small
If your pup isn't the world's best dog traveler, the last thing that you should do is just plop him in the car and start off on your hours-long journey. You want to ensure that he's pleasantly prepared for his car trip.
The best way to get your dog acclimated to the car is to plan ahead. A couple of days prior to your trip, take him out to your parked car and allow him to simply sit in it, all while feeding him high-value treats.
Related: The Best Dog Travel Bags to Carry All Their Supplies
Let him explore every nook and cranny of the vehicle on his own.
Afterward, increase his car exposure. Close all of the doors, turn on the engine, and back out of your parking spot.
Don't move onto the next step until your pet seems totally at ease. This will make the experience a whole lot easier when you are traveling with your dog.
Transform Your Car into a Doggy Sanctuary
Like us, canines are creatures of habit. Your pet will feel more comfortable in your car if he finds the environment fun and familiar.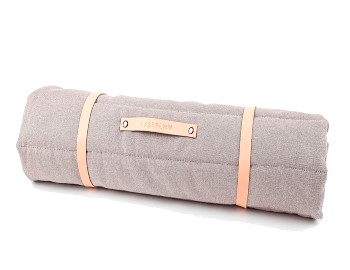 To make your vehicle into a happy place for your dog, put a few of his favorite toys and blanket in the pet booster seat, travel crate, or backseat.
Spray calming pheromones all throughout your car to keep your dog serene. And before your pet enters the vehicle, ensure your car's interior is a comfy temperature.
During the Trip
If your pup is worn out before the trip, this will make him a calmer passenger. The morning of your trip take your dog on a long, brisk walk or play a few high-energy games with him to tire him out.
While you are traveling with your dog on the road, be sure to make plenty of pit stops so your pet can relieve himself and stretch his legs. This is especially important if you're going to be driving for hours on end. Large parking lots and rest-stops are both great places to stop for a brief break.
Never, ever let your dog sit in your lap while you're driving. Keep him secure in the backseat.
What About Doggy Motion Sickness?
If your dog suffers from motion sickness, your travel plans can turn into a nightmare. Fortunately, there are some steps that you can take to help prevent motion sickness in your pet.
One over-the-counter option is Dramamine. Always check with your vet before you give your dog any type of new medication. Your pup may be sleepy after taking this motion sickness remedy.
Another option is the prescription pill Cerenia. Discuss this treatment option with your vet well before you plan on hitting the road. Side effects of Cerenia may include lethargy, excessive drooling, and diarrhea.
While traveling with your dog may seem exciting, it's always important to remember to keep your pet safe and calm. Invest in the proper doggy traveling equipment to keep him secure, puppy-proof your car, and get your dog acquainted with your vehicle before you hit the road.
Other than that, enjoy the journey with your dog!
Related: 15 Dog-Friendly Camping Sites and RV Parks
This article has been updated.
This post contains products independently chosen (and loved) by our editors and writers. As an Amazon Associate and Skimlinks affiliate, This Dog's Life may earn a small commission on qualifying purchases of the products we link to.