As winter is upon us, and many across the U.S. are getting hit by major storms, lots of snow, and icy weather, it's important to make sure your dog's paws stay warm, dry, and comfortable.
Indeed, cold temperatures can be especially harsh for dogs, as they don't have the same ability to regulate their body temperature as us humans do. And while paw pads are a lot tougher than the skin on our feet, they still get cold. Plus, their bare paws are not protected from nature's elements, including snow and ice, the risk of frostbite increases along with painful cracked skin.
One of the easiest things you can do to help your dog stay comfortable during walks is invest in a good pair of winter dog booties for him. 
Related: Winter Aches: Helping Your Dog Deal with Joint Pain
When looking for dog winter booties, there are several important factors to consider:
Size and fit: It's important to choose a size that fits your dog's paws well. If the winter dog booties are too large, they may fall off, and if they are too small, they can be uncomfortable for your pup. It's best to have them snug, but with a bit of breathing room. When they are standing up, you can push your hand at the end of the bootie and see where their longest toe hits. There should be a little space between the end of the bootie and the toe.
Waterproof material: Look for booties made of waterproof material to protect your dog's paws from snow, rain, and ice. Natural rubber dog booties are great as they are malleable, making them easy to put on. Plus, they are eco-friendly. Another protective and waterproof material is polyester, which is lightweight and pliable.
Traction: Choose booties with a good grip or tread to help your dog maintain traction on slippery surfaces. Make sure there are grooves on the bottom of the winter dog bootie, so your dog doesn't slide everywhere while walking.
Durability: Look for dog winter booties are made of sturdy, long-lasting materials to withstand the wear and tear of winter weather. Again, dog booties made from rubber tend to last longer, as the material is thick and works great for snow, ice, and gravel.
Ease of use: Consider dog booties that are easy to put on and take off, as well as booties that stay securely on your dog's paws while they are wearing them. Many brands use Velcro to really keep the winter dog booties in place. Other options include zippers or ties, but you need to make sure these can be secured tightly around your dogs' paws so no ice or snow gets in.
Comfort: Look for booties that are padded or lined to provide extra cushioning and comfort for your dog's paws. And while it can take some time for your dog to adjust walking in booties, if after a few trips outside, you pup is still not feeling it, consider trying a new pair of dog winter booties.
Reflective features: If you plan to walk your dog at night, look for booties with reflective features to help keep them visible.
Here are a few of our favorite winter dog booties.
Our Pick: Wagwear Winter Dog Booties
New York-based Wagwear is known for dog essentials that are not only high-quality but also fashionable. And its winter booties are no exception. Made of 100% rubber, the material makes it easy to wiggle your dog's foot into the bootie.
Plus, with its open-vented slits, it allows for more flexibility in sliding your dog's paw into one.
The Velcro wrap allows you to securely fit the winter dog bootie around your pup's leg, so no snow or rain can get in. Plus, it is super sticky, so it will stay put.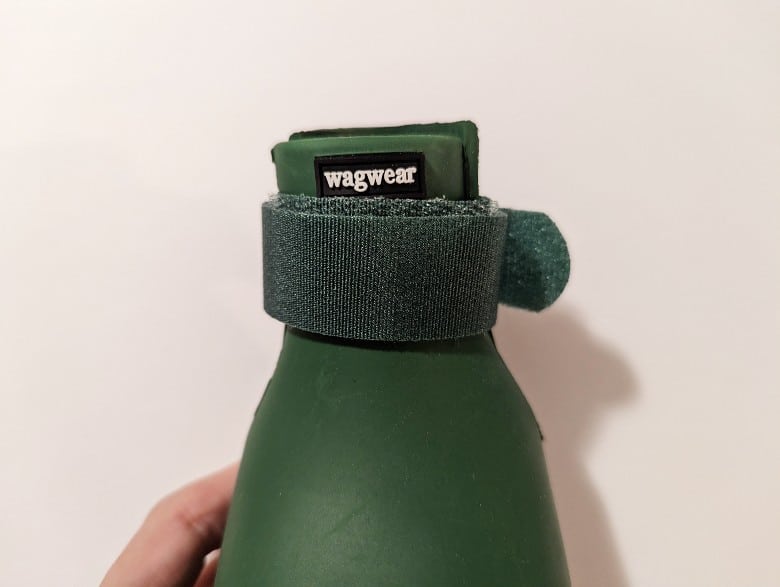 The bottom has a great grip, so your dog's foot will stay firmly on the ground, walking or running. The company offers a wide range of sizes, from XXS to XXL, meaning the winter dog booties can fit super tiny dogs, like Yorkies, to big ones, like Great Danes. (Though, it is important to follow the size chart.)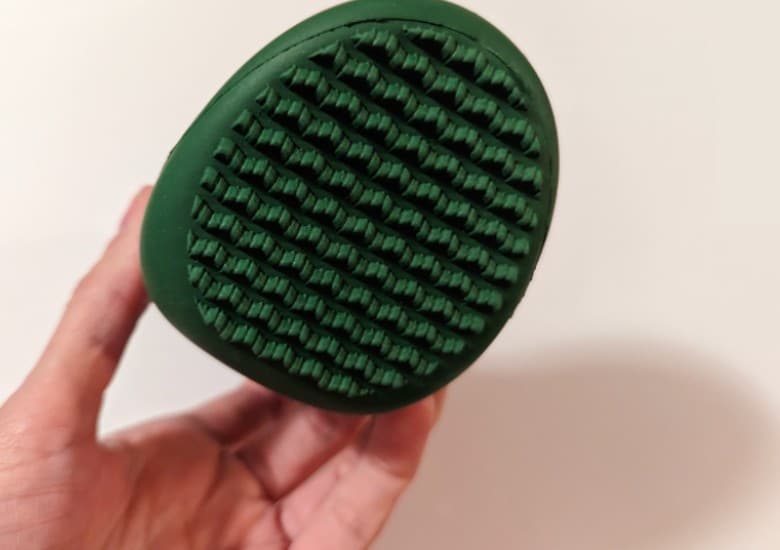 Pros:
Easy to slip on
Great gripping for traction
Waterproof
Can tightly secure with Velcro wrap
Vents provide more flexibility when putting on
Made of 100% natural rubber, making it sturdy and eco-friendly
Thick, long-lasting material
Available in multiple colors
Easy to keep clean
Sizes XXS to XXL, suitable for many types of dogs
Easy to slip on
Cons:
Vents could mean snow or rain could get into booties
No reflective material for walking at night
Unable to choose different sizes if dog's front feet are bigger than back feet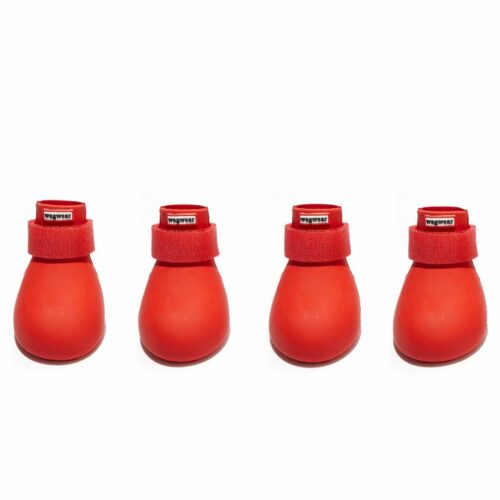 Made of 100% rubber, the slip-on booties have open-vented slits, making it simple to slide on your pup's paws. The rubbery material ensures the dog rain booties will stay secure, even when your dog is running. It's the perfect paw protection for rainy or cold weather.
Runner ups: Rifruf Apollo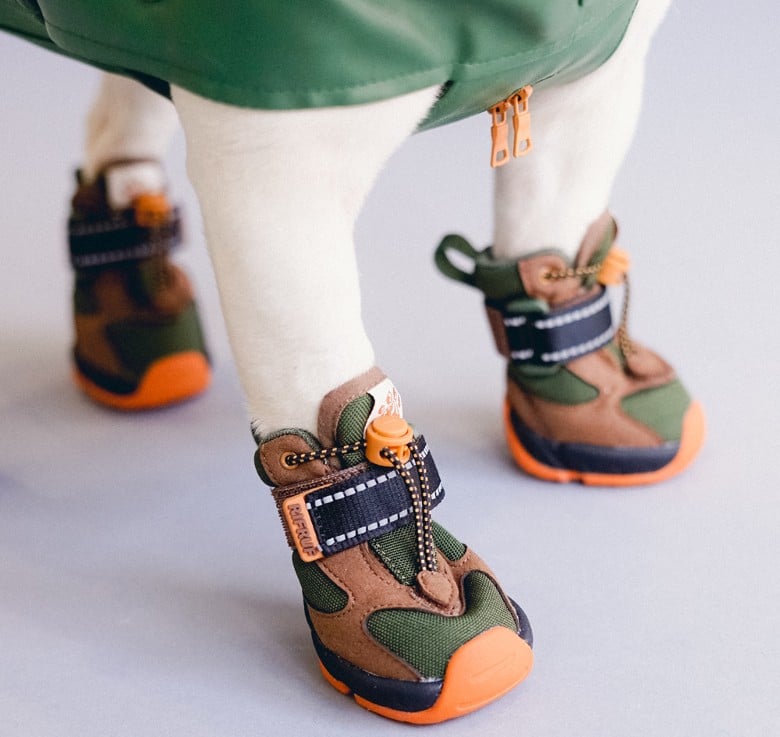 Dubbed the "Only Real Dog Sneaker," newcomer Rifruf is designing dog shoes made from the same material as human sneakers. Its patent-pending design fits snuggly on a dog's foot, and with its forward-thinking design, RifRuf's dog sneakers will set tongues wagging. Plus, the shoes are built to last, with a padded sole, collar foam padding, tongue, inner liner mesh, toe guard, sturdy rubber outsole, and Velcro loop.
The Apollo, its winter dog bootie, is 100% waterproof with outside grip to protect against both the wet and dry winter weather. It also has reflective strap, helping with visibility when the sun goes down and a bungee cord that can tighten the bootie. Rifruf also allow for two different sizes in case your dog's front paws are not the same size as his back paws.
Related: The 5 Winter Skin Miracles Your Dog Needs
The only thing we wish is that there were more size options. If you have a bigger dog, you may be out of luck with this bootie — at least for now. Plus, some people have noted that if your dog has skinny feet and legs, these booties may slip off of them. Also, the booties are on the more expensive side at $90.
Ruffwear Polar Trex Winter Dog Booties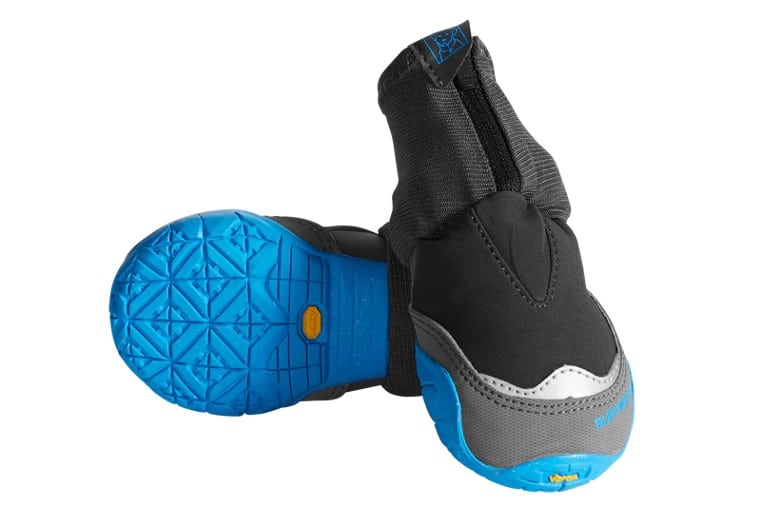 Ruffwear has been around for years, having garnered a community of loyal customers, in part because of its focus on the human-dog bond in the outdoors. The company has a number of booties, but the ones best for the winter are the Polar Trex winter dog booties, as they provide traction, insulation, and warmth.
The booties have a waterproof softshell upper that protects against extreme cold but still breathable. While the outsole provides grip for snow, ice, and salt. The booties are put on with a hook-and-loop closure and cinch at the narrowest part of the dog's leg, ensuring the Polar Trex dog winter bootie stays secure. Once all set, you can zip up the closure for added protection and ensure snow does not build up in the winter dog bootie. Ruffwear recommends periodically checking the booties to make sure they don't need any adjustment during your outdoor adventure. They have eight sizes and allow dog parents to choose different sizes for front and back paws.
A few customers did have issues with the snow accumulating in the sleeve, despite the zipper closure, and some complained about the dog booties falling off. Also, people warned about the bootie rubbing on the dew claw causing discomfort and suggested getting socks to put on to prevent pain.
Overall a solid option from an established brand. They retail for $49.95.
Related: Natural Ways to Help Heal Your Dog's Cracked Paws and Nose During the Winter
Besides getting dog booties, during the winter time, consider shorter walks, putting on balm on your pup's paws to keep them moisturized, and wiping down paws with a towel or grooming wipes once you get inside.