All dog parents will agree: the hardest part of having a dog is the day we have to say goodbye.
You no longer have your best friend, your "fur baby," your confidant. There are no more snuggles, wiggle butts or wagging tails. To put it lightly, losing your dog can be one of the toughest days of your life. Our grief can be bottomless, crushing.
For those not ready to say goodbye, one company has developed a way to keep your dog's essence close to your heart — for as long as you live.
Named Eterneva, the company memorializes your dog (and people, too) by turning their ashes into diamonds.
"We can all count on one hand the most special relationships we have, and for many of us, our pet will absolutely be one of them," says co-founder Adelle Archer. "We believe that pets are family too and deserved to be remembered, so by turning pet ashes into diamonds, we help their parents do something beautiful for their fur baby."
Related: Overweight Dogs Live Shorter Lives, Study Finds
The Austin-based company launched in 2016, initially looking to get into the space of lab-grown diamonds.
"My partner Garrett and I come from tech backgrounds and were friends for many years before starting Eterneva," says Archer. "When we learned about the emerging lab-grown diamond market, we felt like this was the opportunity, so we quit our jobs to start a company."
But after Archer's mentor, Tracey Kaufman, passed away, the vision for the company changed. After Archer received a portion of her ashes, she "couldn't find any memorial option that felt good enough for her," she says. "I didn't want an urn, and everything else — like a locket or vial of ashes — felt 'trinkety,' uninspiring and morose."
After talking to a diamond scientist, Archer discovered that it might be possible to grow a diamond from Kaufman's ashes. "We were so enamored by the idea of turning ashes into diamonds, that almost immediately we pivoted our business," she says. "I couldn't have found a more beautiful way to honor my friend."
Initially focused on providing the service for human ashes, it didn't take long for Archer to consider offering the service to pet parents. "It's such a special and personal relationship; our pets see us through thick and thin and are with us through major stages of life," says Archer. "So when our favorite pets pass, it can be as tough as a human passing." Archer believes the process of turning pet ashes into diamonds will allow us to remain close to our best friend.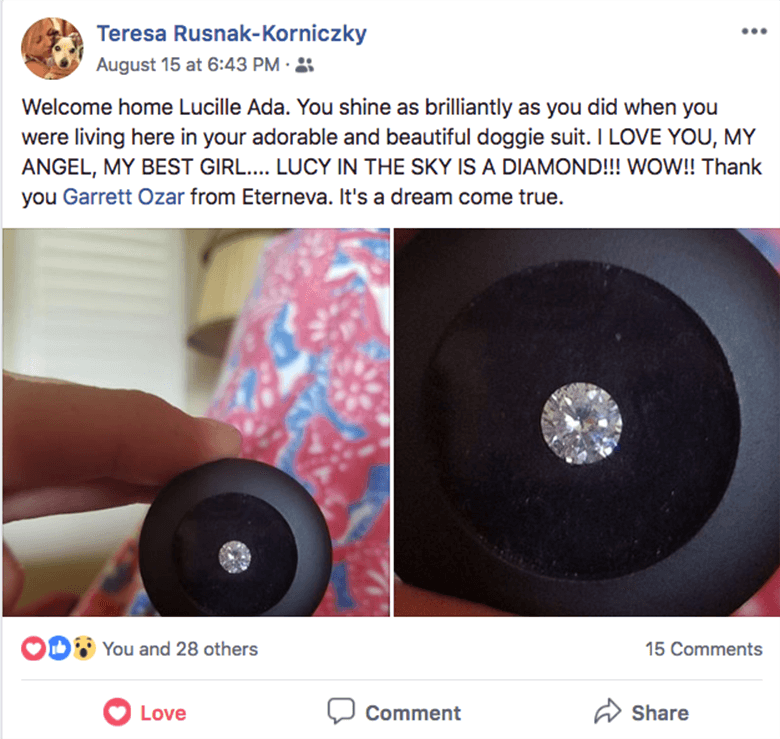 Related: The 7 Books All Dog Parents Need to Read
But it takes a lot of work.
The 8- to 10-month process begins with the owner receiving a Diamond Starter Kit from Eterneva, which has everything needed to select the diamond and packaging the ashes. (The company suggests half a cup.) The kit also includes cubic zirconias, so pet parents can see all the sizes in person and pick what feels right. This is also where they choose the size, ranging from .1 carat to 1.25 carats, and colors – including white, blue, brown, black, yellow and pink. The prices range from $2,500 to $22,000, depending on size and color. Throughout the entire process, a consultant will help dog parents with any questions or concerns.
Once the ashes arrive at Eterneva's laboratory, they are purified to its carbon base. Carbon is extracted from the ashes and then placed in a machine that "replicates the earth's crust," Archer explains. Over time, they "grow" a raw diamond. The team provide pictures, videos and updates to pet parents to "ensure the journey to their diamond is as special as the diamond itself." The diamond is then sent to a master diamond cutter before it is hand delivered to the customer.
The company acknowledges that many people don't understand how difficult it is to lose a pet. "Yet many pet parents feel they have to hide their grief, because our society passes judgement," Archer says. "We believe pet parents deserve more empathy and understanding, and look forward to influencing new attitudes and a more progressive outlook that is more in-line with our modern world."
Related: The Most Creative Ways to Keep Your Dog's Memory Alive After She Passes