While some people may think that pajamas for dogs is a little strange, they serve a purpose. Even if your dog loves the snow and never seems to get cold, when she is inside lying in her bed (or in your bed), and her body is still, your furry friends may spend the night shivering. Dog jammies can fix that, keeping your pooch warm while being ridiculously cute.
While many small dogs often have less tolerance for cold temps, dog pajamas are not only for toy breeds. Dogs who have short hair, are older, suffering from health ailments, are living in drafty homes or just tend to get cold easily could all benefit from some pajamas.
Here are some of the highest quality and cutest PJs to keep your pooch comfy and warm.
LazyOne Falling to Sleep Pajamas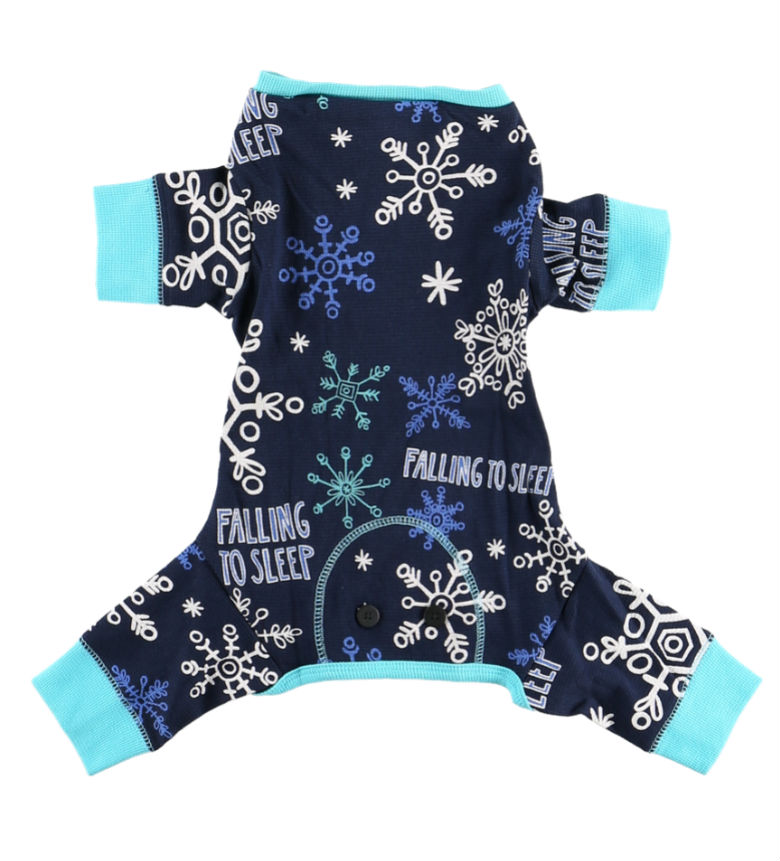 LazyOne is all about sleep. The company was founded in the Rocky Mountains of Utah with the goal to amp up the cozy, fun aspect of lounging and napping. The company specializes in tongue-in-cheek prints that are brimming with character and style.
LazyOne is also obsessed with quality fabrics and stitching and fade-proof prints, all at a reasonable price. Even better, the company is eco-conscious: it uses azo-free dyes (no carcinogens), factories with environmentally-friendly practices and its hangers and tags are made from recycled or recyclable paper.
The Falling to Sleep snowflake dog onesie flapjack uses rich colors, a punchy snowflake print, comfy ribbed 100 percent combed cotton fabric and contrasting trim. It's a slip-on design with four legs and a faux "flap" with buttons. It's also pre-shrunk, so you can machine wash and tumble dry without worry. Available in various prints. From XS to XL.
Price: $18.99
Le Chien Bleu Kimono Pajamas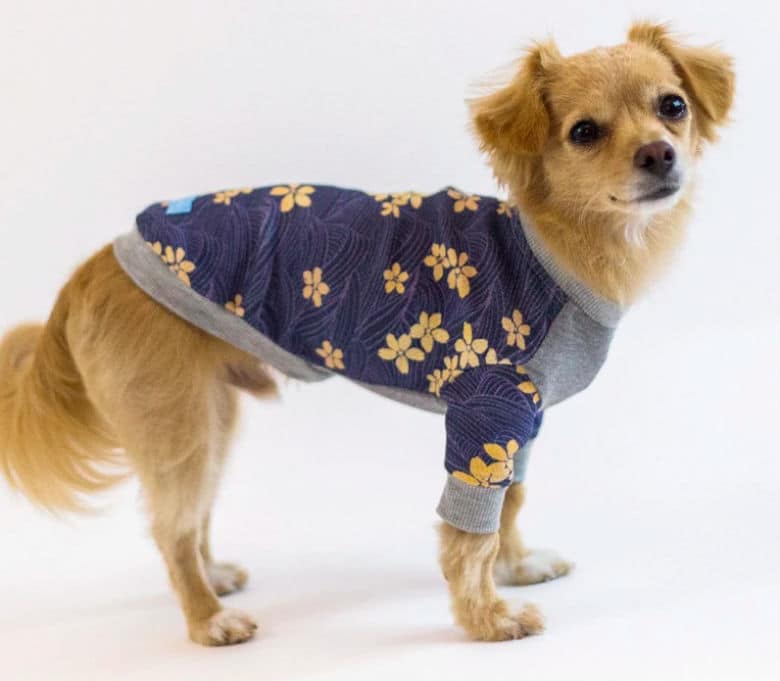 Le Chien Bleu is the brainchild of Parsons School of Design textile designer JY Lee, who grew up in South Korea playing with the family's Yorkies and Malteses. Her ultimate decision to design clothes for dogs was initially inspired by a co-worker who created and produced an outfit for her toy poodle's debut at the company's Christmas party. Soon after that, JY Lee rescued Jax, a Shiba Inu, who became her "furry ball of happiness," and she launched Le Chien Bleu. Her custom canine designs focus on both high style and comfort.
The Kimono pajama is made from a stunning fabric reminiscent of traditional Kimono patterns. Comprised of organic cotton, rayon from bamboo and a little spandex for stretchy comfort, it features front legs and a contrasting gray trim. Since it's too beautiful for home-only use (and wouldn't we all want to go out for a stroll in our PJs?), she added a leash portal on the back. Hand wash is recommended, but you can also throw it in the washing machine on the gentle cycle. From XS to XL.
Price: $50 to $58
Related: These Dog Blankets Do More Than Just Keep Your Best Friend Warm
Fitwarm Roar Lion Pajamas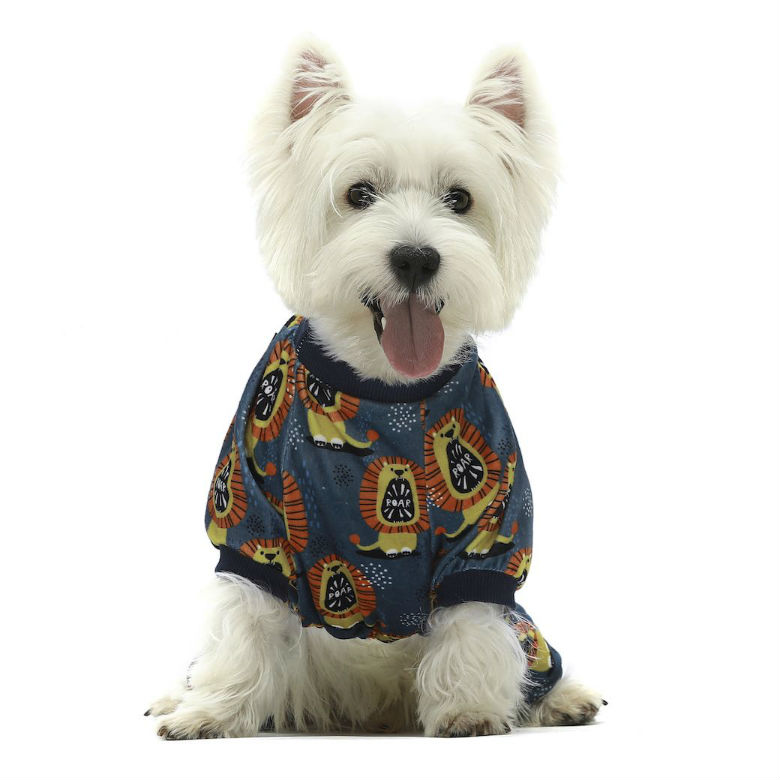 Fitwarm's slogan, "We care about your furbaby," expresses their deep love of all things canine. The company designs and produces their dog clothes in-house, and they're known for quality at a good price. Their young designers and experienced tailors keep their clothes trendy, comfortable and well-made.
Their Roar Lion pajamas is a great example of their style. These PJs have both front and back legs. Made from durable (and machine washable) polyester with a velvety texture, the print of a roaring lion harks to comic books and pop art on a royal blue background with navy trim. From XXS to XXL.
Price: $14.99 to $17.99
P.J. Salvage Sleigh All Day Pajamas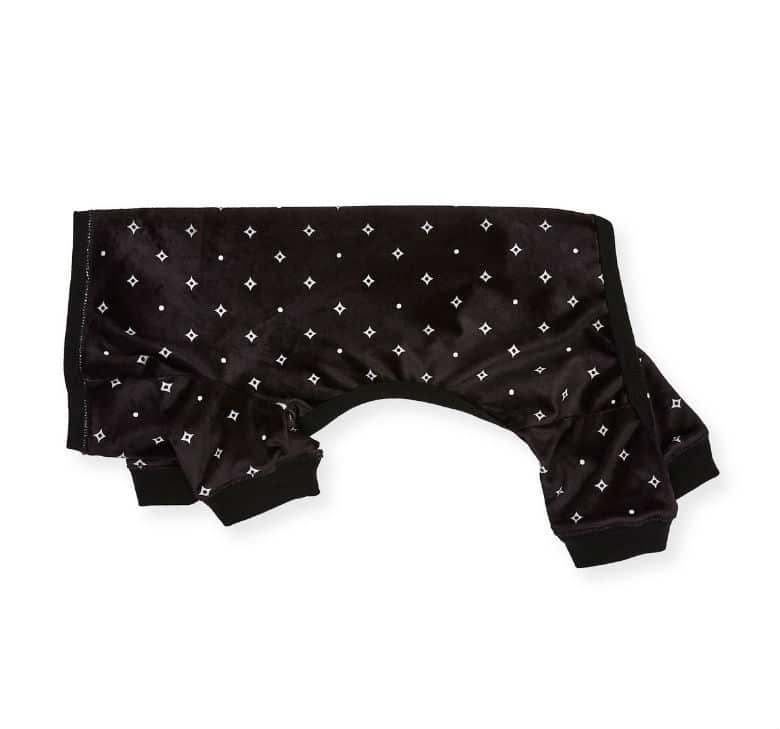 P.J. Salvage is a California "contemporary lifestyle brand" specializing in luxury clothing that's both comfortable and casual. The company is known for sophisticated prints, super-soft fabrics and a meticulous attention to detail. The brand is a favorite with celebrities and influencers who love to stay in and relax and much as they love to party.
Designed exclusively for Neiman Marcus, the Sleigh All Day dog PJs are perfect for a family and friends' slumber party — or just lounging around on a chilly day. With a very sophisticated white mini-diamond print on a black background, the PJs are made of silky velour and feature both front and back legs. From medium to X-Large.
Price: $35
Related: Keep Your Dog Warm With These Stunning Designer Jackets
Fabdog Green Plaid Pajamas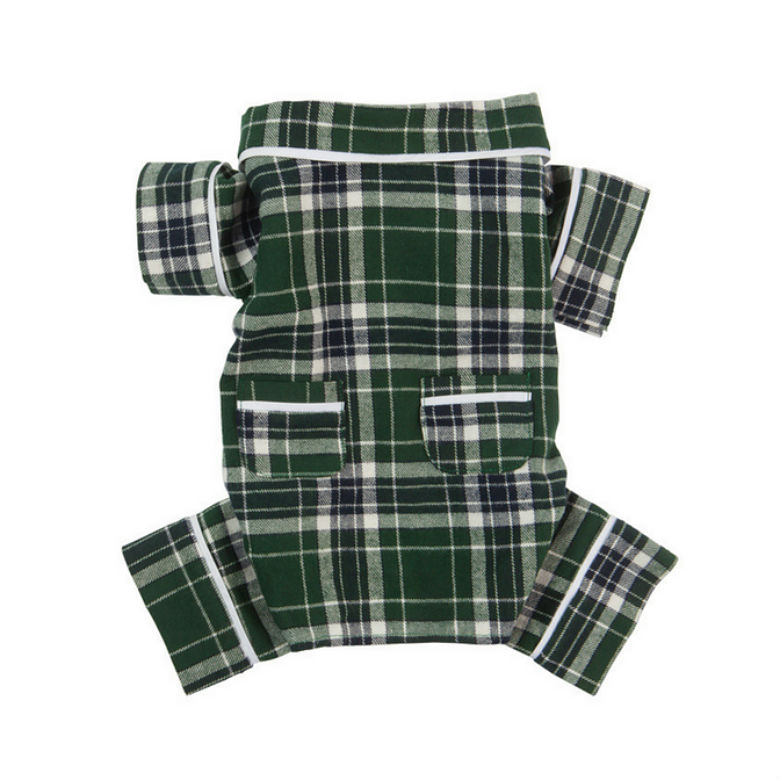 Fabdog was launched in New York City in 2002 by designer Cassie Cole with the goal of making "human quality apparel and accessories that can make any dog a fabdog." These company fits the bill for New York style with its original "bitch and stud" collection and "dog swag hoodies." When competitors began to emulate Fabdog's style, the team did what anyone who walks to their own drumbeat does: the company changed direction. Today, Fabdog is known for high-quality, classic style.
A perfect example is its Green Plaid pajamas. With four legs and a classic collar, your dog will feel right at home relaxing in front of the fire in your country home — or in a cool loft in Brooklyn. Its constructed of super soft 100 percent cotton flannel with poplin piping details, Velcro closures and "little pockets for reading glasses." Machine washable. You can even buy a matching set for both you and your dog! Sized from 8 inches to 36 inches.
From $25 to $45
Tooth & Honey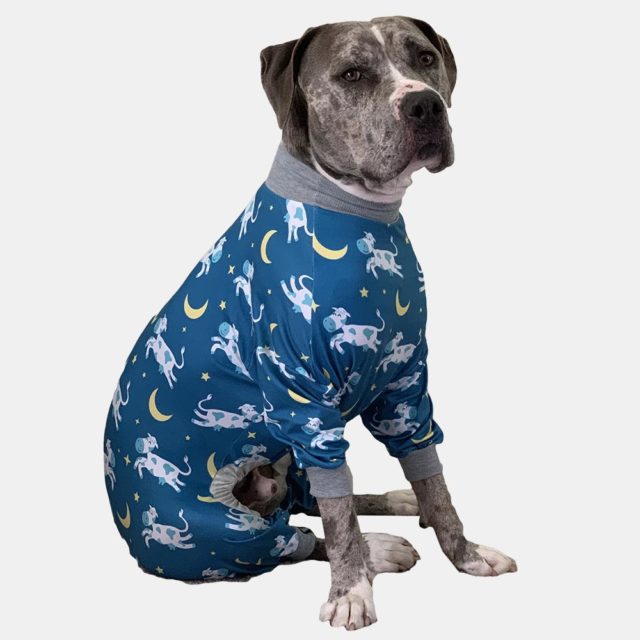 Tooth & Honey is unique: it specializes in making "fashion-forward" clothing and accessories for "hard-to-fit" pit bull-type dogs. Its mission is to support the animal rescue community and various animal welfare campaigns. The team chose the name with the best of the pit bull's qualities: "tooth" for their loyal, protective natures, and "honey" for their gentle, sweet nature. Their goal is to change the negative perception of bully breeds so that more will be rescued and adopted.
Its Cow Over the Moon dog pajamas are a work of art. Lightweight and stretchy for comfort, they have an elastic underside for a secure fit, a ribbed trim in a contrasting solid color, and a print with moons, stars and cows. The polyester/spandex blend is lightweight yet warm and machine washable. From Medium to XXL.
Price: $40 to $42
Related: The Must-Have Products to Keep Your Dog Safe and Warm During the Winter Season