Would you be surprised to learn that the average woman spends over $124 each month on beauty products and services? A year's worth of looking your best will set you back by $1,488 annually — and that is just the basics. That's a lot of serums and snail mucin! And if you think that most men make do with a bare-bones bar of soap, think again — the fellas plunk down a cool $1,128 every year, too.
So what does that have to do with dogs, you may ask?
Well, our pups also need beauty treatments. But for them, having a fabulous coat and supple skin goes beyond just looks. Indeed, itchy, dry skin,` and a dull coat can be one of the first signs of an underlying health condition, including allergies and a nutritional deficiency. Instead of looking shiny and feeling soft, the fur feels rougher and more brittle, while the skin could be flaky and itchy. And don't necessarily assume that you can give your dog a good brushing to get skin issues under control and fur back to tip-top shape; it often takes more than that. Luckily, many of the treatments for dry, itchy, or inflamed skin also have a beneficial effect on a dog's coat.
Curious about what causes dogs' dry skin and shabby coat, how to soothe it, and when it's a sign of something more serious? Grab yourself a cuppa and read on.
Related: Want Your Dog to Have a Lustrous Coat and Healthy Skin? Try These 8 Foods.
Symptoms and Signs of Canine Skin Complaints
It's normal to experience an itch or two here and there, but keep your eye out for frequent, prolonged, or very intense scratching. If you pup is incessantly scratching it could be a sign that something's amiss with their skin. They may also lick or bite the area in trying to stop the itching. Your dog may also "worry" the area, giving sustained attention to a particular spot.
If you notice this, bring your dog to a brightly lit area of the home and take a closer look. Part the fur to see the skin beneath, scanning their entire body. Don't forget to look between the toes, under the tail, behind or under the ears, and around the collar. Be on the lookout for:
Sores or scratches
Red, inflamed-looking areas or discoloration
Scaly patches or scabs
Skin that is flaky or visibly dry
Swelling, lumps, or bumps
Hot spots
Bald spots or thinning fur
Cracked or broken skin
Fur that feels greasy or oily
Odor
You may want to take pictures of any aberrations you find, especially if your furry friend isn't enjoying the examination. That could help your vet assess the situation remotely, if necessary.
What Makes My Dog So Itchy?
Let's dive deeper into the reasons your dog seems to have a starring role in the Itchy and Scratchy Show. Dry skin is a very common condition in dogs, but before you begin treating it, be sure to rule out other causes. These include:
Fleas and ticks
Mange, which is an infection caused by external parasites
Acute moist dermatitis, aka hot spots
Yeast infections, impetigo, and folliculitis
Ringworm
Allergic dermatitis
It's essential to identify the underlying issue of your dog's itching. Certain skin-related troubles can be signs of serious illness such as Lyme disease or lupus. In addition to being painful or uncomfortable for your dog to deal with, excess scratching or biting that breaks the skin can lead to infections, further compounding the issue. 
Related: 4 Ways to Stop Your Dog From Having Itchy Skin
Loop your veterinarian in if the itching is severe, persistent, or accompanied by the aforementioned symptoms. Take note of any patterns, say, if your pooch scratches after being outside, eating certain foods or treats, or when you've done housework. These can help identify any allergies your dog may have.
Preventing Dry Skin
You know how irritating it can be when your skin is dry and itchy, and your dog is no different. She would much rather be playing tug-of-war, looking out the window, or chasing rabbits while cuddled up in her cozy bed than incessantly scratching. Take these steps to do yourself and your dog a solid.
Good health begins with a good diet, and dogs are no exception. Would you feed your human child nothing but processed chicken nuggets and french fries? Scooping cheaply made, highly-processed kibble into the dog's dish, day in and day out, is essentially the same thing. What kind of food you choose for Fido — dry, raw, home-cooked, freeze-dried, organic, open-pastured — is a complicated, controversial topic and ultimately a personal decision, but it's definitely worth doing some research and due diligence. After all, diet is a huge factor in a dog's health and well-being.
Provide plenty of clean drinking water. Even moderate dehydration can take an alarming toll on our furry friends — losing just 15% of the water in their bodies is enough to make them seriously ill. To stay properly hydrated, a pooch needs one ounce of water for every pound they weigh. Fill their bowl regularly, clean it daily, and take water along when you go on adventures, especially in warm weather.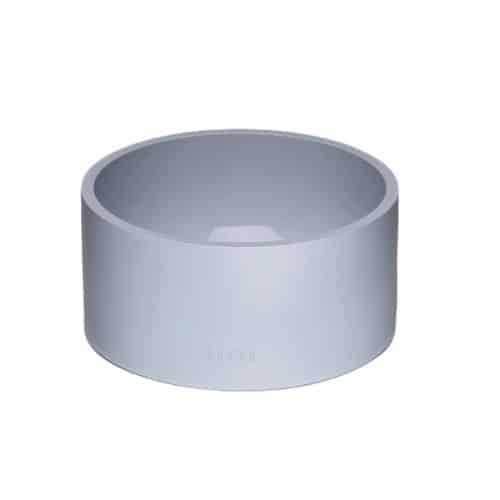 The bowl has the look of ceramic without the concern of breakage, because the polycarbonate and silicone material — the same used in medical equipment and baby accessories — is extremely durable
What's the air quality like in your home? If you've been cranking the heat all winter, the humidity level might not be as high as it could be, leading to dehydration. A few portable humidifiers could make all the difference.
Supplements
As mentioned, itchy, dry skin, and dull coat can be one of the first signs of a nutritional deficiency.  So instead of looking shiny and feeling soft, the fur feels rougher and more brittle, while the skin could be flaky and itchy.
Supplements can be a great addition to your dog's daily routine, as they can help heal your dog from the inside. Look for ones that are packed full of omegas, including those that come from fish. Omega-3 fatty acids can reduce your pup's inflammatory reaction, which can help lessen itching and scratching. Flaxseed is also an excellent source of omega-3, along with being chock-full of vitamin B1, B2, C, E, beta-carotene, and minerals like iron, zinc, potassium. 
Safflower oil is another great ingredient for skin and coat, as it is an excellent source of linolenic acid, an omega-6 fatty acid. Safflower oil helps skin stay supple while adding shininess to a coat.
Other powerful ingredients in supplements include biotin, kelp, and vitamin A.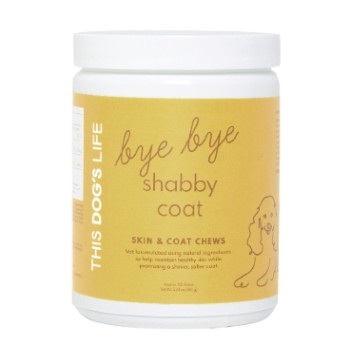 Bye Bye Shabby Coat nourishes your dog's skin and coat from the inside out. Veterinarian formulated and using powerful natural ingredients, including healthy omegas, salmon oil, and vitamin E, our chews help heal dry, itchy, irritated skin, while also promoting a shinier and softer coat. All our supplements are proudly manufactured in the USA.
All-Natural Treatment Options To Try
Once you have ruled out more serious conditions and talked to your vet, it's time to tackle that itch, along with the drab coat. Odds are that you're already equipped to try a few home remedies, so shop your pantry for antipruritic ingredients.
For instance, oatmeal can be very soothing — that is, if you skip the bowl and put it in a bath. Oats have anti-inflammatory properties and help a pup's skin to retain moisture. Use your blender or coffee grinder to pulverize up ½ – 1 cup of unflavored oats until it's a powder. Add to your buddy's bath; if you can get him to soak in it for a while, so much the better.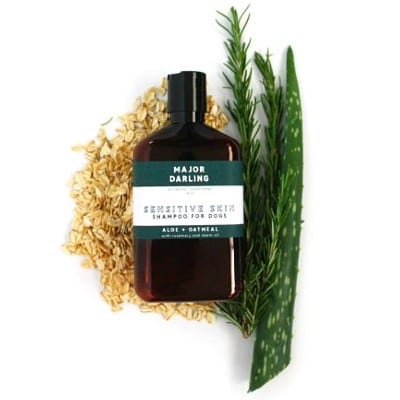 For dogs who have sensitive skin or allergies, this shampoo provides much needed relief. Using a soap-free formulation, it won't strip the coat or dry out the skin. Plus, the oatmeal and aloe vera help with skin irritation and re-moisturizing
Another option for your canine's itch is coconut oil. It works well when massaged well into dry skin, but coconut oil is beneficial from the inside out, as well. Incorporate the best organic, unrefined oil you can find into some homemade dog treats or just add some to their food — but only after you've cleared this dietary addition with your vet.
For patches of dry, rashy, itchy skin, baking soda might be just the ticket for reducing redness and alleviating itching. To try it, make a paste of equal parts baking soda and water, apply to the affected areas, and let it sit for 20 minutes. Rinse thoroughly.
If you have a bottle of pure aloe vera leftover from last summer's fun in the sun, use it to treat your pup's troubled skin. Just like on your sunburned shoulders, aloe is pleasantly cooling as it soothes inflammation and irritation.
And naturally, if your pup is presenting additional symptoms that would indicate a more serious issue, you will need to contact your veterinarian to eliminate those possibilities.
Related: Why Does Your Dog Have Itchy Skin and What You Can Do About It
This article is for informational purposes only. It is not, nor is it intended to be, a substitute for professional medical advice, diagnosis, or treatment and should never be relied upon for specific medical advice.