Itchy, dry skin is no way for your dog to live. Not only is it hard to watch your pup constantly itching and scratching, but her coat is flaky and dull. The reasons run the gamut — everything from the environment to allergies. Regardless, it can be extremely uncomfortable for your best friend.
While you should always consult a professional, there are a few foods that may also help improve your dog's skin and coat — and they right in your kitchen.
Related: 3 DIY Dry Shampoos For Your Dog You Can Make At Home
Here are a few of our favorite treats. While these may help, be sure to also consult with your veterinarian as there could be an underlying health problem.
1. Eggs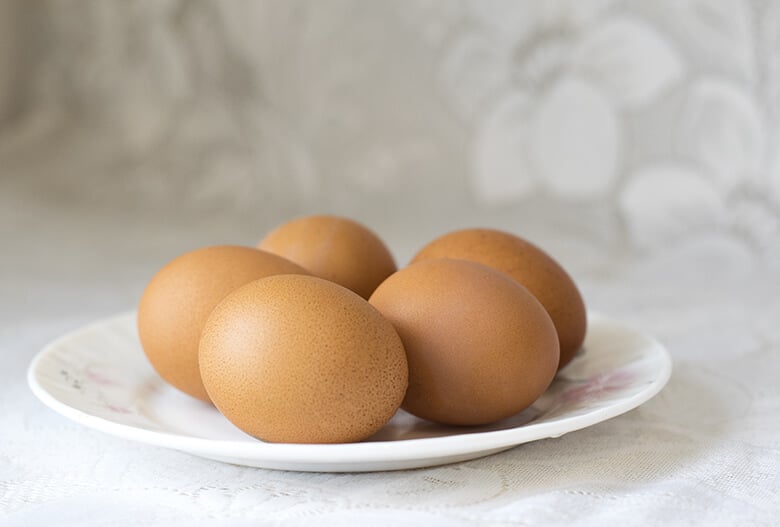 Eggs are basically a blessing for dogs with unhealthy skin or coat because they contain lutein. Lutein is a type of carotenoid that keeps your pet's skin hydrated as well as encourages tissue repair. Eggs are also a great source of zinc, a mineral that keeps skin healthy and coat shiny.
Another great thing about feeding your dog eggs are is that they contain vitamin A and biotin — both of which play a role in repairing damaged cells and keeping the coat looking healthy and skin supple.
Dogs love eggs anyway you serve them — scrambled, sunny side up, over easy, you name it. Plus, if you add bits of the shell, your dog is getting some calcium.
2. Sweet Potatoes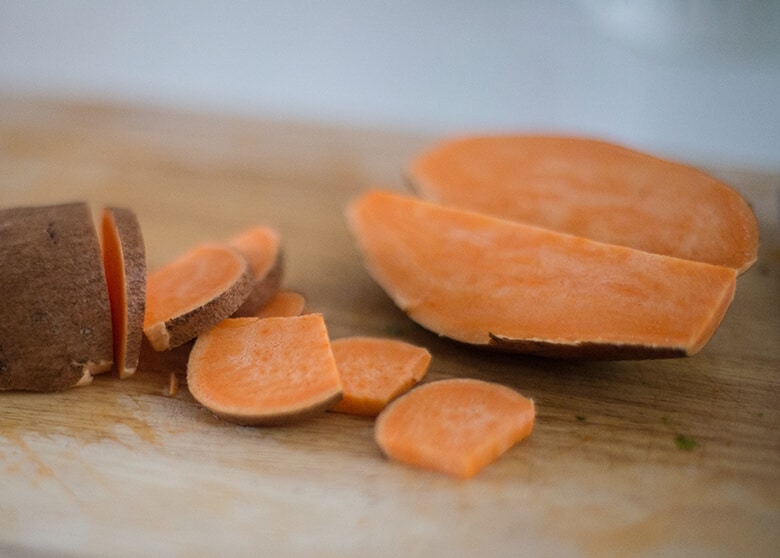 If you are looking for the superfood of skin care for your dog then look no further than sweet potatoes. These veggies are one of the best sources of vitamin A which promotes healthy skin and coat. They are chock-full of calcium, iron, fiber, vitamin C and B6 and potassium. These will help keep the natural oils in your dog's skin and coat while also making sure that their hair growth is normal.
3. Oatmeal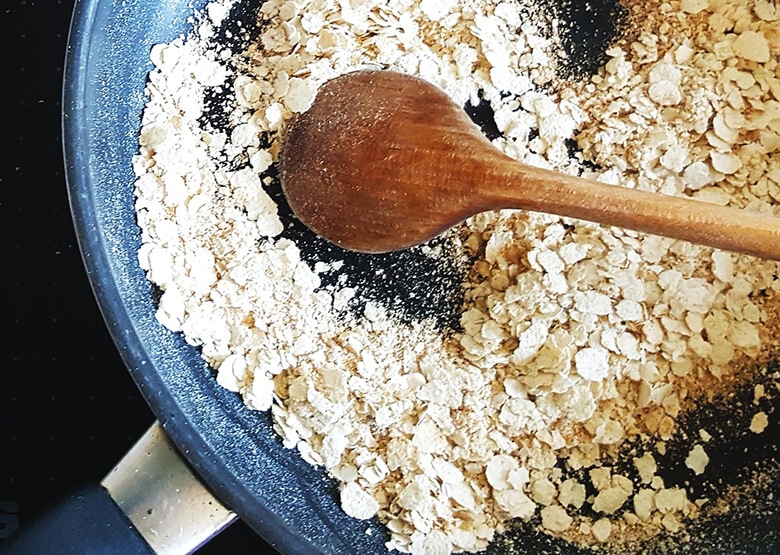 Now this may be a strange one in terms of food for your dog, but oatmeal is high in fiber and contains a ton of nutrients that can benefit your dog. It contains vitamin B and linoleum acid, helping maintain a shiny coat and healthy skin. If you want to give your dog this yummy breakfast treat, it is recommended to make it with water (not milk), as dairy can sometimes upset a dog's stomach. Also, ensure it is fully cooked and cool to the touch. Don't serve your favorite toppings, raisins or chocolate, as these ingredients are deadly to dogs. Start out with one tablespoon of cooked oatmeal for every 20 pounds.
Related: 10 Single-ingredient Treats Your Dog Is Going To Love
4. Fish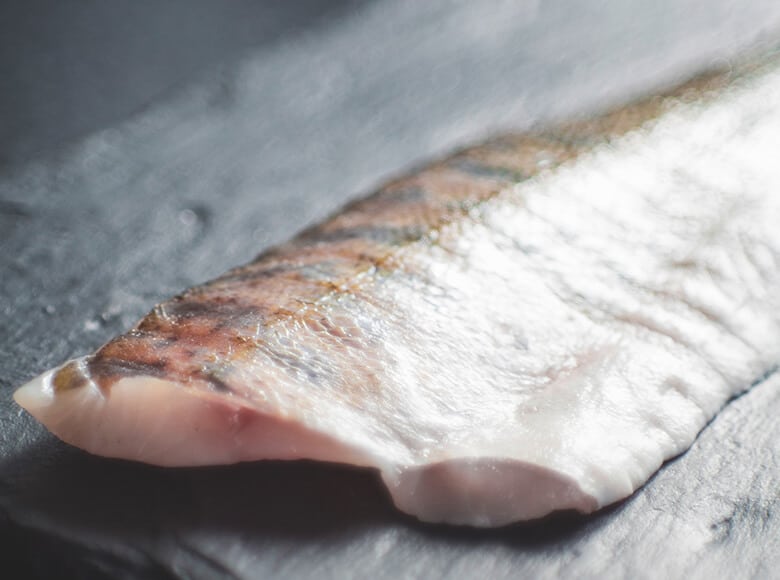 If you are looking for a healthy source of protein to supplement your dog's regular meal, then fish is a great option. Plus, it has omega-3 fatty acids for a shiny coat, while also possibly reducing inflammation and helping with allergies. Dogs can eat an array of fish, but is recommended to stay away from those high in mercury, like tuna. (You can mercury levels on the FDA website.)  
While fish is a great food for dogs, make sure it is cooked thoroughly through and remember moderation is key.
5. Coconut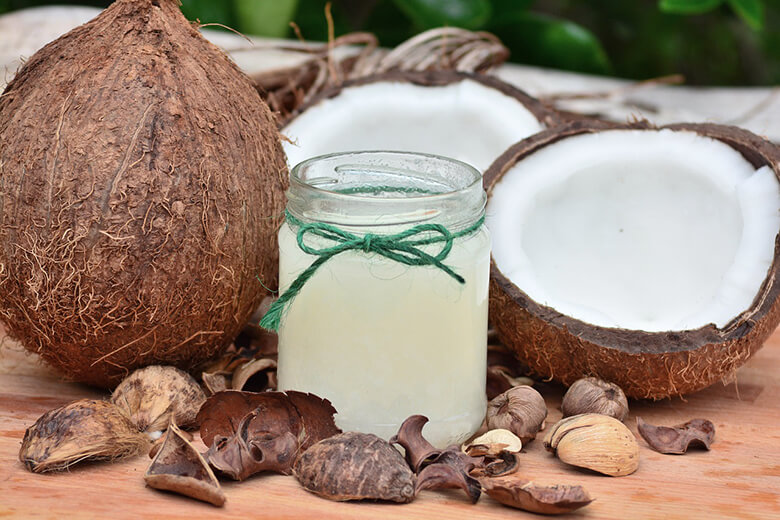 Coconut is a great treat for your dog, because it contains saturated fats and lauric acid, both of which are a great way to reduce dry, itchy skin Also, coconut can help decrease bacterial growth, irritation and inflammation. Raw coconut chunks or slivers are a great option for your pup, as this way provides the most nutrients.
6. Chicken
Chicken is a great source of lean protein and omega-6 fatty acids, which promotes a shiny coat and healthy skin as well as builds lean muscle mass in our best friends.
You can give your dog a little bit of boiled, skinless chicken with his dinner once or twice a week. It is also a great reward during training sessions. Just make sure it is plain — no salt, butter or seasoning.
7. Chia Seeds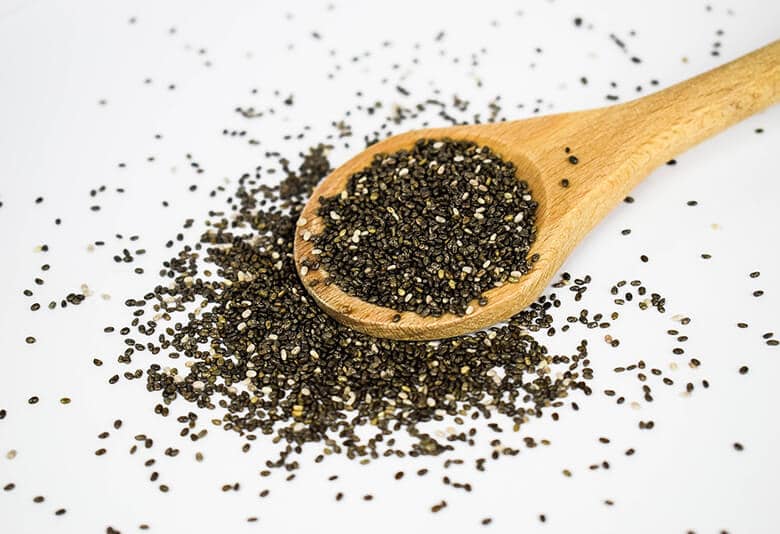 These little seeds are more powerful than they look; they nourish your dogs skin from the inside out. They contain a ton of omega-3 — three times the amount in salmon. Chia seeds can also help those furry friends suffer who suffer from chronic skin inflammation and/or hot spots.
Chia seeds can be fed in seed form or ground up. If you are feeding your pet then in seed form be sure to soak them in water first. The suggested dosage is pretty simple: one teaspoon for small dogs and two teaspoons for large dogs.
8. Yogurt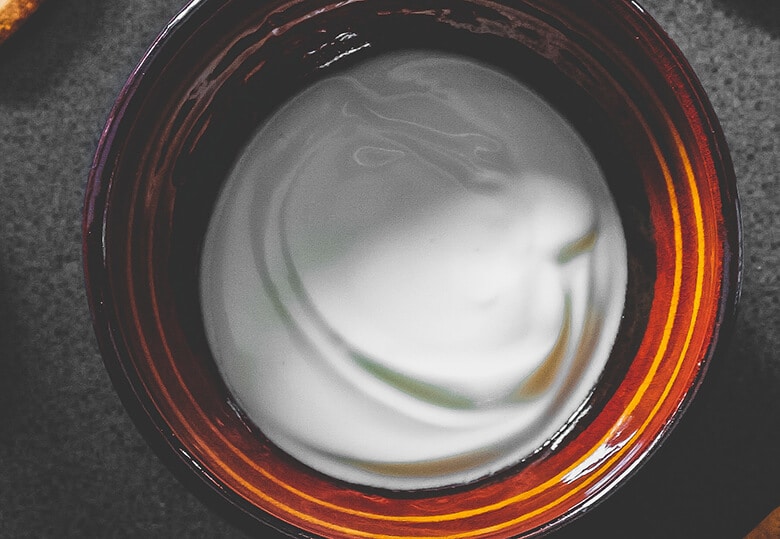 Yup, it is true, you may finally be able to share your Greek yogurt obsession with your best friend. Generally it is advised to stay away from products with a high dairy content as far as dogs are concerned but yogurt, especially plain or Greek-style, tends to be the exception as it is lower in lactose.
It is a great way to treat itchy skin, allergies and hot spots. Also, it has calcium and can help with tummy issues. Just add a dollop to your pup's food.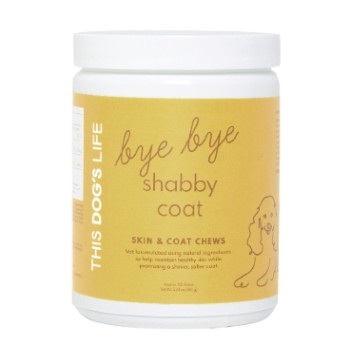 Bye Bye Shabby Coat nourishes your dog's skin and coat from the inside out. Veterinarian formulated and using powerful natural ingredients, including healthy omegas, salmon oil, and vitamin E, our chews help heal dry, itchy, irritated skin, while also promoting a shinier and softer coat. All our supplements are proudly manufactured in the USA.
The above is not intended to be medical advice. Please consult your veterinarian before you make any changes to your dog's dies.
Related: The Complete Guide to Making Home-Cooked Dog Food