If you live with a dog who's a shedding monster, you know that keeping your home hair-free is a full-time job. Between mountains of fur on the rug, tumbleweeds under furniture and fur-covered clothes, it may seem like a losing battle.
But there's hope. If you're hesitant about bringing home a Labrador Retriever, German Shepherd, Golden Retriever, Siberian Husky, or other breeds that shed heavily, modern technology has provided tools for humans to keep the hair carpets and furry shirts to a minimum.
Yes, living with some breeds does mean you'll have to clean your house regularly. But as long as you're willing, and commit to brushing your dog possibly every day, there are vacuums made specifically for homes with pets that make keeping your house hair-free fairly easy.
Vacuums for Dog Hair
A good vacuum is a necessity if you have a dog who sheds a lot. But not all vacuums are created equal when it comes to picking up dog hair. Pet hair tends to cling to fabrics and upholstery and become embedded in carpet; a standard vacuum may not be able to handle it. When it comes to pet hair, power isn't enough.
Related: Quick and Dirty Tools to Pick Up After Your Heavy Shedder
Luckily, the industry has recognized the popularity of pets in the home, and there are plenty of vacuums made specifically to remove pet hair. They have rollers and brushes that can lift hair out of carpets and sofas without becoming entangled and losing power. Though there are a variety of styles, the best models for everyday use are lightweight, versatile and easy to maneuver.
It's also a good idea to invest in more than one type. A cordless stick offers convenience and ease for quick, daily vacuuming, while a corded upright or cannister provide more power for deep cleaning once a week.
Here are some of the best vacuum cleaners on the market for homes with dogs (and cats) that shed. Prices reflect the available online options.
Cordless Stick Vacuums
A cordless stick vacuum provides the ultimate convenience in a lightweight package. They're perfect for quick, daily cleanups, which is the most effective way to deal with the fur buildup of a heavy shedder. Stick vacuums are a good choice if you don't have a lot of storage room. Stick vacuums work best for hard floors, but some do have the ability to vacuum rugs and carpets. If you have carpets, look for a vacuum with either rotating brushes or brushes made specifically to pick up pet hair. Stick vacuums are available in both cordless and corded versions. If you're using it for convenience, choose the cordless version. These have rechargeable batteries and can cover an impressive amount of floor space before the battery runs down.
Bissell ICONpet Cordless Stick Vacuum Cleaner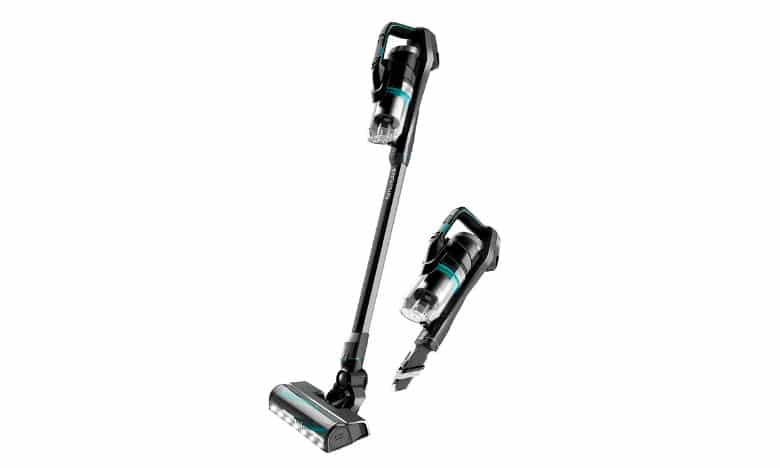 The Bissell ICONpet is one of the best on the market for dealing with dog hair, but what makes this company stand out is their commitment to animal welfare through the BISSELL Pet Foundation, which provides grants and funds to humane societies, shelters and rescue organizations. That may be why so many of their vacuums are developed to deal with homes with shedding pets.
This vacuum is made to handle hard floors and carpet, and it features BISSELL's tangle-free brush and LED lights so you can see the hair balls under the coffee table. It features a tank with CleanSlide™ Technology, preventing dust and dirt from adhering to the walls of the tank. Its cyclonic filtration system keeps the suction power functioning at its highest level, and the SmartSeal technology keeps dust particles from escaping back into the air. The vacuum can also be converted to a handheld. With every purchase, BISSELL donates $25 to cover one adoption fee at their foundation.
Price: $349.99 to $399.99
Dyson V11 Animal Cordless Vacuum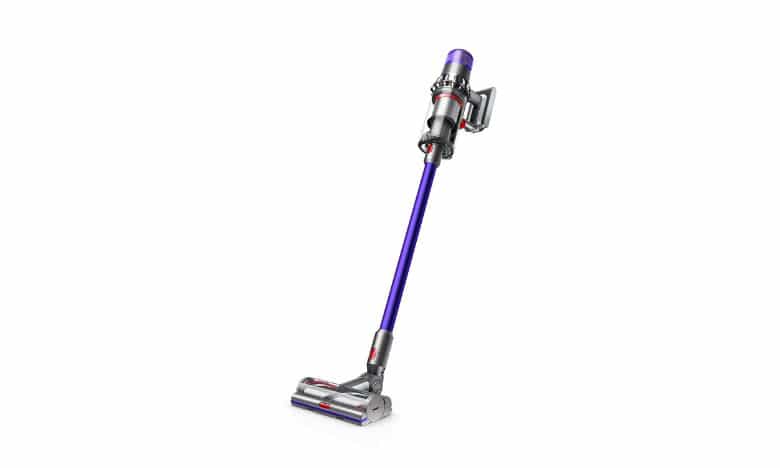 The Dyson V11 Animal is a powerful machine that's easy to maneuver. Made to handle both hard floors and carpet, it has three cleaning modes and can pick up microscopic particles due to its high torque brush head and HEPA filtration system. It can also be converted to a smaller handheld. It can reach under furniture and up a wall to vacuum window blinds. The "point and shoot" dirt ejector operates without having to get your hands dirty. It has four additional cleaning tools, including a "stubborn dirt brush," and the charge can last as long as an hour. It only weighs 6.68 pounds, so the docking station can be wall-mounted (and it looks pretty cool). Be aware that you have to keep your finger on the power button while vacuuming, which critics consider a downside.
Price: $599.99
Black+Decker Powerseries Pro 2 in 1 Pet Vacuum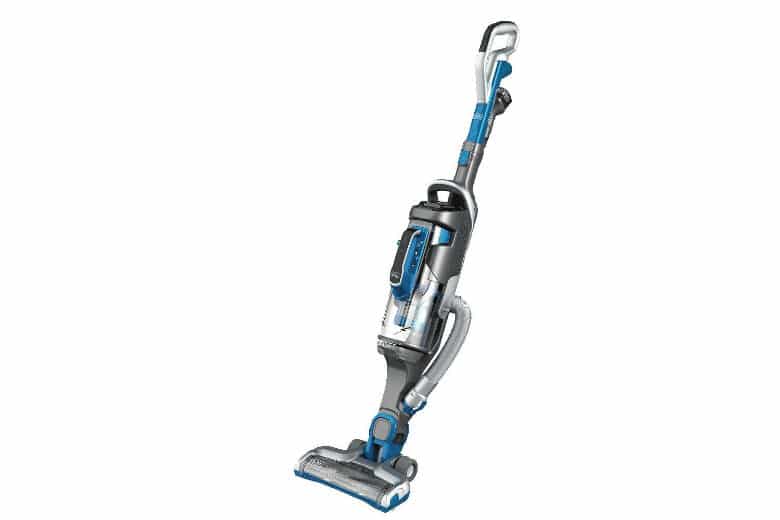 The Powerseries Pro Black+Decker's most powerful stick vacuum. It features anti-tangle rubber bristles, a dust compactor feature to free up room in the canister, LED lights, touchscreen controls, and a low-profile design to get under furniture. At 8.25 pounds with swivel steering, it's very easy to maneuver. The detachable Grab+Go canister turns the machine into a handheld, while the extension wand and 4-foot hose allow you to reach up high and into tight spaces. This vacuum automatically adjusts to the floor type, and the accessory tool includes a six-inch nozzle, crevice tool, and upholstery brush. The filter is washable, and the canister empties with a touch of a button.
Price: $169.99
Related: Need to Give Your Dog a Bath or Good Brush? Here's How to Not Make It a Complete Disaster.
Upright Vacuums
Upright vacuums are known for their ability to deep clean carpet and rugs. The upright is easier to store than the canister type, and they are more efficient on large areas than a canister because they are built wide to cover more floor. The attachments tend to be stored on the vacuum, so switching tools is fast, allowing you to finish the job quickly.
However, if you have a lot of little nooks and crannies, this type of vacuum might not be the best choice. They are difficult to get behind and under furniture, even with extra attachments. If you live in a home with stairs, be advised that the upright is not designed to clean steps. They also tend to be the loudest and heaviest of vacuums.
Shark Rotator Powered Lift-Away TruePet Upright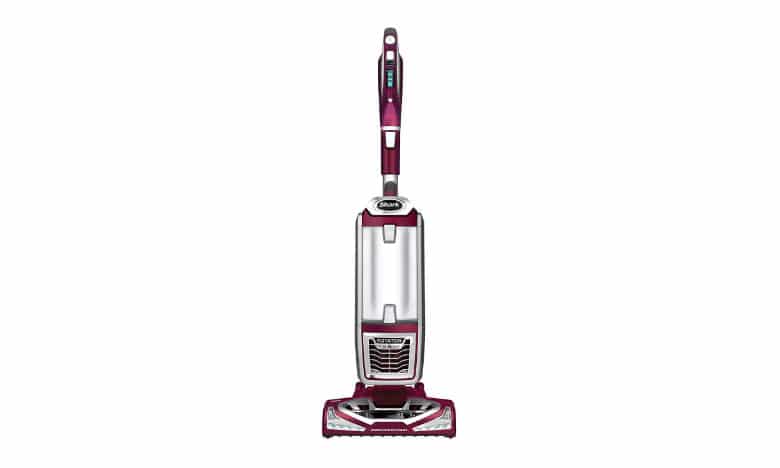 This Shark Rotator Powered Lift-Away TruePet Upright gets high marks from reviewers for its ability to tackle pet hair and dander. It features an electrically powered (rather than air) brush head and pet tool, a detachable canister for emptying dirt and the ability to easily convert to a handheld with a Powered Lift-Away feature. It's lightweight and swivel steering makes it easy to use. The Pet Power Brush and Pet Multi-Tool, along with an extra-long, seven-year (or lifetime) warranty, makes this vacuum a star. The pet tool is designed to remove pet hair that's embedded in carpet and upholstered furniture. For allergy sufferers, the vacuum has an Anti-Allergen Complete Seal Technology® and a HEPA filter that removes almost all dust and allergens and keeps it inside the cannister. A push of a button switches from carpet to hard floors, but it gets mixed reviews on hardwood.
Price: $399.99
Dyson Ball Animal 2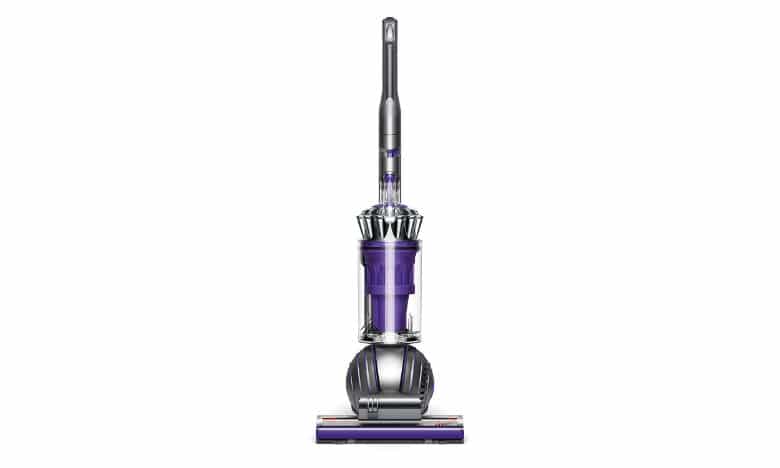 The Dyson Ball Animal 2 is a powerhouse machine, designed to rid both hard floors and carpets of pet hair, dust and embedded dirt. The tangle-free turbine tool is designed to remove pet hair while maintaining maximum power. The self-adjusting cleaner head rises and lowers for maximum suction, while the hose and wand release together instantly for cleaning up high and for reaching into tight spaces. The ball design aids maneuverability, and while the machine is quite heavy, it does have a stair tool. It has a washable filter meant to last for a lifetime. Best of all, it has a whole-machine sealed filtration system to keep allergens inside that works so effectively that this vacuum is certified by the Asthma and Allergy Foundation of America. The cord has a maximum reach of 50 feet, and with the wide cleaner head, you can clean large areas fairly quickly. If you have a heavy shedder, this machine is up to the job.
Price: $499.99 to $574.99
Shark APEX DuoClean Zero-M Vacuum with TruePet upgrade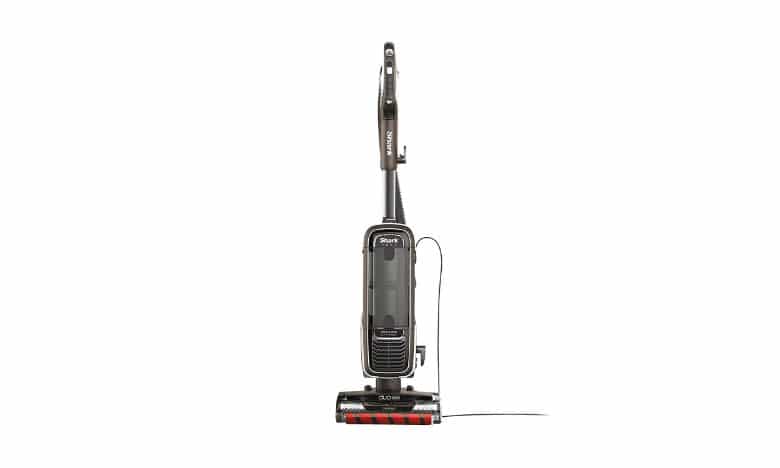 The Shark APEX with the TruePet upgrade is a mean machine at removing pet hair from carpets and hardwood floors. It offers a unique dual-brush to pick up large and small particles, and its Zero-M cleaning head removes any hair that wraps around the brush, so you don't have to. The Pet Power Brush is made to pick up heavy shedding. The TruePet upgrade includes a caddy that converts the machine to a versatile canister vacuum, or you can just remove the "pod" and carry it, so you can get into small spaces. Plus, the LED lights help you see what you're doing. The Complete Seal air-filtration HEPA system traps allergens and prevents them from escaping back into the air. It even comes with a multi-angle brush for dusting things like venetian blinds.
Price: $419
Bissell Cleanview Swivel Pet Upright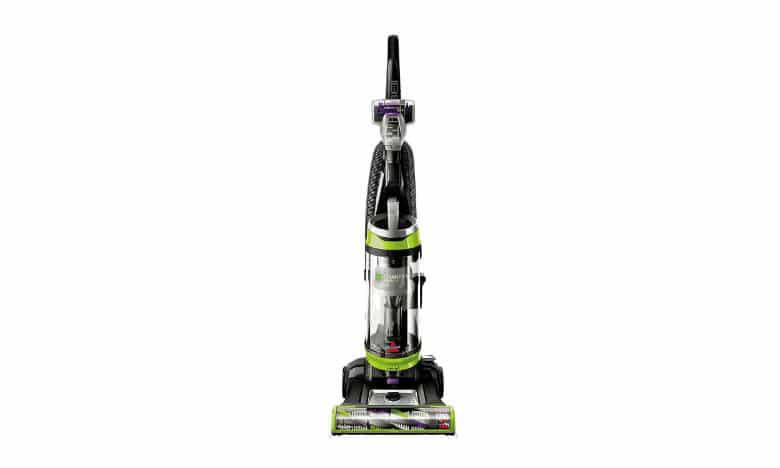 The Bissell Cleanview Swivel Pet Upright works equally well on all floor types with a Triple Action Brush Roll that will lift, loosen and remove pet hair. The Scatter-Free Technology prevents debris like kibble from being scattered across the floor. The Pet TurboEraser Tool removes dog hair from upholstery, stairs and places that are difficult to reach. It has a large-capacity tank that can be emptied easily. The foam filter is washable and the cord is retractable, so you won't have to wrap it when you're done. You can adjust the brush to the appropriate setting for carpet, hardwood or tile. Swivel steering makes it easy to steer around furniture. Bissell will donate $10 to their Pet Foundation for every vacuum sold.
Price: $120
Canister Vacuums
Canister vacuums are the most powerful of all the vacuum types with better suction and flow-rate, which translates to faster and easier cleaning. If you have a dog who sheds heavily, this vacuum is a good investment. They are also significantly quieter than the uprights — a feature that many dogs will appreciate. Canister vacuums are much lighter than uprights, easier to carry and maneuver to reach tight area, and they usually have retractable cords.
However, a canister vacuum is harder to store than an upright or stick. You can detach the hose to make it easier and smaller, but then you have to assemble it again when you want to use it. You have to drag the canister behind you, which can be … well, a drag. Finally, you have to bend over to vacuum and to use the controls, which can take a toll on your back (though some models have controls large enough to be used with your foot).
Related: Here Are 10 Small Dog Breeds That Don't Shed or Make You Sneeze
Miele Complete C3 Cat & Dog Canister Vacuum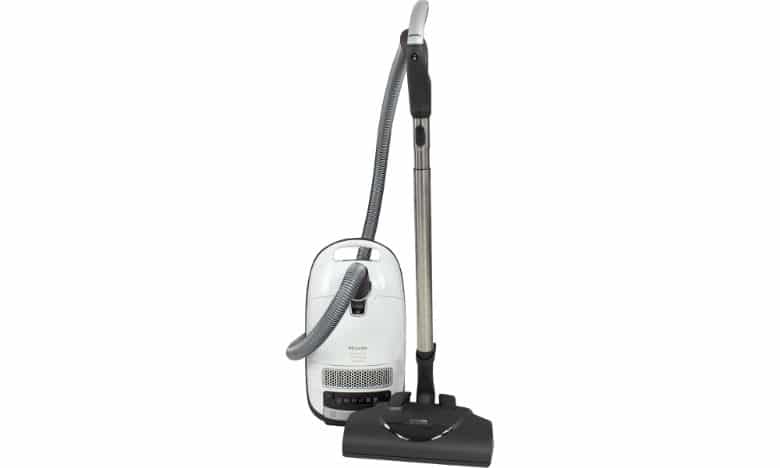 If you can afford it, the Miele Complete C3 Cat & Dog Canister Vacuum is probably the best vacuum on the market. It has the highest suction power with a 1,200-Watt Vortex Motor, and the Active AirClean Filter removes particles and allergens better than most other vacuums. It's also good at removing pet odors with a charcoal layer in the air filter. It will maintain its suction power even with a full dust bag, and there's an indicator light to alert you when the bag is full.
Accessories include an upholstery and crevice tool, dusting brush, parquet twister floorhead, handheld mini turbo brush and electro plus floorhead. Foot pedals allow you to adjust the suction to the floor type. The telescopic wand is adjustable for both reach and comfort, and the turbo brush is designed to remove embedded pet hair in upholstered furniture. This vacuum actually has bumper guards so you won't ding any furniture. With a 36-foot cleaning radius and a retractable power cord, it can handle large areas and mountains of pet hair.
Price: $999
Dyson Cinetic Big Ball Animal Vacuum Cleaner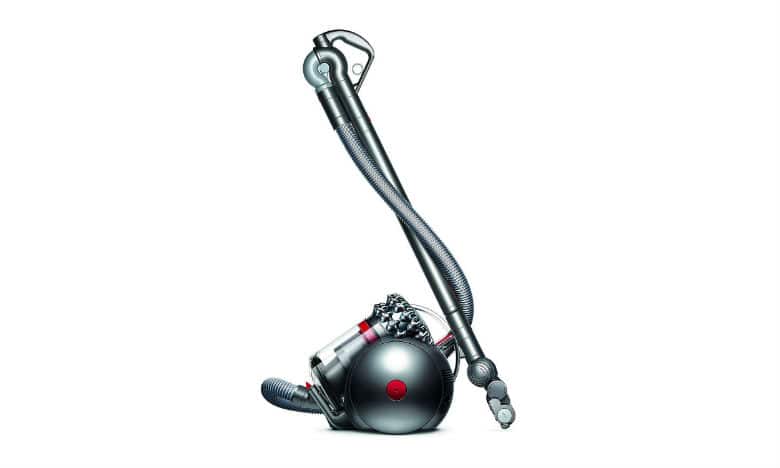 The Dyson Cinetic Big Ball Animal is the latest model and considered the most advanced of the Dyson line — and it's looks elegant and sleek (which isn't usually said about vacuums). The strong suction and carbon filter turbine tool pick up microscopic dust from both hard floors and carpet. It's one of the few canister vacuums without a bag; the large 2-liter bin holds a lot and is easily emptied. It's great for allergy suffers with a permanent, whole-machine HEPA filtration system. There is no filter to wash or replace because the Cinetic Science technology uses flexible oscillating tips that prevent microscopic dust from clogging the machine. It comes with a tangle-free turbine tool for removing pet hair from furniture and dog beds. The ball makes it easy to move around furniture, and it will right itself if you tug it over. The wand can move 360 degrees, so you can get to the hard-to-reach places, and it can stretch up to 50 inches, so you can remove pet hair from blinds, vents, and even ceiling fans.
Price: $599.99
Kenmore 600 Series Canister Vacuum with Pet PowerMate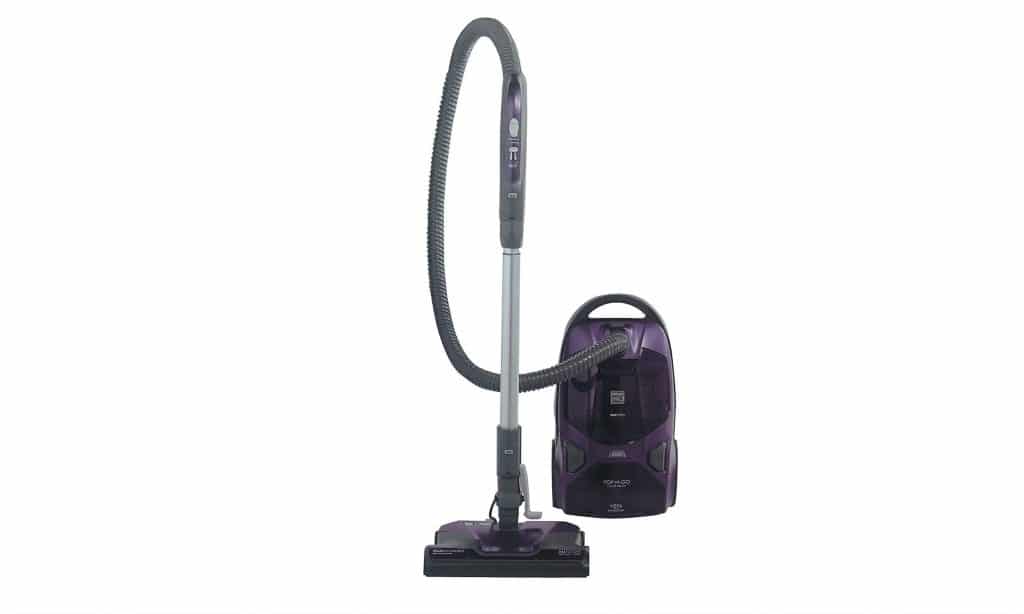 The Kenmore 600 Series Canister Vacuum with Pet PowerMate is made to handle all floor surfaces, though reviews indicate it works better on hard floors. But the value for dog owners is the Pet PowerMate attachment, which is specifically designed to remove dander, allergens, and pet hair from baseboards, furniture, and carpeting, all without hair tangling in the brush. The triple HEPA filtration system also works to eliminate dander and allergy triggers, and it uses HEPA certified vacuum bags. Extra tools are stored in a compartment on top of the canister to make switching fast and easy. The telescoping wand can extend 10 feet, and the cord length is 28 feet. This vacuum has a powerful suction, but it is cumbersome to store. It's a decent canister vacuum, but still expensive. Small and compact, it can reach under furniture and is easy to pull behind you. This vacuum is a good choice if you need it right how and don't have the funds for the top-of-the-line.
Price: $299.99
Related: 5 Non-Toxic Dog Stain and Odor Cleaners That Get the Job Done